Wat Khunaram, home to Koh Samui's mummified monk, is an unusual sight yet it offers a unique insight into Buddhist and Thai culture. The monk, Luong Pordaeng, died in 1973 in a seated meditative position, and ever since his body has been on display in an upright glass case at the temple. Remarkably, even after several decades, the monk's body shows little sign of decay. For some visitors, having a dead man in full view might be a shocking sight. But for Thais, it's something to reflect upon and revere.
Far from being frightened by death, most Buddhist Thais are highly accepting of the end of life as the natural order of things and they view death as an opportunity to be reborn into a better place, one step closer to nirvana. There are other mommy monks on Samui and throughout Thailand, but Loung Pordang is among the most highly revered.
Wat Khunaram in Koh Samui - one of the highlights of 16 Best Things to Do in Lamai and 19 Must-See Temples in Koh Samui (Read all about Koh Samui here)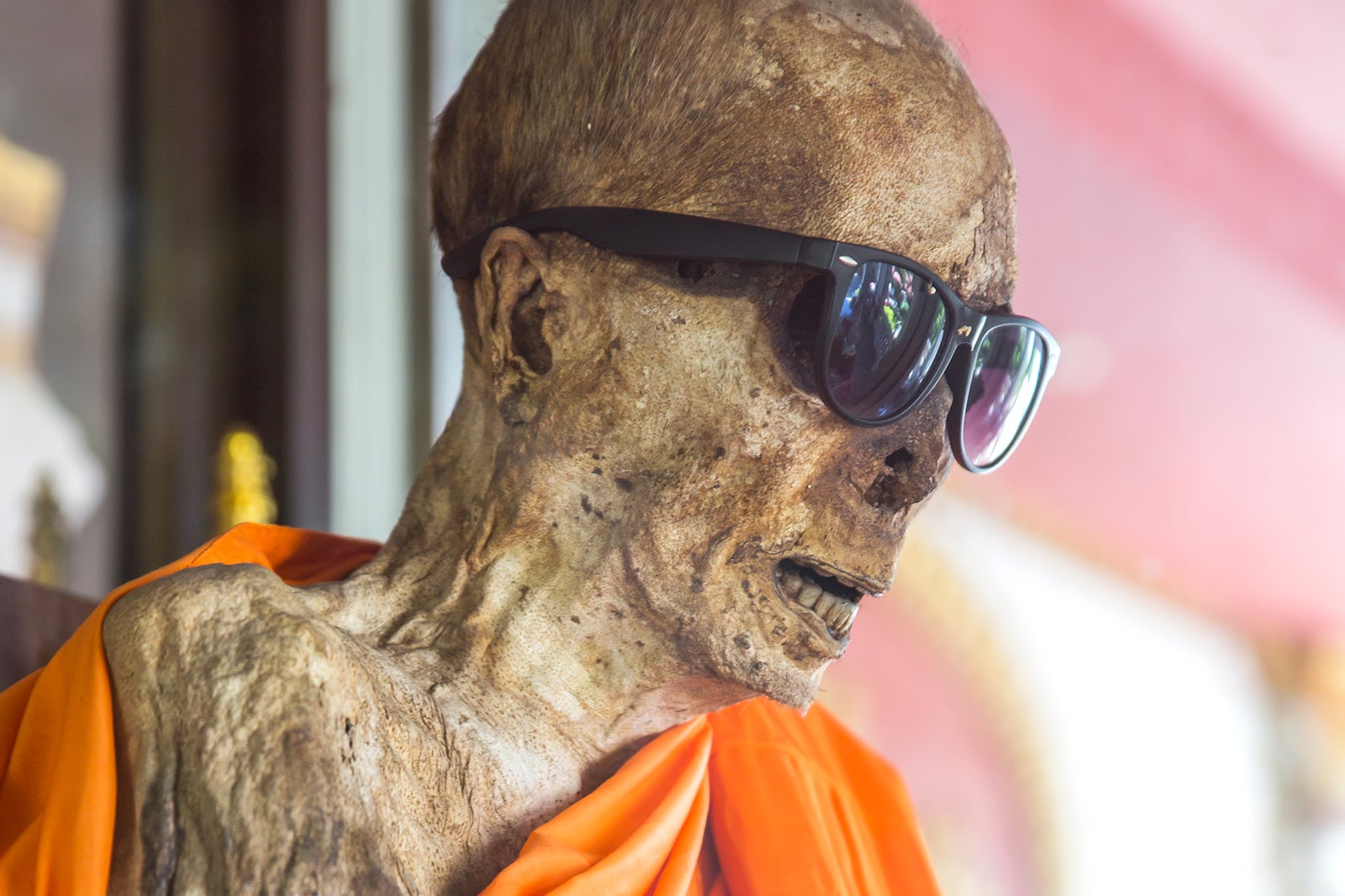 A brief history of the mommy monk at Wat Khunaram
Loung Pordang is said to have told his followers shortly before his death that if his body were to decompose, he should be cremated. Otherwise, he wanted to be put on display as a visual reminder of the Buddha's teachings. For Thais, both the life and death of Loung Pordang serve as an inspiration to follow the Buddhist precepts and walk the middle path.
Loung Pordang was born as Dang Piyasilo on Koh Samui in 1894 to a prominent family within the tight-knit island community. Like many Thai Buddhist men, Khun Dang was ordained as a monk in his early 20s. He spent 2 years at Wat Samret before disrobing and marrying a local woman, with whom he had 6 children.
Later on in life, after his children were grown, he returned to the monastic life, where he immersed himself in studying Buddhist texts and meditation. The name given to him as a monk was Phra Khru Samathakittikhun.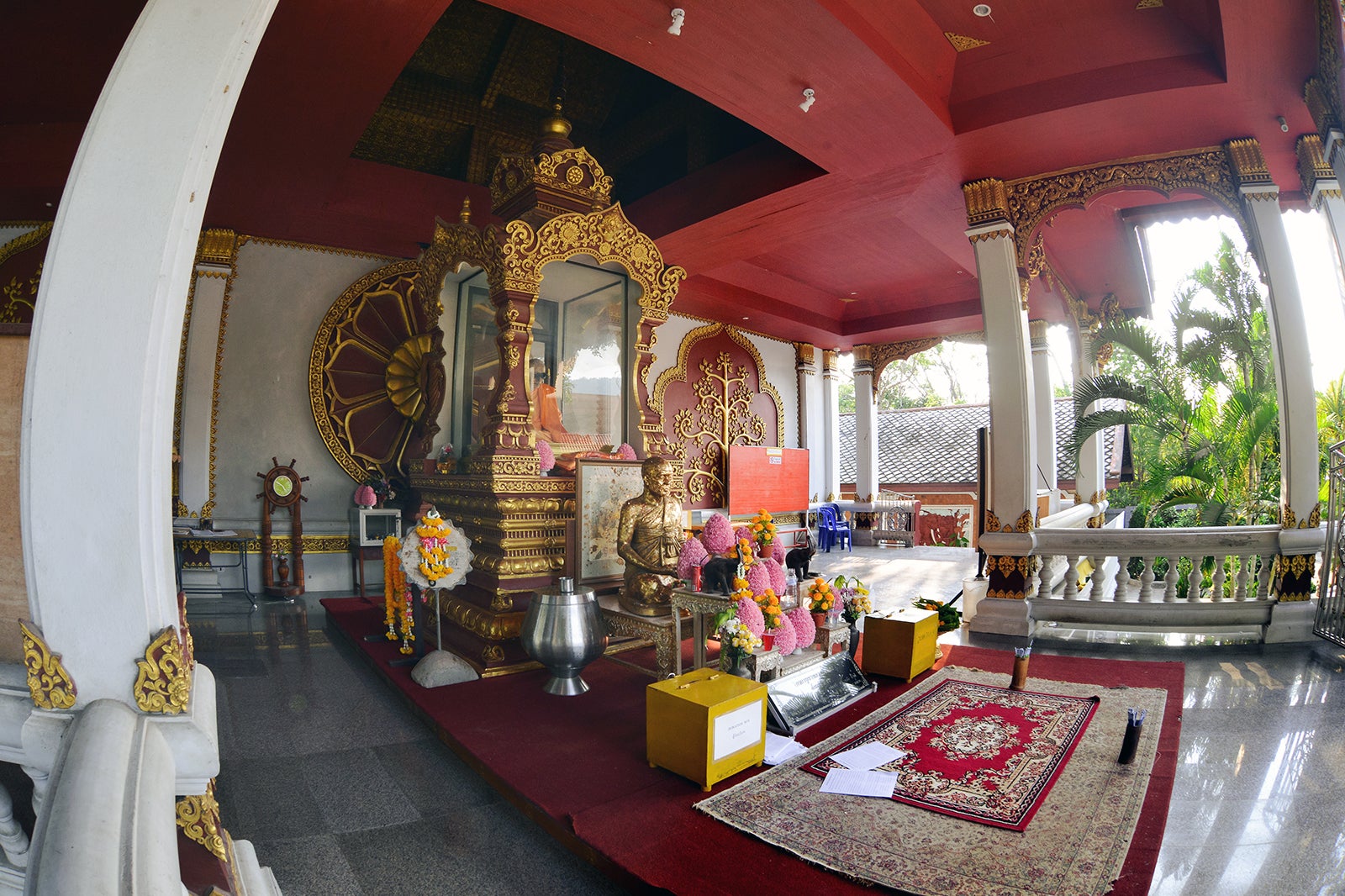 After spending some time in Bangkok, he returned to Koh Samui where it is believed that he did an intensive meditation session in Tham Yai (Big Cave), and lived out his days as a highly respected monk and abbot. In the week before his death, Loung Pordang, aged 79, stopped eating and speaking and sat in a deep meditative state before his life slipped away.
It is believed that his simple life, healthy diet and long meditation sessions contributed both to his long life and his body's amazing preservation after death. The only noticeable change to the body has been the disintegration of the eyes, which have now been respectfully covered by sunglasses.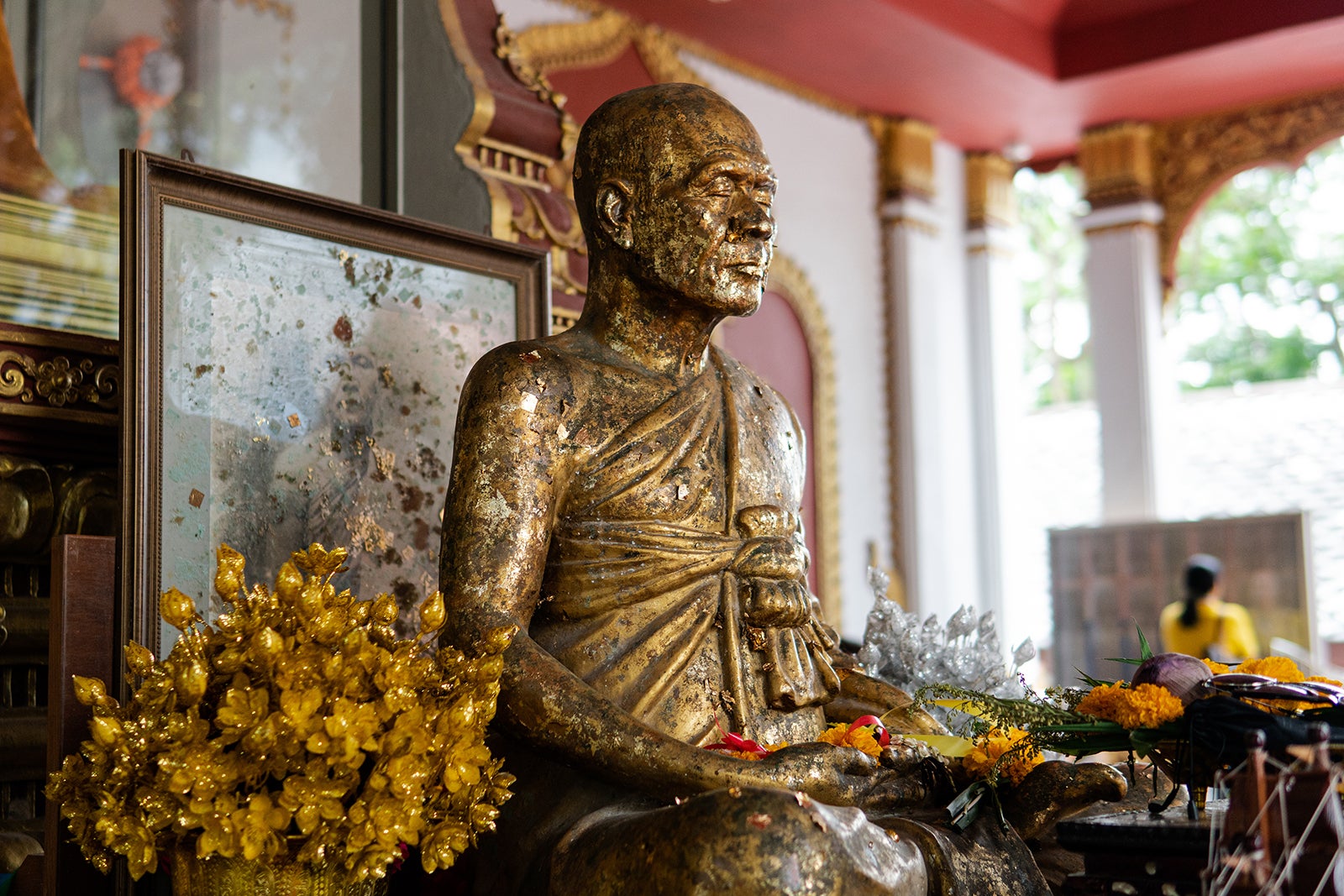 Good to know about Wat Khunaram
Aside from the Mommy Monk, Wat Khunaram is a fairly typical Buddhist temple, where local people come daily to make merit and pray. Amulets and other Buddhist artifacts may be bought, and visitors are welcome to join or observe the daily rituals and have a look around.
You can find Wat Khunaram on Route 4169 (the beltway) between the Na Muang waterfalls and Hua Thanon, 13 km south-east of Nathon Pier and about 6 km west of Lamai Beach.
The temple is open for visitors during daylight hours every day, and the best times to go are early morning or late afternoon, when the temple is most active with merit-making and monk chanting activities. There is parking available on the temple grounds.
Entry is free, though donations are welcome to support the temple's upkeep. It's a sacred place of worship, so be sure to dress politely by wearing trousers or skirts that cover the knee and covering bare shoulders with a shirt, scarf or sarong.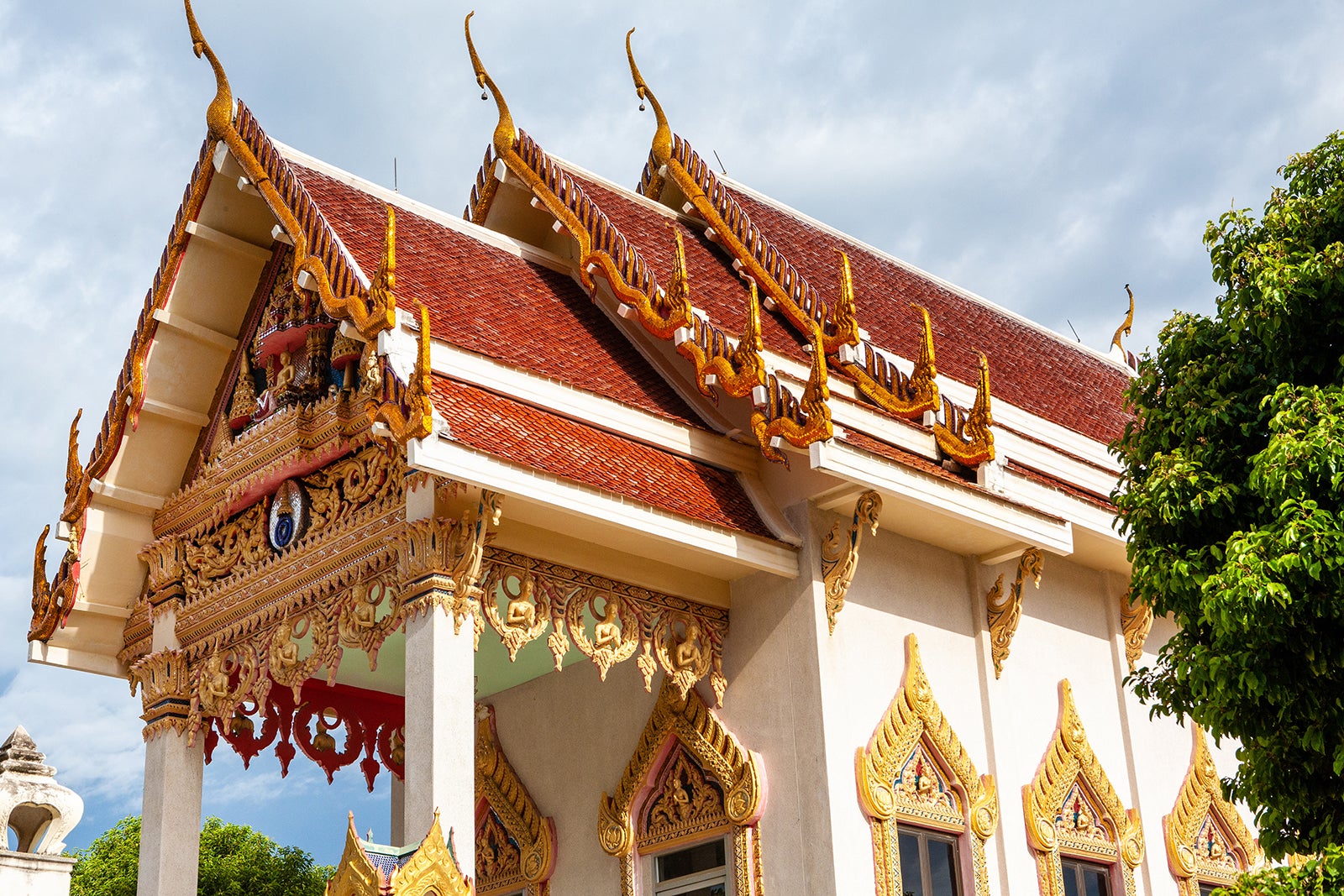 Wat Khunaram in Koh Samui
Location: Route 4169, Na Mueang, Koh Samui, Surat Thani 84140, Thailand
Open: Daily from 6 am to 6 pm
Back to top