Wat Khao Rang, also known as Sumnak Song Khao Rang or Wat Khao Rang Samakkhitham, is a temple on the slope of the popular Khao Rang (Rang Hill) in Phuket. This is where you can discover a large golden sitting Buddha, which was the first of its kind on the island. This charming temple is usually busy at weekends with visiting locals.
The temple is often an included itinerary on travels to the Phuket and Andaman region, together with Khao Rang Viewpoint and a selection of Khao Rang's scenic restaurants.
Wat Khao Rang in Phuket - one of the highlights of Khao Rang in Phuket Town and 13 Best Kept Secrets in Phuket (Read all about Phuket Province here)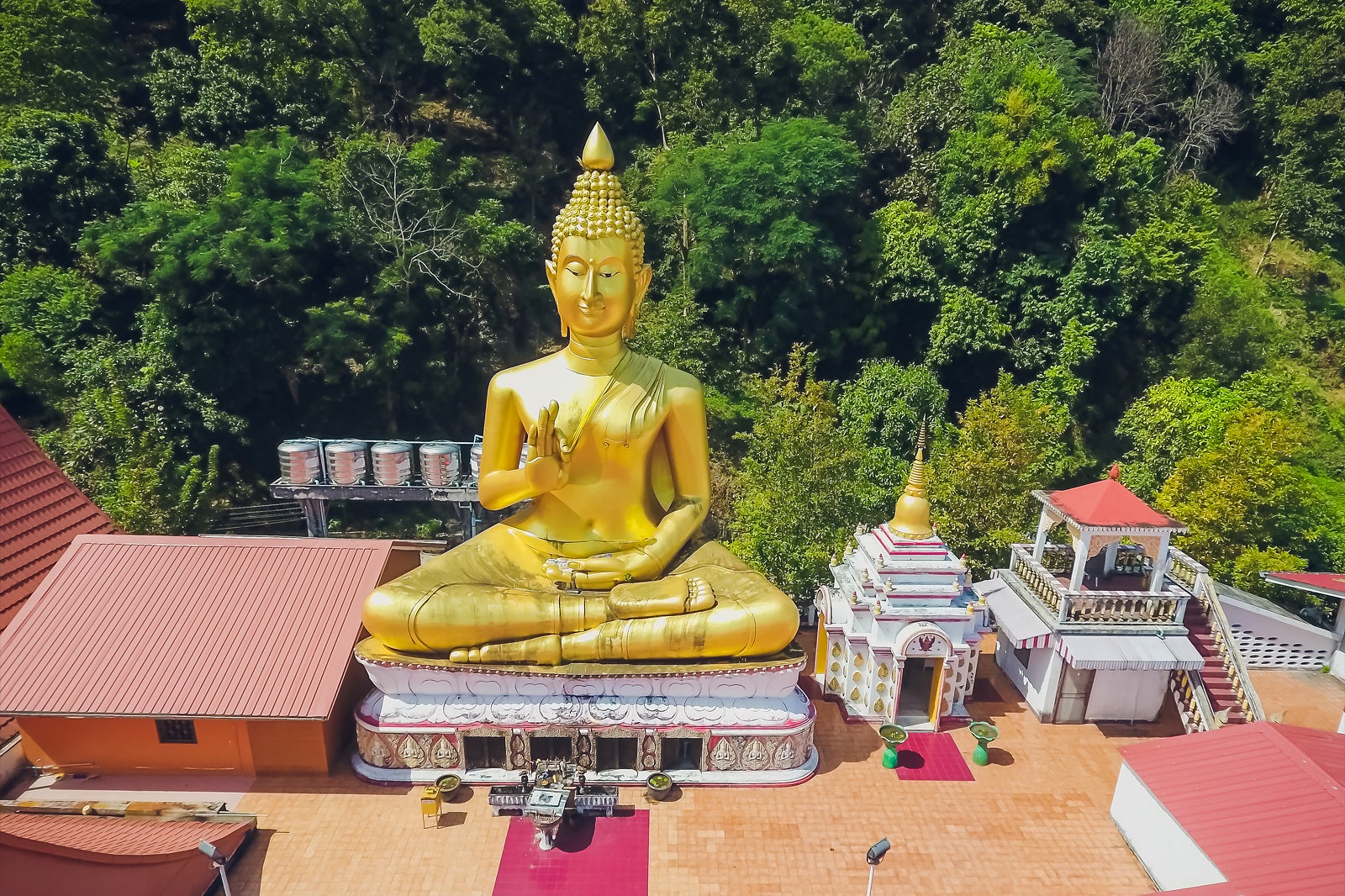 Wat Khao Rang highlights
Built many years ago, the beautiful golden sitting Buddha image at Wat Khao Rang is a spiritual center for many worshippers on the island. Not only does it look amazing, but it was also the first big Buddha image Phuket ever had until the giant Buddha in the Nakkerd Hills was built between Chalong and Kata.
The atmosphere of the temple is very peaceful and not at all touristy. It's common to see different generations of families come to 'make merit' by donating fresh food as well as alms to monks, usually in the mornings before 11am. This is one of the most beautiful images to see in Thailand.
Don't miss a chance to walk around the temple to see some of the incredible Thai art forms including a statue of Yommaraj (the Lord of Death) and giants in Thai myths as well as traditional carving on the temple's doors and roofs. Sitting in a row are the images of monks who were highly respected, and who passed away years ago.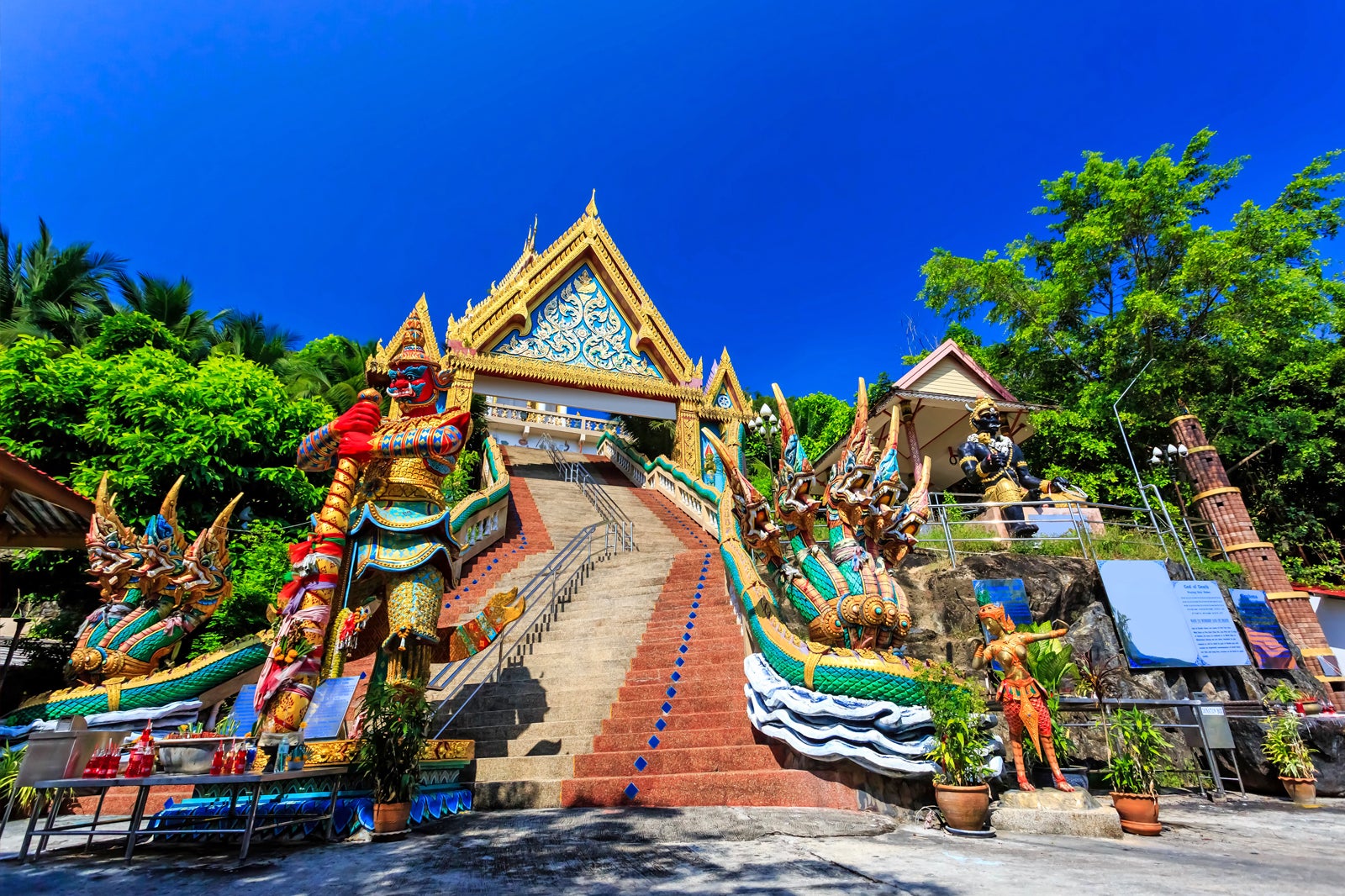 What not to miss at Wat Khao Rang
What made this temple famous is not only its interesting religious images but its late founder, Luang Pu Supha (locals sometimes refer to Wat Khao Rang as Wat Lung Pu Supa). Born more than a century ago in a rural area of Issan, he was also known as 'The Living Monk' as he lived through the reigns of 5 Thai Kings of the Chakri Dynasty, from King Rama V to King Rama IX. He began his monkhood at the age of 9 and was ordained as first a samanen (apprentice) and later a monk.
In his younger years, Luang Pu Supha never settled anywhere for long and was always on the move to meditate and study Dharma as well as help people. He chose Phuket as his final home probably because of his age and health. After spending many years at Wat Khao Rang, he moved in permanently at Wat Silsuparam (also known as Wat Mai Luang Pu Supha) in Chalong until his passing in 2013.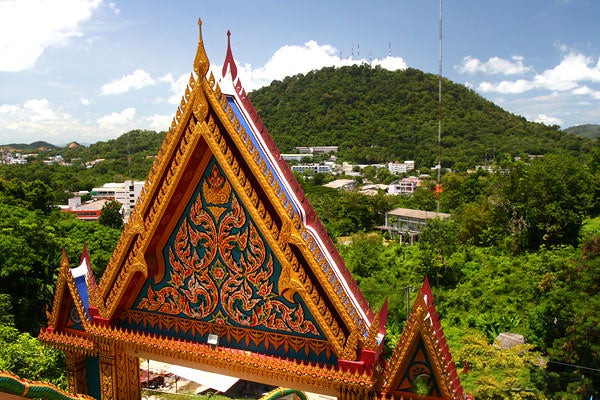 Good to know about Luang Pu Supha
During his pilgrimage, Luang Pu Supha went everywhere mainly by foot, including through deep jungles. He traveled to nearby countries such as Laos, Vietnam, Malaysia, Singapore as well as India and China. He was among a select few Thai monks who made it to France and Eastern Europe which was quite unusual at that time.
He is popular for his public works, knowledge as well as his humble demeanors. His works included building bridges for poor villages and hospitals for monks. He built or helped renovate more than 30 monasteries around the country including Koh Sirey Temple in Phuket. Wat Khao Rang's amulets featuring his image are very popular among collectors.
To get to Wat Khao Rang from Phuket Town, take the Soi Vachira road, which leads from the Vachira Hospital. The temple is a few hundred meters up on the right.
Wat Khao Rang in Phuket
Open: Daily from 8am to late afternoon
Phone: +66 (0)76 222 520
Back to top