Vertigo at Banyan Tree Bangkok is an amazing rooftop restaurant where you can dine among the stars and with Bangkok twinkling beneath your feet. Complemented by delicious food and attentive service, the experience is one you won't forget in a hurry.
The restaurant is located on the roof of the luxurious hotel on South Sathorn Road, 61 floors above the city. From up here, it offers a panoramic vista of the downtown business district and the Chao Phraya River. Vertigo restaurant is well-suited for a special occasion or a night to remember during your trip to Thailand.
Vertigo Rooftop Restaurant - one of the highlights of 67 Best Things to Do in Bangkok and 10 Great Bangkok Dining Experiences (Read all about Bangkok here)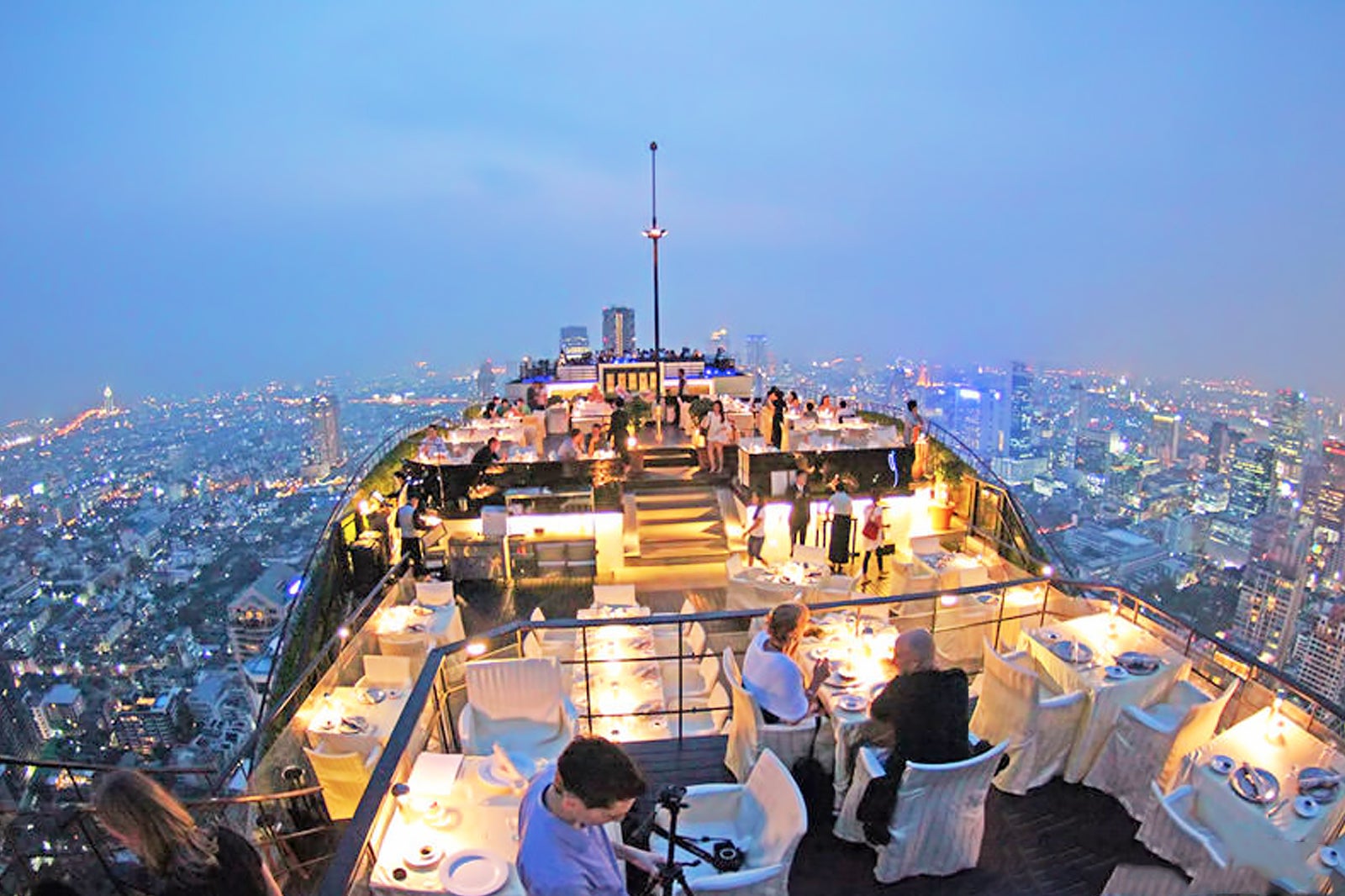 Highlights of Vertigo at Banyan Tree Bangkok
It's worth getting to Vertigo when the restaurant opens at 6pm so you can catch a glimpse of Bangkok during dusk. The view is the highlight of this restaurant, but the delicious food is not far behind. Vertigo and Moon Bar takes over the entirety of the rooftop at Banyan Tree Hotel and offers 360-degrees view of the Bangkok cityscape that includes leafy Lumpini Park and plenty of other skyscrapers around.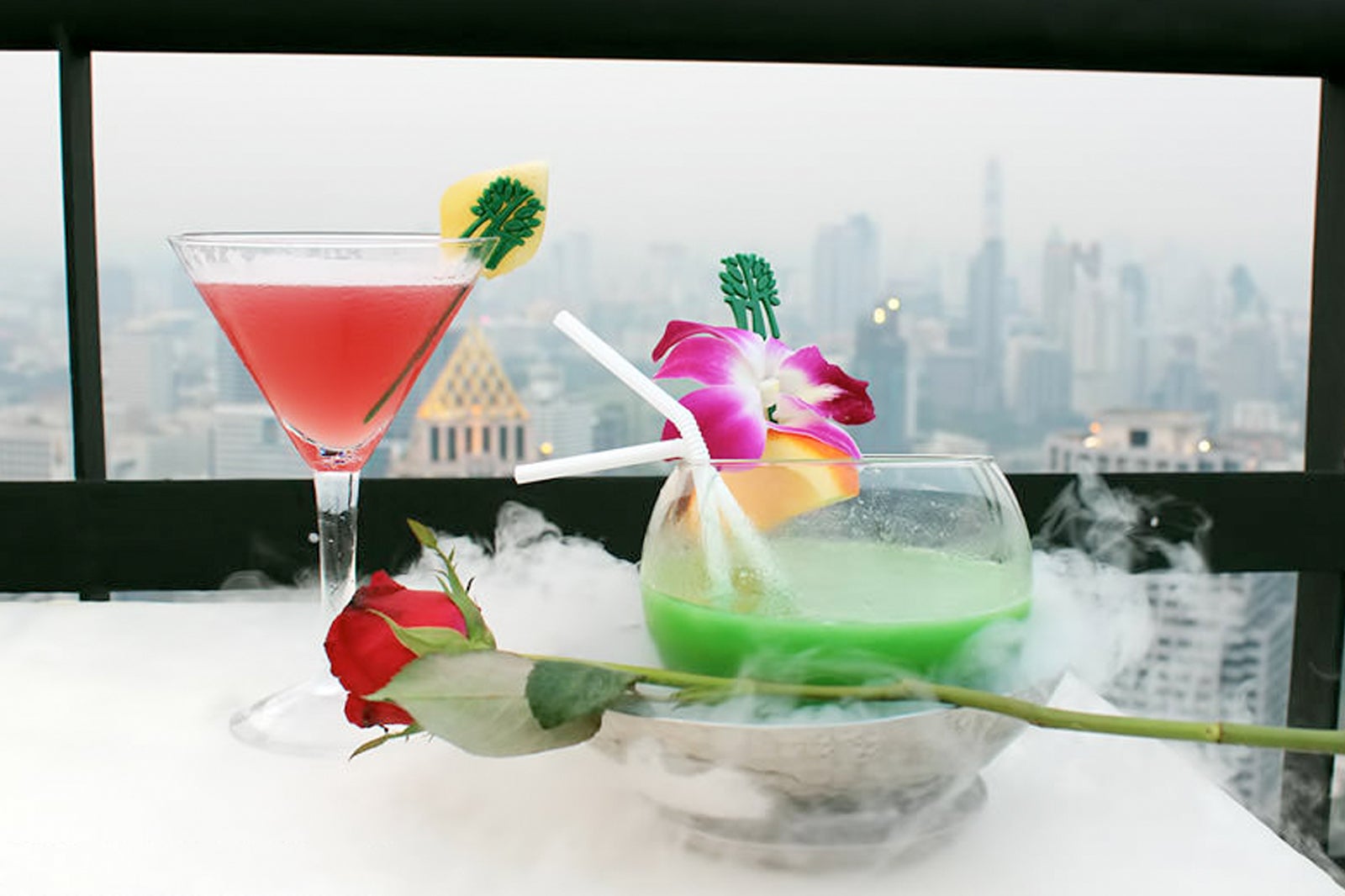 Cocktails at Vertigo Rooftop Restaurant
You can start the evening with Vertigo's signature cocktails (from 350 baht each). Vertigo Sunset is a tropical mix of Malibu, pineapple, cranberry and lime served in a classic martini glass. For the 'wow' factor, try the Moon Romance, which is an enticing green muddle of melon vodka, crème de menthe, peach and lime. Served with a rose and on a bed of dry ice, it certainly makes heads turn. The unusual combination is also refreshing and surprisingly delicious.
There are also plenty of other cocktails, mocktails and an impressive wine list to choose from. Be sure to wander down to Moon Bar at the opposite end of the restaurant. From here, you'll get a fantastic view of the Chao Phraya River winding through the skyscrapers.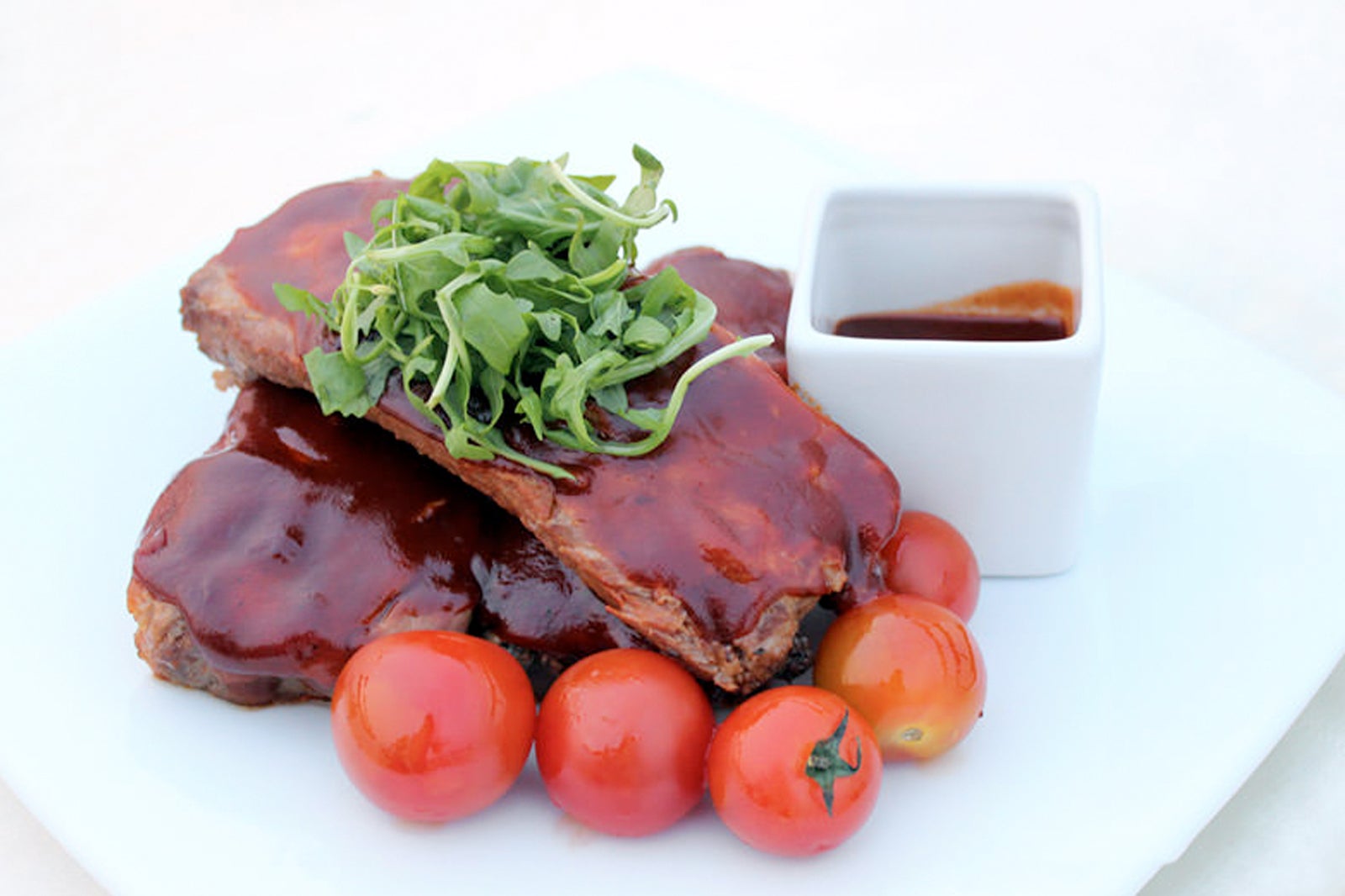 Dining highlights at Vertigo at Banyan Tree Bangkok
For appetizers, try the fresh lobster spring rolls, generously stuffed with meat, mango, herbs and served with a fruity mango and cinnamon chutney. The tuna tartare is also great for sharing, carefully sliced and extremely flavorful, topped with chunky guacamole and served with lotus roots crisps, which adds crunchiness to the dish.
A popular main course, though perhaps not the most picturesque, is the barbequed baby back pork spare ribs, served with a tangy sauce and roasted baby tomatoes. The meat literally falls off the bone, and there's also extra sauce to pile on top of the very generous helping.
The sea bass, served on a bed of creamy dauphinoise potatos and served with crunchy greens, is also popular, as is the tagine of duck, which comes with juicy oranges, figs and artichokes. The fruit really brings out the flavors of the pink duck and takes the edge off the delicious but fatty skin.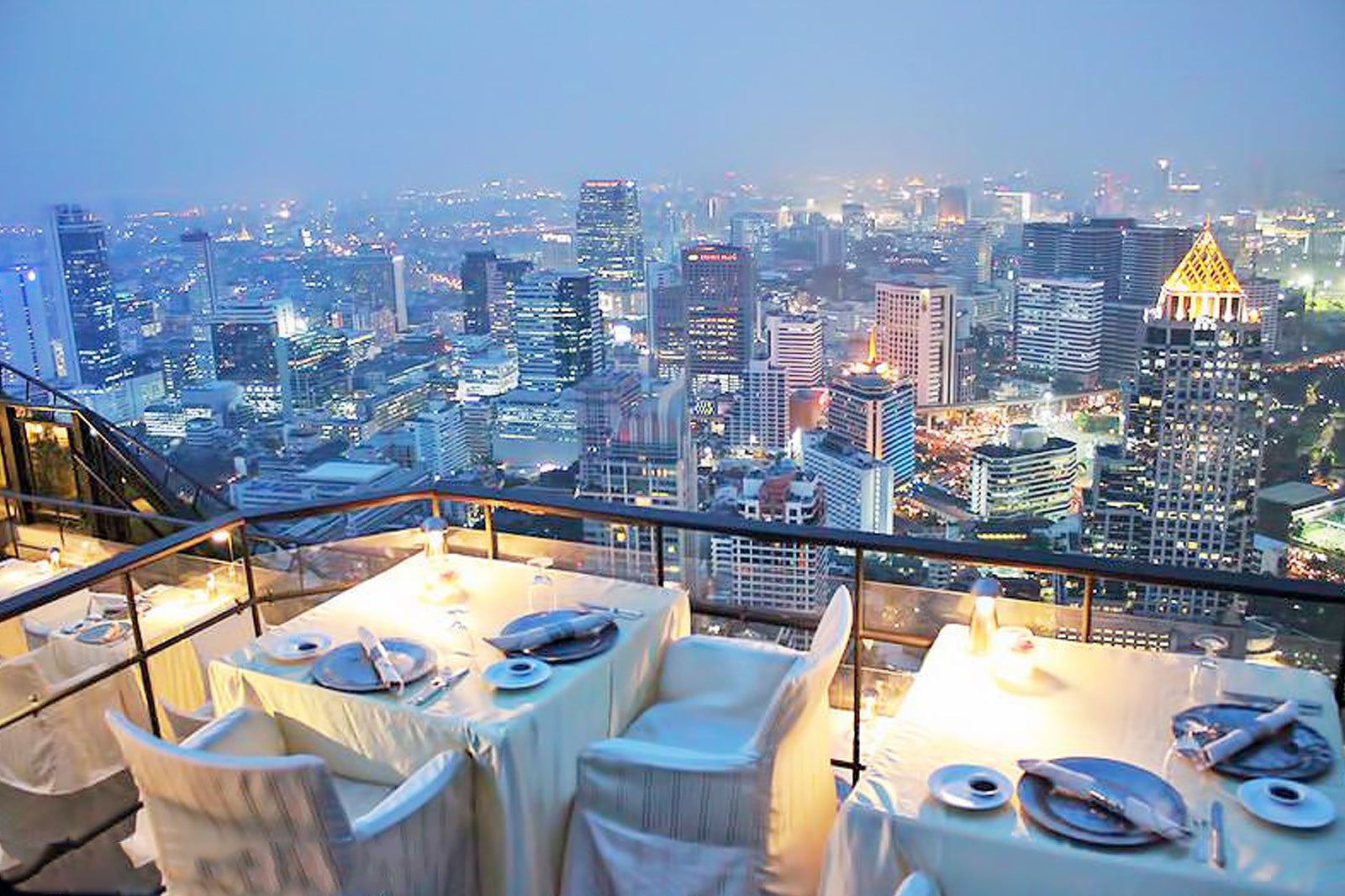 The desserts are too tempting to turn down. You can go traditional with mango sticky rice and coconut ice-cream or try unique creations like the mango cheesecake, fresh fig tart, or Thai tea crème brûlée.
Viewing the sunset from Vertigo at Banyan Tree Bangkok is a must-do, and enjoying dinner at the sky-high restaurant makes the moment even more memorable. Though you're dining on the roof, Banyan Tree has taken the 5-star fittings and service outdoors with silver service, flowing tablecloths and soft lighting.
Vertigo Rooftop Restaurant
Location: Banyan Tree Bangkok, 21/100 South Sathorn Road, Thung Maha Mek, Sathon, Bangkok 10120, Thailand
Open: Daily from 6pm to 10.30pm (weather permitting)
Phone: +66 (0)2 679 1200
Why book with Hotels.com?