Getting Around Chiang Mai
Chiang Mai Transportation
Getting around Chiang Mai is fairly easy as many attractions are within easy walking distance of the main hotels and each other. Walking is a great way to appreciate the city's ancient charm. An afternoon spent wandering the twisting sois (alleyways) of the old city is a pleasant way to lose yourself amid genuine Thai life.
If you don't wish to walk, there are still plenty of ways to get around Chiang Mai. The songthaews are the ubiquitous red, open-air buses that constantly orbit the moat. These are a cheap but slow method for getting around. A flashier and faster transportation option is the tuk-tuk, or 3-wheeled, open-air taxi cab. These generally crowd in ranks near the major hotels and tourist neighborhoods. They are a lot quicker than the songthaews but a little more expensive.
Having your own automobile or motorbike is a great way to explore some of the landmarks and attractions just outside of Chiang Mai. If you're taking any kind of day tour or package tour, don't worry about transportation. Many hotels and travel agencies provide some kind of shuttle service.
1
Renting a automobile in Chiang Mai
Automobile rental is readily available in Chiang Mai. Avis, Budget and Hertz have outlets in Chiang Mai, with many smaller local companies offering rental services at competitive rates. Vehicles on hand range from small commuter compacts to 4-wheel-drive jeeps and trucks suitable for exploring the rugged countryside.
To rent a automobile or truck in Chiang Mai, you will need a valid passport and driver's license. Some companies will require an international driving license, while others will accept a valid license from the renter's home country. All rental companies provide insurance with their vehicles, including 3rd-party liability. Be sure to read your rental agreement carefully, however, and make sure that you keep a copy with you at all times.
Songthaews are the standard means of travel for most residents of Chiang Mai. These cheap and readily available vehicles are great for traveling within the main city. Most songthaews drive along standard routes but are usually more than happy to take you to a specific destination.
Flag the driver down and ask where he's heading. If your destination lies in the same direction, hop in and signal him when you want to get off. Always negotiate the fare beforehand if you want to go to a specific destination.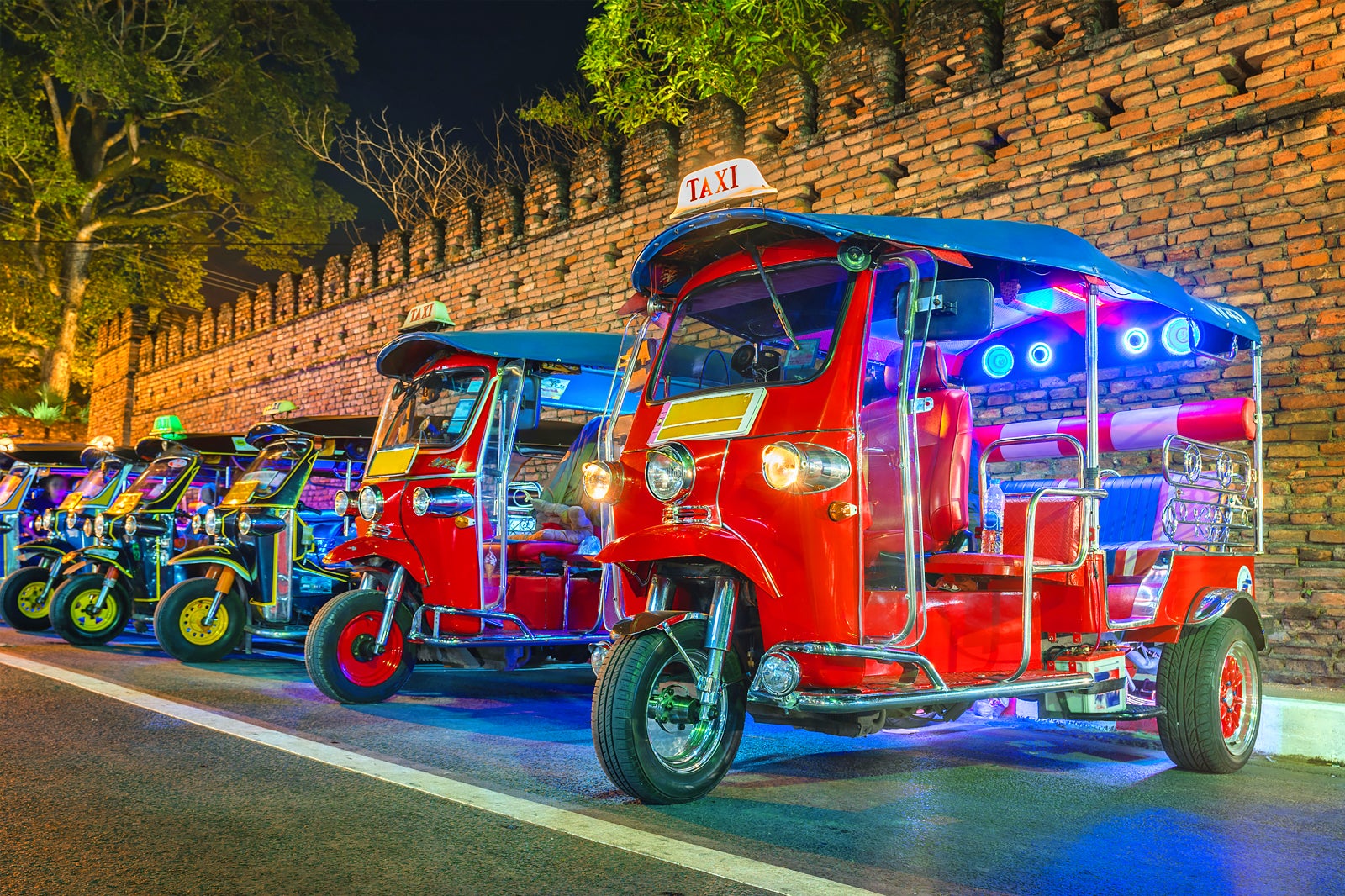 Tuk-tuks are a common way of getting around Chiang Mai. These colorful, 3-wheeled vehicles are an unofficial symbol of Thailand. If you are traveling somewhere outside the main city, or are in a hurry, a tuk-tuk is a better option than the slower songthaews.
You can find them near all of the major hotels and tourist neighborhoods, such as the night bazaar and Moon Muang Road. Make sure to negotiate the fare before you climb in.
4
Renting a motorbike in Chiang Mai
Renting a motorbike is great for those who want to prefer getting around Chiang Mai on their own. Several large motorbike rental companies are available in the city, with every business in touristy neighborhoods offering a bike or 2 for rent. The most common models are 100 or 125 cc Hondas, which are reliable and easy to drive.
Chiang Mai is a fairly safe place to ride a motorbike, especially compared to many parts of Thailand. However, accidents can still happen. Note that, if you are driving a motorbike without a Thai or international license, some travel and medical insurance companies will refuse to pay out, so having the right documents is highly recommended. If you want to ride something a bit more substantial than a Honda scooter, some companies rent out road bikes, touring bikes, and dirt bikes.
Bicycles are a cheap and enjoyable way to see the sights of Chiang Mai. There are often group cycling tours that pass by major landmarks. If you're looking for some thrills, there are plenty of rough mountain trails that wind down from the nearby mountain tops. Most of these end up at the Huay Thung Tao reservoir, where you can enjoy a dip and some lunch after a long trail ride.
Back to top