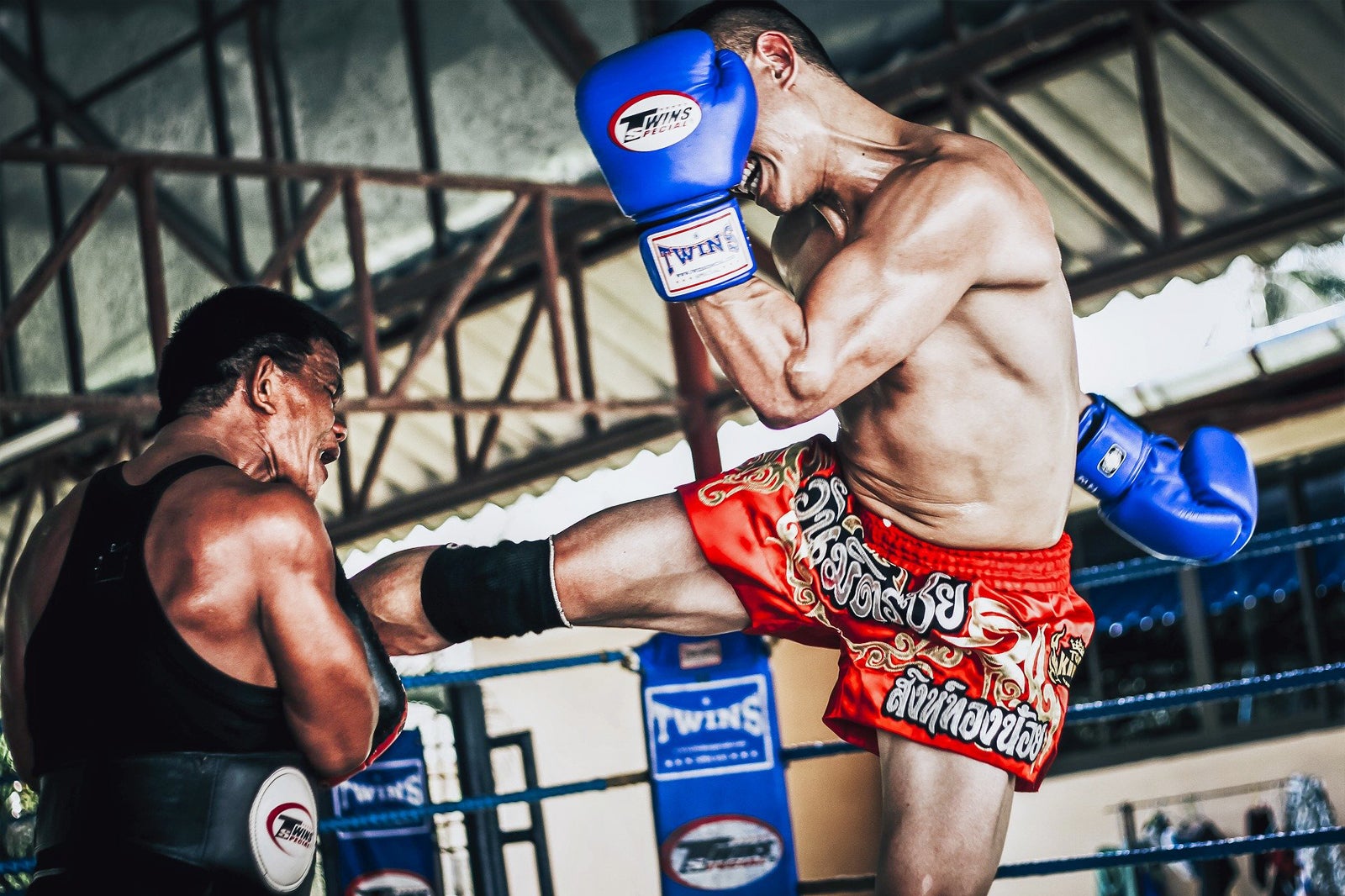 Tiger Muay Thai Camp in Phuket
Mixed Martial Arts Excellence in Chalong
Tiger Muay Thai & Mixed Martial Arts Camp is a serious training camp that welcomes high-level athletes. This is not the sort of place visitors wander into for a few hours to learn a few moves, enjoy a workout and then wander out again. Tiger Gym is one of the most dedicated Thai Boxing camps in the country and, by extension, the world. Fighters arrive from all over the globe to learn from dedicated Muay Thai champions and mixed martial arts experts.
Mixed martial arts (MMA) is one of the fastest-growing sports in the world and Muay Thai the deadliest of its branches. With that in mind, you'd expect a lot of stray testosterone flying around and bruised faces at Tiger, but that's simply not right. There's a positive, warm, friendly but businesslike atmosphere to the place as people come here to attain a goal that's not easy to achieve – a balance of supreme physical fitness and dizzying levels of fight talent.
Tiger Muay Thai Camp in Phuket - one of the highlights of 12 Best Things to Do in Chalong Bay and 5 Best Muay Thai Camps in Phuket (Read all about Phuket Province here)
Situated on almost 2 acres of land in the central part of Phuket, Tiger Gym is divided up into weight and fitness sections along with areas dedicated to the various levels of fight potential. Here, you won't get a pro or an advanced student in the same ring as a beginner except of course in a teacher-pupil context.
Tiger receives about 250 to 400 trainees a month with a girls-to-boys percentage of 35-to-65%. English is widely spoken and a noticeable number of trainees are repeat visitors. There are a number of high-level instructors and coaches (about 34 Muay Thai coaches and foreign coaches from around the world who specialize in fitness, Brazilian Jui-Jitsu and MMA). Additionally, Tiger hosts professional fighters from around the world on a daily basis who train here for their fight camps.
The Muay Thai courses are broken down into group classes which run twice a day and beginner, intermediate, advanced and professional fighter invite-only classes. Trainers are also available for private lessons and travel around the globe to train fighters in their home gyms.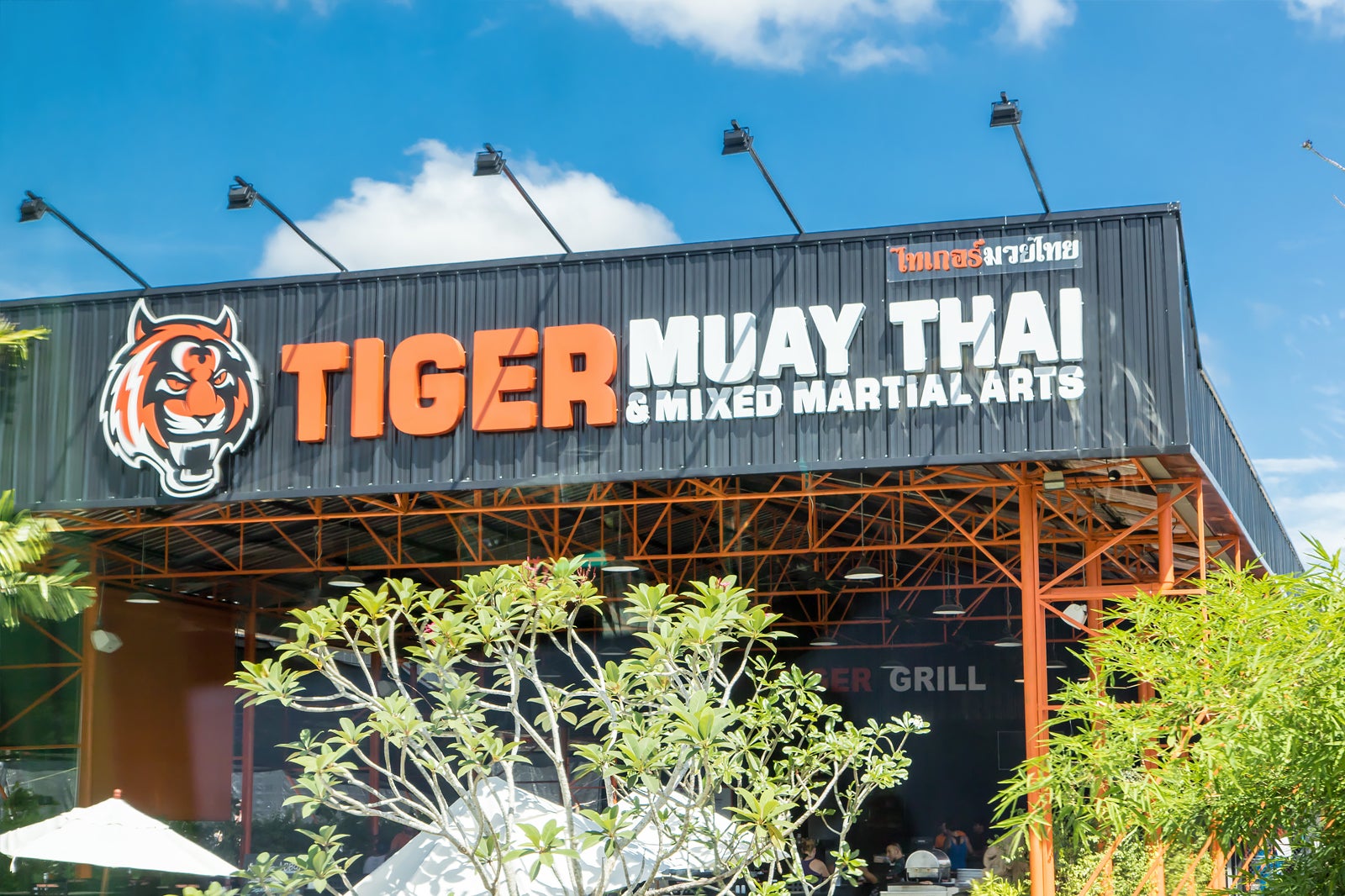 In the heart of the camp sits an open-sided fan-cooled restaurant 'The Tiger Grill'. Again, you'd be tempted to predict that it's all brown rice and raw vegetables here but the chef is surprisingly and pleasantly inventive and conjures up healthy yet delicious dishes such as grilled chicken with mango, arugula salad and wasabi sauce. The vegetarian pizza is especially recommended.
It's not all about fighting at Tiger. On Tuesdays, the camp jogs up nearby Nakkerd Hill to the iconic Big Buddha and back while on Thursdays there's beach training at Nai Harn Beach. You can also stay here during your course in accommodations, which varies from basic dorms to air-conditioned comfort.
All in all, Tiger is impressive. When it comes to course preparation, teaching levels, dedication and equipment standards, all the boxes are ticked and it really is what it claims to be: one of the world's best mixed martial arts training camps.
Tiger Muay Thai Camp in Phuket
Location: 7 35 Soi Ta-iad, Chalong, Phuket 83130, Thailand
Open: Monday–Saturday from 7am to 7pm, Sunday from 11am to 5pm
Phone: +66 (0)76 367 071
Back to top