The View at Melati Beach Resort & Spa is a flagship hotel restaurant serving delectable, high-end cuisine. Located in Thongson Bay on the northeast coast of Samui, this is a tricky spot to find, but it does give the setting a romantic, exclusive vibe.
The restaurant is a tranquil oasis of peacefulness, and you will be able to relax with fantastic views, gentle sea breezes and stunning décor. The View has all of these factors and knows how to make the best of them.
The View Restaurant at Melati Resort in Koh Samui - one of the highlights of 8 Most Romantic Restaurants in Koh Samui (Read all about Koh Samui here)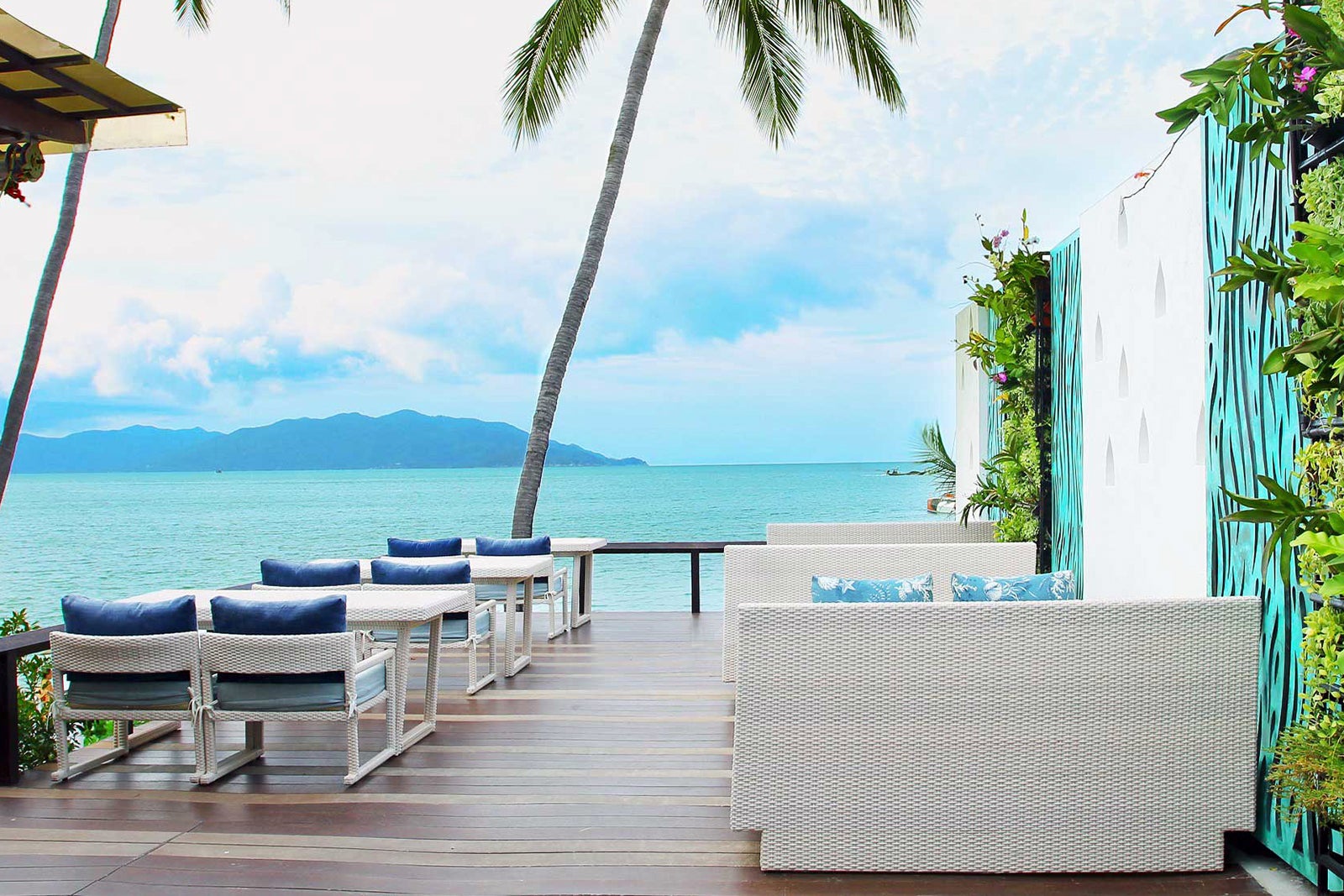 What are the highlights of The View Restaurant in Koh Samui?
The View Restaurant is breezy and open-sided with a great vista of neighboring Koh Phangan across the water. Spectacular bamboo partitions separate the lush seating arrangements – both table and sofa dining available – and a pool bar is just meters away.
Overhead and pillar lighting is kept to a romantic low with additional table candle lamps. The View also has a beach dining option for that special moment: staff members will set up table and chairs in the sand along with bamboo partitions and flaming flashlights to set the mood for you.
The View is spacious and yet intimate in parts with a vibe that's almost Mediterranean in tone. The discreet lighting helps the atmosphere along, but the setting and views elevate the experience above what you might expect at an ordinary hotel restaurant.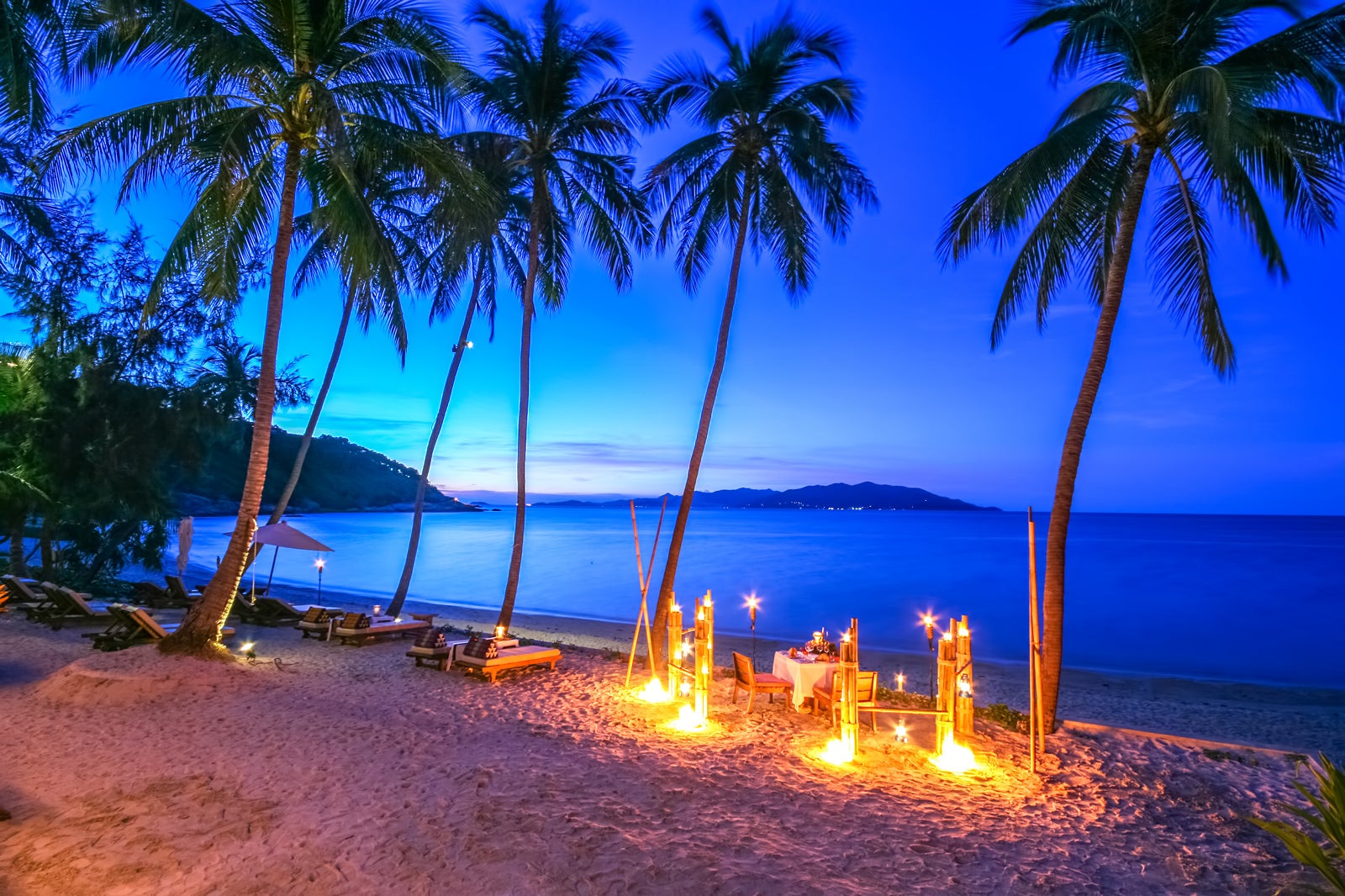 What to eat and drink at The View at Melati Resort in Koh Samui?
The selection of fresh and well-presented dishes at The View includes Mediterranean-style mussels, spinach ravioli, tomato-and-buffalo-mozzarella salad, stuffed chicken breast and a host of other healthy options.
The roasted sea bass filet on a bed of vegetables is a case in point regarding the nourishing and healthy dishes here, while lasagna with slow-cooked veal ragu in meat jus, proof of the tasty options.
Pan-seared tuna with asparagus, eggplant on a bed of pine nuts, raisins and pumpkin is piquant and a hearty dish. All in all, a fine range of main course dishes along with a competent and inexpensive desserts menu.
With a competent wine cellar and some 80 labels to choose from, there's enough here to satisfy all but the most exigent wine snobs. The View hosts wine dinners and also features a 'wine buffet'. For a fixed price you can help yourself to options ranging from Chilean to Italian to Thai.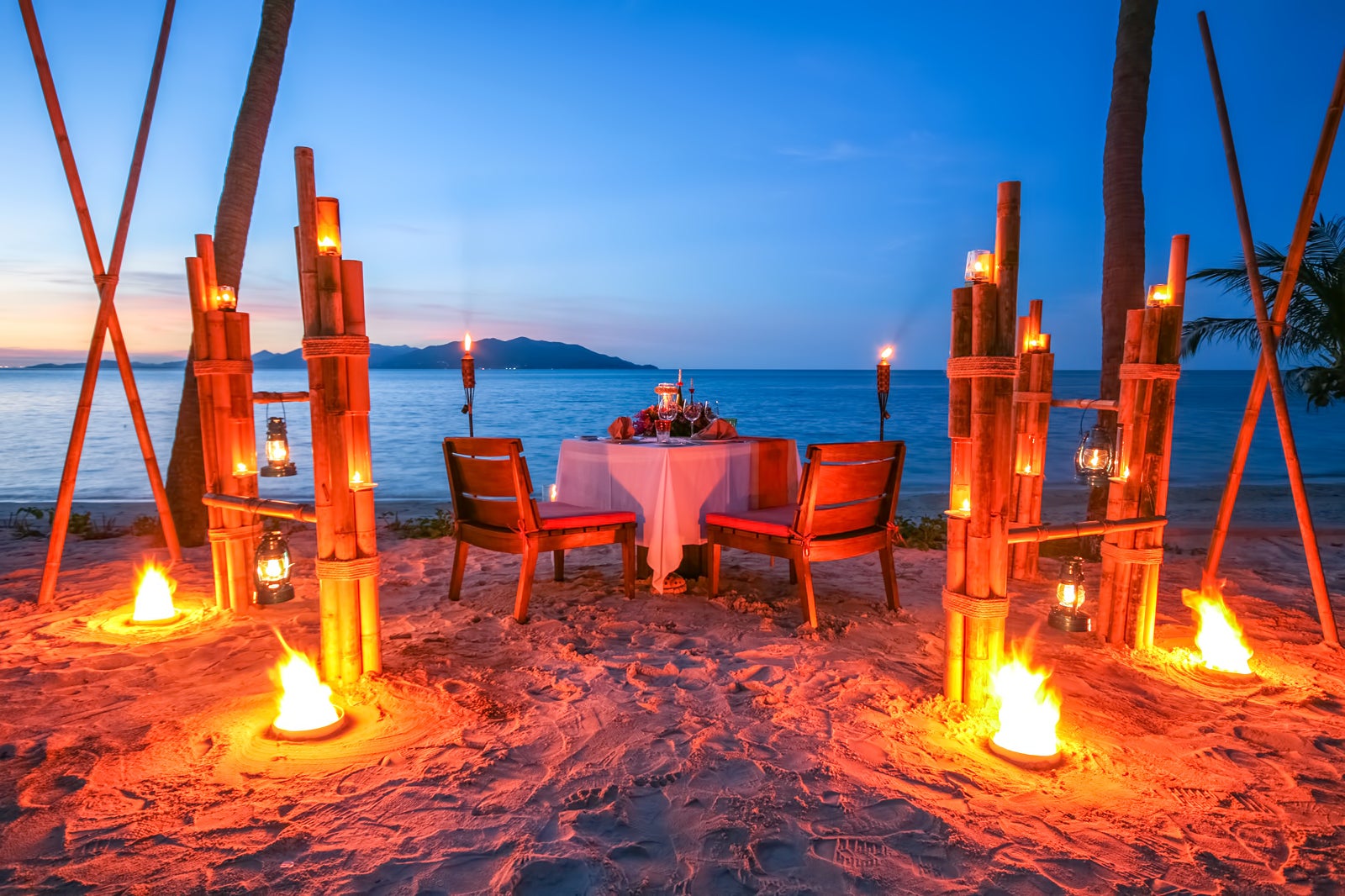 The View Restaurant at Melati Resort in Koh Samui
Location: Melati Beach Resort & Spa, 9/99 Moo 5, Thongson Bay, Bophut, Koh Samui, Surat Thani 84320, Thailand
Open: Daily from 6 am to 10.30 pm
Phone: +66 (0)77 913 400
Back to top