Thai desserts are made using intricate preparation methods, with a great deal of fresh and quality ingredients such as tropical fruit, palm sugar, rice flour and coconut milk. While most are well acquainted with savory dishes like tom yum goong, pad thai, and som tum, very few people are familiar with traditional Thai desserts such as thong yib, thong yod, or khanom chun.
If you've been to a local market or supermarket in Bangkok, you may have seen them, smelled them, or even tried them before – but never quite knew what they are, or what they're made of.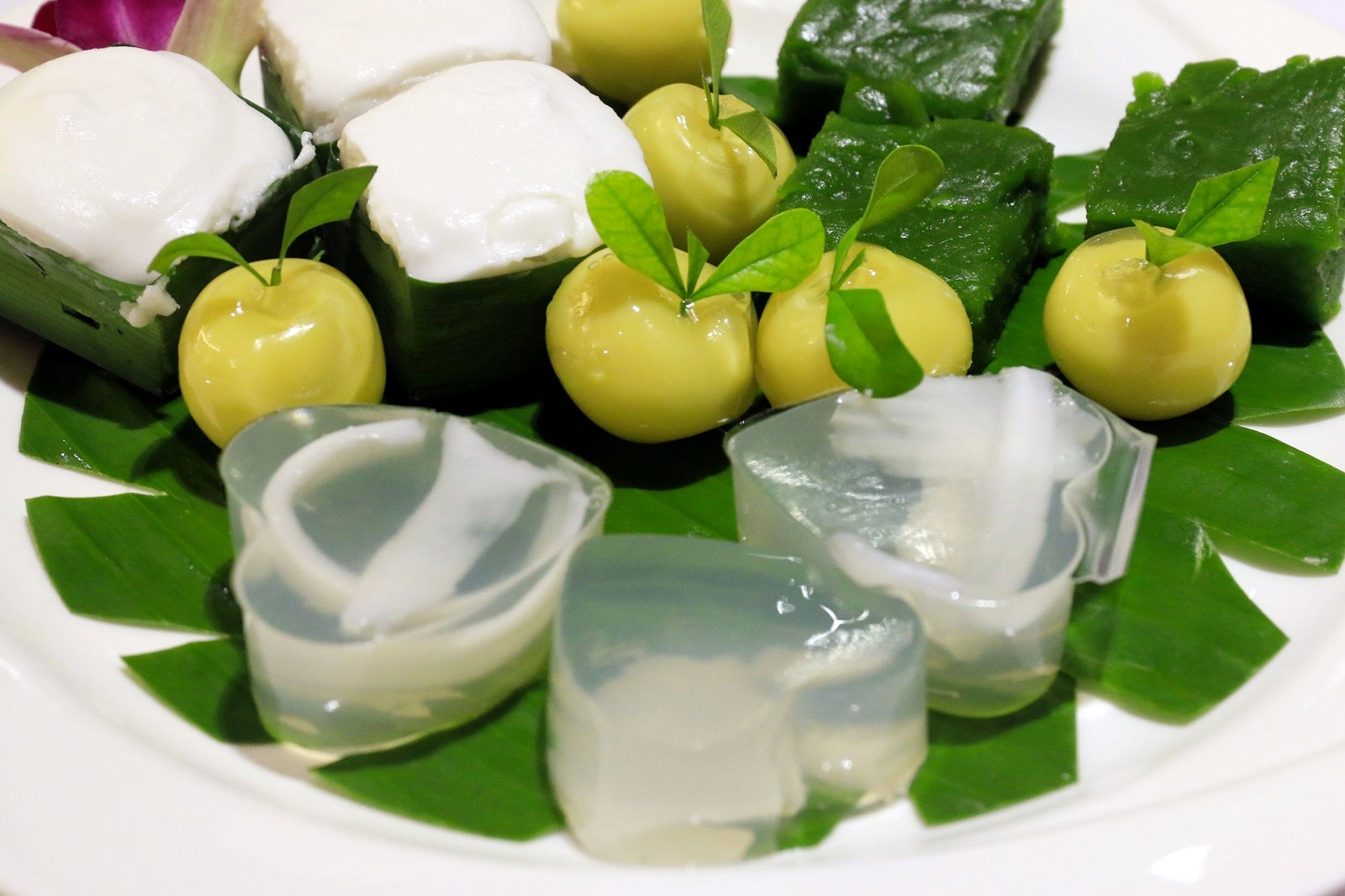 Types of Thai desserts
Some of the most common Thai desserts are of the egg yolk varieties, including thong yib (pinched gold), thong yod (drop of gold) and foi thong (golden threads). Like many traditional Thai desserts, they have symbolic meaning – the color gold signifies auspiciousness and prosperity, so they're often served in auspicious ceremonies like weddings, the commemoration of a new house, and ordainment.
There's also khanom chun (layered dessert), a name derived from the fact that this dessert has 9 layers. The number 9 is believed by Thais to be an auspicious number, which represents advancement and progress. You may see other color variations available alongside the traditional shade of green (from the pandanus leaf).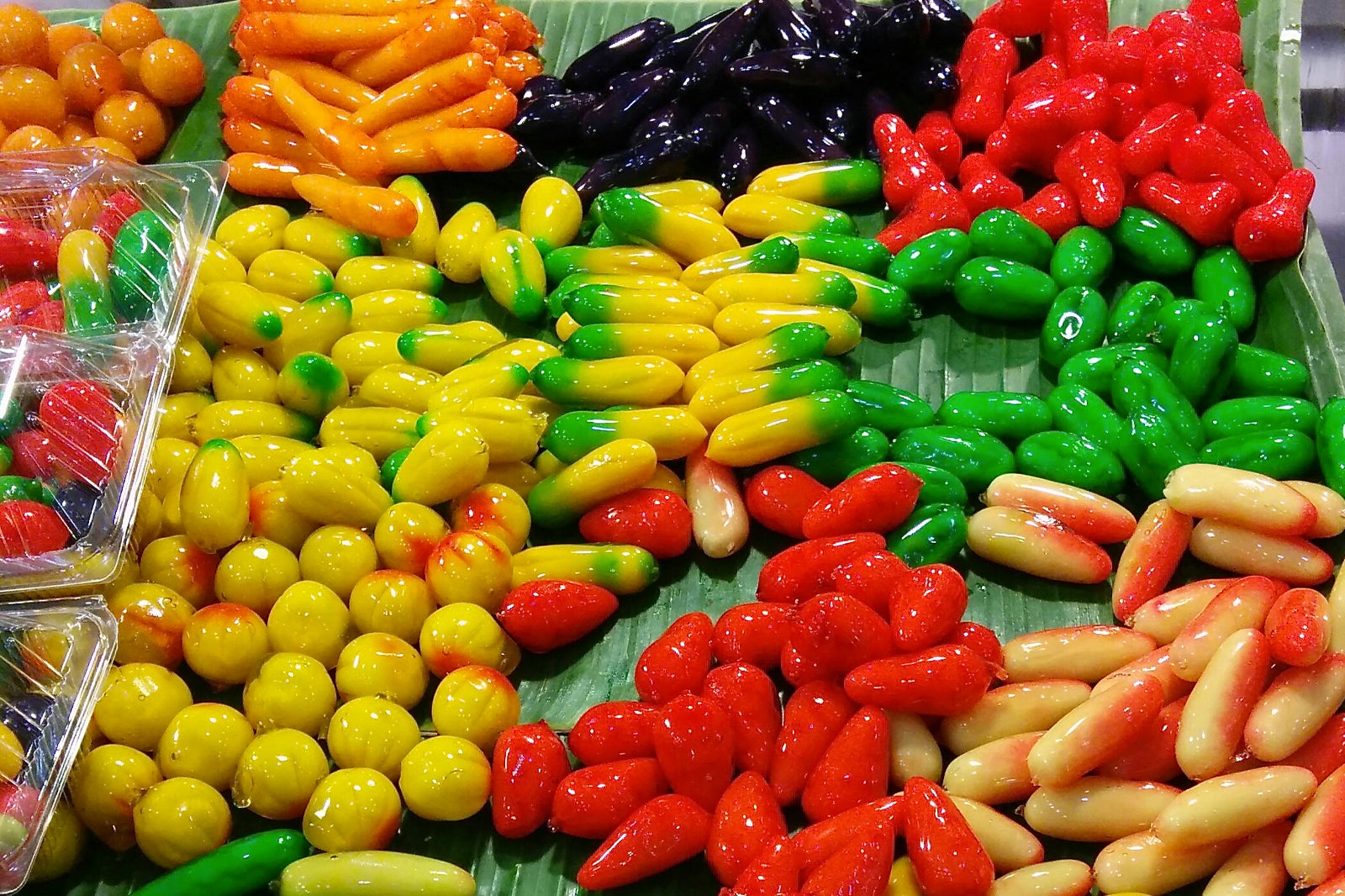 One of the most outstanding desserts in Bangkok is look choob (miniature fruits). These are glossy and colorful miniature fruits and vegetables made from moonbeam paste, cooked in coconut milk and dunked in gelatine.
Tropical fruits also find their way into the world of Thai sweets. Perhaps the most well-known of all is khao niew ma muang (sticky rice garnished with sweet coconut cream and roasted sesame seeds and ripe mango). You can also find the same sticky rice served with fresh durian (when in season). Bananas can be made into gluay buad chee (banana in coconut cream), gluay tord (deep-fried banana fritters), and the pandanus-wrapped khanom gluay (steamed banana with rice flour and coconut).
Origin of Thai desserts
The origin of Thai desserts started when the Portuguese introduced the use of eggs, which became an important ingredient in Thai desserts besides flour, sugar, and coconut. Mung beans, rice flour, glutenous rice, lotus seeds, palm sugar, cassava root are also common ingredients of Thai sweets.
A unique characteristic of Thai desserts is the fragrance – Thai people often soak jasmine and aromatic flowers in water and using it to make syrup. Aromatic candles are often burned next to the desserts or coconut milk in closed containers. Sometimes, Thai desserts are placed next to fragrant flowers overnight.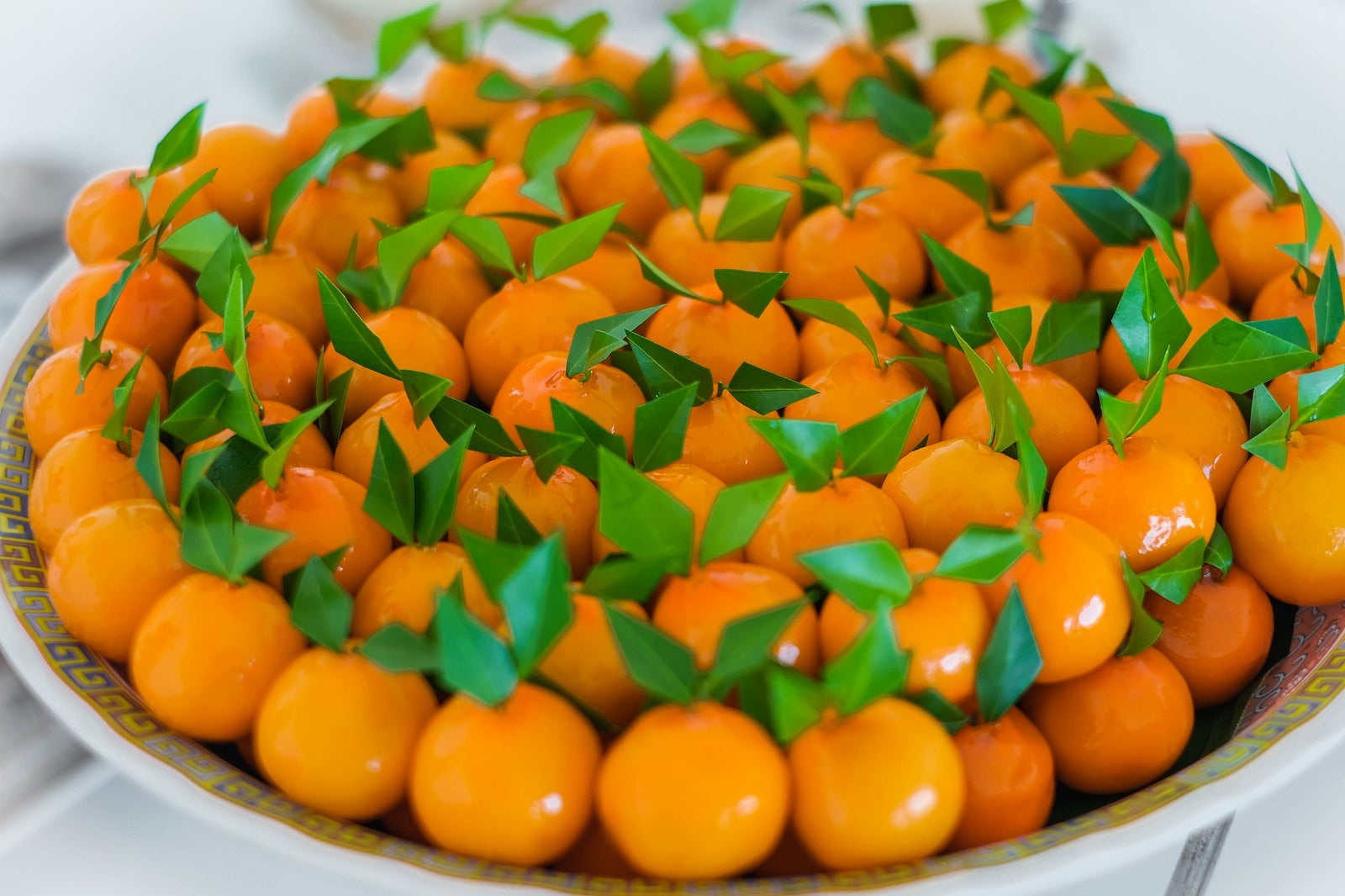 It's not a surprise that a lot of people find Thai desserts too sweet and heavy because, almost as diverse as the desserts themselves, the cooking methods vary from simple deep-frying or steaming, to the more complex process of cooking egg yolks in syrup.
If you prefer something lighter, try khanom waan (pieces of fruit, grass jelly, and sticky rice in a bowl of syrup, coconut cream and a scoop of crushed ice) or simply enjoy freshly cut tropical fruit like mango, pineapple, or papaya.
Back to top