The Surin Islands are part of Mu Koh Surin National Park, located some 60 km off the west coast of Phang Nga Province and 100 km north of the Similans. It's an archipelago of 5 islands: Koh Surin Nuea, Koh Surin Tai, Koh Ri, Koh Khai, and Koh Klang. Excellent diving, snorkeling, hiking and game fishing are why most travelers come to the Surin Islands. Those hoping to find a quiet refuge from tourist traps and urban centres will be delighted with the islands' relatively untouched settings.
The main island of Surin Nuea has several bays, the largest being Ao Mae Yai on the southwest. Located on the southeast side is Ao Luek, which has shallow corals and an abundance of marine life. The national park's office and a 2-km walking path are in Ao Mai Ngam. There are good snorkeling and swimming opportunities off its long beach. Ao Chak in the north of Surin Nuea is a beautiful bay of pristine coral reefs.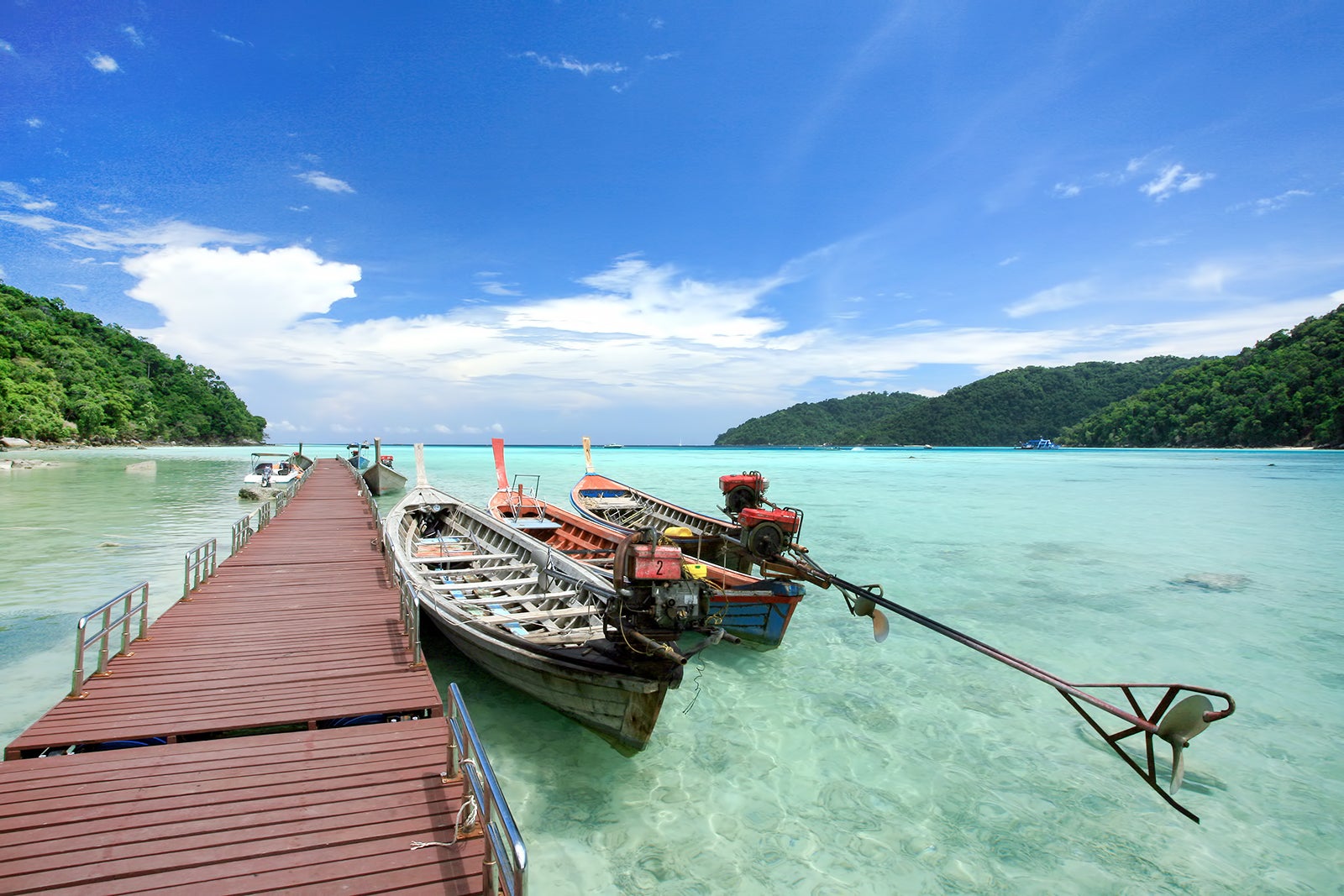 Highlights of Surin Islands
Koh Surin Nuea is home to an indigenous community of around 150 Moken (sea gypsies), who have settled on the island for several decades. The Moken people spend much of their lives on boats, called kabang. Instead of fishing, they survive mainly by gathering shellfish and other marine life from the reefs and mudflats.
Koh Surin Tai draws snorkelers to its main bay, Ao Tao, located on the east side. Koh Ri, Koh Klang and Koh Khai (also called Koh Torilla) have areas of unspoilt reefs, with healthy live coral being particularly abundant off Koh Khai.
The major drawcard for divers to the area is Richelieu Rock, a coral-covered pinnacle. For reasons still unknown, it attracts a fair number of whale sharks, which makes for exciting diving excursions.
How to get to Surin Islands
Rough waves during the southwest monsoon season (May–October) make traveling to the Surins rather difficult (sometimes impossible). Khura Buri Pier, some 125 km north of Phang Nga Town, is the nearest launching point to the Surin Islands. Between November and April, ferryboats regularly make the 4-hour trip to the islands. Boats may also be arranged from Amphoe Kapoe Pier in Ranong Province, with trips taking about 7 hours.
Foreigners are required to pay around 200 baht to visit Mu Koh Surin National Park. A hassle-free and cost-effective way to reach the Surin Islands is by arranging a tour from Phuket. Most dive and game-fishing operators in Phuket can arrange liveaboards. Day tours include visits to several snorkeling locations and lunch at the national park's headquarters. You can also book a trip by speedboat, which takes only 1 hour to reach the islands.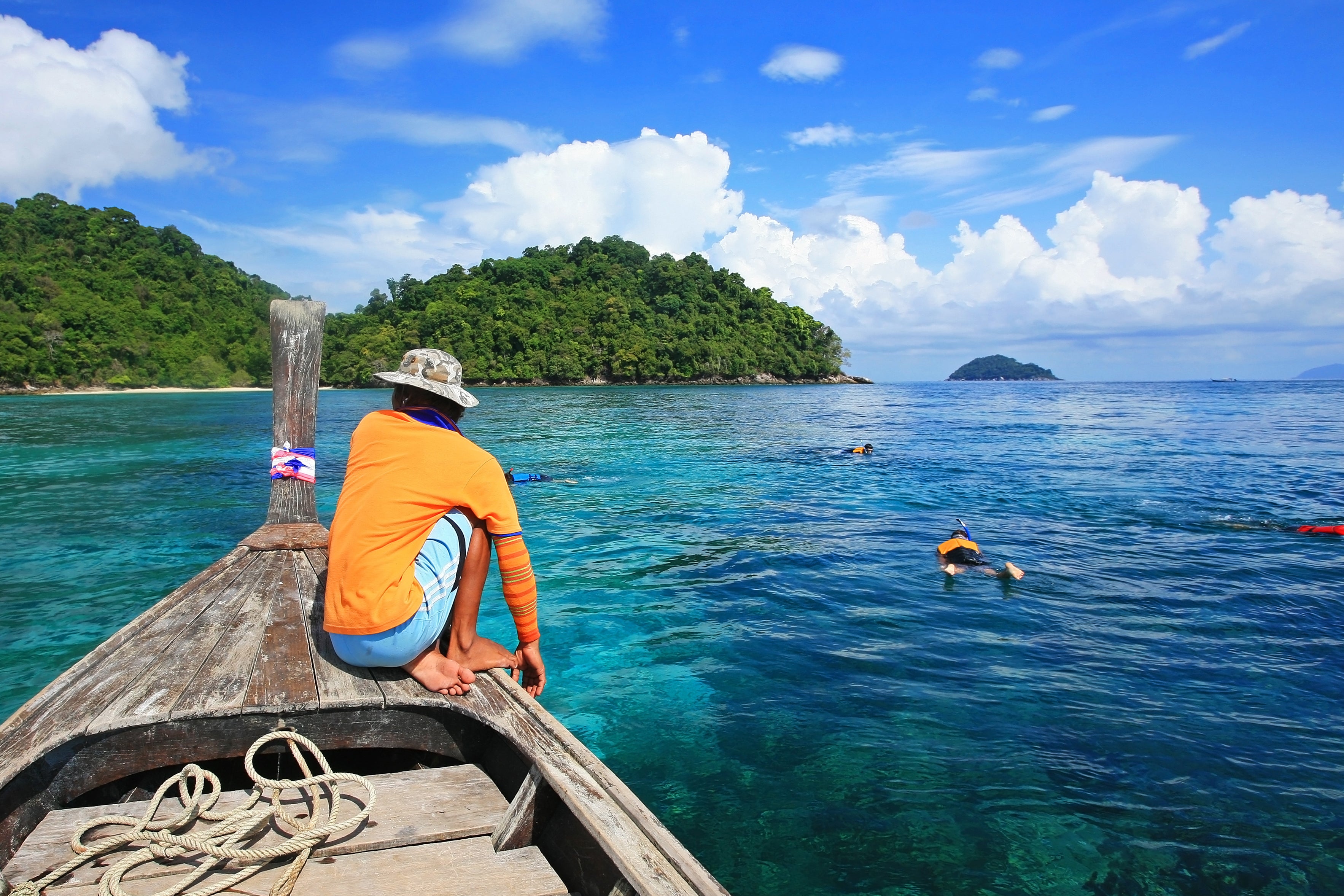 Where to stay on Surin Islands
You can book lodges, bungalows and tents through the Royal Thai Forest Department. Contact Mu Koh Surin National Park at +66 (0)76 472 145 or +66 (0)76 472 146 for more information.
On Koh Surin Neua, there are several facilities besides a park-operated restaurant. Scuba diving and snorkeling equipment are available for rent. Many visitors, particularly divers, opt to spend the night on pre-arranged liveaboard boats.
Surin Islands
Location: Ko Phra Thong, Khura Buri, Phang Nga, Thailand
Back to top