The Bangkok Snake Farm in Bangkok specializes in the cultivation of venomous snakes, extracting venom to produce antidotes for snake-bite victims in Thailand. Part of the Queen Saovabha Memorial Institute, the farm offers an informative and fascinating experience for those curious about the world of reptiles – it might even help alleviate your unjustified fear of snakes.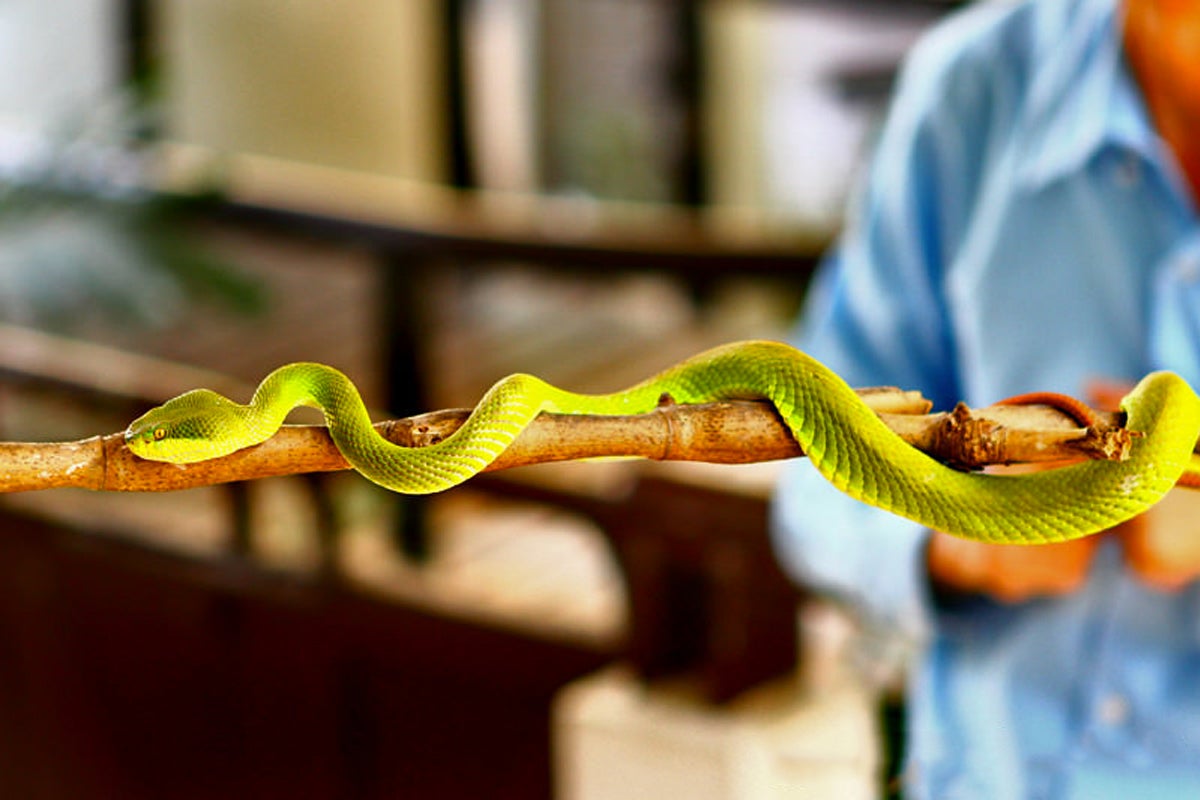 Highlights of Snake Farm in Bangkok
Snake Farm in Bangkok has a large and well-maintained display of vivariums lined along a concrete path. Among the many poisonous species on display include the king cobra, Malayan krait, and Russell's viper. A visit to the snake farm might help you realize how few snakes are dangerous, and how many are considered a blessing to have around your house.
On weekdays, Queen Saovabha Memorial Institute hosts venom extraction, photo, and snake handling sessions at its onsite small auditorium at 11am and 2.30pm. On weekends, you can enjoy snake handling and photo sessions at 11am.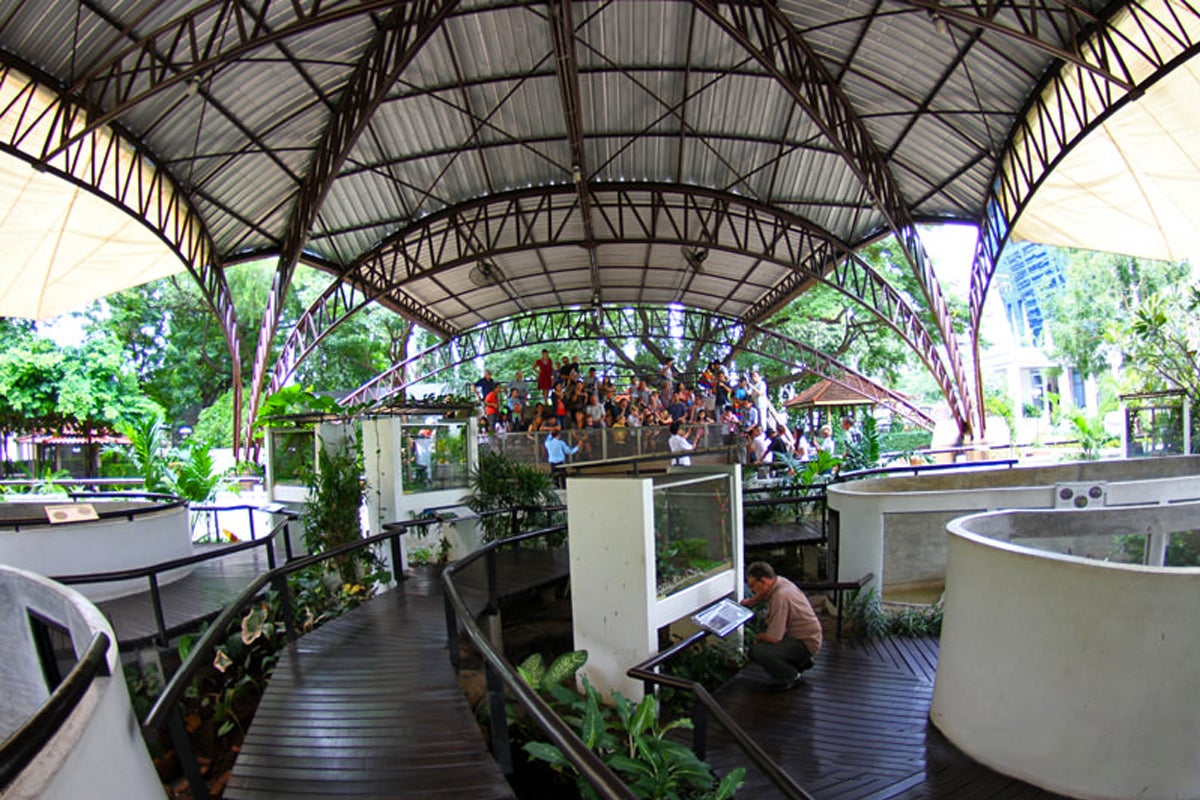 A doctor from the institute gives a talk about the world of snakes in general, while a handler holds up a snake for you to see. Key facts are explained in very good English, and you can feel the passion in the way the doctor describes the living habits of this reptile. The audience gets to sit close to the stage – youngsters might love the show, especially since they get to touch these snakes.
Snakes are to be handled with care and not abused as is unfortunately often the case in some local shows. The most impressive are the cobras, always prompt to raise and adopt their unmistakable defensive posture and the sheer size of the king cobra never fails to inspire fear, respect or curiosity from the audience. The amount of snakes presented is surprising and many of them are simply beautiful, from a bright green tree snake to an amazing rainbow snake with its scales changing color in the sunlight, a fascinating but highly venomous banded krait with yellow and black stripes, and a radiated rat snake adopting its very intimidating pose.
Good to know about Snake Farm in Bangkok
Queen Saovabha Memorial Institute can be found at the intersection of Rama IV and Henry Dunant Roads, next to Chulalongkorn Hospital and University. The snake farm is around 800 meters northwest of the Sala Daeng BTS Skytrain and Silom MRT Stations.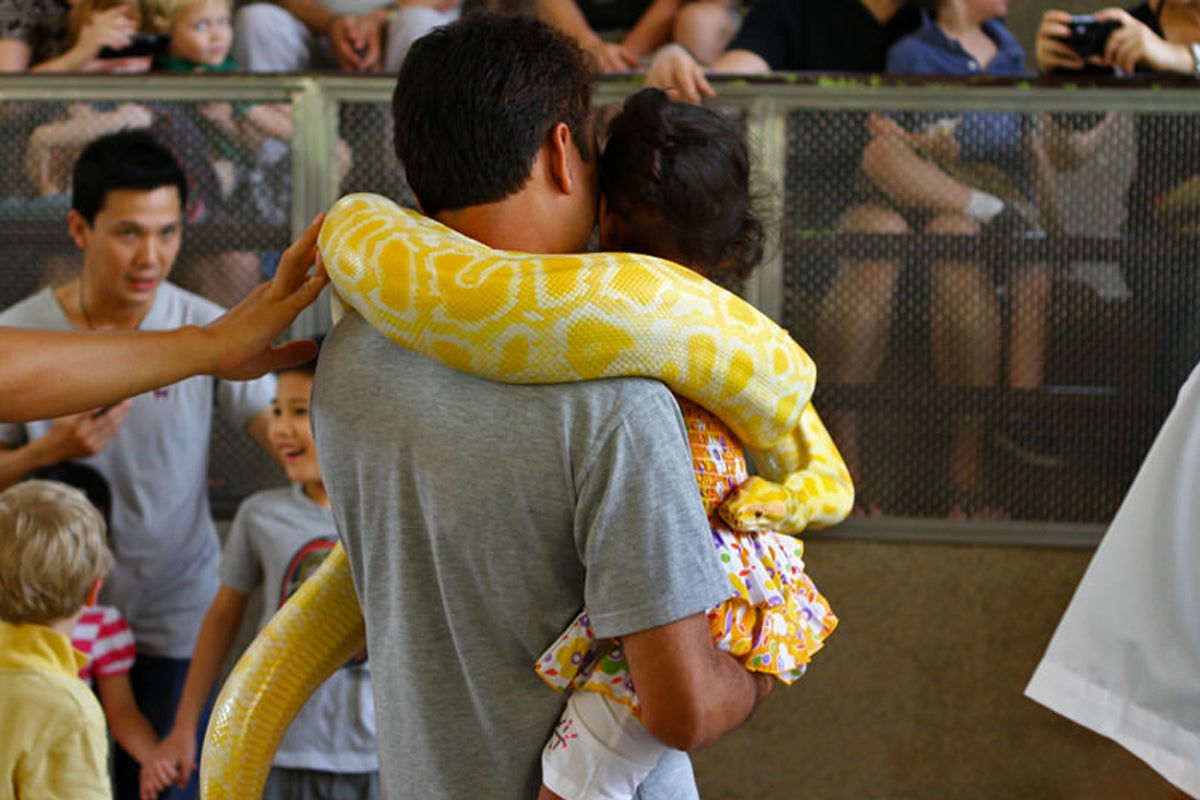 The Bangkok Snake Farm
Location: Queen Saovabha Memorial Institute, 1871 Thanon Rama IV, Pathumwan, Bangkok 10330, Thailand
Open: Monday–Friday from 9.30am to 3.30pm, Saturday–Sunday from 9.30am to 1pm
Phone: +66 (0)2 252 0167
Back to top