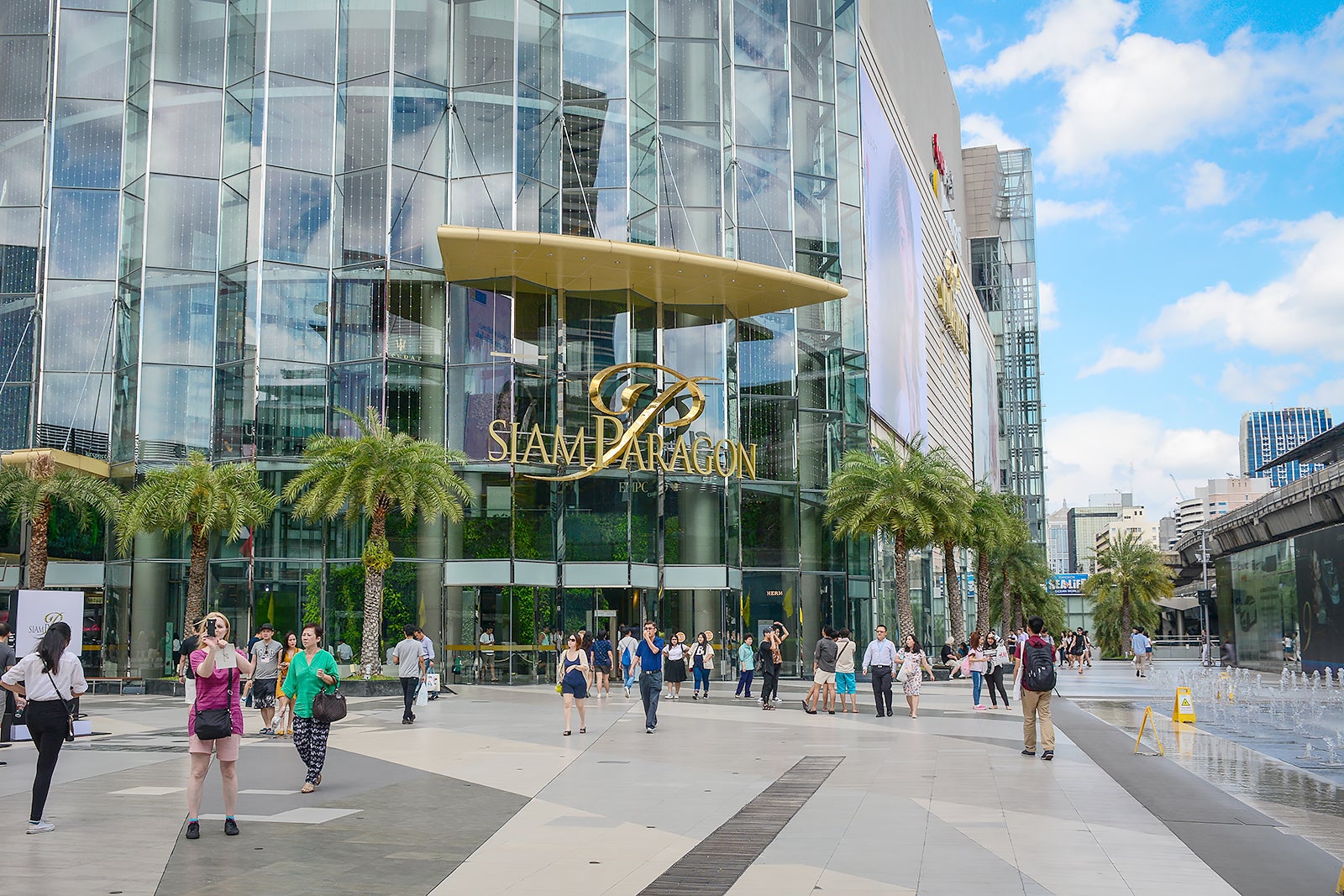 Siam Paragon is one of the most popular shopping malls in Bangkok which houses a host of international high-end fashion brands, Southeast Asia's largest aquarium, a 16-screen Cineplex, and a comprehensive selection of world cuisine. Located prominently in front of the Siam BTS Skytrain station – the interchange of the 2 BTS lines – it's considered by many to be the center of Bangkok.
Considering the mall contains over 250 shops, the layout is logical and fairly compact, certainly when compared to the sprawling CentralWorld mall nearby. Even so, this mall provides mainly luxury items for well-heeled Thais and international visitors with cash to splurge. If you're looking for something extra-special then Siam Paragon is definitely the place to find it.
Siam Paragon - one of the highlights of 9 Most Instagrammable Places in Bangkok and 46 Best Bangkok Shopping Malls (Read all about Bangkok here)
Main Floor – 'The Luxury'
Entering through the impressive glass-and-steel atrium, flagship stores of designer brands such as Hermes, Louis Vuitton and Prada and are clustered in the prime positions around the main escalators, each fighting for attention with elaborate window displays.
The exclusive products on display at Siam Paragon rival anything on offer elsewhere in Bangkok, or, indeed, throughout the region. This is where the wealthy come to play. As for how popular they are: around the time of new product launches, it's not uncommon to see queues of people lining up out the door, waiting for a chance to glimpse the season's new line. Bring your credit card though, as this kind of luxury doesn't come cheap – but as the old adage goes, 'you get what you pay for'.
Other notable brand shops on the main floor include:
Versace
Bvlgari
Cartier
Chanel
Dolce & Gabbana
First Floor – 'Fashion Venue'
If shops with no price tags on their merchandise put you on edge, head up to the first floor where the premium high-street shops are. Again, the prime locations inside the glass atriums are dominated by the likes of Paul Smith, Armani and Hugo Boss, but this gives way to more affordable brands further into the mall.
Both GAP and H&M – among many others – have massive shops on this floor, offering more everyday items for price-conscious shoppers who still demand cutting-edge style. It's also worth keeping your eyes peeled for seasonal sales throughout the mall as you might get lucky and bag yourself a designer bargain.
Other notable brand shops on the first floor include:
Motorcoach bus
Furla
Karl Lagerfeld
Massimo Dutti
Swarovski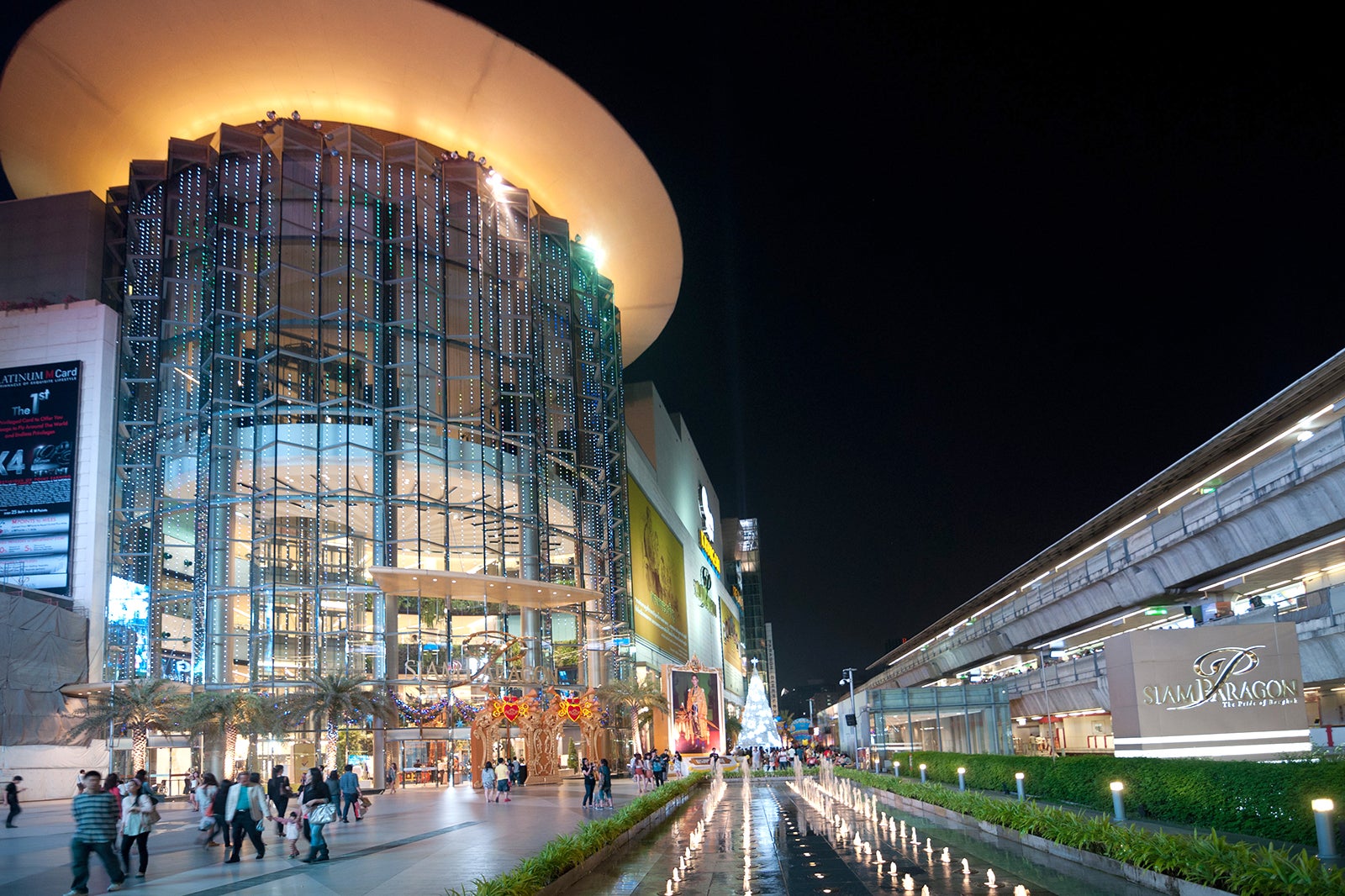 Second and Third floors – 'Lifestyle and Leisure'
The Second and Third floors are dedicated to lifestyle and leisure with a mixture of beauty salons, home technology, upmarket home furnishing showrooms, luxury car marques – including jaw-dropping supercar displays – and the biggest and best-stocked foreign-language bookshop in Bangkok: Kinokuniya.
For those in the market for the latest audio equipment, both Bang & Olufsen and Bose have their Thai showrooms on the second floor, with complete ranges of products for both personal and professional use. The bustling crowds start to thin out up here as there are fewer window-shoppers, and it's a good place to take a break at one of the cafés dotted along the thoroughfares, allowing time for you to appreciate the stylish and refined décor and recover from the lively crowds below.
Second Floor 'Lifestyle and Leisure'
Sony
Samsung
QI. Shiseido Salon
Asia Books
Toshiba
Car Showrooms
Aston Martin
McLaren
Bentley
Maserati
Rolls-Royce
Third Floor 'Living and Technology'
Crystal & Symphony
Kinokuniya
iStudio
Starbucks
Samsung Experience Shop
Fourth Floor – 'I.T. World' and more restaurants!
As well as a growing number of restaurants and eateries over-spilling from the mammoth Ground Floor Gourmet Paradise (scroll down for more details), the fourth floor contains most of the I.T. and electronic goods any shopper is likely to need.
While it's true some items might be found cheaper elsewhere, at Siam Paragon you're guaranteed all the latest technology, first-rate advice, customer service, and help with set-up and configuration for the technophobes. It gives peace of mind that most shops are official dealers, and products are always genuine, unlike at some other malls. Also on the fourth floor is an assortment of bespoke stores selling all manner of silk products, handicrafts, top-of-the-range aromatherapy oils and other souvenir-type goods.
Fifth Floor
Somewhat confusingly, the level attached to the skywalk is called the Main Floor, despite it being one above the ground, and the floors above that are then the 1st, 2nd, 3rd, up to the 5th, which is taken up by the Cineplex and its 15 large-size theatres, the IMAX theatre, Blue-O Rhythm and bowling facilities, and the Royal Paragon Exhibition Hall. It's advisable to ask for a map at one of the numerous information counters to quickly gather your bearings.
VIP movie theater experience
A relatively new addition to the already world-class movie theatre up on the top floor is the Paragon Cineplex. It takes the traditional movie theater experience to a new level of luxury. Think of it as an upgrade to first-class on a long-haul flight.
For a premium ticket, you get deep-seated leather sofa booths with motorized reclining footrests, complimentary snacks and drinks, and a blanket so you can snuggle up close to watch the latest movie releases on a stunning digital screen. The 2-person sofas are well spaced out and are designed to keep your experience private and romantic.
Krungsri IMAX Theatre
Paragon adds to its already impressive 15-screen Cineplex with the much-lauded IMAX theatre. The Krungsri IMAX Theatre is essentially a bigger, better, more engrossing version of a normal movie theatre. The screen is enormous – around 9 times larger than average – with enhanced screen resolution, surround sound, and seats that recline so you can lie back and soak up the action.
IMAX is especially recommended for 3D action movies as the picture size and quality really dazzle the viewer. It certainly keeps the whole auditorium wide-eyed with wonder and is a great family activity for a rainy day.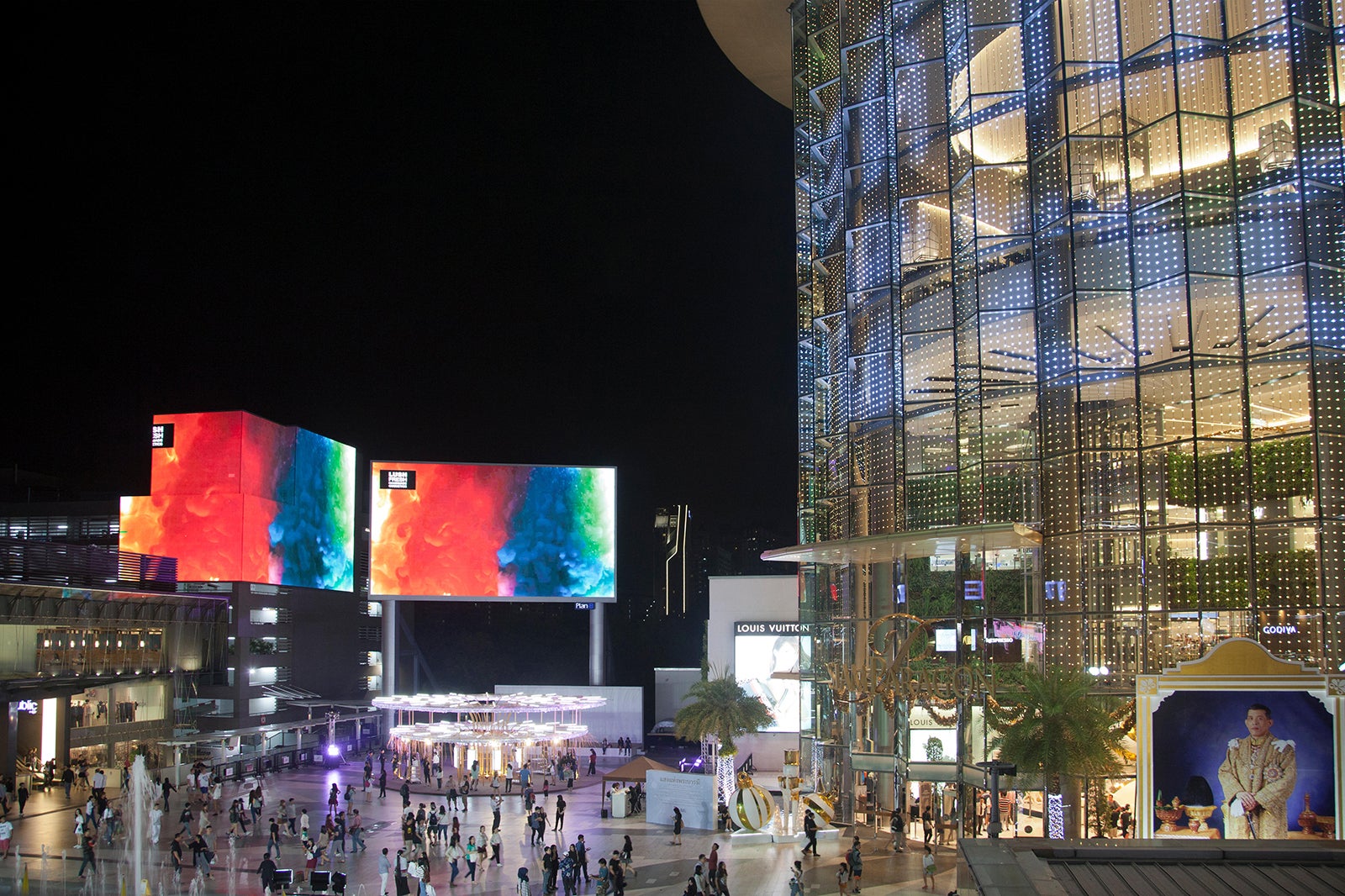 The Siam Paragon experience
The emphasis of Siam Paragon is fashionable, luxury living. Remember to take your credit card along as some items come with a large price tag. Twice a year there are large end-of-season sales, but don't worry if you miss these, as there are always deals to be had and there's a variety of monthly promotions all year round.
For a 5% discount on most purchases, you can apply for a Tourist Discount Card at the information desk on the ground level. Paragon is larger than life and no Bangkok shopping experience is complete without a trip here.
Siam Paragon
Location: 991 Rama 1 Road, Pathum Wan, Bangkok 10330, Thailand
Open: Daily from 10am to 10pm
Phone: +66 (0)2 610 8000
Back to top