Secret Buddha Garden is hidden high up in the hills in Koh Samui's interior, offering majestic views and an unusual collection of statues amid lush jungle surrounds. The gardens are a creation of an old Samui fruit farmer, Nim Thongsuk, who began erecting statues and temples around his family's verdant land to the north-west of Lamai Beach in 1976.
The statues depict several animals, deities and humans in various poses, including one of Khun Nim himself, in a relaxed sitting position on a rock. Khun Nim continued to work developing his garden until his death at the age of 91. The garden has a waterfall and stream flowing through, all shaded by thick foliage. With the steep and bumpy access road, getting up here is a challenge best undertaken in a 4WD vehicle.
Secret Buddha Garden in Koh Samui - one of the highlights of 21 Best Things to Do in Koh Samui and 19 Must-See Temples in Koh Samui (Read all about Koh Samui here)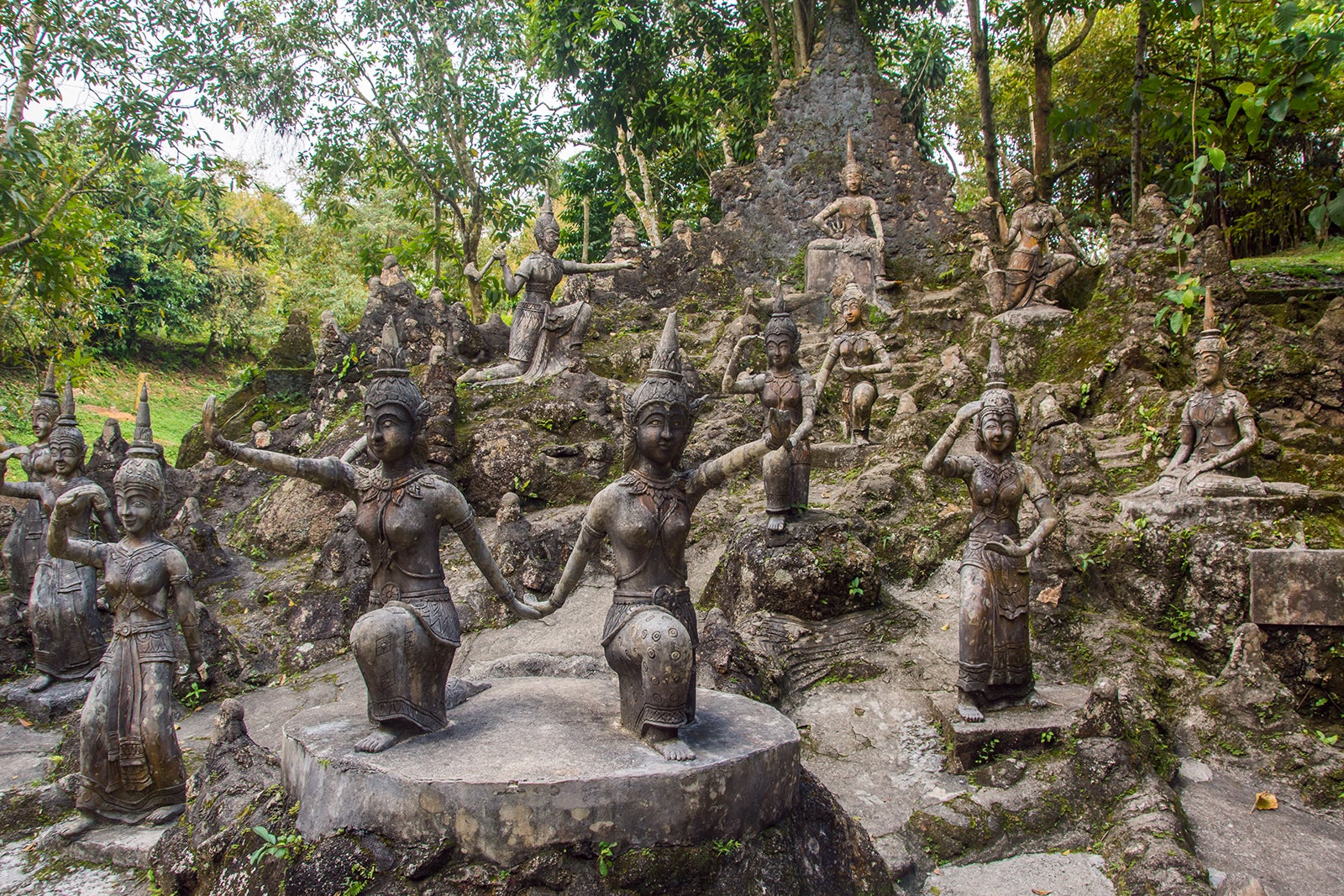 What are the highlights of Secret Buddha Garden?
Secret Buddha Garden – also known as Namtok Tar Nim, Heaven's Garden or Magic Garden – is the kind of place where each visit brings some new discoveries. With statues of all shapes and sizes scattered around the grounds, a wrong turn or a closer look behind a tree may yield yet another hidden surprise.
During his working years, Secret Buddha Garden's founder Khun Nim was known as an innovative durian farmer who helped Samui become famous for this prized pungent fruit. Upon his retirement, he opened his family's land to the public and assembled a team to develop the garden, sculpting many figures representing mainly Buddhist folklore. Each statue has a story to tell, and most Thais will know the meaning and mythology behind these evocative works of art.
Secret Buddha Garden sits atop the Tar Nim Waterfall peak. The views from within the gardens and on the road leading up to it are spectacular. You'll find many stops to enjoy the island panoramas along the way.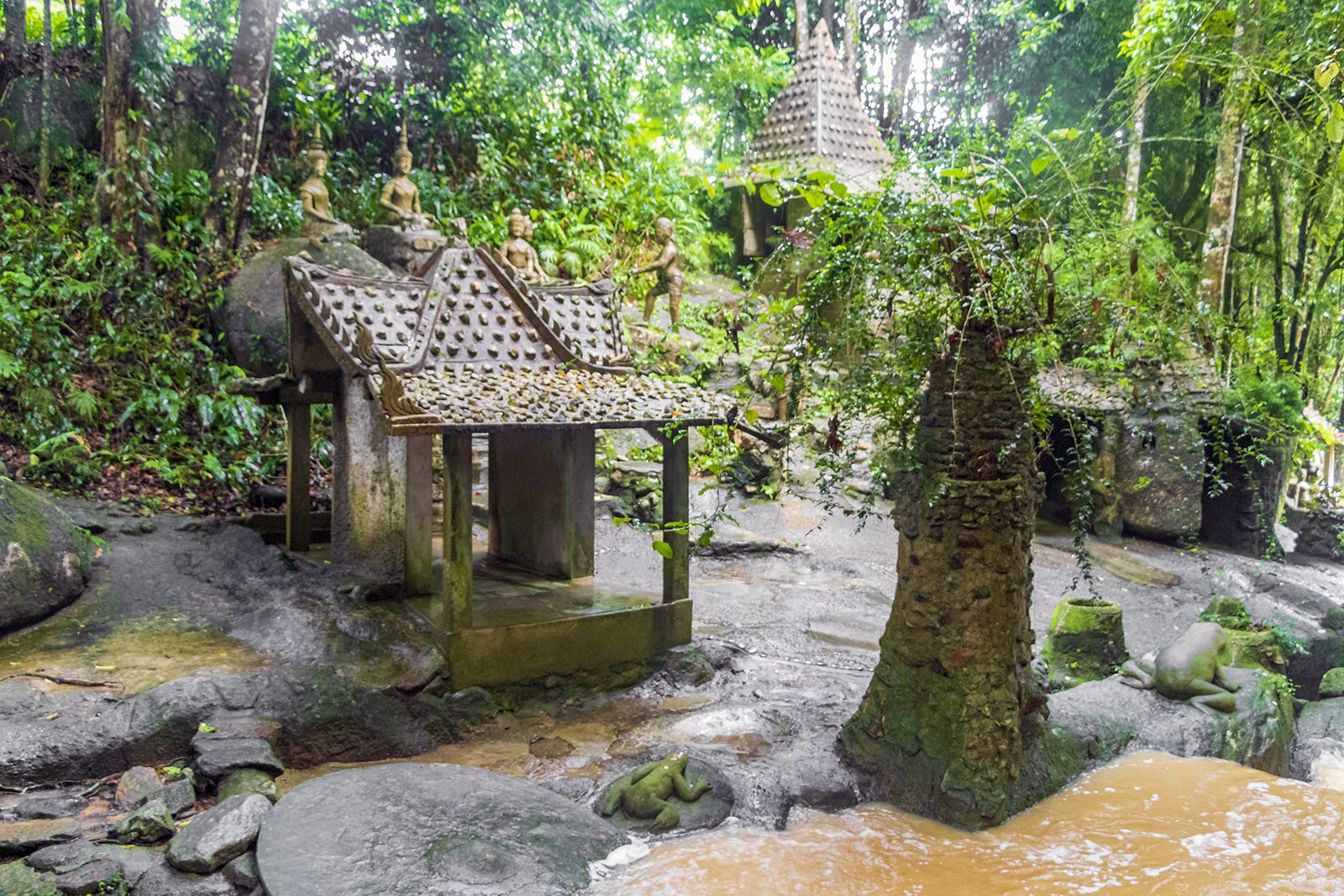 Good to know about Secret Buddha Garden
To get there, get on the air force road in Baan Saket, leading up to Ta Nim Waterfall. The road turns into a dirt track for the last 400 meters of the ascent. There are many signs along the way. Only experienced drivers should attempt the road as it's best done in a 4WD vehicle.
Those who do not wish to make the trip themselves can visit the gardens as part of an adventure day trip such as a jungle safari tour or ATV ride. These are easily arranged with most tour agents on Samui. There are some steep paths and a lot of steps to get around within the gardens, so those with limited mobility may find it a challenge.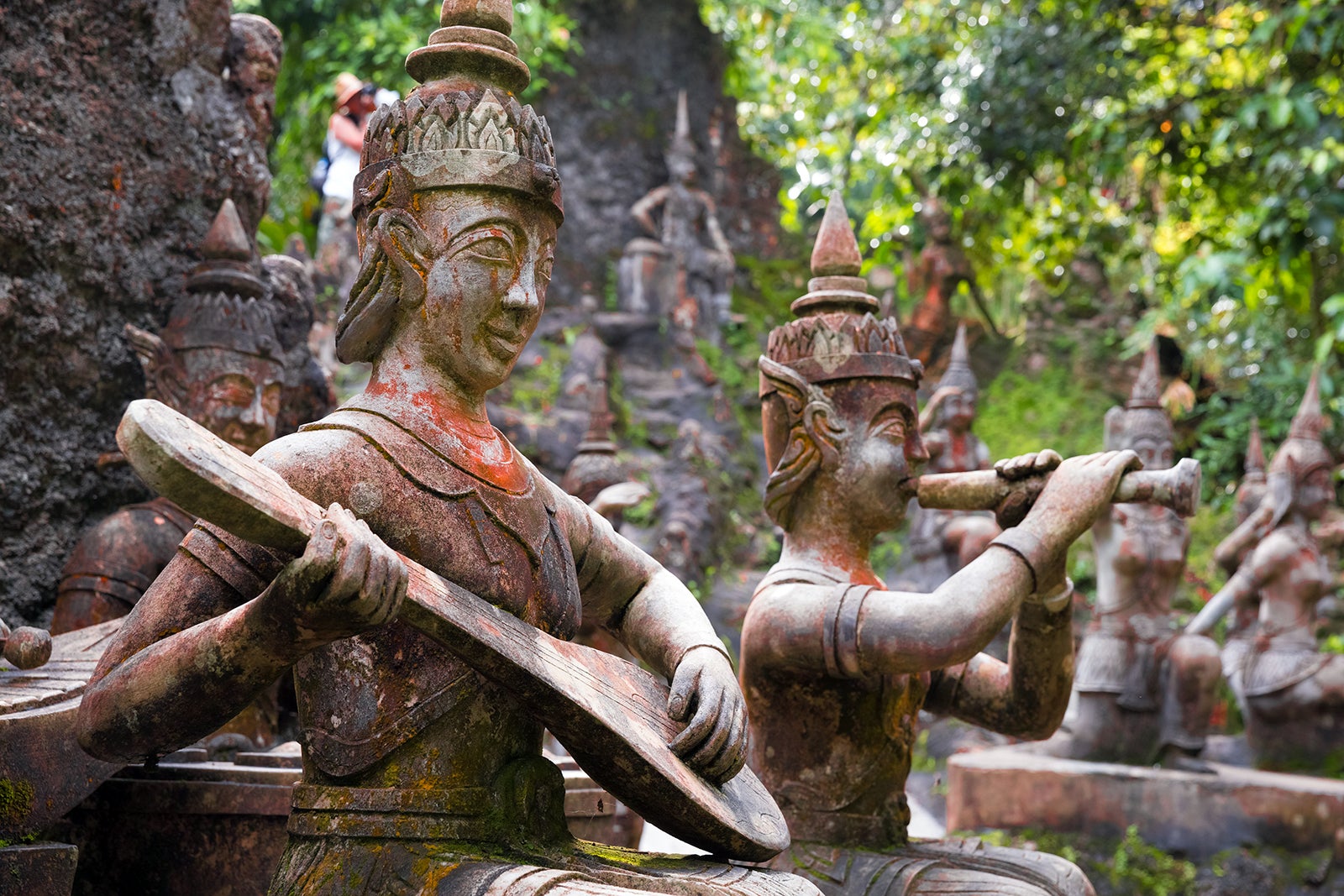 Secret Buddha Garden in Koh Samui
Location: Na Mueang, Koh Samui, Surat Thani 84140, Thailand
Open: Daily from 9 am to 6 pm
Back to top