Scuba Diving in Phuket
Diving in Phuket for Beginners
Surrounded by the Andaman Sea, Phuket offers excellent diving and snorkeling opportunities. This guide to scuba diving for beginners is catered to those who are new to this activity but want to see beautiful coral and fish during their vacation.
It should also help seasoned divers to decide if Phuket is a suitable place to enjoy some fun below the water surface. Part of what makes Phuket so distinctive is its unique geography, which makes snorkeling or diving a slightly different experience than most tropical destinations around the world.
Scuba Diving in Phuket - one of the highlights of 67 Best Things to Do in Phuket and 10 Best Places to Learn to Dive in Thailand (Read all about Phuket Province here)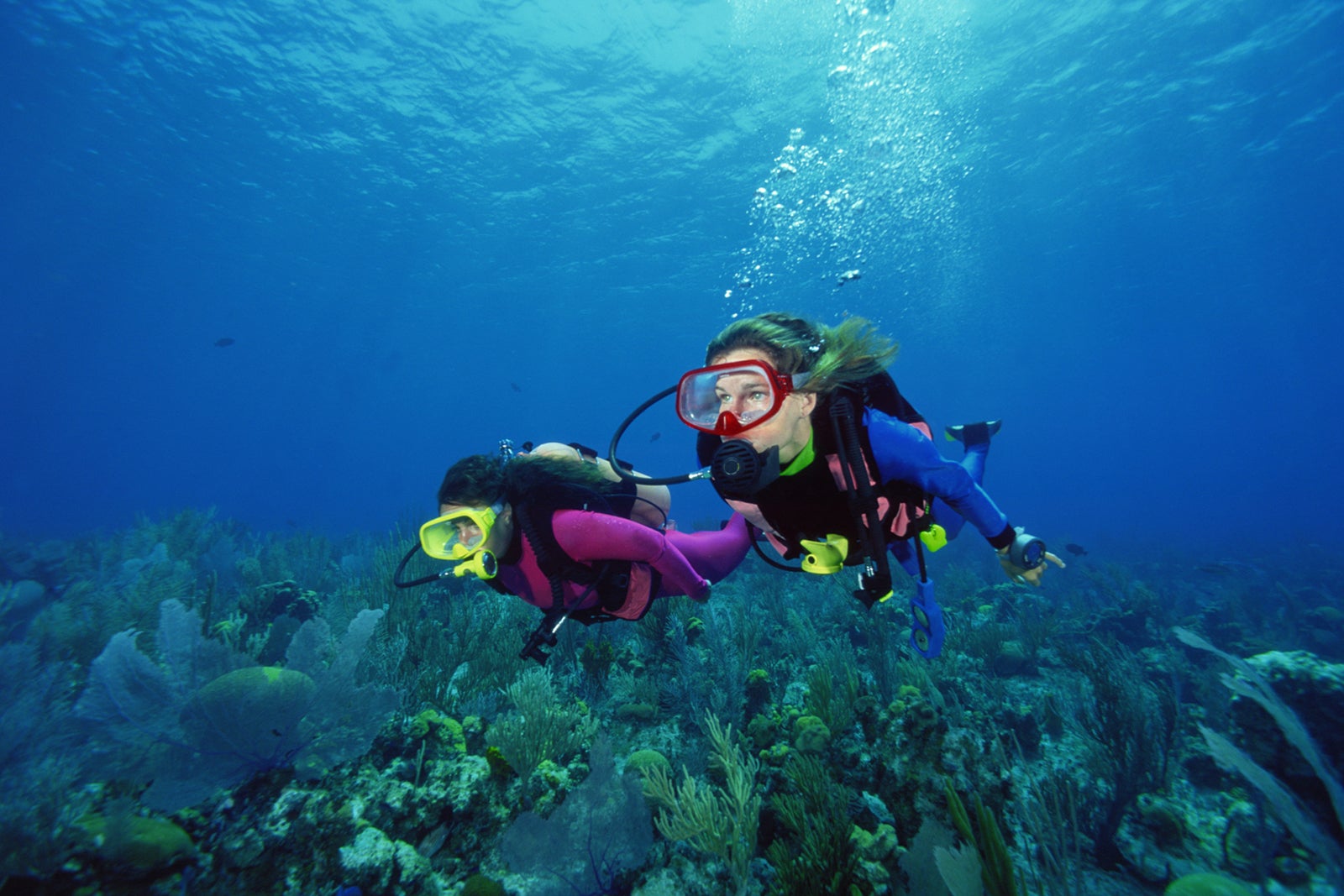 Water visibility in Phuket
Phuket Island runs from north to south, with the Andaman Sea lying to the west of the island and Phang Nga Bay to the east. Low jungle-covered mountains occupying the northeast, eastern, and southeastern part have many rivers running through them. Some of these streams are seasonal, while others run year-around.
Due to silting, water pouring into the sea can affect its clarity. As many divers expect clear and blue water during their excursions, they might be disappointed if they don't pre-plan their water activities or ask the right people for advice. Clear waters in Phuket lies further offshore and don't nestle up to the golden beaches.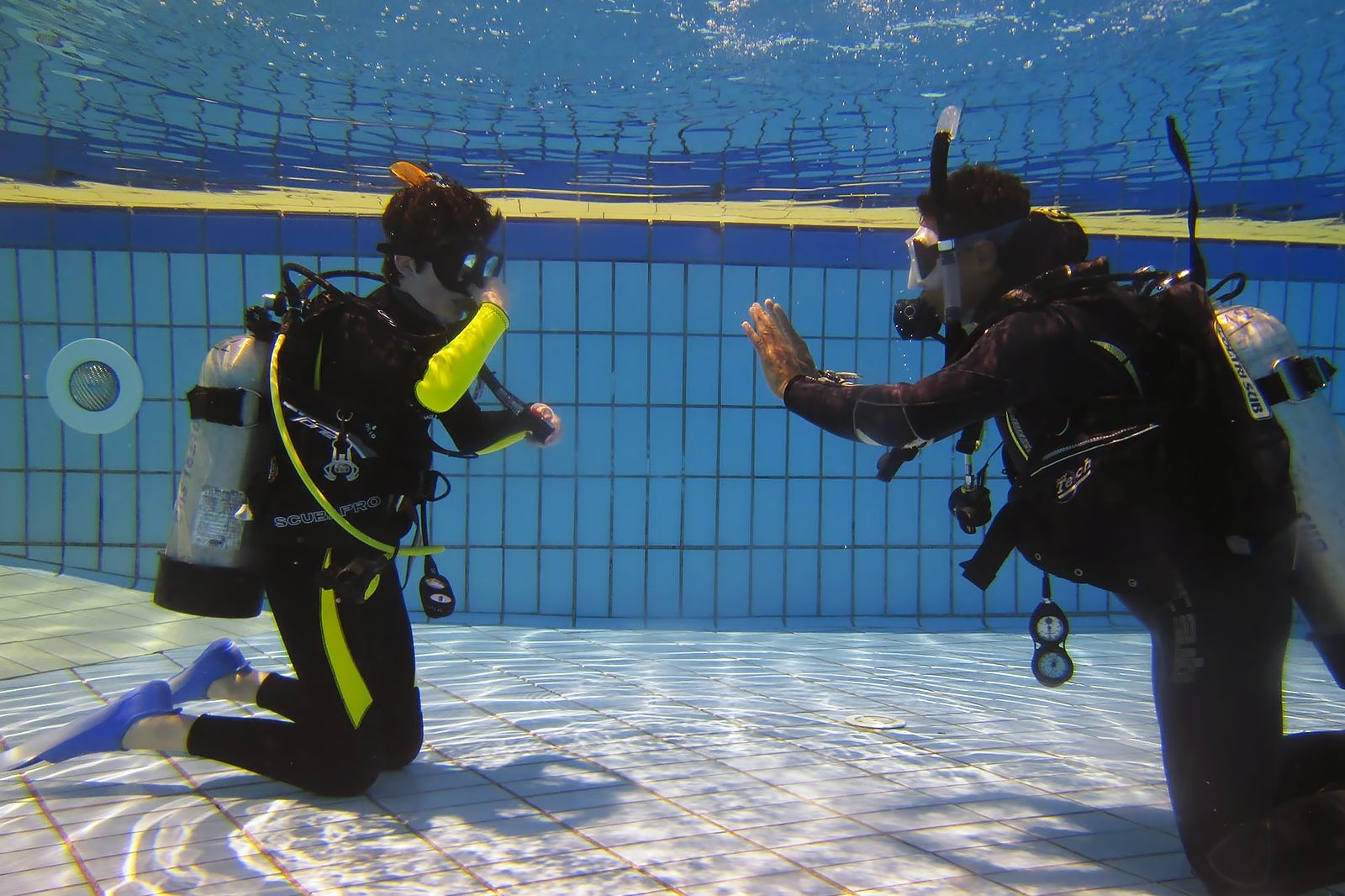 Dive courses for beginners
Phuket has plenty of dive centres and shops for those who are new to diving or snorkeling. Hotels that are affiliated with a dive shop usually offer a free 'scuba diving discovery' experience in the swimming pool. These courses take just a few minutes, giving you a brief idea of what to expect when diving.
Some of the best Phuket hotels that host a dive center include Moevenpick Resort, Amari Resort, Katathani Phuket Beach Resort, JW Marriott Phuket, Andaman White Beach, Le Meridien Phuket Resort.
Getting a PADI (Professional Association of Diving Instructors) certification takes around 3 to 4 days. It cost around $380, but rates vary by center and location.
There are many basic dive courses in Phuket, one of which is called technical diving. It usually involves learning to dive at depths greater than 40 meters. Wreck diving is another popular sport, though Phuket has very few wrecks and none of which have any historical importance.
Phuket dive sites aren't as crowded as most places around the world. The island is famous for whale sharks, manta rays, exotic fish and thriving corals, both soft and hard.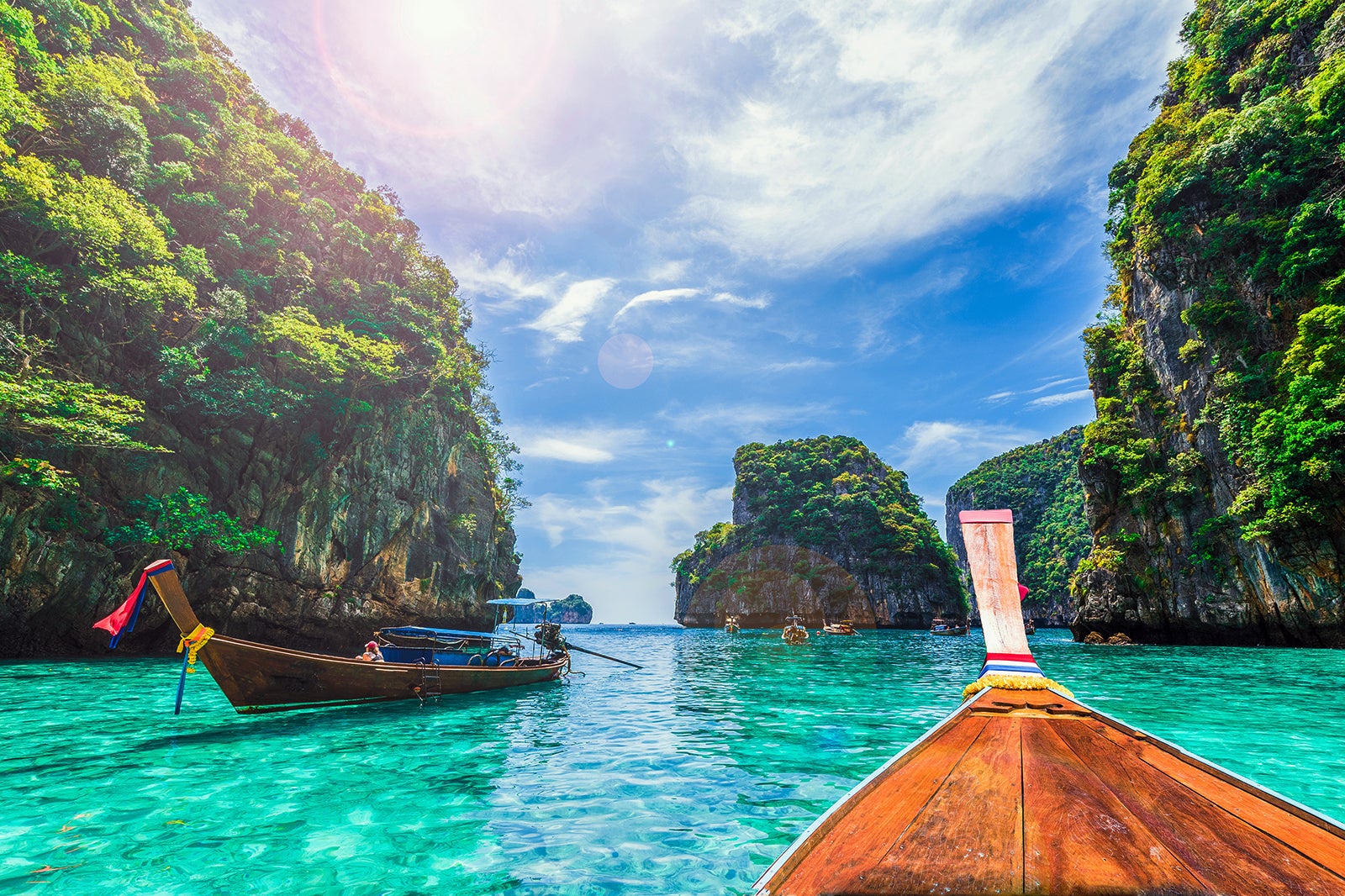 Scuba diving near Phi Phi Island
A popular destination for scuba diving in Thailand is Koh Phi Phi, about 50 km east of Phuket. These islands are world-famous with many dive sites just offshore. While the water isn't always very clear, you'll come across extensive marine life and beautiful underwater scenery.
A normal dive boat will take over 3 hours for a 1-way trip from Phuket, so many people travel by speedboat – which is expensive, noisy, and polluting. You can opt for an overnight trip with a diving company or book a hotel on Phi Phi Don.
Another famous diving place that's relatively near to Phuket is Hin Daeng. There are 2 dive sites around 100 km from Phuket, so it's best to join a multiple-day trip which stops at Hin Daeng and Koh Phi Phi.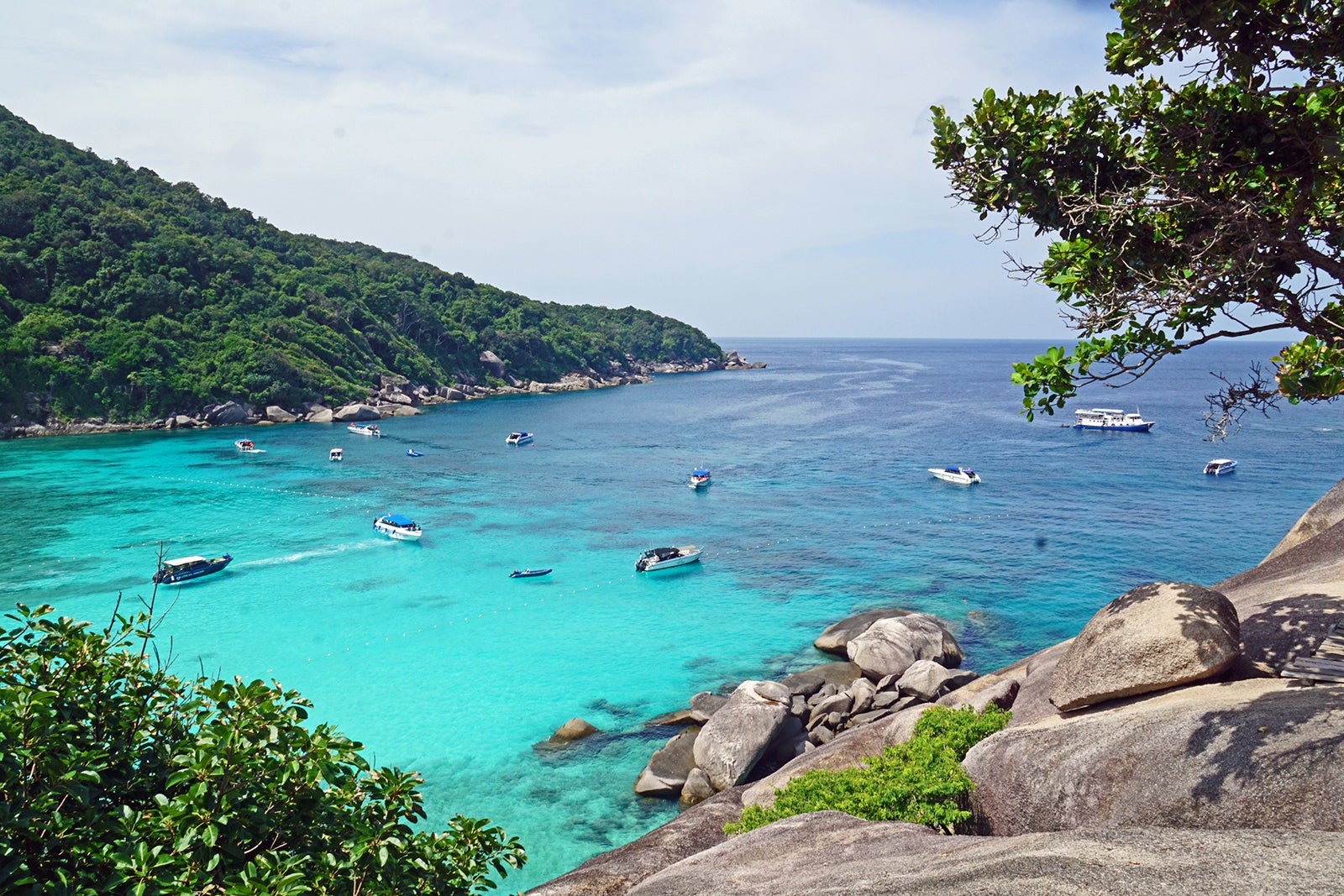 Liveaboard diving in Phuket
Some of the best places to go diving and snorkeling are very far from Phuket, mostly several hundred km northwest of the island. Phuket supports over 50 dive shops and100 dive boats, but most of the diving activity takes place far out at sea.
Some boats operate north of Phuket, at places such as the Khao Lak. You can travel by liveaboard or safari boat for several days.
A 4-day liveaboard trip in Phuket usually covers around 450 km, with prices starting from $600. A day trip to the Similan Islands will cost at least $130 due to fuel costs.
There are longer trips to exotic destinations such as the Mergui Archipelago in Burma and the Andaman Islands. These kinds of liveaboard trips usually last between 7 to 20 days.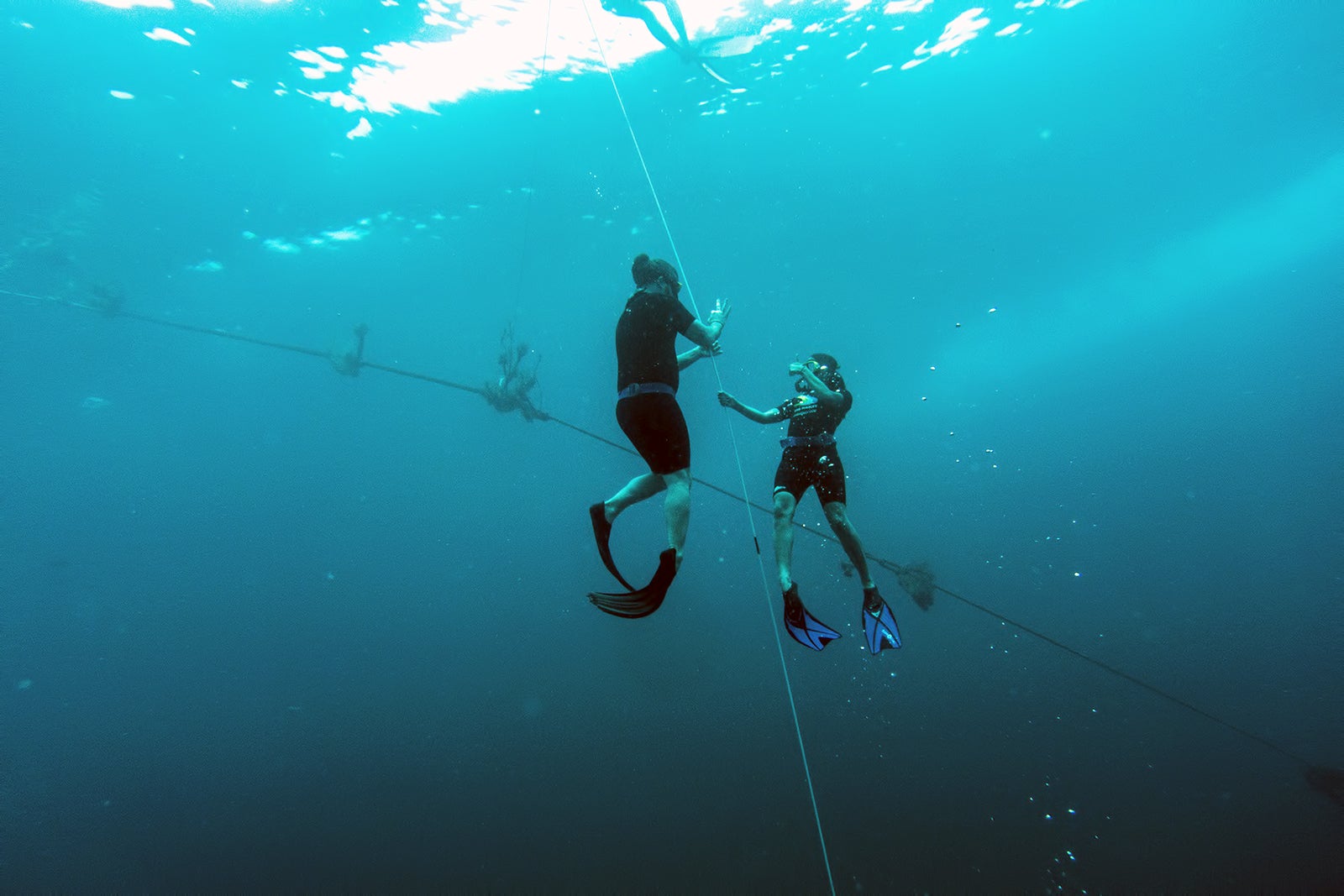 Good to know about diving in Phuket
Shark Point, Anemone Reef, and the King Cruiser Wreck diving sites are home of the leopard shark, along with lionfish, wrasses, eels, and the occasional frogfish. Note that these places are best for experienced divers due to the water depths and strong currents.
If you're a beginner, head to Racha Yai and Noi Islands, located 22 km from Phuket's main diving port, Chalong Bay. These islands typically have good water visibility year-round.
Scuba diving trips in Phuket usually begin early in the morning, return in the late afternoon. Rates start from around $85, depending on the shop, services, location, and the number of dives.
Back to top