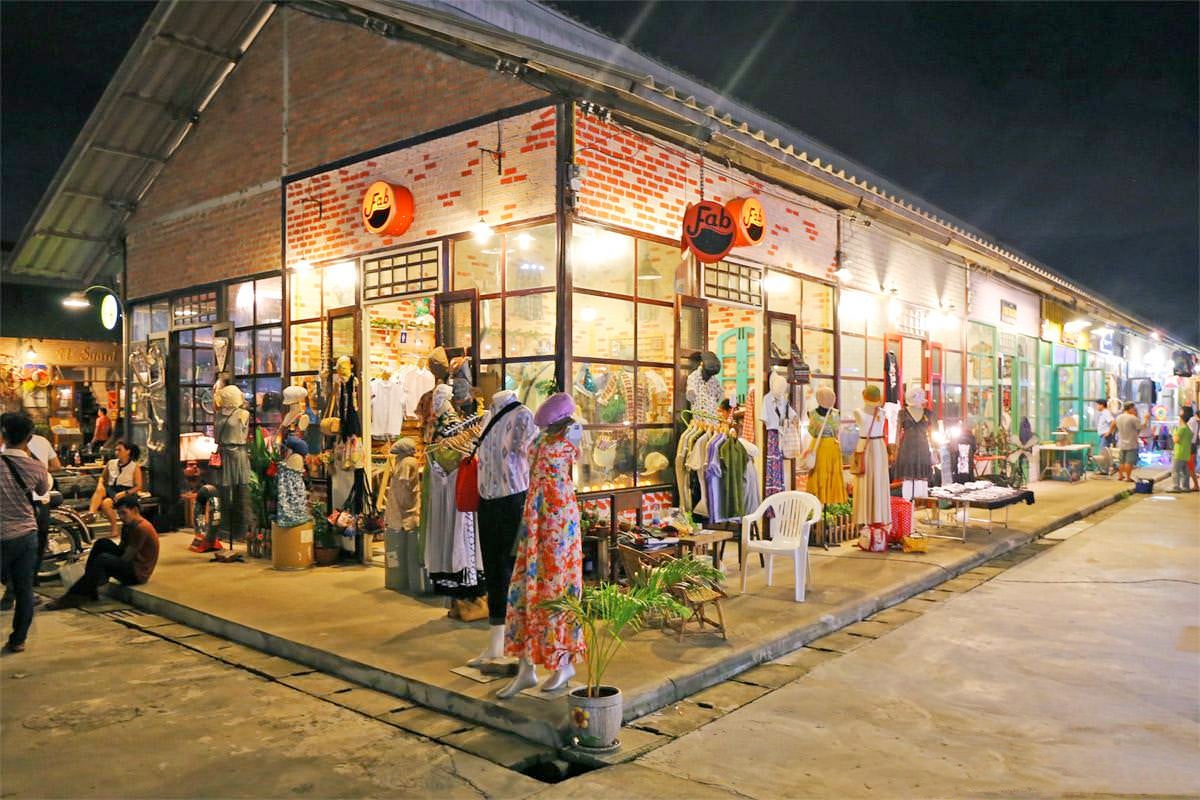 Rod Fai Night Market (or Talad Rod Fai Train Night Market) in Bangkok is an authentic open-air bazaar selling an incredible array of vintage collectables and memorabilia from yesteryear. These range from antique furniture to hippy fashion and Mao kitsch. With 3 sections to this huge market space, there are also many traders selling modern fashion and apparel more typical of other night markets in Bangkok.
Even so, it's the one-off and hard-to-find items that really make Rod Fai Market superior to all other night markets in the city. Where else in Thailand would you find a pristine 1950s Cadillac next to vintage leather jackets, French chandeliers and 1960s action figures from Japan? Combine all this with cool restaurants, bars and snack stalls and you have a fun night out from sunset to midnight, Thursday to Sunday.
Rod Fai Night Market in Bangkok - one of the highlights of 10 Best Free Things to Do in Bangkok and 9 Best Night Markets in Thailand (Read all about Bangkok here)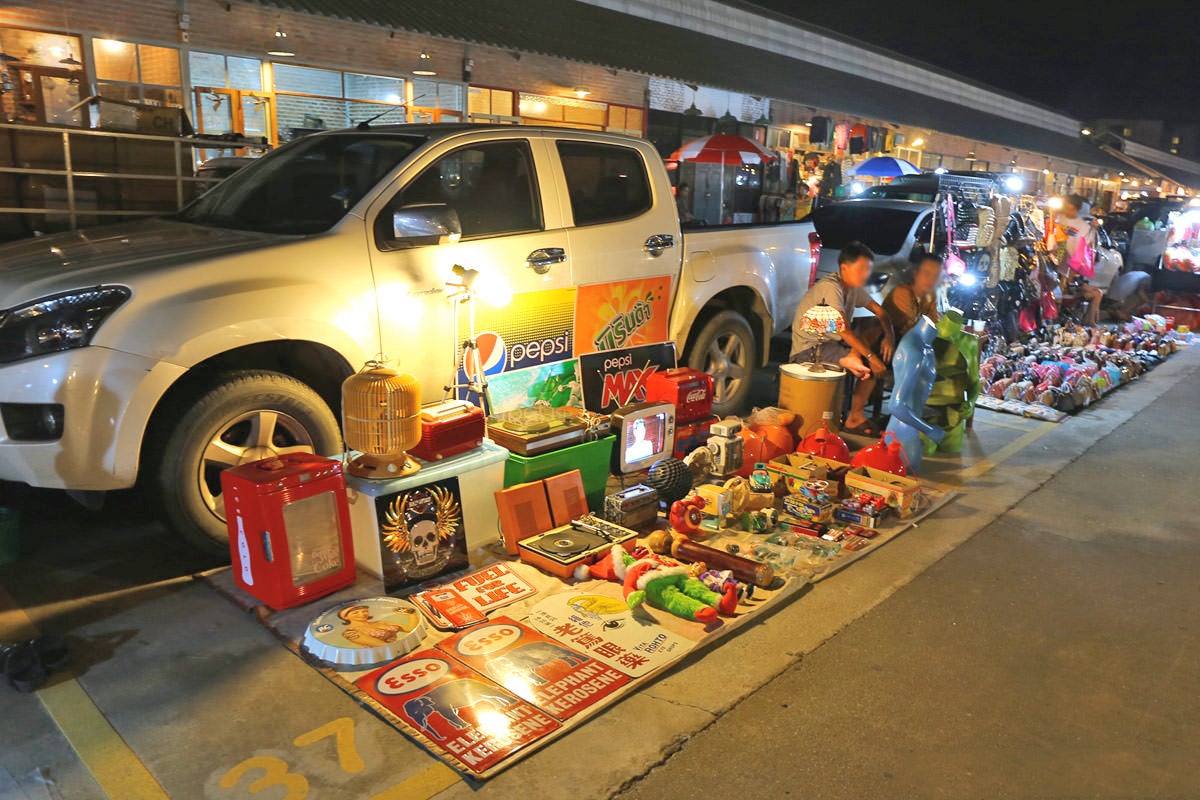 Rod Fai Market is located on Srinakarin Soi 51, behind Seacon Square Shopping Mall. The best way to get there is via taxi – all drivers should know Seacon Square. Even so, traffic can be bad on Friday and Saturday nights so you could consider taking the BTS Skytrain to On Nut Station first, then catching a taxi from there.
The original Rot Fai Market garnered a massive reputation at its former location next to the train tracks (hence the name) behind Chatuchak Market in the north of the city. When it was forced to move in 2013 due to an expansion of the BTS Skytrain line, many thought it was the end for this unique venture, but thankfully it returned at this new site and is bigger and better than ever.
There might not be any trains but there is a lot more space for traders to display their beautiful and strange collections in different sections, namely the 'Market Zone', 'Warehouse Zone' and 'Rod's Antiques'.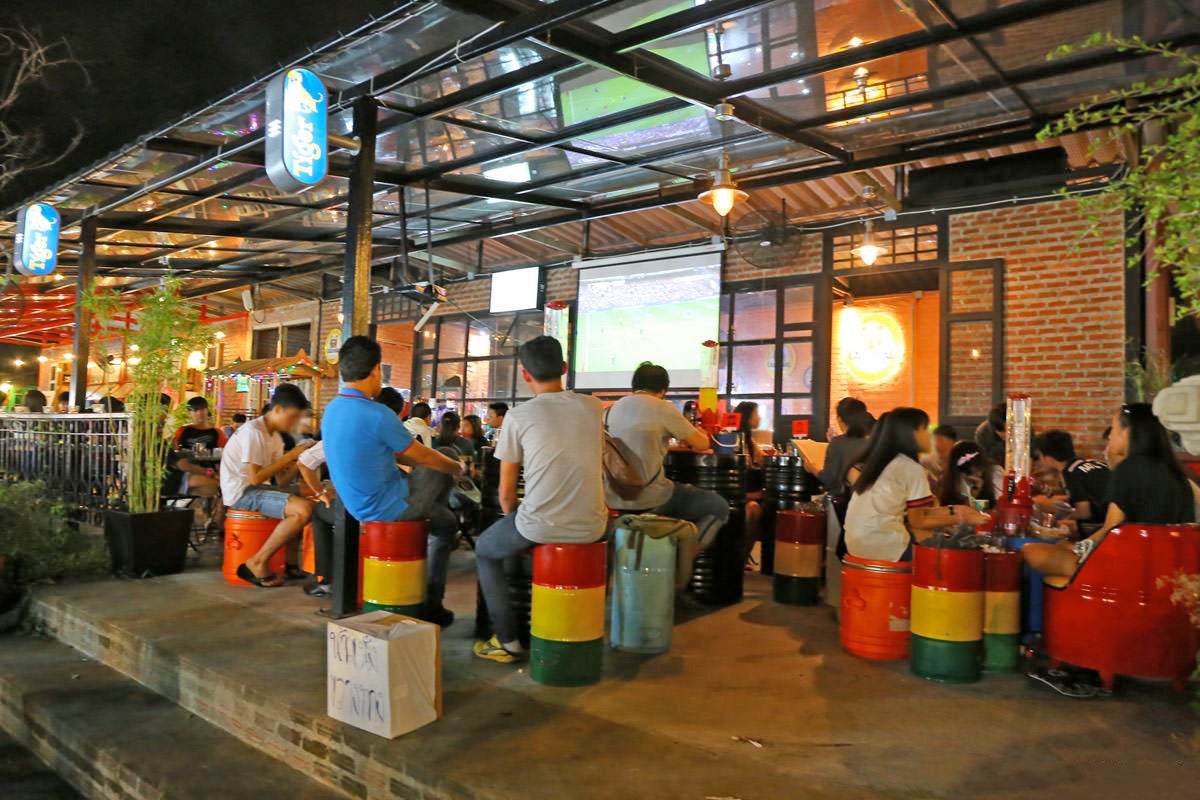 Rot Fai Market's 'Warehouse Zone'
In the Warehouse Zone, the sheer variety of products available is impressive. You'll find everything from household goods, old electronic appliances and used auto parts to second-hand clothes, shoes and fashion accessories – all vintage in style, of course.
Many vendors are also collectors of vintage, so it's not uncommon to see hobbyist items such as old cameras, bikes, Coca-Cola collectables and Japanese anime toys on sale as well. Best of all, traders are friendly without being pushy so you can browse and explore at your leisure without the feeling of being part of a tourist trap.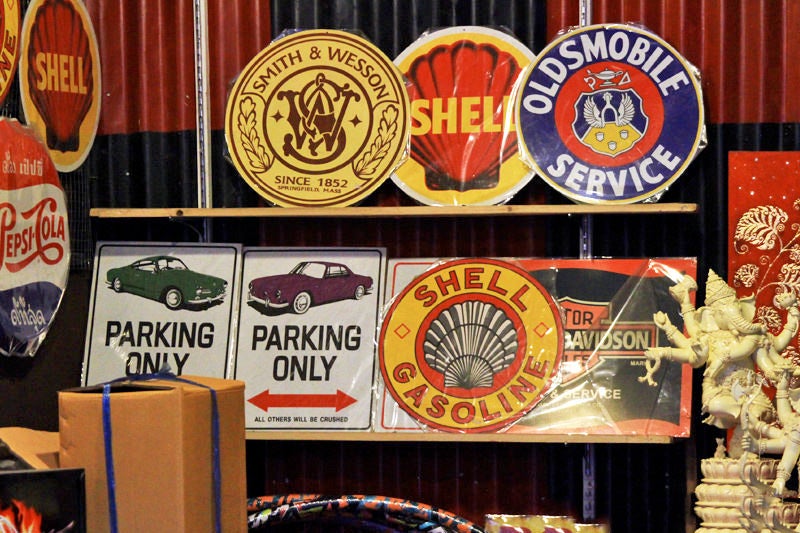 Shop for variety at Rot Fai Market
The real premium standout items at Rot Fai Market are displayed in a converted factory-type building called Rod's Antiques. This is a trove of antiques and vintage items including classic cars, motorbikes, antique and kitsch furniture and even a life-size Elvis mannequin.
Photographers are allowed to snap away though you're asked not to touch anything as these items are rare and have a price tag to match. One of the biggest differences here is that all vintage items are guaranteed to be genuine, sourced from all over the world: America, China, Myanmar, Europe, and Thailand.
The Market Zone is a massive collection of more than 2,000 stalls selling everyday products like shoes, on-trend fashion, children's toys and homeware. Prices are low and bargaining is common, so it's best just to explore and enjoy the sights, stopping frequently to try all the delicious snacks that are scattered throughout.
Towards the back end of the market are lines of traders with their wares laid out on the ground, similar to how Rot Fai Market started many years ago. These are mostly niche collectables and memorabilia.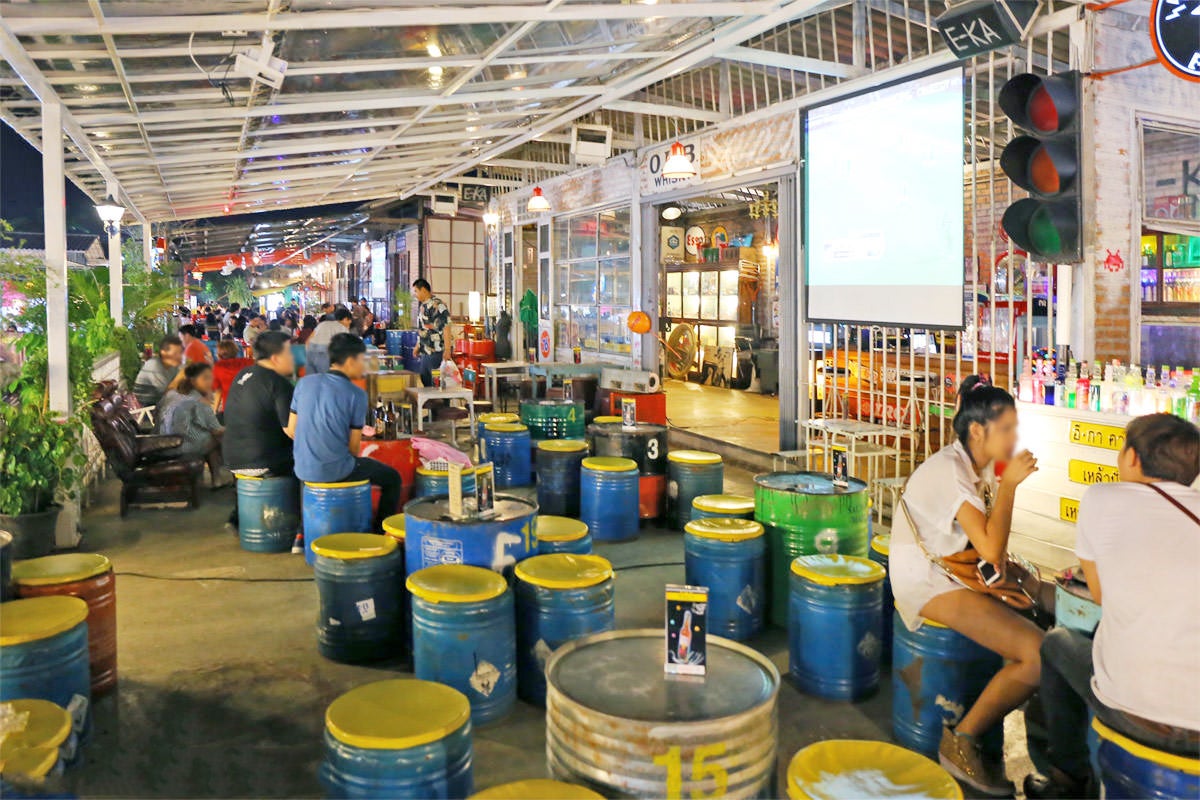 Rot Fai Market dining features
Shopping may be the main highlight at Rod Fai Market, but you shouldn't miss out on the street food here. Makeshift bars with cheap cocktails and drinks, barbecue stands with sizzling meats, fried noodle stalls, ice cream parlors, drink stands with foaming Thai iced-tea and coffee are wedged in at random spots among the goods.
A row of bars and restaurants at the entrance to the market is also where you can sit back with a tower of beer, listen to the live band, and soak up the scene. Each vendor employs various design gimmicks – from classic Volkswagen campers to old train bogies – to attract potential diners.
Rot Fai Market offers a really unique shopping experience where you're sure to uncover some great value items in a festive environment. Even if you're not into vintage goods, the charm of the place, the welcoming atmosphere and the spirit of the people who gather here are bound to make memories. It's definitely worth the trip out of the city center to experience this alternate taste of Bangkok.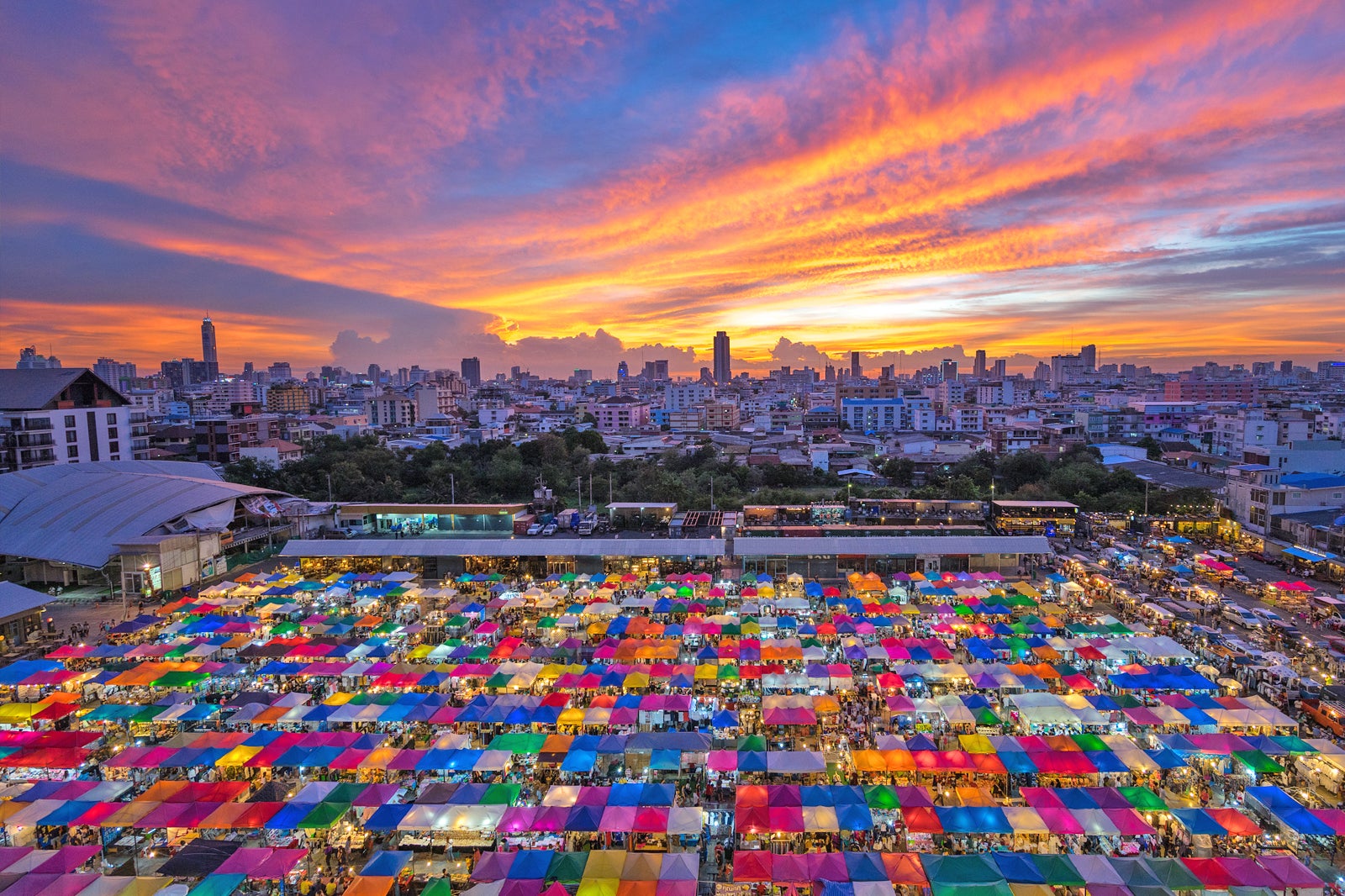 Second train market on Ratchada Road
A second location of the Train Market is on Ratchadaphisek Road, much closer to downtown Bangkok. Opened in January 2015, Ratchada Train Market is not as big as the original, but it has the same arty vibe, retro gear and tasty snacks to enjoy.
Ratchada Train Market is very easy to reach, just a few minutes walk from Thailand Cultural Center MRT Underground Station, behind Esplanade Shopping Mall. Ratchada Train Market is open Thursday–Sunday from 5pm to 1am.
Rod Fai Night Market in Bangkok
Location: 51 Srinagarindra Road, Nong Bon, Prawet, Bangkok 10250, Thailand
Open: Thursday–Sunday from 5pm to 1am (closed Monday–Wednesday)
Phone: +66 (0)8 1827 5885
Back to top