Raya Restaurant is one of the best Thai restaurants in Phuket Town. Set in a renovated Sino-Thai mansion originally built at the beginning of the 20th century, this venue takes its patrons back to the past and serves them such a delicious genuine local cuisine that movie stars, prime ministers, and royalty frequent this establishment while they're in Phuket.
Located on New Dibuk Road, on the eastern side of Phuket Old Town, Raya Restaurant serves such a fantastic crab curry that it's often ordered even from Bangkok and delivered by plane!
Raya Restaurant - one of the highlights of 10 Best Thai Restaurants in Phuket and 10 Best Restaurants in Phuket Town (Read all about Phuket Province here)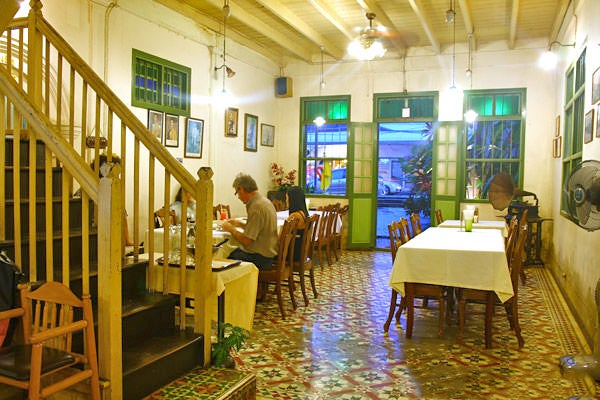 Décor at Raya Restaurant
Think Sino-Thai with a generous splash of Portuguese colonial thrown in and you'll get the picture. Raya may be old but she has aged gracefully and the zig-zag stairways in the center of the restaurant are the original ones.
The mosaic-tiled flooring is also original (and impossible to replace these days) as are the '50s-era tea and coffee poster-girl ads and pictures of Thai monarchs. Tulip-shaped wall light shades add to the olde-worlde effect.
Over by the bar, 4 signature-and-message-splattered whiteboards hang and an ancient windup gramophone graces the door area.
The atmosphere at Raya Restaurant
Totally unlike Phuket's other top restaurants, Raya exudes a Sino-Thai atmosphere with no hint whatsoever of tourist-related compromise.
Locals make up the majority of the clientele. With sotto voce Thai ballads and lots of tinkling piano and florid orchestral arrangements, together with brighter-than-normal lighting (but thankfully no neon) and a no-nonsense attitude, no one can claim that Raya is a romantic hotspot – at least in the western sense. But if good food in a retro-Asian atmosphere is your thing, Raya will do it for you.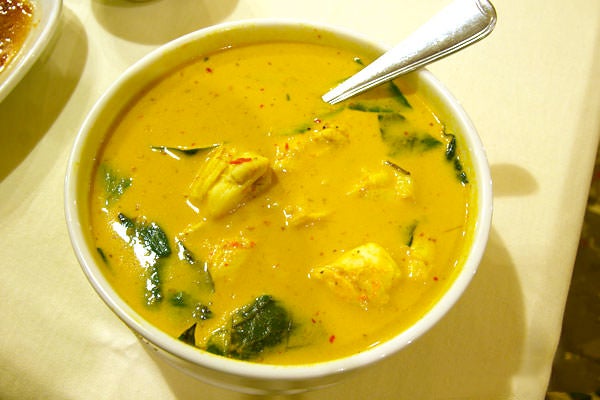 Food and drink at Raya Restaurant
The owner, Khun Kulab, is a keen restaurateur and is in great demand, with orders coming in even from as far away as Bangkok. She has trained several prominent Thai-food chefs on the island and her signature dishes include a sensational crabmeat curry served with rice vermicelli, caramelized and braised pork belly, spicy Phuket prawns, deep-fried sea bass with shallots and red chillies in tamarind and lemongrass sauce.
The crabmeat curry is especially noteworthy as the chunks of flesh are enormous – reputed to be the largest on the island. Phuket prawns pack a spicy punch while the braised pork is sinfully sweet and juicy.
The menu has an 8-label list featuring 2 French, 1 Chilean and 5 Australian wines with none over about 850 baht. Beer is also available and pairs well with Thai food.
Raya Restaurant
Location: 48/1 Dibuk Rd, Talad Yai, Muang, Phuket 83000, Thailand
Open: Daily from 10am to 10pm
Phone: +66 (0)76 218 155
Back to top