Rama IX Park is the largest green space in Bangkok, with a beautiful botanical garden, a large lake and gardens inspired by countries around the world. Established in 1987 to celebrate King Bhumibol's 60th Birthday, a visit to this large park on the outskirts of Bangkok is a great break from the city. Despite all the interesting things to see here, the park often remains surprisingly free of tourists and offers a genuine experience of how locals spend their afternoons off.
Rama IX Park - one of the highlights of 11 Best Things to Do in Sukhumvit and 11 Great Parks in Bangkok (Read all about Bangkok here)
Getting to Rama IX Park
Rama IX Park is around 15 km from the city center. The easiest way to get here is by taxi, either directly from the town, or if the traffic is bad, by taking the BTS Skytrain to Udom Suk and hailing one from there. It costs around 150 baht and takes around 30 minutes in a cab from central Bangkok – there shouldn't be a problem catching one back into town, either.
Admission costs around 10 baht. Most people are here in the early mornings to exercise. In the afternoons, families and young couples come to laze around on hired mats. The best time to visit Rama IX Park is in December when the park hosts a lavish annual flower festival.
Rama IX Park highlights
The park is set out over a land size equal to 80 soccer fields and it takes a couple of hours to wander around and explore. It's split into different sections with the centerpiece of the park sitting on the edge of the lake.
Inside Rama IX Park, you can see a dated building with a golden spire that wouldn't look out of place in early episodes of Star Trek. It serves as a gallery in celebration of the life of the King and includes photos, paintings and information about the royal projects. There isn't much in English, but the display is fascinating nonetheless, and 30 minutes of wandering around give you an air-conditioned rest from the sunshine.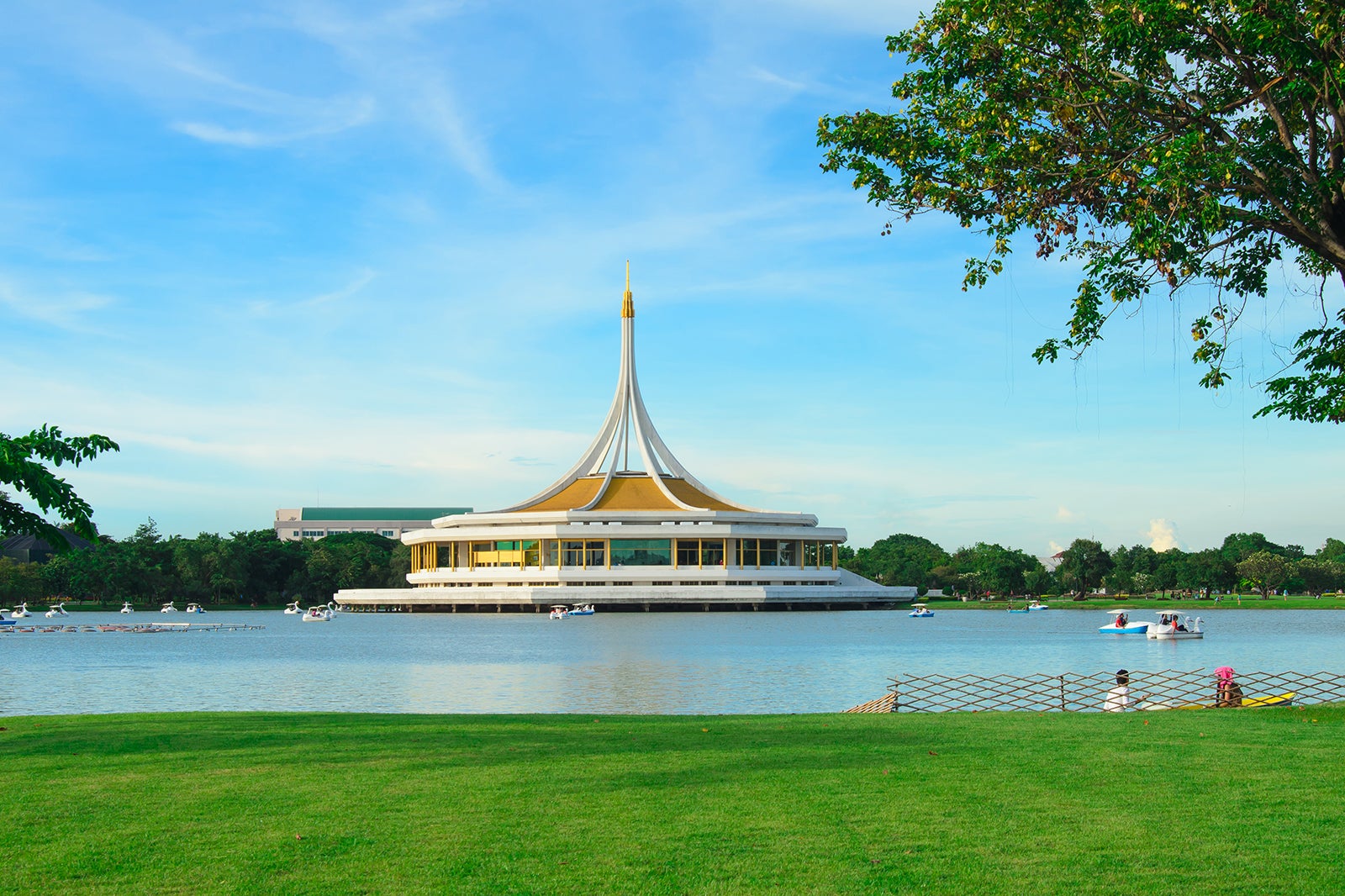 Different countries represented at Rama IX Park
Several countries, including England and Japan, are represented in the Rama IX Park's gardens. The wooden pavilion that forms part of the Chinese Garden is hidden in a walled garden, with a lily pond and miniature bridges behind it. The American Garden is housed in a huge futuristic dome and is reminiscent of the Nevada desert, sandy with plenty of cacti.
The Italian Garden is represented by ornate fountains and perfectly manicured hedges, while the French Garden is home to an impressive colonnade and a statue reminiscent of Rodin's great works. If you want to learn more about Thai plants, the large botanic garden has a large variety of beautiful flowers and trees, with orchids and indoor plants found in colonial-inspired greenhouses. Be sure to check out Thakon Phrakia Pavillion in the middle of a lotus pond. It's a picture-perfect representation of classic Thai design.
Recreation at Rama IX Park
Apart from exploring the gardens, there's also the chance of getting out on the lake on the reliable but slightly worn duck and swan pedalos that line the jetty. Those who arrive early in the morning can join the public tai chi or aerobics class. There is also an outdoor gym with fun exercise equipment suitable for adults and children.
If you're looking for a more laid-back approach to discovering the park, jump on the small train that shuttles visitors from the gates to popular sites and picnic spots. There are plenty of small stalls selling ice cream and drinks around the park but if you're looking for something more substantial, get here before lunch when stallholders can be found at the entrances to the park, selling barbecued chicken, noodles and fruit.
Rama IX Park
Location: Suan Luang Rama 9, Sukhumvit 103 Road, Prawet, Bangkok 10250, Thailand
Open: Daily from 5am to 7pm
Phone: +66 (0)2 328 1385
Back to top