10 Most Photographed Places in Phuket
And Where to Find Them!
Phuket has a great share of picture-postcard spots. As the prime vacation destination in southern Thailand, blessed with a tropical monsoon climate and attractive land and seascape sceneries, the island of Phuket obviously has all the assets to provide amateur and professional photographers alike with stunning photo opportunities.
Even if it is a cliché, everyone wants to be in a picture with that perfect, idyllic backdrop and Phuket offers its visitors unparalleled opportunities to do just that. It has everything from exotic beaches fringed with palm trees to remote islands to heavily-ornamented Buddhist temples and Chinese shrines to the vintage neo-colonial architecture of the oldest district of its capital. Check out our selection of the best picture-postcard spots in Phuket and the surrounding area, below.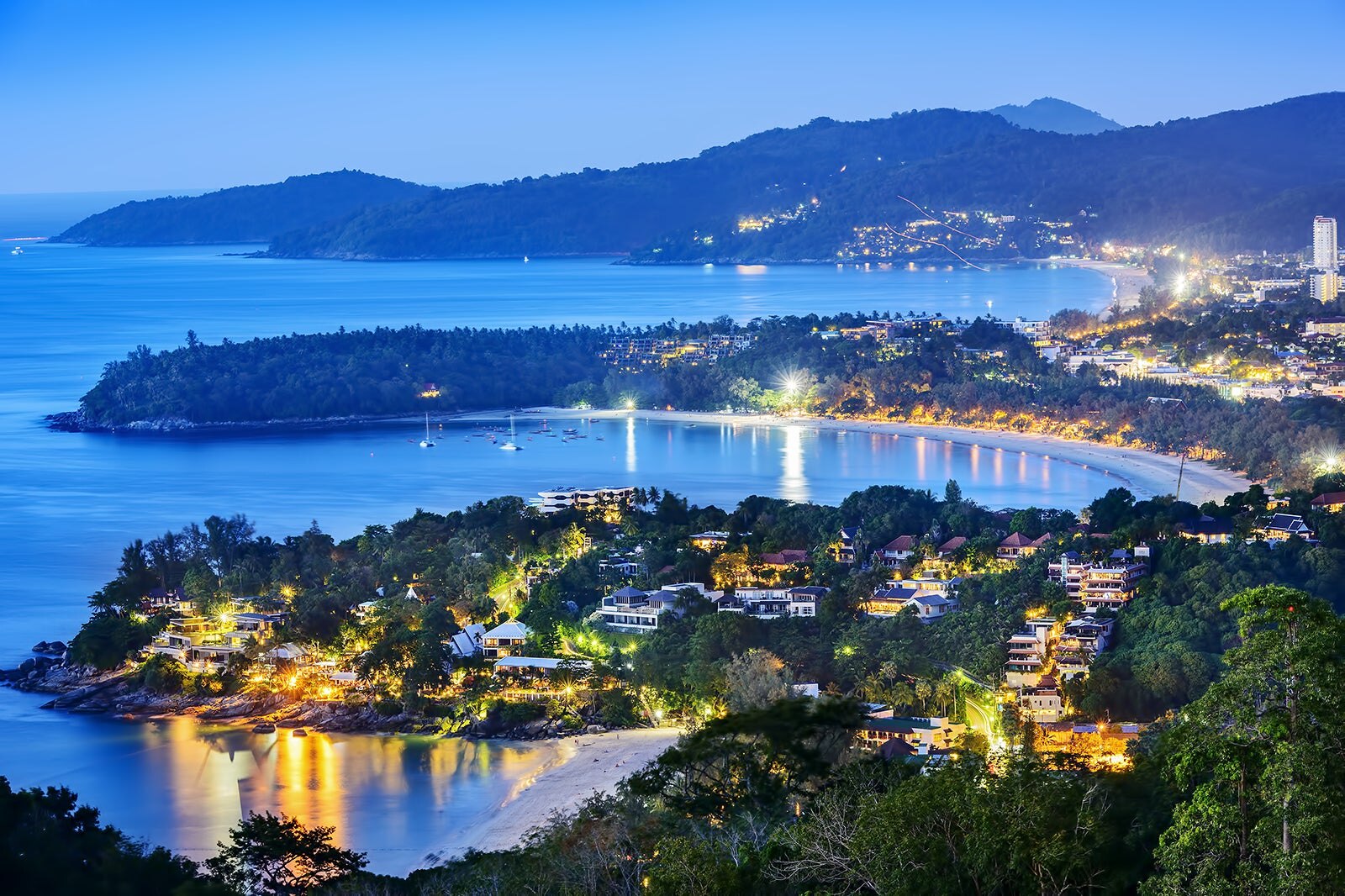 Karon Viewpoint (also know as Kata Viewpoint) is among the most visited sightseeing attractions on Phuket's west coast. Set on the roadside between Kata and Nai Harn beaches, this popular place offers a great view over 3 beaches: Kata Noi, Kata, and Karon. The site hosts a few food and drink carts at which visitors can refresh themselves.
Read more
Location: 4233 Karon, Muang, Phuket 83100, Thailand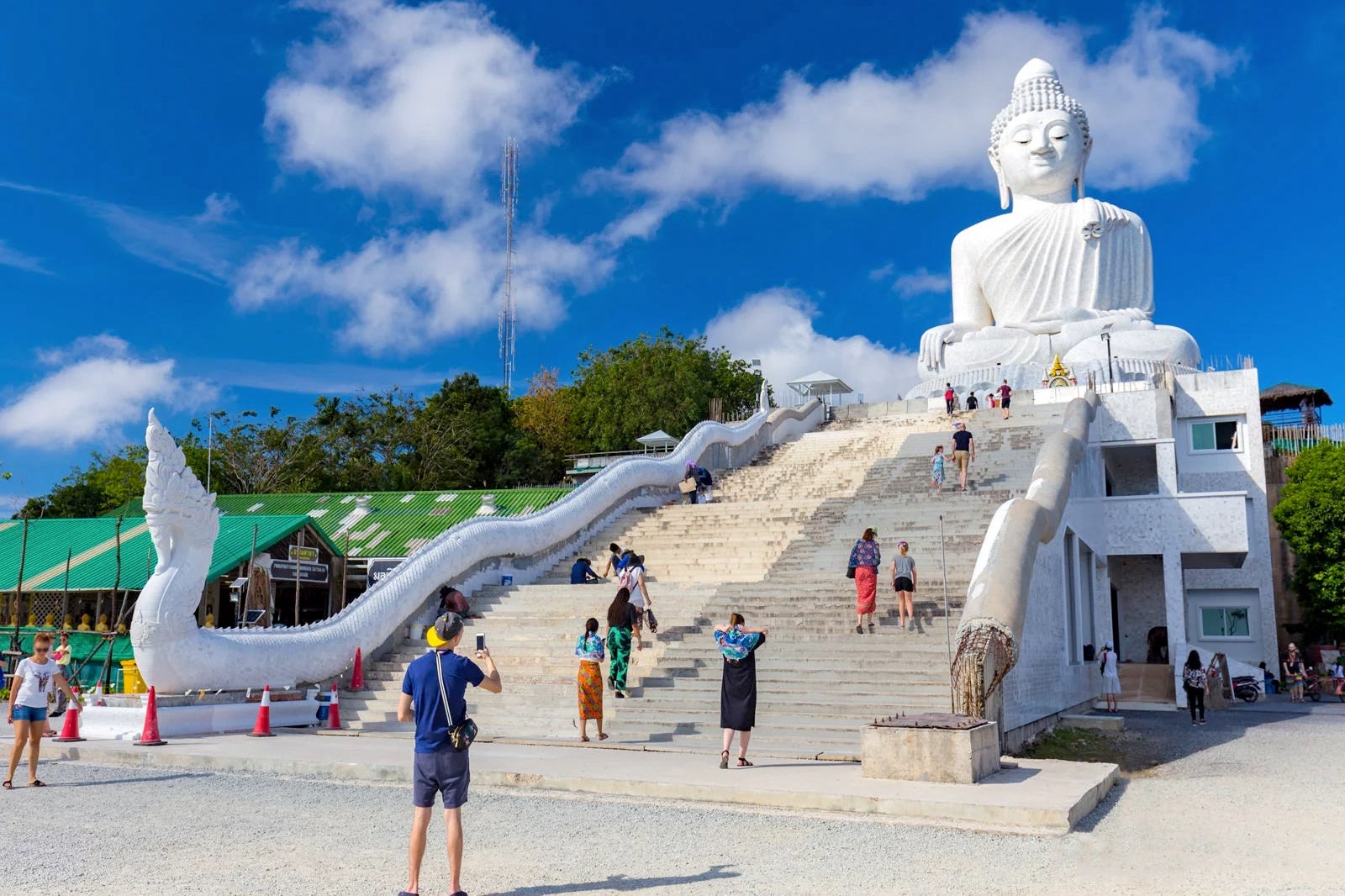 Phuket Big Buddha is one of the most striking landmarks on the island. The 45-meter-tall statue sits at the top of the Nakkerd Hills, off the main road between Wat Chalong and Chalong circle. The best time to visit Phuket Big Buddha is in the morning as it faces east. From the site, you can enjoy (and photograph) splendid vistas of the east and west coasts of Phuket Island.
Read more
Location: Soi Yot Sane 1, Karon, Muang, Phuket 83100, Thailand
Open: Daily from 6 am to 7 pm
Phone: +66 (0)81 891 3827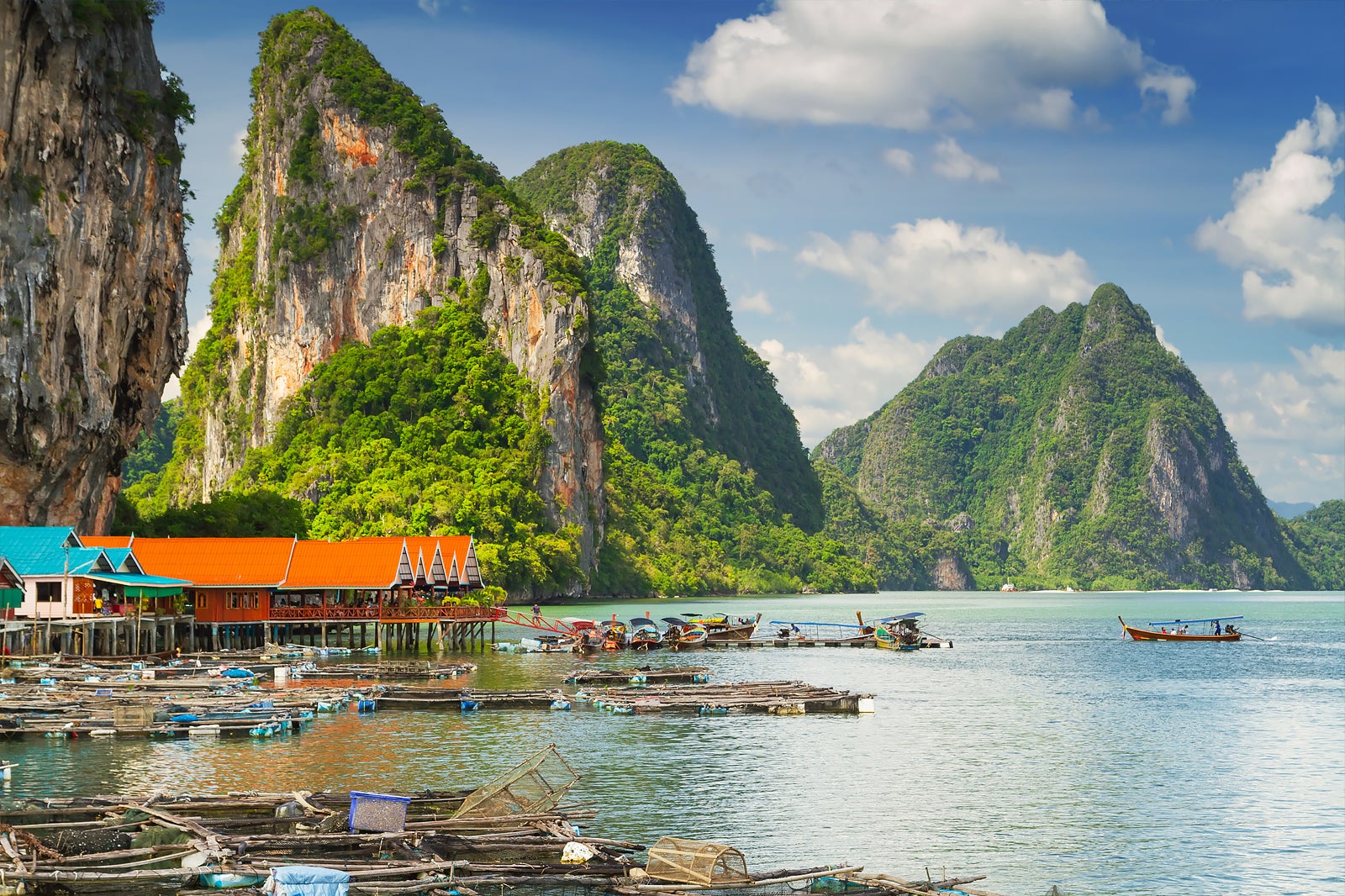 Phang Nga Bay and James Bond Island
Phang Nga Bay is an almost unique site in the world that covers a 400 sq km area surrounded by Phuket Island, Phang-nga and Krabi provinces. This large maritime park hosts 42 islands of like tall limestone towers rising from the emerald brackish waters of the bay. Featuring caves, lagoons, mangrove forests, unique fauna and flora, Phang Nga Bay is an ode to Mother Nature and the iconic views regularly adorn local postcards.
Location: Phang-Nga, Thailand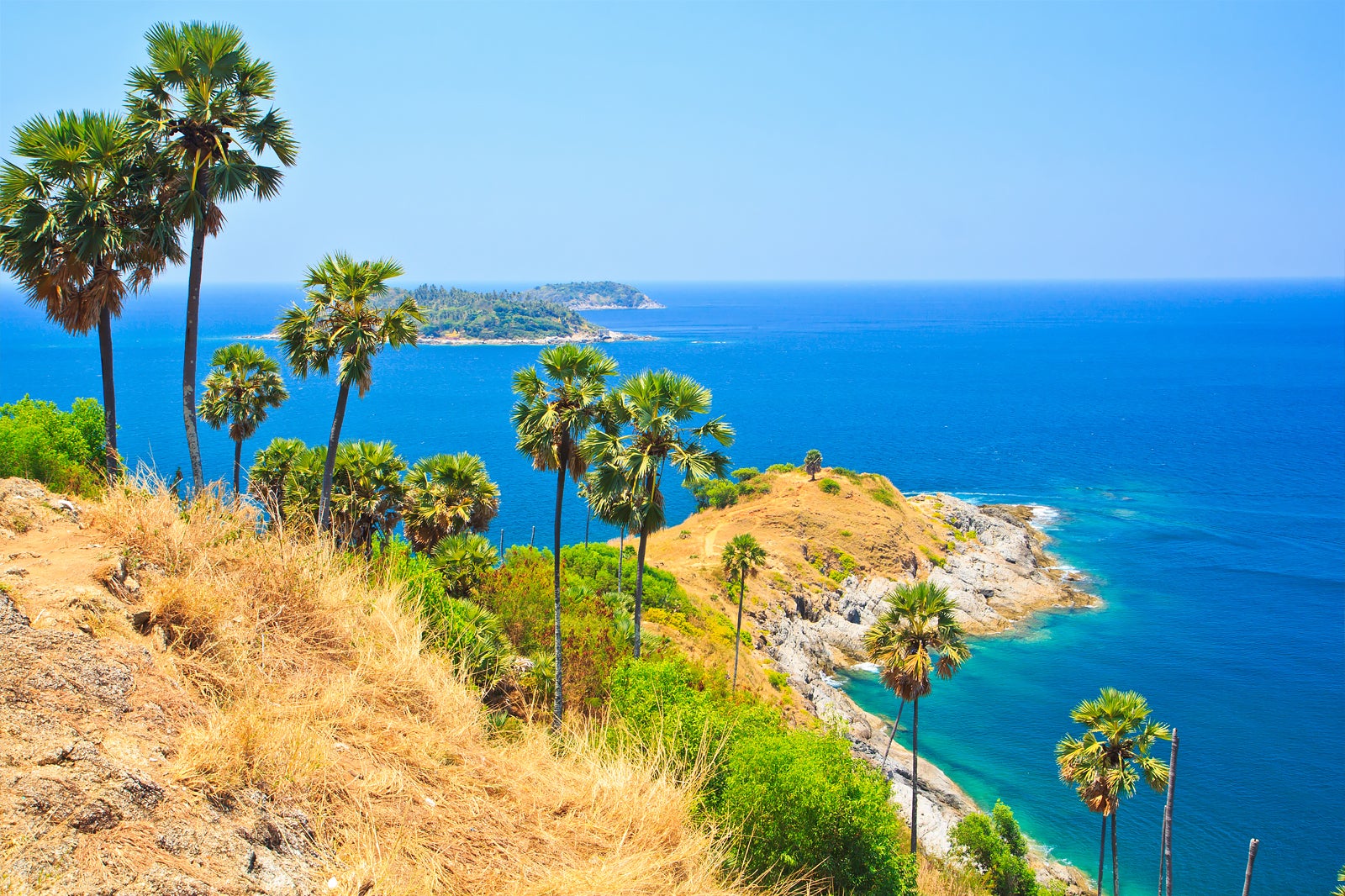 Promthep Cape is among the most photographed spots in Phuket. Forming the southernmost tip of the island, Promthep offers a stunning 180-degree vista of the sea and 3 nearby small islands. A dirt track leads the most adventurous visitors to the southern tip of the cape at their own risk. At any time of the day, Promthep Cape offers splendid photo opportunities, yet it's at sunset that most photographers are likely to capture great picture-postcard shots.
Location: Laem Promthep, Rawai, Muang, Phuket 83100, Thailand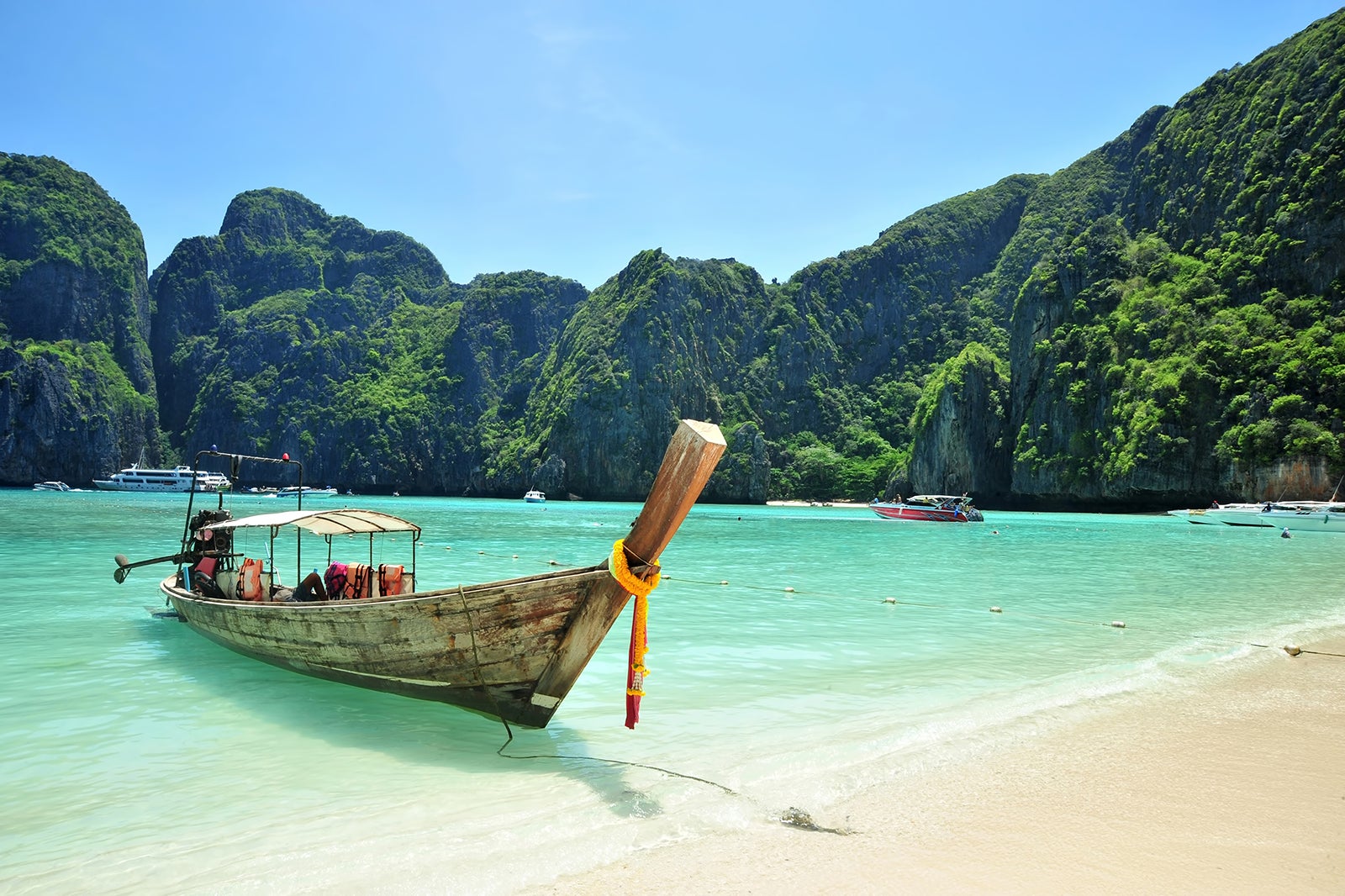 Phi Phi Island and Maya Bay
Phi Phi is a group of 6 islands lying roughly halfway between Phuket Island and the Krabi coast. Despite its somewhat anarchic development, Phi Phi Don (the uniquely inhabited island of the group) still offers idyllic scenery at most of its beaches, with a few specific spots being particularly mesmeric. Koh Phi Phi Leh, the second-largest island of the group, hosts the world-famous Maya Beach, which was used as the main location for Danny Boyle's movie The Beach in 2000.
Location: Krabi 81000, Thailand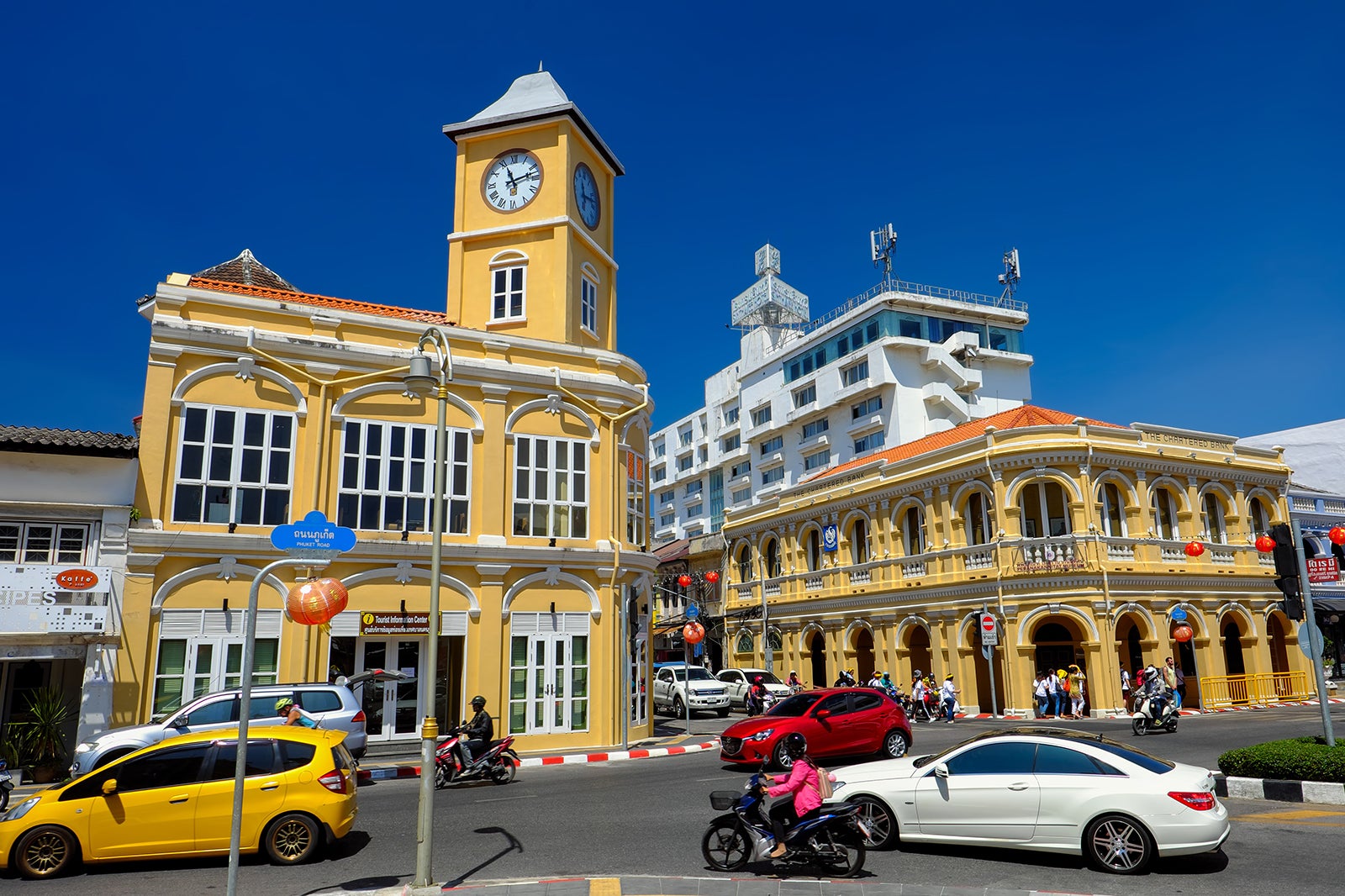 Old Phuket Town and Thalang Road
Officially established during the tin mining era of Phuket's history, between the mid-19th and the early 20th century, Old Phuket Town has a splendid architectural heritage that retains a charming vintage atmosphere, offering great photo opportunities. The Sino-Portuguese architecture of most of the houses and mansions has been pretty well maintained and renovated through the past hundred years and is a witness to the splendours of the past.
Location: Thalang Road, Talat Yai, Muang, Phuket 83000, Thailand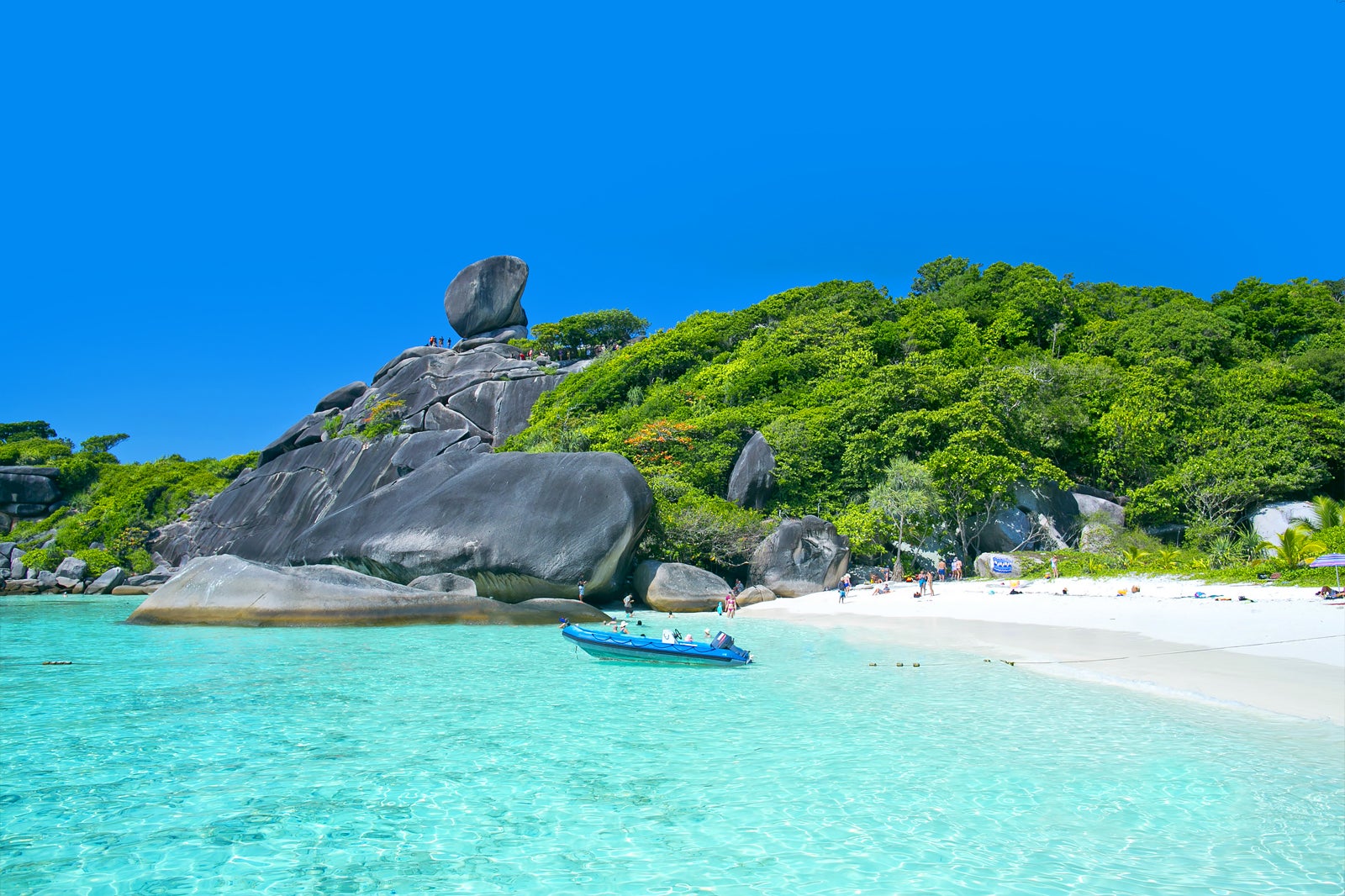 The Similan Islands may be a bit far from Phuket – about 119 km away – but no visit to southern Thailand would be fully complete without at least a day trip to this group of 9 islands belonging to Phang-nga Province. Remote and uninhabited (one of the islands houses a national park's rangers camp at which visitors can stay overnight), the Similan Islands are a tropical dream come true.
Read more
Location: Larn Kaen, Thai Muang, Phang-nga 82210, Thailand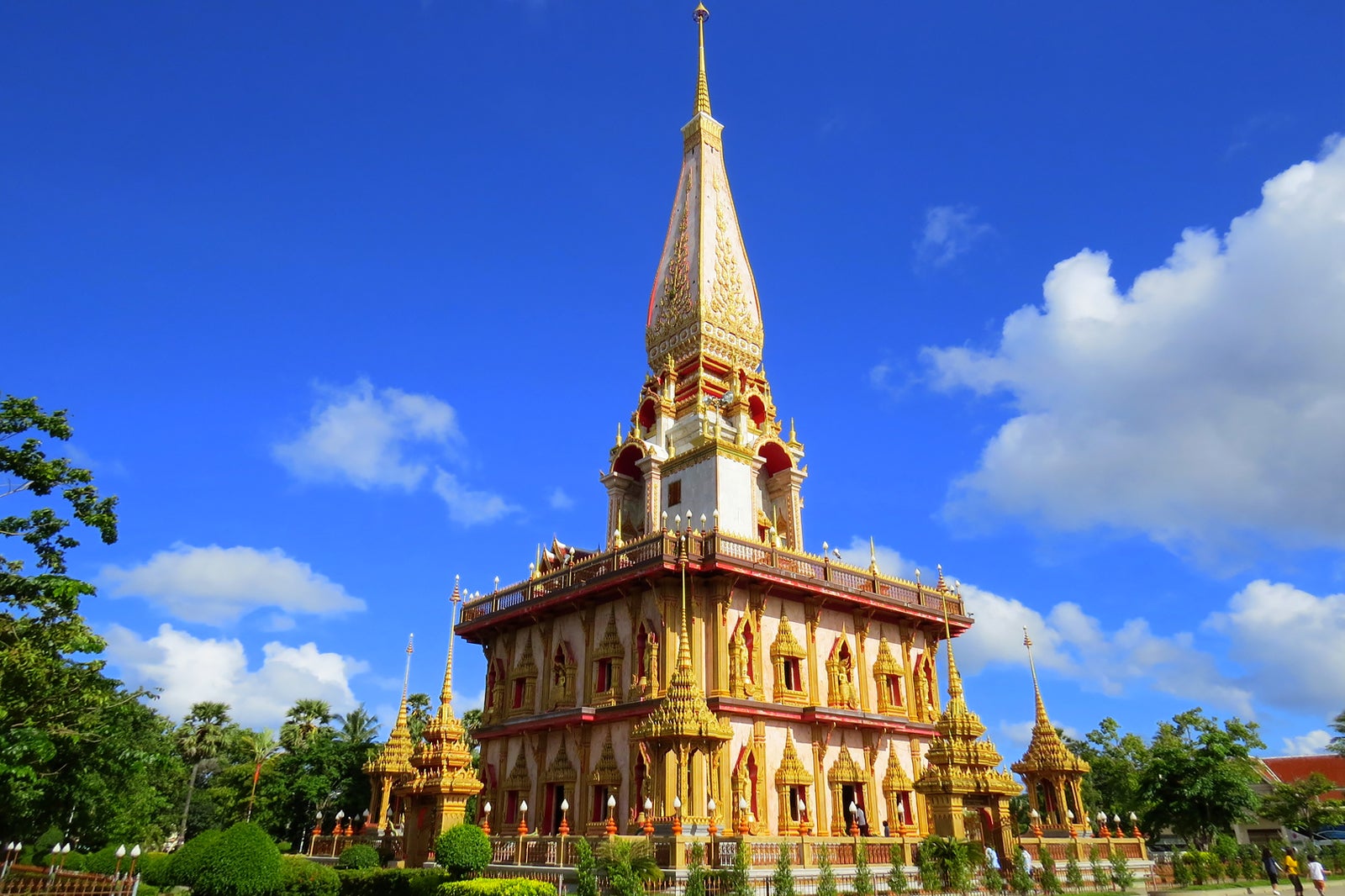 Wat Chalong is the largest Buddhist temple in Phuket. Hosting half a dozen buildings, each with a specific purpose or exhibition, it's a superbly decorated temple set in a nicely landscaped garden. The tallest pagoda houses a splinter of Lord Buddha's bone. From close-ups on temple ornamentations to overview vistas from the Grand Pagoda, photo ops are plentiful at Wat Chalong.
Read more
Location: 70 Village No.6 Chao Fah Tawan Tok Road, Chalong, Muang, Phuket 83000, Thailand
Open: Daily from 8 am to 5 pm
Phone: +66 (0)76 381 226
Couples
History
Photo
Budget
photo by Pekka Oilinki (CC BY-SA 3.0) modified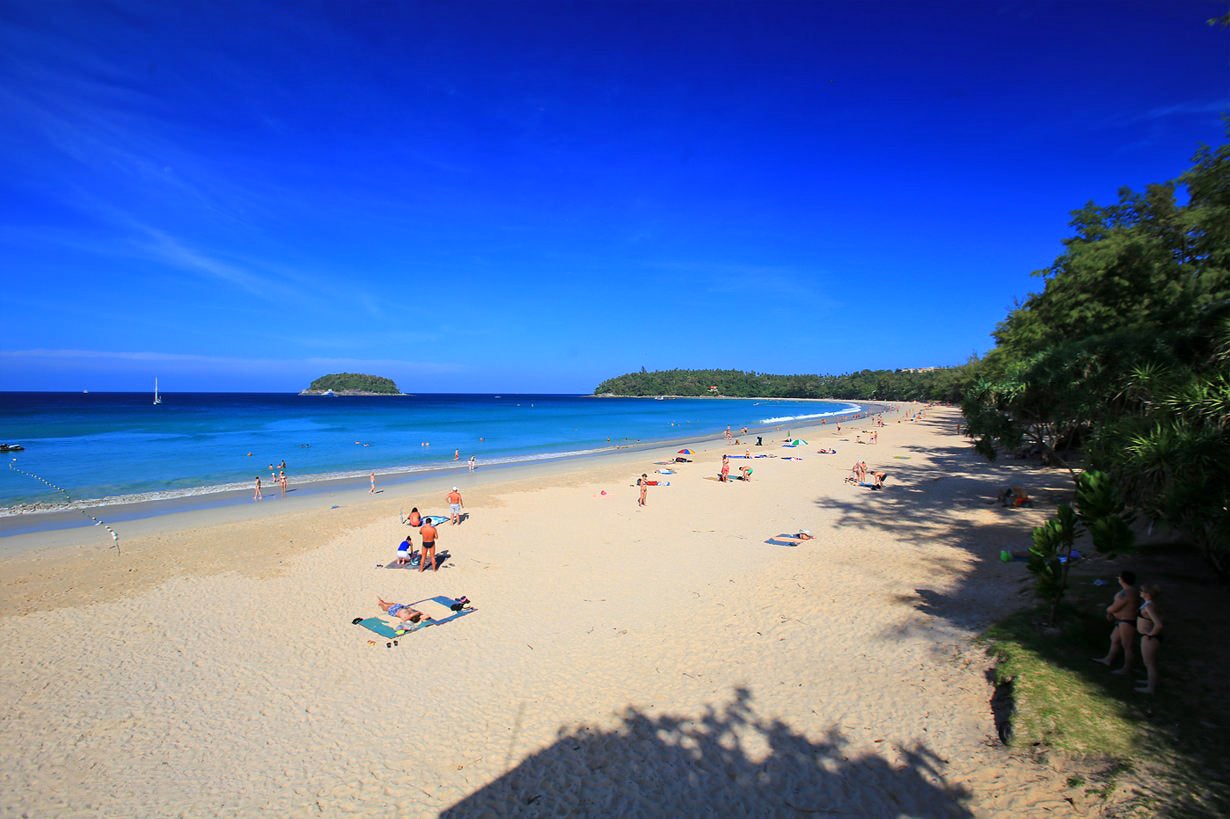 One of the most popular beaches on Phuket's west coast, Kata Beach has been frequently photographed at sunset. Part of its popularity comes from the small island a short distance out to sea and the long-tail boats typically anchored on the shore for the night, giving postcard-like photos with dramatic foreground elements while the sun gently slides into the sea in the background.
Read more
Location: Soi Pakbang, Karon, Muang, Phuket 83100, Thailand
Couples
Families
Photo
Budget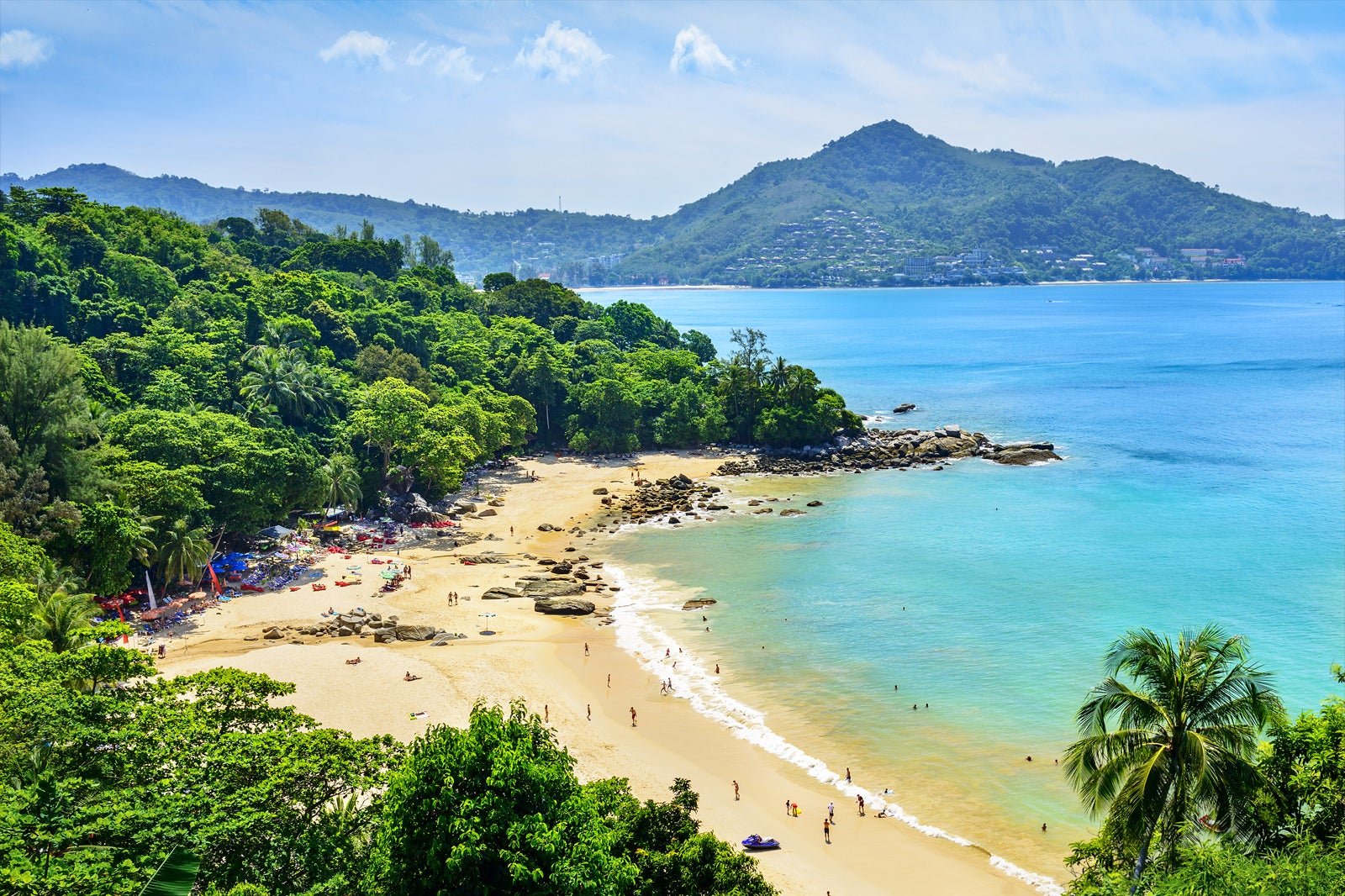 Laem Singh Beach Viewpoint
Located off the coastal road linking Kamala beach and Surin beach, Laem Singh Viewpoint offers a superb panorama of Phuket's west coast just above the magnicifient cove of Laem Singh.
Location: Kamala, Kathu, Phuket 83120, Thailand