There's a saying that if you really want to get to know a country, you should visit its local markets. In Thailand, that's certainly true; you can soak up a whole lot of local flavor – and eat some, too – just by walking around a talad ('local market' in Thai).
Thai fresh markets are cornucopias of colorful fruit and vegetables, prepared snacks and food, chunks of red or green curry, dried foods, unrecognizable merchandise, pirated CDs, DVDs and computer games, brightly hued T-shirts and jeans, hair accessories, handicrafts, and not to mention second-hand shoes, name-brand copies… all of which are offered at bargain prices.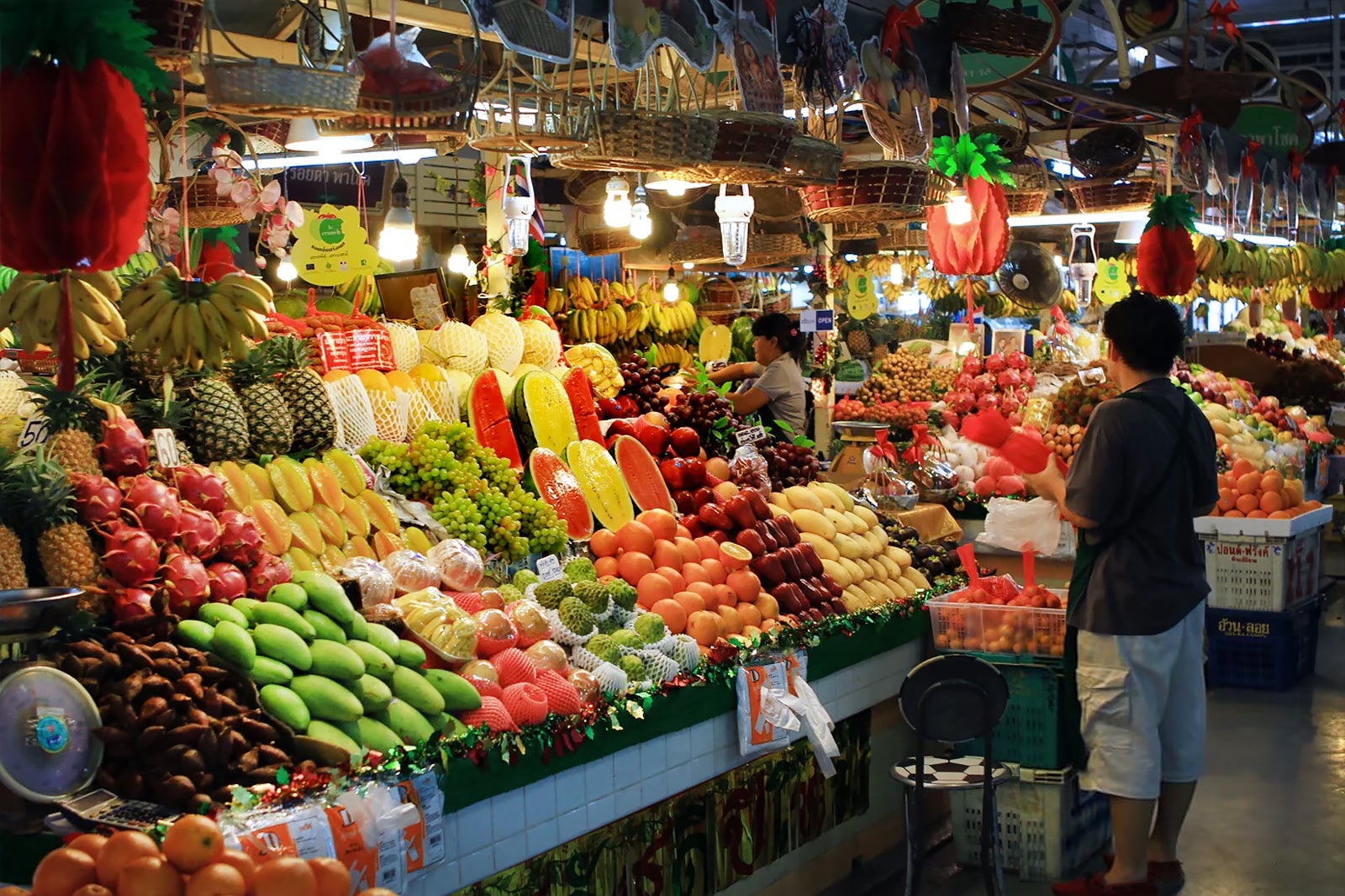 Fresh markets and weekly markets
There are 2 main types of markets in Thailand. Talad sod (or fresh/wet market) refers to a permanent market, which always operates in the same place, every day at the same time.
Talad nat (appointment/meeting market) is similar to a weekend market, where local farmers bring their produce into town to sell. Almost every village in Thailand, big or small, will have this type of market. Local shoppers love them because the produce on sale is usually cheaper and fresher than most supermarkets.
One of the most talked-about markets in Phuket is the Talad Tai Rot weekend market on Chao Fa West Road, near Central Festival Phuket.
Fresh food
There's very little order to things in most Thai markets. You may find barbecued chicken next to a second-hand shoe stall. Or, if you're lucky, you might find some sexy underwear for sale next to a seafood stand.
With Phuket being surrounded by fertile fishing grounds, the fresh seafood at most local markets makes for a fascinating sight. You can see huge groupers, big juicy tunas, red snappers, thousands of tiny anchovies, and shiny white squid all laying side-by-side on a bed of ice.
At these markets, the most fun comes in seeing things you'd never encounter on a hotel menu (think fried grasshoppers and silkworms).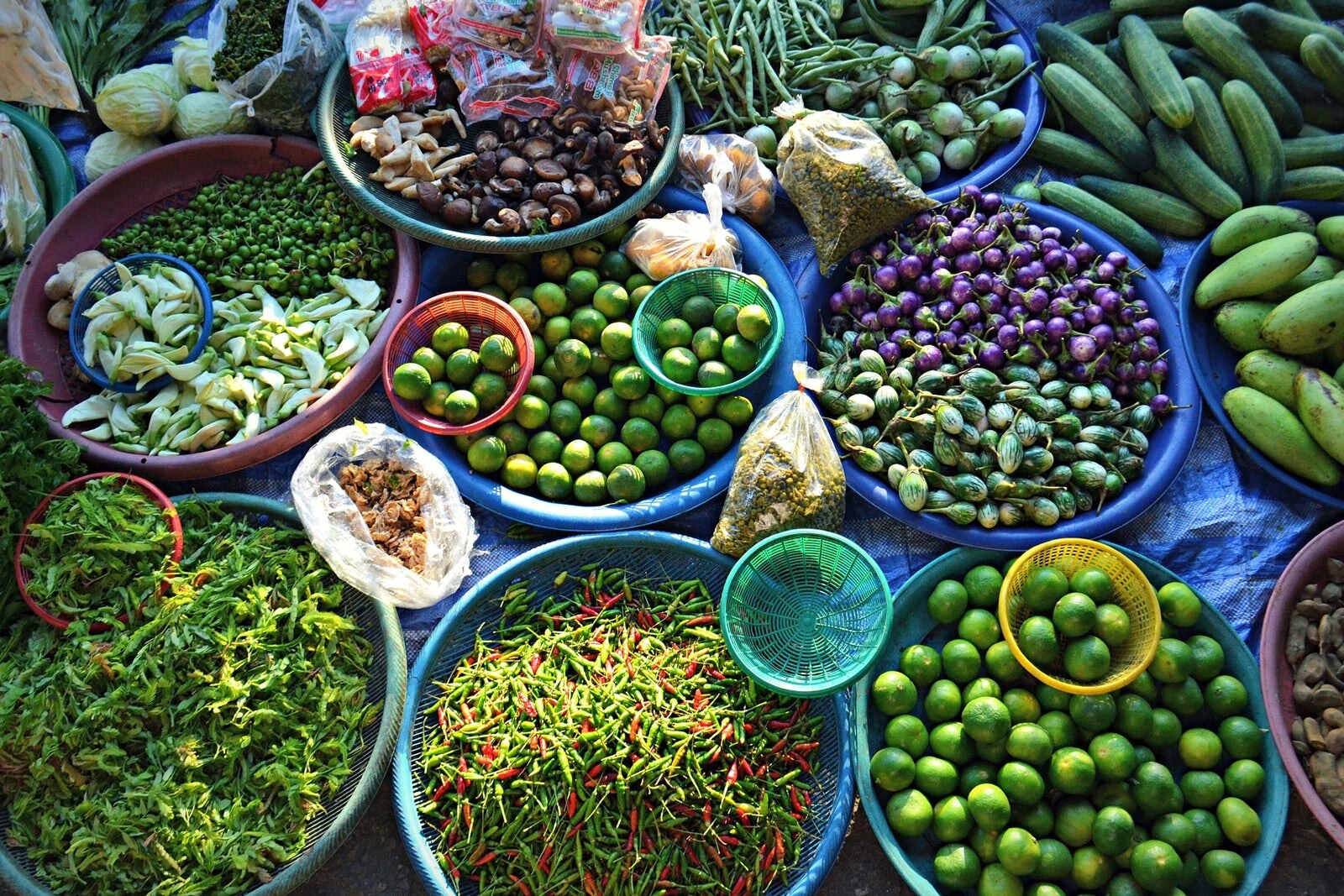 Herbs and vegetables
At a typical vegetable stand, it's common to see mountains of garlic and eggplants – both long and short green runner beans – as well as bright-orange carrots, potatos, tomatoes, and salads.
Many of the greens that you'll see are often herbs, which add the flavors and aromas that Thai food is so celebrated for. Herbs can also confer medical benefits. Eating ta-krai (lemongrass) may help alleviate insomnia and keep the mosquitoes away if you rub the juice on your skin. Blogged-up nose? Sa-ra-nae (Thai mint), can be a big help. The juice of ma-krood (kaffir lime) can help with scalp issues.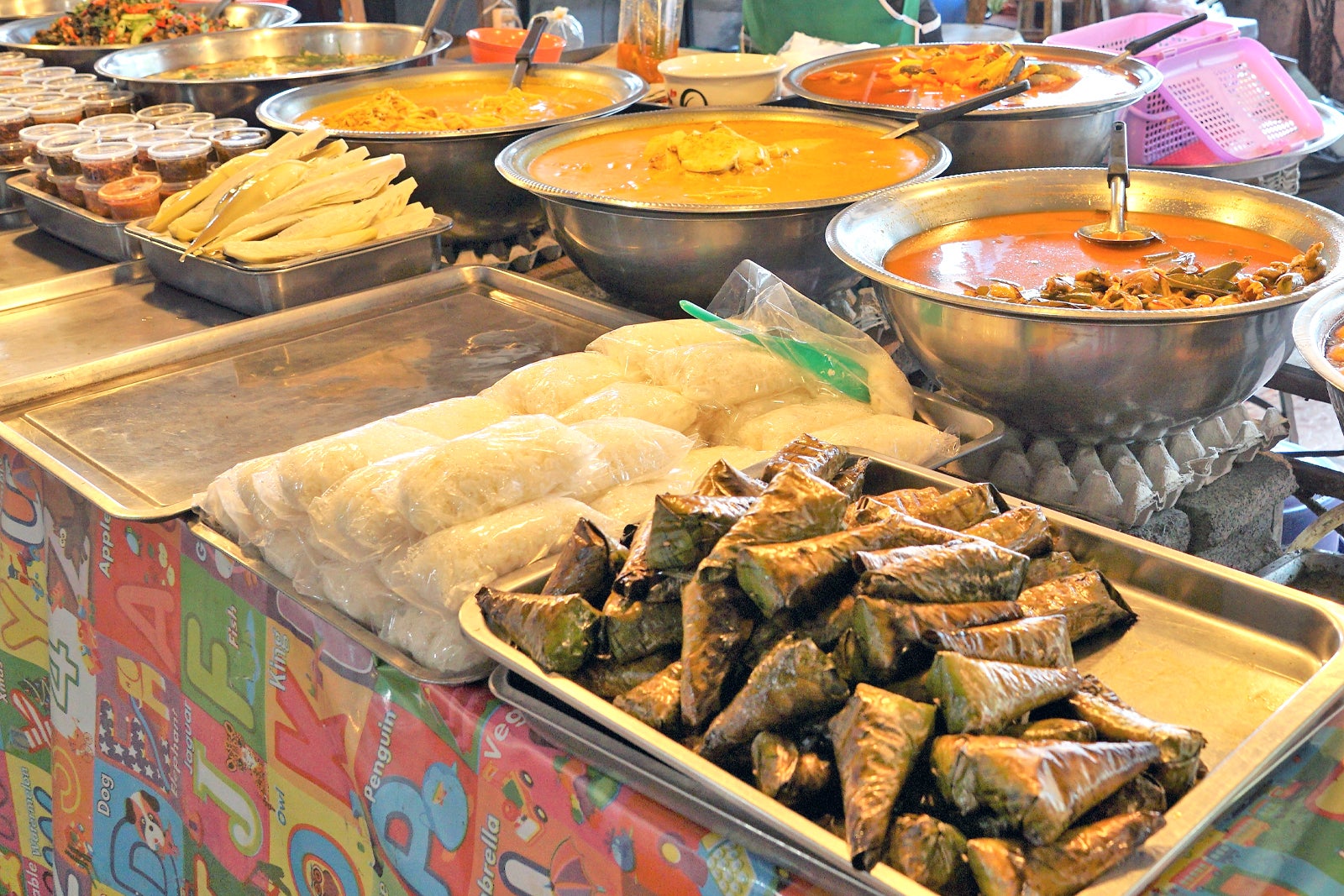 Cooked food (or Thai takeouts)
Thailand's markets are a good opportunity to appreciate its local delicacies. Many shoppers buy packets of steamed rice and side dishes, along with their fresh produce when shopping at a local market.
There are usually quite a few cooked-food stands in a Thai market. If you look closely, you will find all kinds of curries, soups and salads, and stir-fried dishes. Some of the most convenient things to eat include barbecued seafood, chicken or pork, which pair well with sticky rice.
Make sure to sample the local sweets while you're there. There are varieties of sweets and desserts to choose from, like bua loy (rice balls in coconut milk), khao niao mamuang (mango sticky rice), buad faktong (pumpkin in coconut milk), and khanom mo gang (egg custard pudding), to name just a few.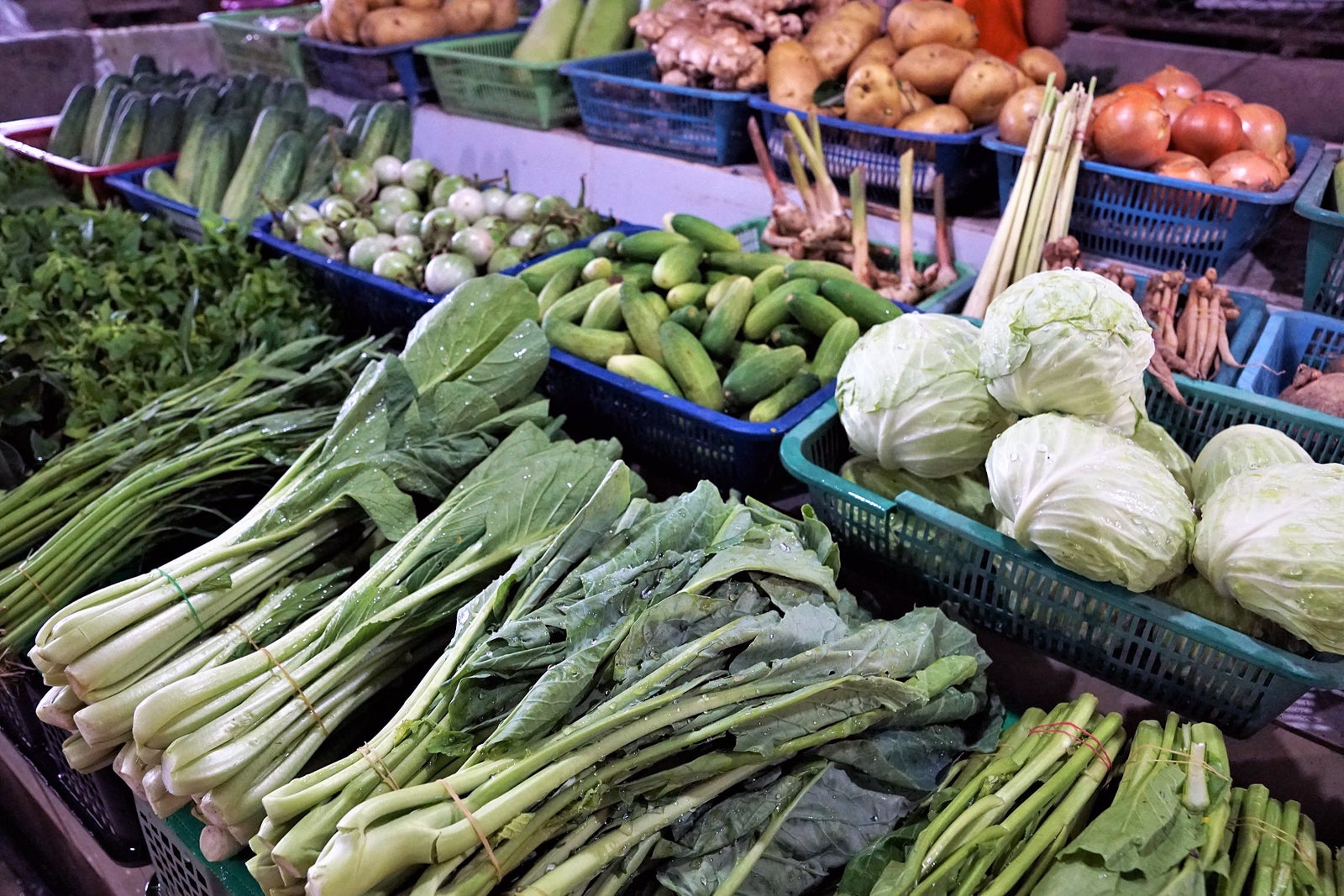 Where to find markets in Phuket?
Many traders move from one market to another to sell their merchandise. There are dozens of these markets in Phuket that stay open come rain or shine, so you won't have any trouble finding one. If you're driving past one, slow down as the traffic around the markets is at best unpredictable and at worst impassable.
Staff at your hotel should be able to tell you where and when the nearest local market is open. Alternately, see the list below for the locations of some of the markets, and the days on which they operate.
Patong Beach
Baanzan Fresh Market. Located right behind Jungceylon Shopping Mall - Daily from 9am to 7pm
Nanai Road Fresh Market. Not far from Baanzan Market - Daily from 8am to 8pm
Chalong Bay
Talad Nat near Chalong Circle. Heading south toward Rawai Beach, the market is just about 200 meters from the circle, on the right-hand side of the road - Sundays from 6am to 12pm
Talad sod opposite Villa Mall, Chalong - Daily from 6am to 12pm
Rawai Beach
Talad Nat near shell museum on Viset Road - Daily from 2pm to 8pm
Talad Nat in Soi Saliga on Viset road - Wednesdays and Sundays from 2pm to 8pm
Talad Nat opposite Friendship Beach on Viset Road heading to Rawai Beach - Tuesdays and Fridays from 3pm to 7pm
Talad Nat opposite Vijitt Resort & Spa on Viset Road - Wednesdays and Sundays from 3pm to 7pm
Karon and Kata Beach
Talad Nat on Patak Road - Mondays and Thursdays from 12pm to 8pm
Talad Nat at Wat Karon - Fridays from 4pm to 9pm and Tuesdays from 4pm to 11pm
Kamala Beach
Kamala Talad Nat on the back road, on the way to Patong Beach - Mondays, Wednesdays and Saturdays from 2pm to 8pm
Kamala Friday Market is a bigger market than the one above - Fridays from 2pm to 7.30pm
Bangtao Beach and Cherng Talay area
Talad Nat opposite the Cherng Talay Police Station - Wednesdays and Sundays from 1pm to 8pm
Talad Nat next to Tesco Lotus Express - Mondays and Thursdays from 1pm to 8pm
Nai Yang Beach and Phuket Airport area
Talad Nat at Wat Nai Yang. Toward the airport using the old road (road no # 4031), you'll pass by the Nai Yang Temple. The market operates inside the temple - Saturdays and Tuesdays from 2pm to 8pm
Talad Nat opposite Shell Gas Station is 200 meters past the Blue Canyon Golf Club on Thepkasattri Road (Airport Road) - Sundays from 2pm to 8pm
Cape Panwa
Muang Tong Fresh Market. Coming from Cape Panwa on Sakdidet Road, at the first traffic lights (look for a 7-Eleven shop at the corner), turn left and the market is about 200 - 300 meters from the turn opposite a Tesco Lotus Express Shop - Daily from 7am to 10pm
Thalang area
Fresh market at the Heroine's monument. The market is located in a simple building with a tin roof on the right-hand side of the monument if you're facing north - Daily from 5am to 10am
Talad Nat at Wat Pra Nang Sang. Located inside the well-known Pra Nang Sang Temple, before Thalang main traffic lights - Tuesdays and Fridays from 2pm to 8pm
Baan Kian fresh market. Turn left at the Thalang main traffic lights. The market is a few meters after the turn - Daily from 7am to 5pm
Talad Nat at Suan Pa Bang Kanun Park. Thepkasattri Road opposite Mung Thalang School and not far from Mea Juh Phuket Souvenir Shop - Wednesdays and Fridays from 2pm to 8pm
Pa Klock Talad Nat. From Heroine's Monument, turn east toward Pa Klock, the market is about 7 km from the monument and located just a few meters past the Old Age Home and the Phuket Special School. Best to look for the signs - you can't miss it - Tuesdays, Thursdays and Sundays from 2pm to 8pm
Phuket Town
Ranong Road Main Market. Phuket Town's main market on Ranong Road has been operating since time immemorial. Though the market itself has recently been completely rebuilt this is the same site that pirates, traders and adventurers would frequent for their business dealings. Many vendors open up shop as early as 4am and close around midday.
Talad Tai Rot. The biggest market in Phuket, with over 1,000 stalls. On Chaofa West Road from Central Shopping Mall, heading south toward Chalong Bay direction; turn left at the first traffic light - Saturdays and Sundays from 4.30pm to 8.30pm
Talad Nat at Soi Samkong. If coming from Tesco Lotus on Bypass Road, keep going east and go straight through the Samkong traffic lights and the second set of traffic lights. The market is a few hundred meters from the lights - Tuesdays, Thursdays, Saturdays and Sundays from 2pm to 8pm
Talad Nat at Soi Panieng. If coming from Tesco Lotus on Bypass Road, head east and turn left at the first traffic light and continue for about 500 meters. The market is on the right-hand side in a very busy community - Daily from 2pm to 8pm
Kwang Road Talad Nat. The market is located south of Phuket Town, on Chao Fa East Road opposite Siam Commercial Bank and not far from Phuket Villa California Housing Estate. The market is located just before the Kwang Road traffic lights - Mondays, Wednesdays and Saturdays from 2pm to 8pm
Baan Na Kok Talad Nat. Located next to the TOT office, by the side of Land & House Housing Estate on Chao Fa West Road before reaching Wat Chalong - Daily from 2pm to 8pm
A note on money
It's wise to carry small change and low denomination banknotes when you go to a talad nat. Vendors won't be carrying lots of cash to provide you with change. Don't expect to be very popular if you buying a 20-baht bunch of bananas but paying for it with a 1,000-baht note.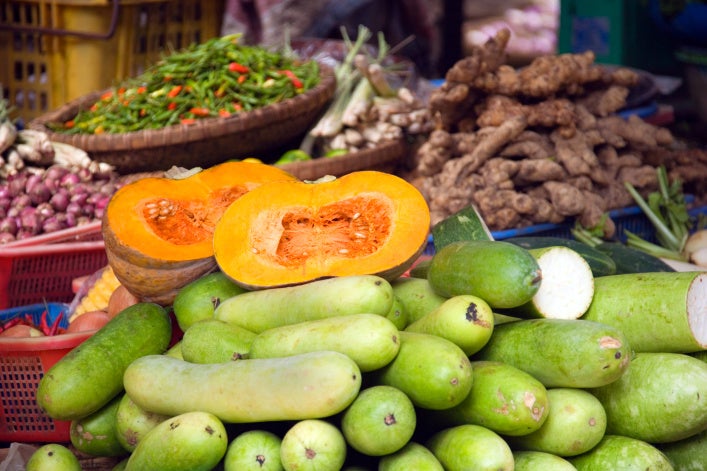 And another note on feet
When you're going to the market in Phuket, it's a good idea to wear solid shoes that protect your feet, instead of sandals. Especially after rain, you might even want to wear rubber boots to some markets – the ground can get very wet and muddy.
If you only have flip-flops, be aware of where you step. Bashing your toes against a piece of wood or concrete is likely to take all the fun out of your shopping experience.
Back to top