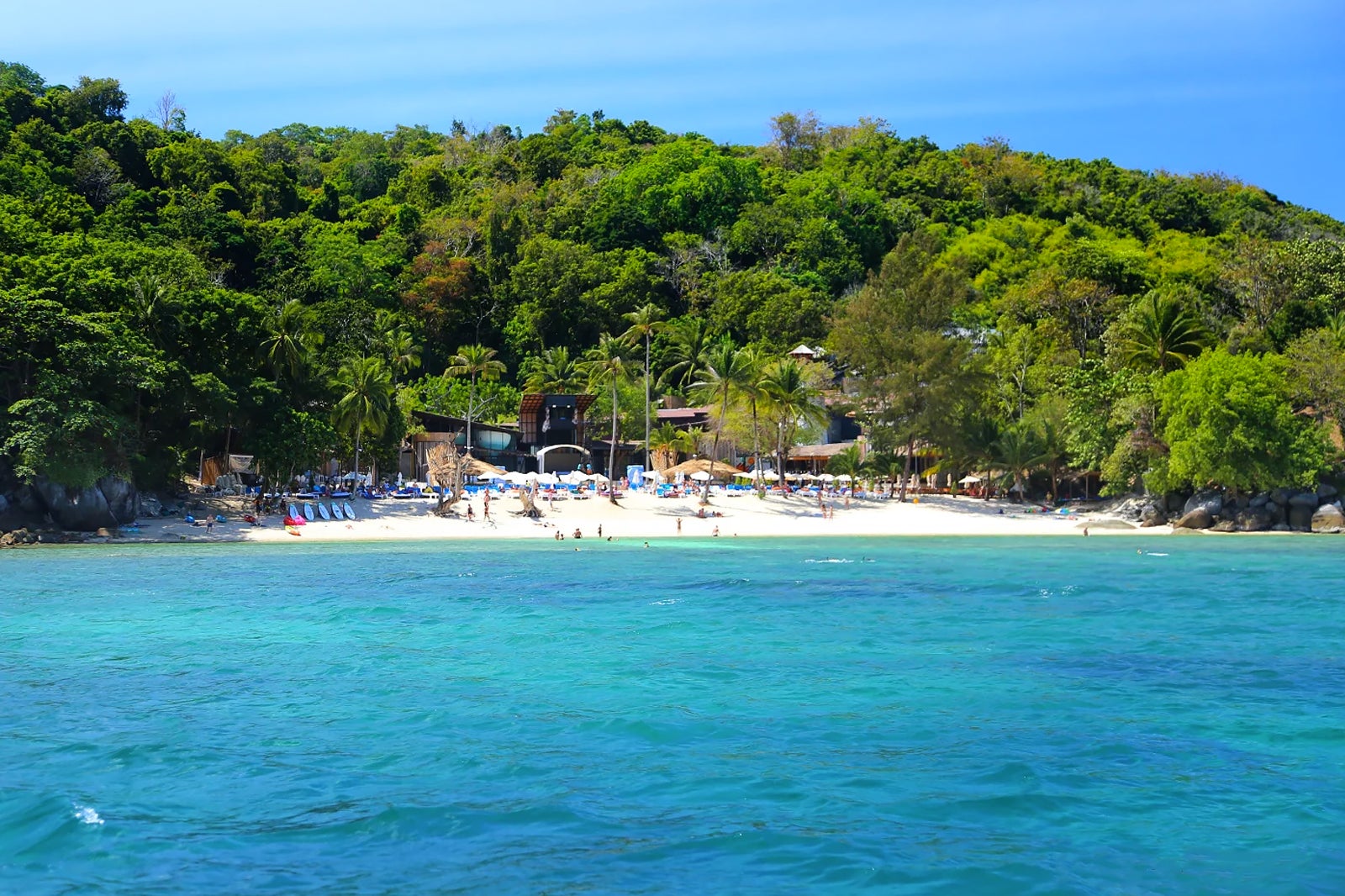 Paradise Beach is one of the most attractive beaches in Phuket. Barely 150 meters in length, it's compact and has a great view right across Patong Bay. There is another small beach between Paradise Beach and the busy Patong Beach. You can access it via a path through the rocks.
Paradise Beach has shade-giving palm trees and tropical almonds. You can also see large granite rocks at both ends of the sand, and a coral reef some 100 meters offshore. Jet skis aren't allowed to get close to the beach, resulting in a calm, peaceful location. There is a fee to access the beach, which is around 200 baht.
Paradise Beach in Phuket - one of the highlights of 33 Best Things To Do in Patong and 8 Best Snorkeling Beaches in Phuket (Read all about Phuket Province here)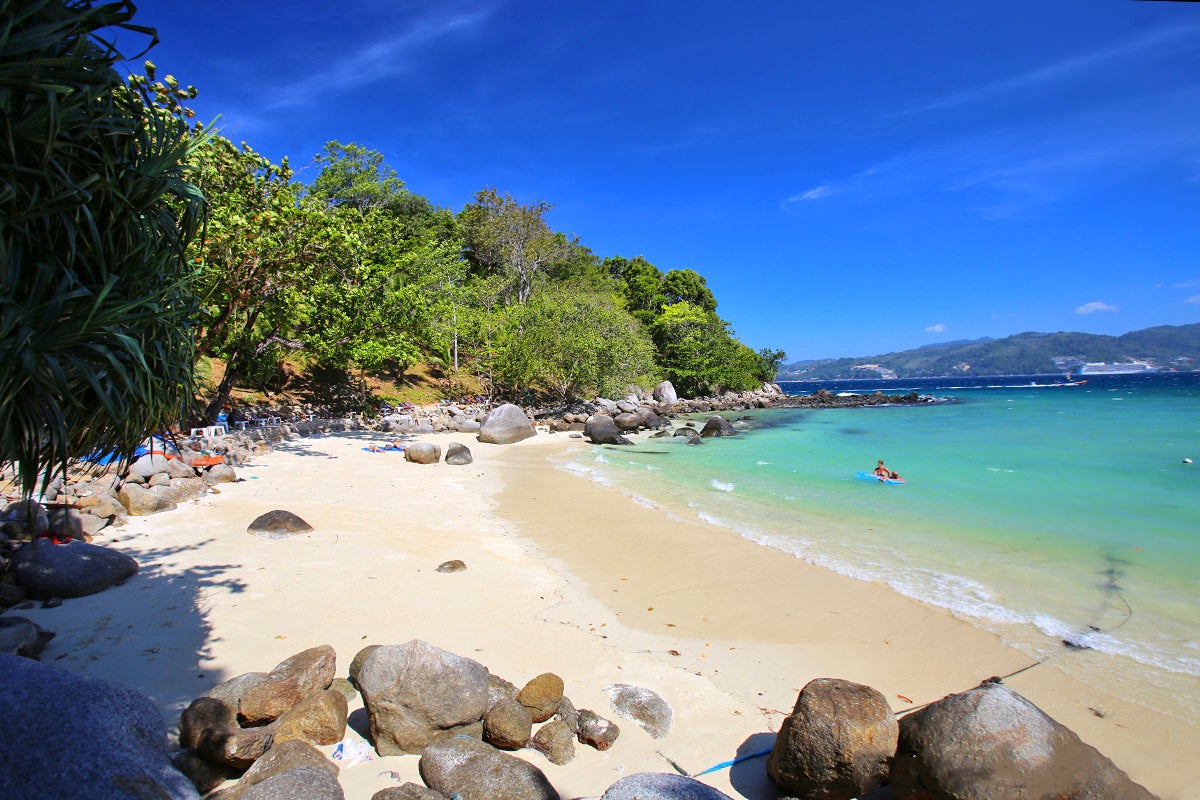 How to get to Paradise Beach
Paradise Beach is around 5 km southwest of Patong. Head south along the last stretch of Patong's Beach Road to Amari Phuket, before taking a left at the fork and going past Baan Yin Dee. Drive past the entrance to Tri Trang Beach Resort, pass Merlin Beach Resort, and follow the road to Emerald Bay. There's a steep gradient and the narrow road is certainly twisty, but keep on going until it finally swoops down into the Paradise Beach carpark.
Paradise Beach Phuket Club dominates the beach, offering snorkeling, kayaking, SUP boarding, and scuba diving at different rates. Beginners and qualified divers often come here to explore the reef that lays 100 meters off the beach. Snorkelers can explore the 3 rocky capes at both ends and between the 2 beaches.
On the sandy expanse, you can enjoy some fun swinging from a rope attached to an overhanging tree branch, before jumping into the water (at high tide). Playing beach volleyball and relaxing in the sun are popular activities for those who prefer to stay dry on Paradise Beach.
There are no beach vendors on Paradise Beach, but the beach club offers a good selection of refreshments and souvenirs. Beachgoers can enjoy Thai and international dishes at its onsite restaurant. You have the choice of having meals served to your sun lounger or enjoying them in the indoor dining room.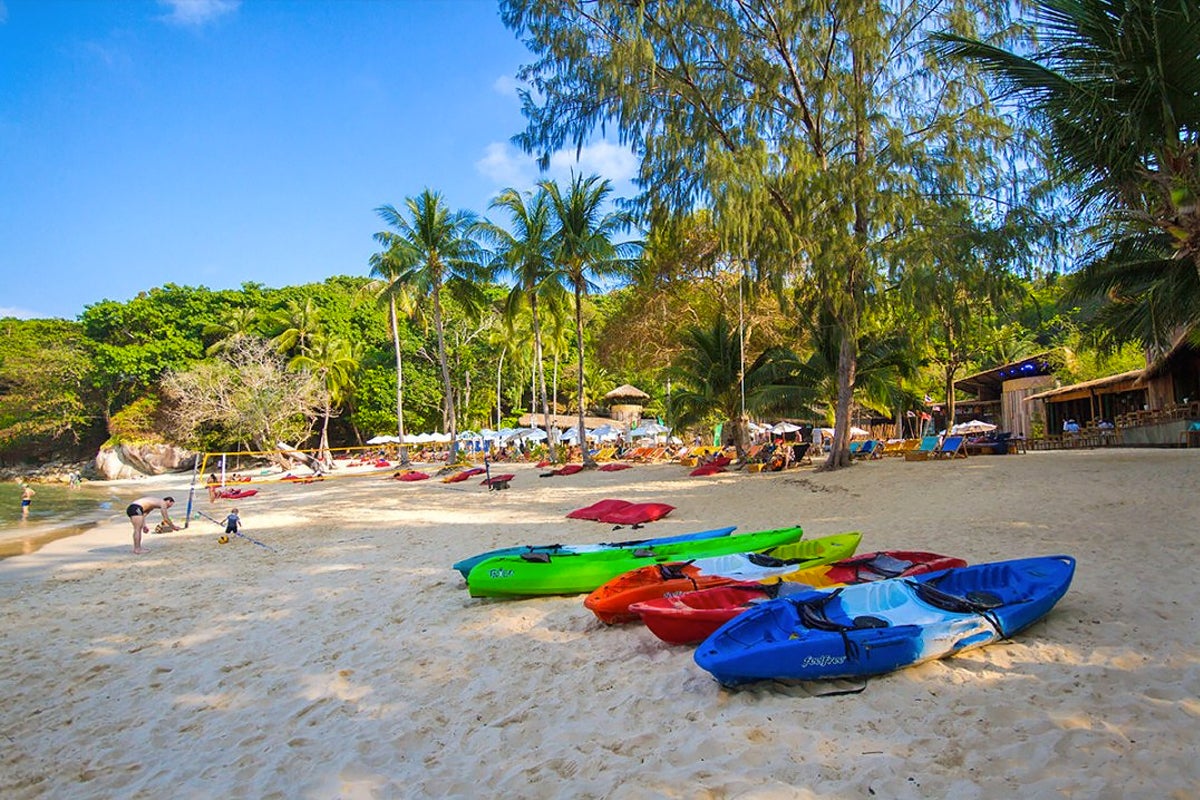 Paradise Beach Club
Paradise Beach Club Phuket is a large, well-developed party spot on Paradise Beach. It's set in an isolated bay a short distance from Patong Beach. Featuring shops, restaurants, activities and fantastic Koh Phangan-style beach parties, it has an air of exclusivity without being prohibitively expensive.
The majority of the Paradise Beach Club complex is on a pristine 150-meter white-sand beach. There are sun loungers and a volleyball court right on the sand, along with trees providing some shade while the hilly flanks of the secluded bay provide a sense of isolation and exclusivity.
The back of the beach is lined with 3 chic and trendy restaurants that each serve Italian, Chinese and Thai cuisine. Prices are generally around the same as you would pay in Patong, such as large tasty pizzas for 250 baht.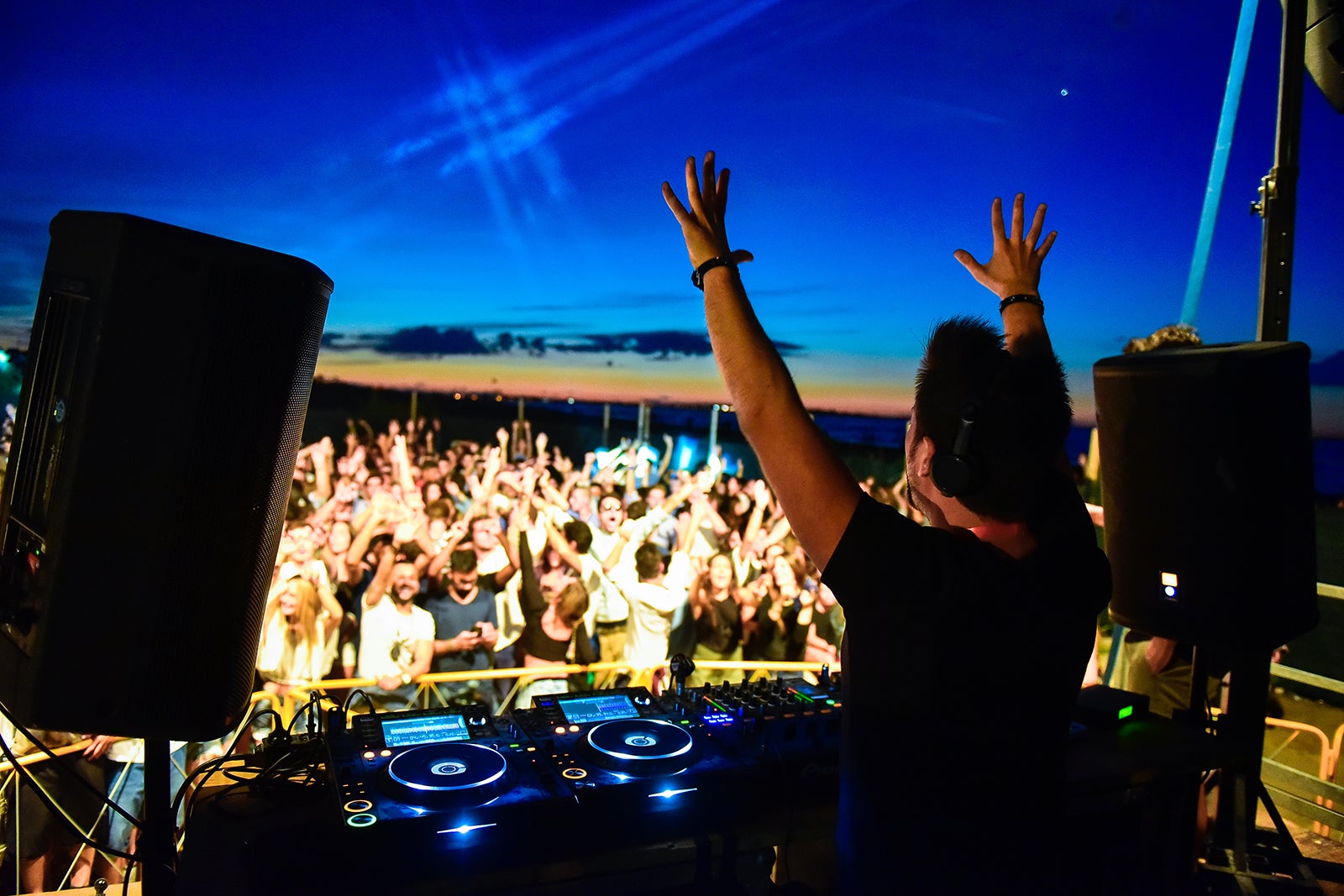 Full Moon Festival at Paradise Beach
The Full Moon Festival at Paradise Beach is Phuket's biggest beach party. Modeled after the successful Full Moon Party on Koh Phangan, Phuket's version of the all-night seaside revelry is a more upscale affair and is well organized. Each month on the night of the full moon, famous DJs, local expats, Thais and tourists head to Paradise Beach to party and dance all night long.
Tickets can be bought at all travel agencies or online, and for around 1,000 baht or more you get entrance and a free cocktail. Paradise Beach is well located on a beautiful secluded beach close to Patong Beach.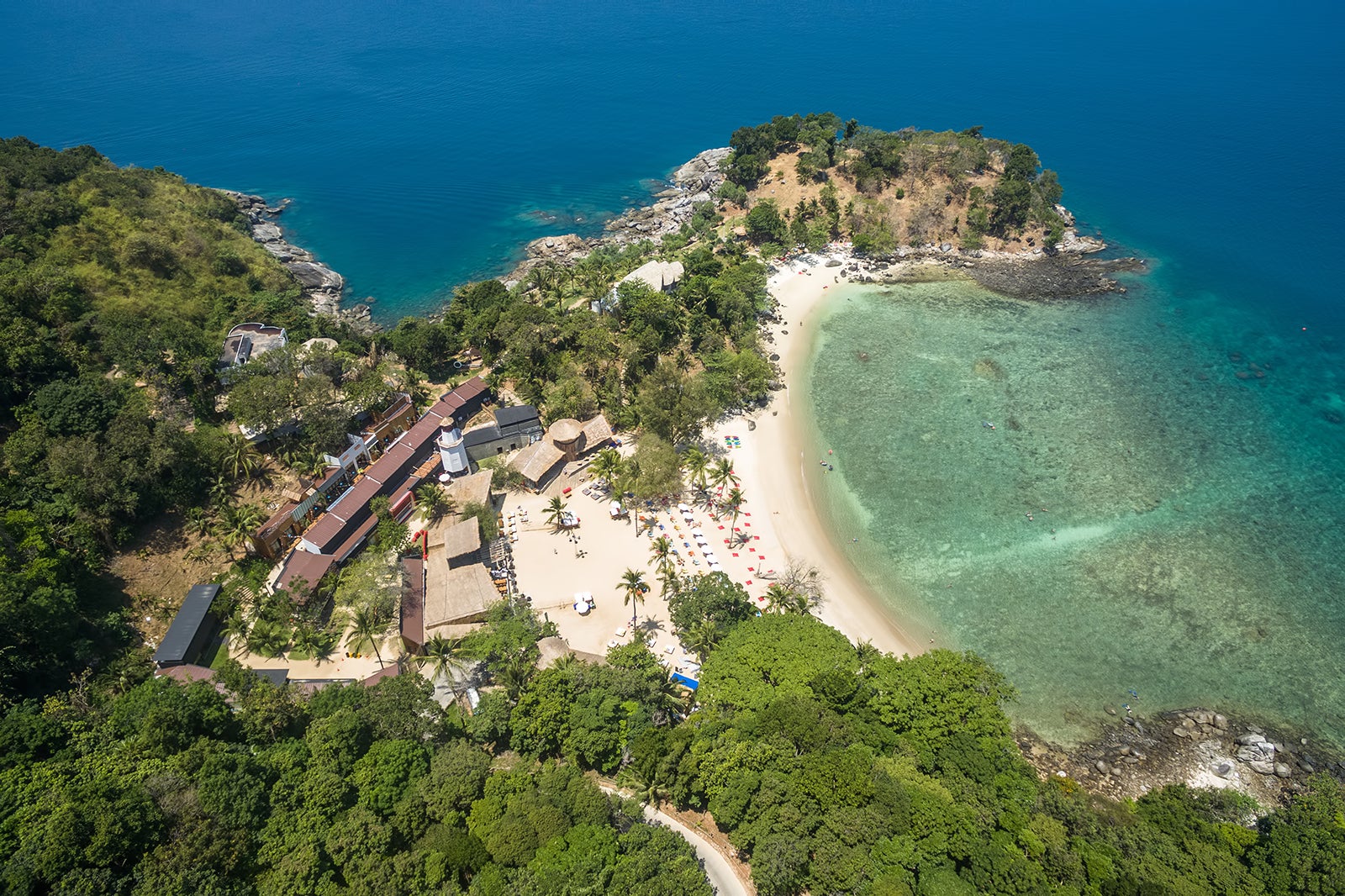 Paradise Beach in Phuket
Location: 109, Muen-Ngern Road, Patong, Kathu, Phuket 83150, Thailand
Open: Daily from 9am to 7pm
Phone: +66 (0)83 743 9009
Back to top