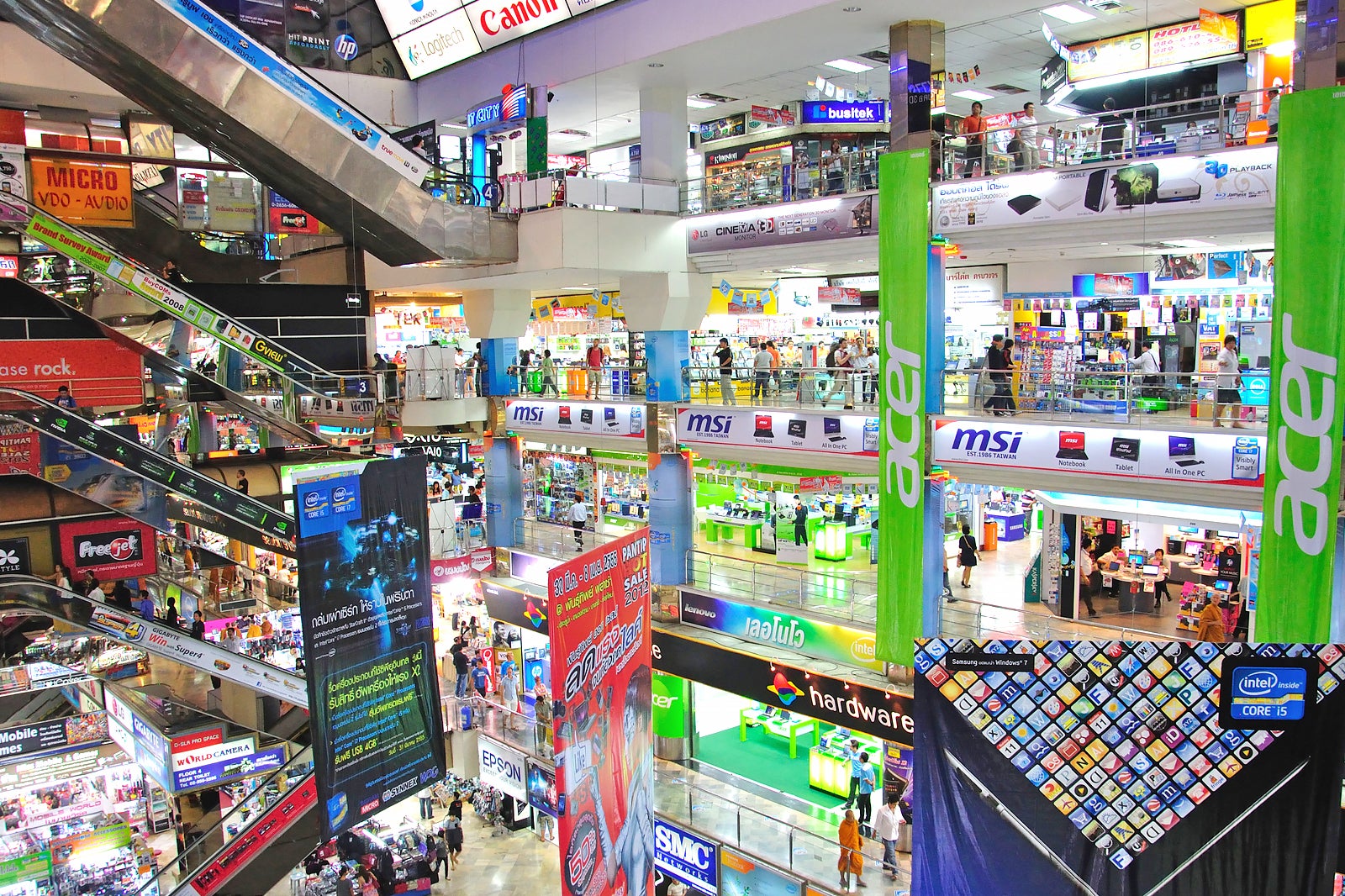 Pantip Plaza is one of the most popular Bangkok electronics malls. It's often considered the mother of all IT shops in Thailand and has gained legendary status as the place to find new and used computers and accessories at rock-bottom prices. Occupying a grand building on Petchaburi Road, Pantip Plaza has also gained notoriety because of the widespread practice of selling counterfeit software, DVDs… and more sordid material.
If it's your first visit to Pantip Plaza there are some things you should know to aid your experience, as well as a few things to be aware of. Here, we compile the 'good', the 'bad' and the 'ugly' of this (in)famous Bangkok electronics shopping mall.
Pantip Plaza Bangkok - one of the highlights of 8 Best Things to Do in Pratunam and 10 Best Places to Go Shopping in Pratunam (Read all about Bangkok here)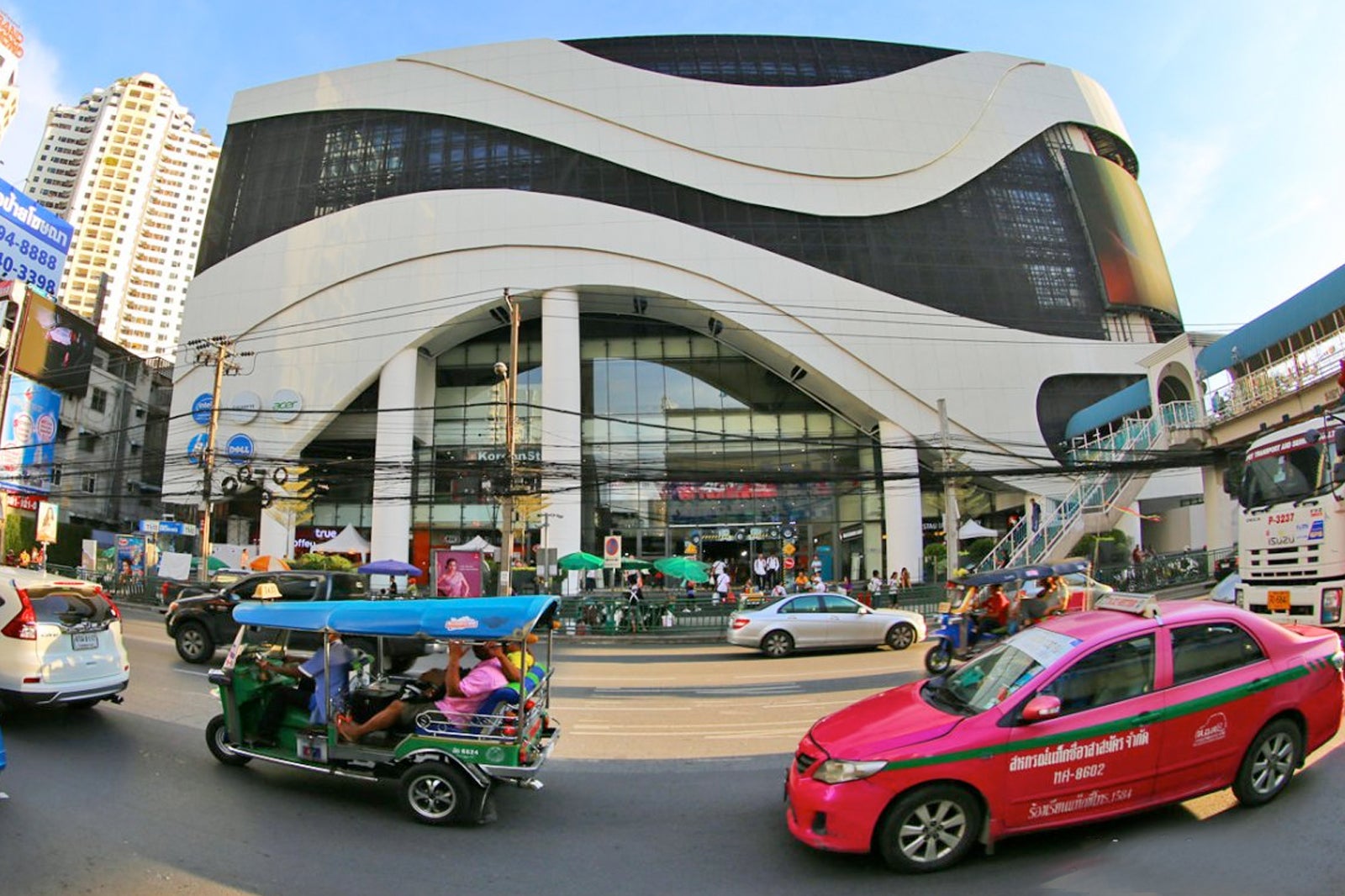 Pantip Plaza: the 'good'...
Pantip Plaza has perhaps seen better days, but like an old auntie that always has lots of candy when you go to visit, Pantip Plaza is still pulling in the punters, thanks to unbeatable bargains and cheap technical specialists for things like repairs and upgrades.
Firstly, everything a technophile could possibly want can be found here – often several times over: laptops, tablets, software, cameras, printers, MP3 players… you name it. Pantip Plaza shopping mall is where other traders from around the country go to buy at wholesale prices so you can cut out the middleman and buy direct from one of the countless stalls to pocket some significant savings or bag some added extras.
The art of negotiation is alive and well in Pantip, so even if the trader won't budge on a particular price, you can always ask for some freebies. With so much competition for your custom, shops are usually willing to throw in a few extras to secure the sale.
Along with the smaller trading stalls, there are also 2 anchor stores: Hardware House on the mezzanine level and IT City covering the whole of the top floor. These stores sell at slightly higher prices than other shops, but they still offer decent discounts together with the added security of a manufacturer's warranty and reliable after-sales service.
Another great feature of Pantip Plaza is the bargain bins that can be found outside many stores, selling anything from cute and funky phone accessories to USB flash drives and mouse pads. Some of these bargain bins sell items for as little as 20 baht an item, so keep an eye out to grab a cheap memento.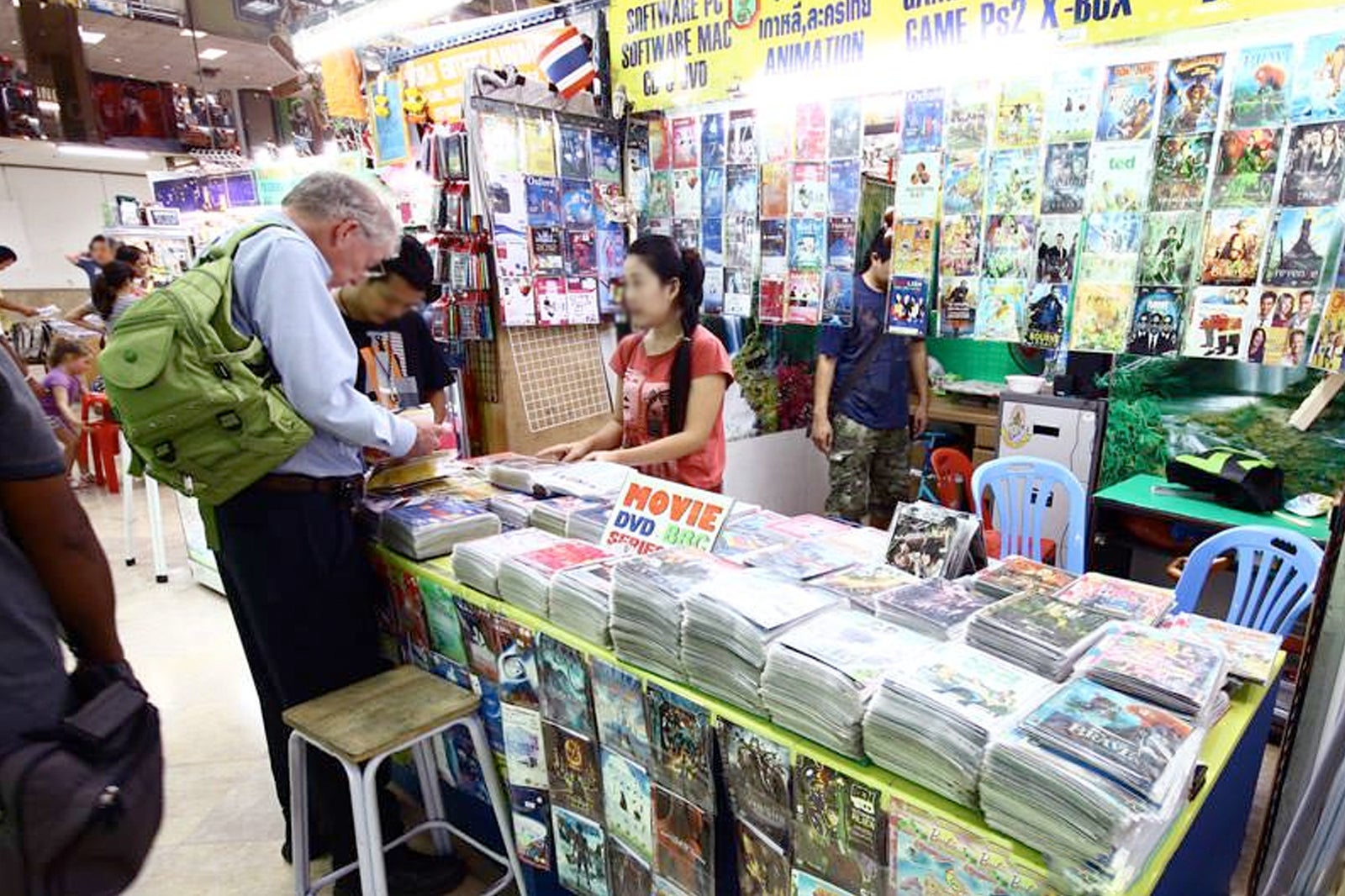 Pantip Plaza: the 'bad'...
It can be bit daunting to figure out where to go and who to trust at Pantip Plaza as the entirety of this 5-storey mall is dedicated to computer and technology items. There are definitely well-trusted shops inside because it's not that uncommon to see a distressed-looking Thai carrying their whole CPU into the techno-doctors that live inside.
The problem for some is that Pantip Plaza openly sells counterfeit products alongside genuine, top-of-the-range models, but it's important to remember that Pantip Plaza has been operating for well over 20 years and the vast majority of shopkeepers aren't trying to rip anyone off. Though copies and counterfeit goods are common, in almost all circumstances the sales assistant will offer you both the copy and the genuine item and it's then up to the customer to decide. The secret is to take your time and to compare prices.
The 'ugly'...
A notorious element to the Pantip experience that only males will have experienced is the bunch of touts selling 'naughty movies'. You'll usually find them behind the food court on the 2nd floor, hanging around like a gang of errant schoolchildren. They'll call at shoppers with a copy of Windows in their hands, and then, in hushed tones, they'll ask something like "you like naughty movie?" and flip the box over to show an X-rated picture.
They're harmless enough, though they're excellent readers of body language and even the slightest hesitation will be construed as interest and they might grab you by the wrist and bid you follow them. A repetition of "no thank you, no thank you" is all that's needed – the stuff is illegal in Thailand, after all.

IT City
IT City on the 5th floor is the biggest IT store in Pantip Plaza, displaying and selling the latest equipment. Pleasingly, the store is well organized and less chaotic than other parts of the mall. Some of the staff speak English well and are ready to provide details of each item, so it's a good place to go if you need specific information about a particular product. Most IT brands are well represented, and IT City is the surest place to buy from as it's a credible and established outlet.
Good to know about Pantip Plaza
To put it simply, if you're looking for electronics equipment in Bangkok, Pantip Plaza is a must, especially if you're shopping on a budget. Even just for the experience, it's well worth your time to explore the bright and flashing stalls and the extensive variety of IT products offered, packed from floor to ceiling.
To get there, from BTS Chidlom, either rental a tuk-tuk or taxi or walk 10 minutes down Ratchadamri Road past Central World on your left, over the Saen Saeb canal and then left on Phetburi Road. Walk for about 2 blocks and Pantip Plaza should be on your left.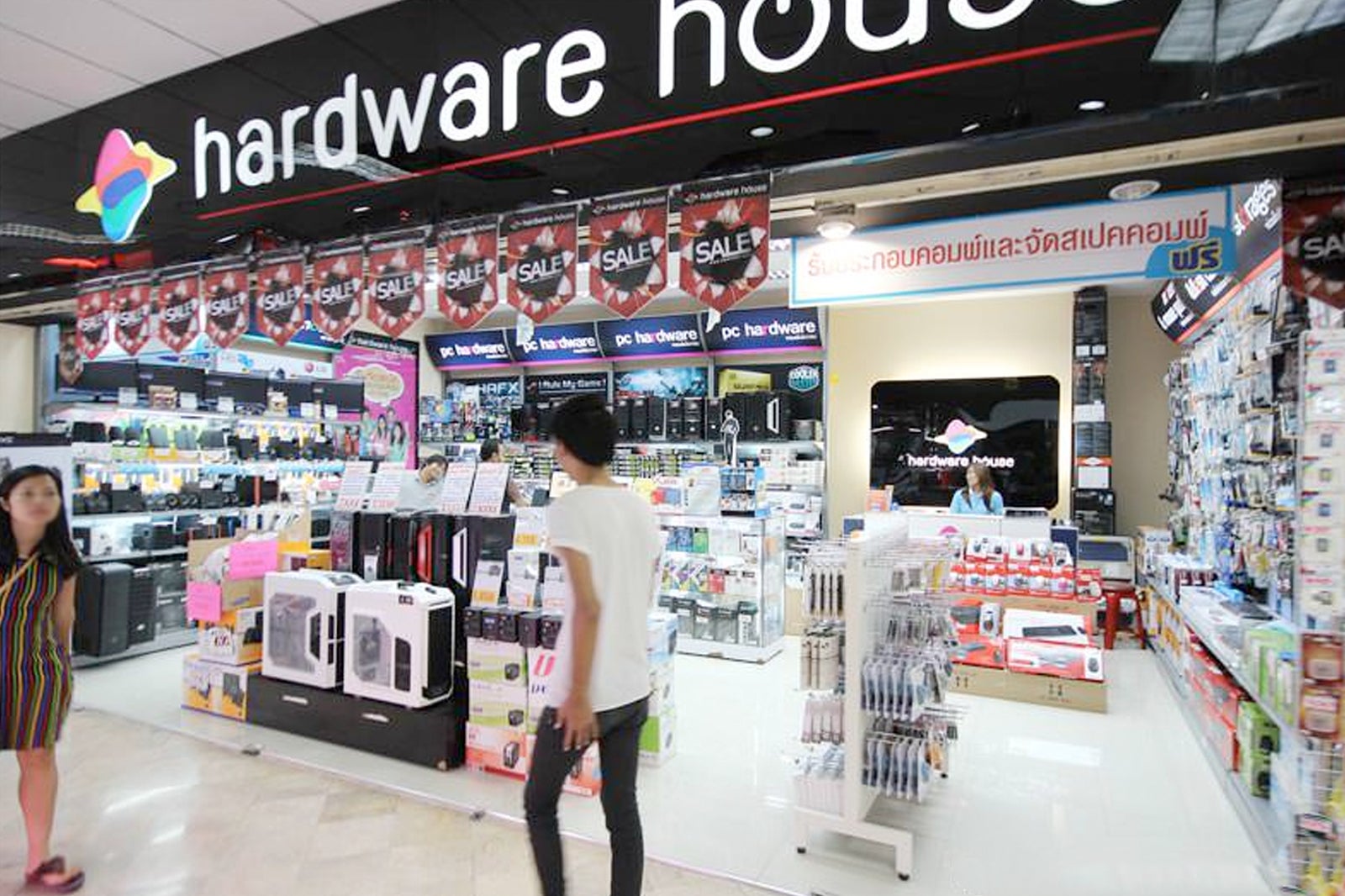 Pantip Plaza Bangkok
Location: Phetchaburi Rd, Makkasan, Ratchathewi, Bangkok 10400, Thailand
Open: Daily from 10am to 9pm
Phone: +66 (0) 2 254 9797
Back to top