Old Phuket Streets Walking Guide
Discover Old Phuket Streets
Phuket has a wonderful mix of nationalities who have chosen to live on this island. The population includes Thais, Chinese, Malays, Indians, Nepalese, a young and growing Eurasian community, and a unique mix of Hokkien-Chinese and Thais called 'Baba'.
You can see the Baba community's heritage in Phuket's Old Town, especially in its architecture, commerce, clothes, and way of life. The core of the Old Town essentially is made up of 5 roads and several sois (small streets): Rasada Rd, Phang Nga Rd, Thalang Rd, Dibuk Rd, and Krabi Rd. Due to 1-way systems and lack of parking in the Old Town, it's not always easy to get around in a car. Exploring on foot is the best way to check out Phuket Old Town's Sino-Portuguese architecture, narrow laneways, and traditional shophouses.
1
Phang Nga Road in Phuket Old Town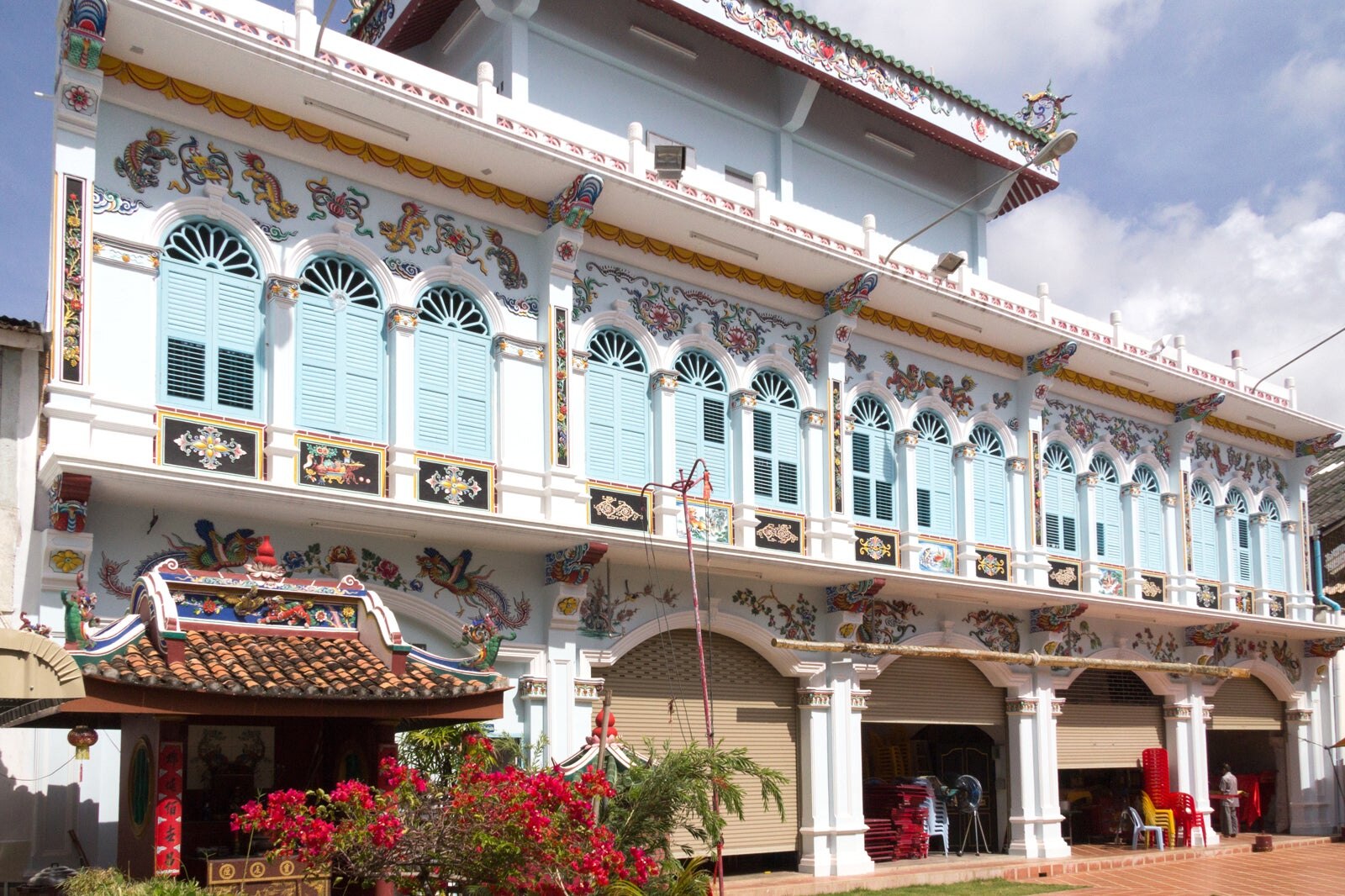 When you're exploring Phang Nga Road, the South Wind secondhand bookstore lies on your left. Just after that, there's an alleyway with Chinese characters at the entrance.
This leads to the Shrine of the Serene Light, which dates back to1889. The garden is excellent for resting your legs before exploring the colorful interior. On the left of the garden, there's a large polished marble plaque with the names of the donors who helped set up the temple up. After exiting the alley, you'll see Siam Indigo, which has joined several Chinese shophouses together to create a spacious restaurant.
A few meters down on the left, the Memory at On On Hotel is a Phuket institution after it was featured in the Hollywood film, The Beach. Built with a Sino-colonial style, it has a dramatic entrance archway and a fan-wafted lobby.
Phang Nga Road is lined with tailors, sweetshops, and art galleries. We also start to see Phuket's undeniable Chinese heritage, thanks to an old-fashioned cobbler shop, a noodle shop, and a defunct bank facing a police station. These are 2 relics of Phuket's sometimes volatile past. Over 100 years ago, dissatisfied Chinese tin-mine workers threatened to rob the bank, so mine owners insisted for a police station to be built across the road as a guarantee of their money's security.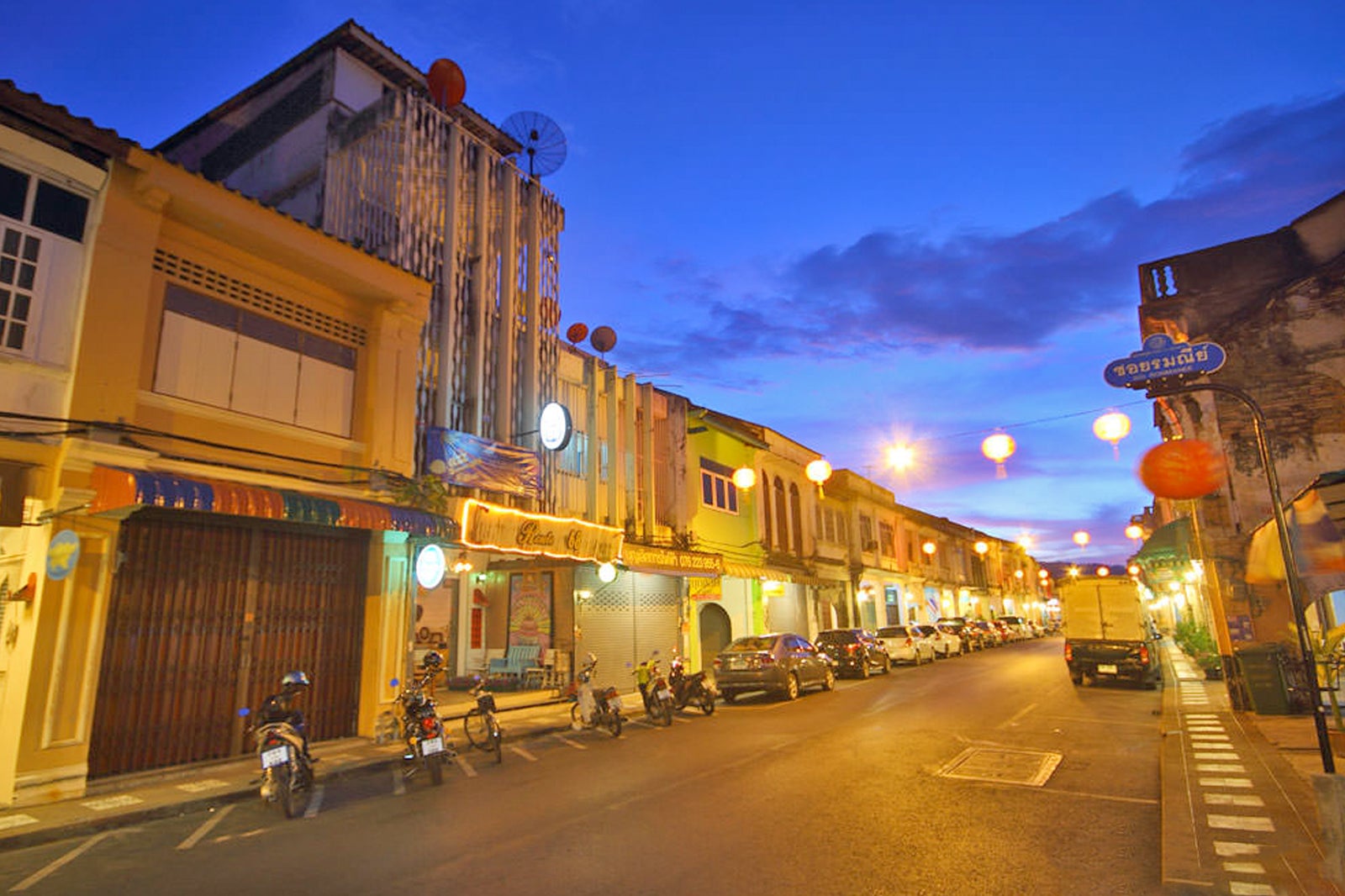 At the end of this block, turn left into Phuket Road and pass what looks like a rundown tenement on the opposite side, before turning left into Thalang Road and heading west. You'll find yourself in the heart of Phuket's Old Town, on a street with a rich history and atmosphere.
A system of linked archways, called 5-footways, offers an easy stroll along the road away from the sun and the rain. Note that some of these footpaths are blocked or cluttered with shop merchandise. However, the mix of colors and commerce makes for an impressive combination on Thalang Road.
On Thalang Road, you'll find Nguan Choon Tong, reputedly Phuket's oldest herbs store. China Inn was an erstwhile foreign money exchange and remittance agency in Phuket Old Town. It's now an upscale café and restaurant after an extensive renovation.
There are plenty of interesting things to see here, from bridal shops displaying photos of happy Chinese couples to local tailors working ancient Singer sewing machines.
Read more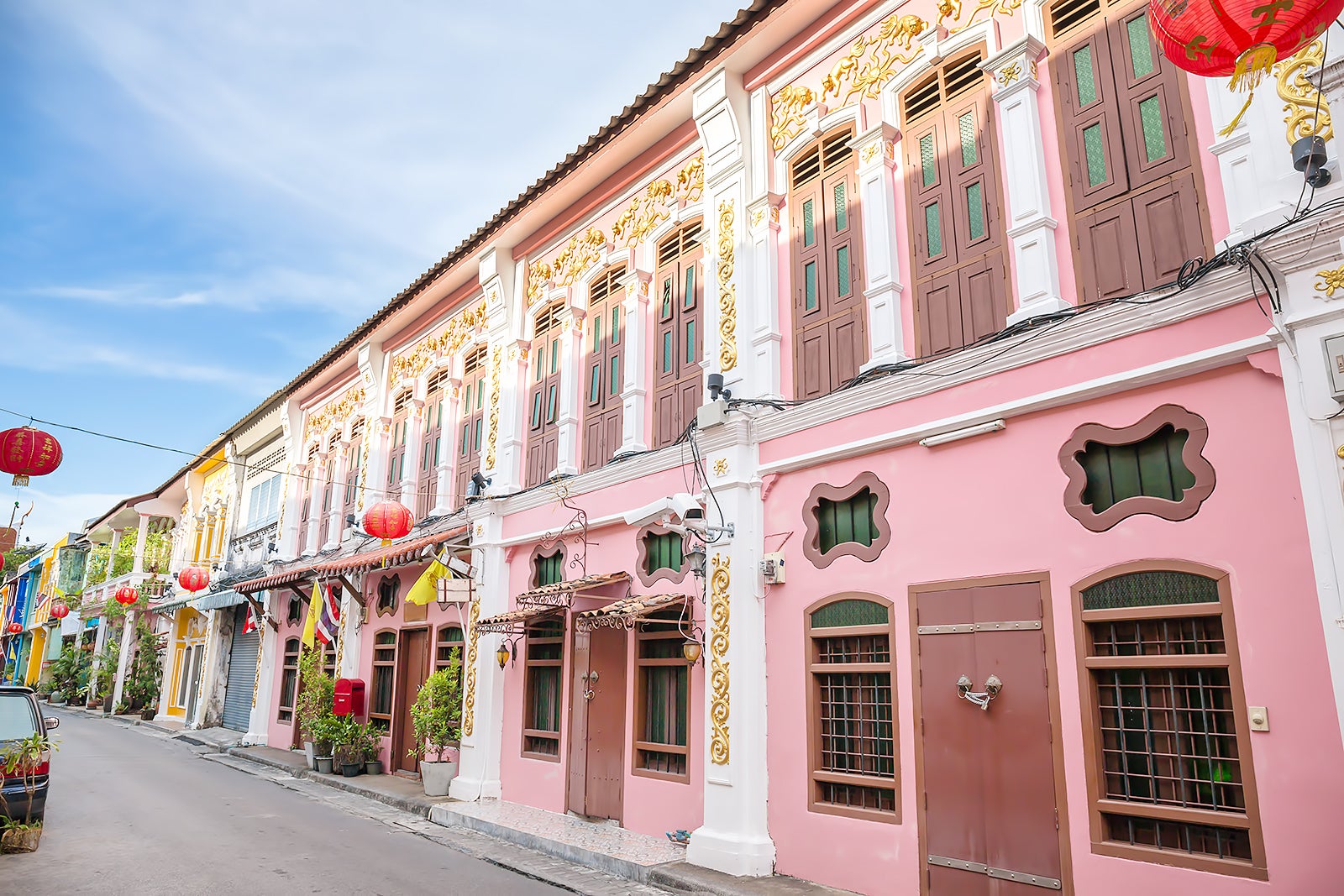 At this end of the street, there are 2 roti shops, a Chinese clinic, along with a shop selling white shirts, a bicycle shop, and the usual sprinkle of textile outlets. Further up on the right is Soi Romanee. This back lane used to be the red light district in Phuket Old Town.
Read more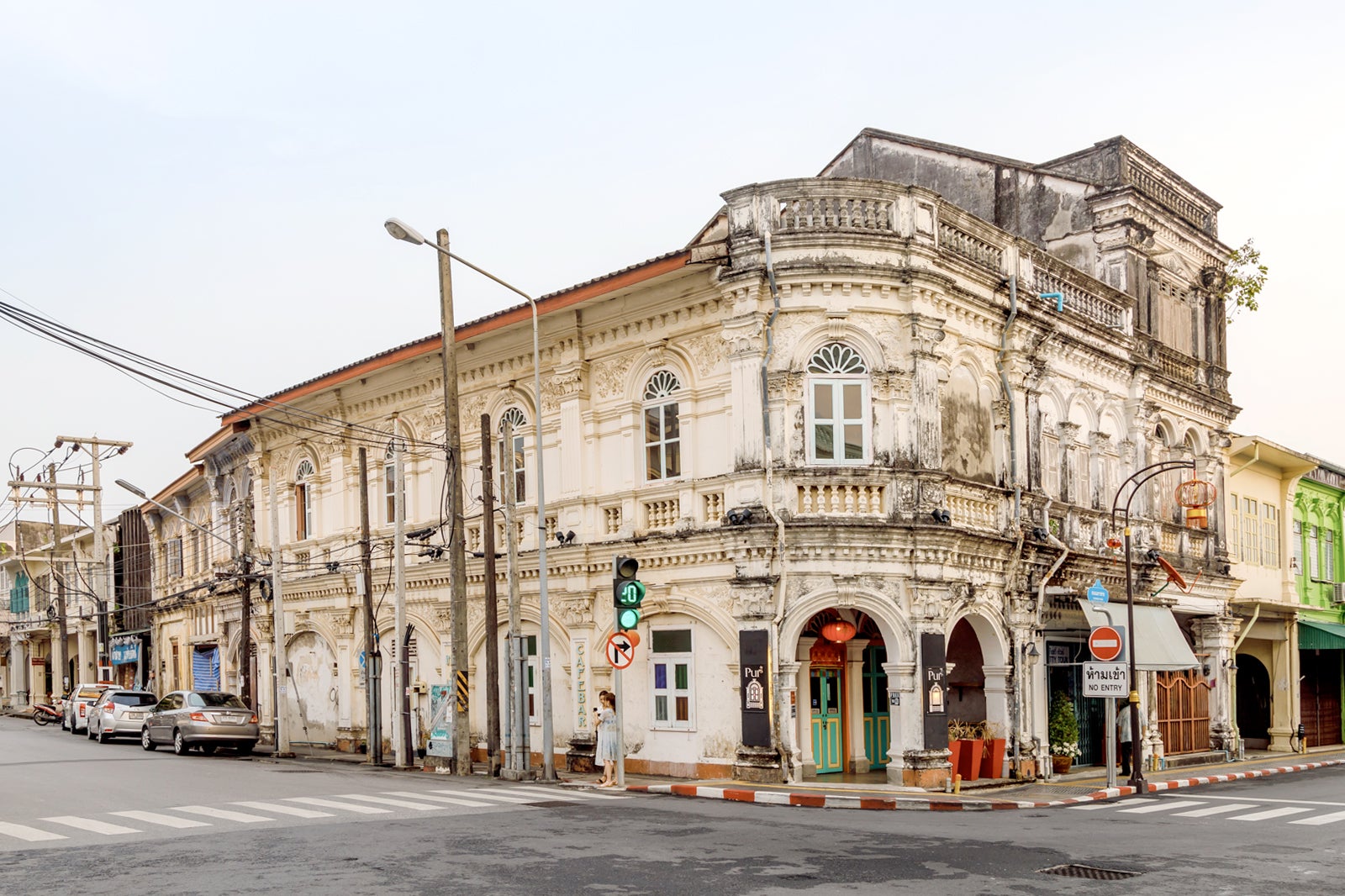 Take a right turn out of Thalang Road and cross over to turn left into Dibuk Road. This road has many well-renovated Chinese-style houses, along with a wider throughway which handles 2-way traffic.
At the end of Dibuk, you'll come to a T-junction with Satun Road. A must-visit is the Pheteow noodle shop, though it gets very crowded during lunchtime.
photo by CEphoto, Uwe Aranas (CC BY-SA 4.0) modified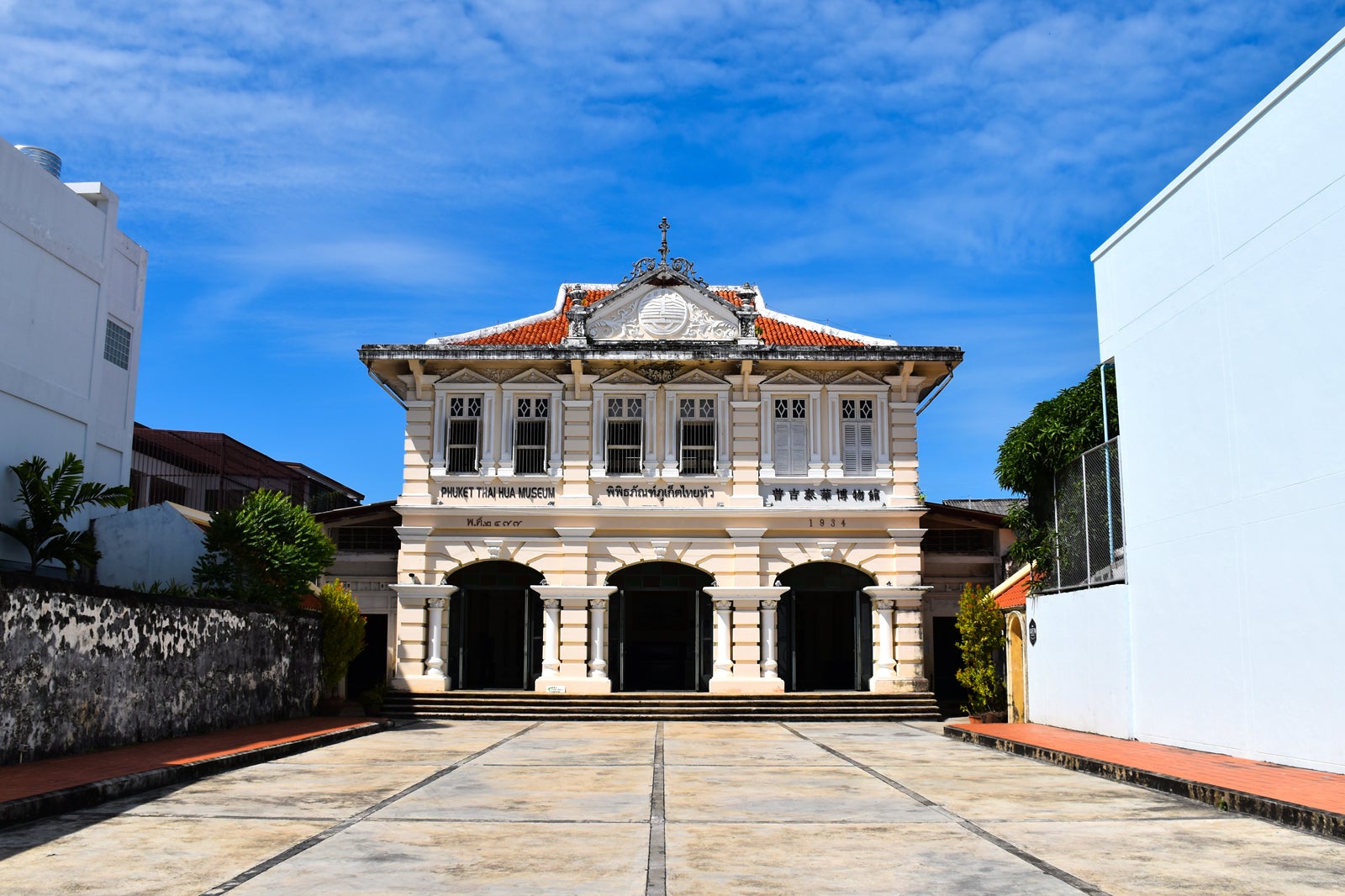 Backtrack to Yaowarat Road and head back towards Thalang Road. At the junction, there's a Chinese open-air restaurant offering moo hong (slow-boiled sweet pork). You can find vendors selling desserts along the next soi (alley), Soon Utis Lane. Carry on and turn right to get to Krabi Road.
There's an ancient-looking secondhand bookstore about 50 meters on the right. A few minutes later, you'll come to the Thai Hua Museum and the Old Town Guest House.
The left-hand side of Krabi Road has a narrow alleyway leading to a fresh market. Head east and cross Satun Road until you see Phra Phitak Chyn Pracha Mansion This is one of the most celebrated angmor-lao (redhead or foreign in Chinese) residences in Phuket Old Town. Its original owner, Phra Phitak was a Chinese tin baron – far from a redhead, but he was nevertheless a foreigner. Further up on the right, there's another beautiful mansion called Chyn Pracha House. You can have a look around this residence for a small donation.
Another must-see is Sam San Shrine, which dates back to 1853. As the shrine is dedicated to the Goddess of the sea, it regularly hosts blessing ceremonies on newly launched vessels. The shrine houses a statue of the goddess Matsu that was brought from Fujian after the 2004 tsunami in Phuket.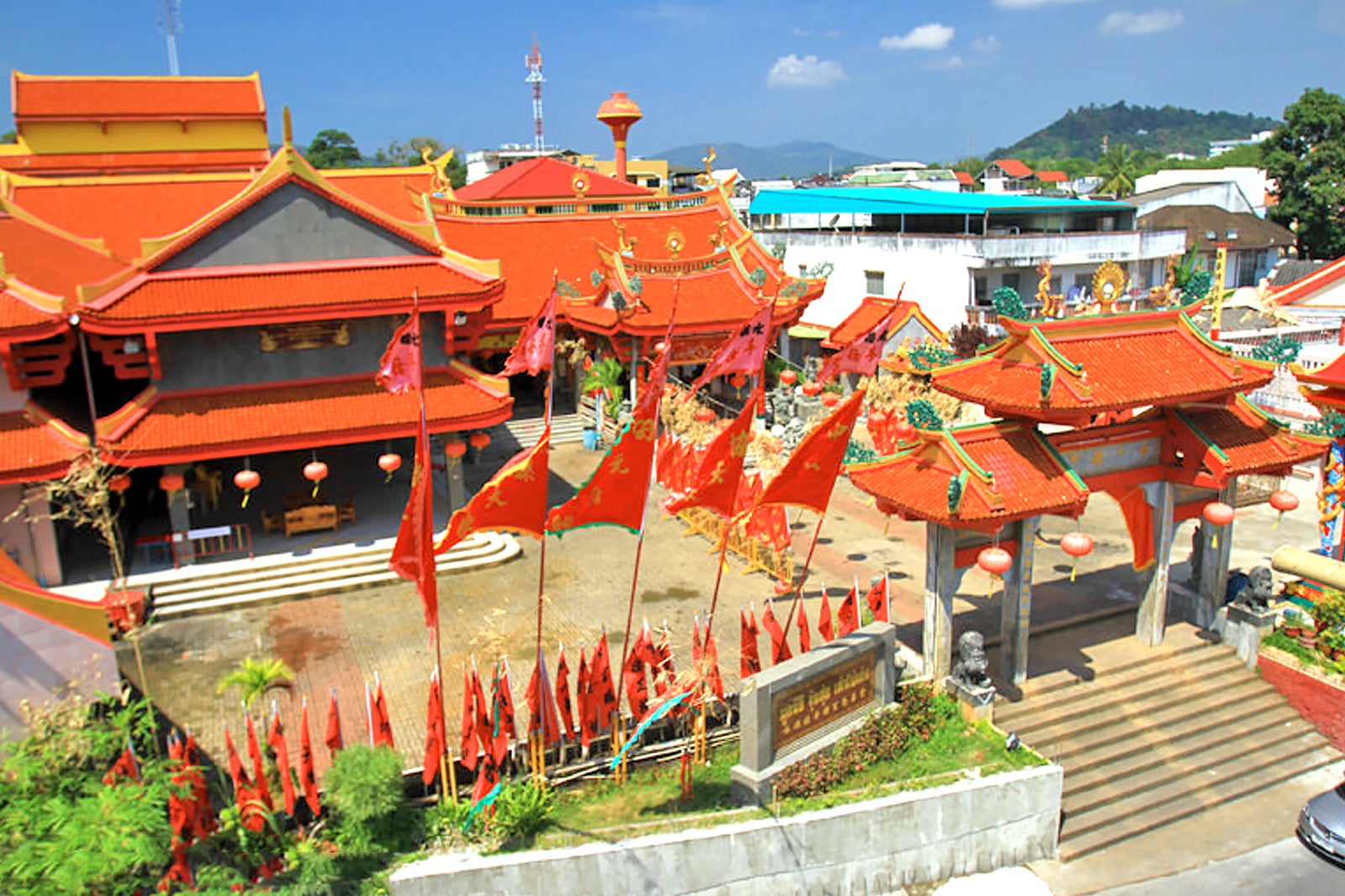 Ranong Road has a colorful Chinese shrine called Jui Tui, which is dedicated to the vegetarian Chinese-Taoist God, Kui Wong In. This religious site is the center of activities during Phuket's annual Vegetarian Festival.
People use bamboo blocks to obtain advice from the shrine's oracle. Ask a 'yes or no' question, before gently throwing the blocks in the air. If both blocks land on the same side, the answer is 'no'. If one lands up and the other down the answer is 'yes'. A small donation to the shrine is appreciated.
Next to the Jui Tui shrine is Pud Jow (God Talks), a Chinese Taoist temple that was established over 200 years ago.