Na Muang Waterfalls, a majestic set of 2 cascades on Koh Samui, show that the island's beauty is not limited to its beaches. Found about 12 km inland from Nathon Bay, the Na Muang falls are reached by taking a walking path from the entrance to the park.
The first waterfall, Na Muang 1, flows down into a pretty natural pool that provides a cool escape from the heat. About 30 minutes' walk further uphill is the smaller yet equally inviting Na Muang 2.
Na Muang Waterfalls in Koh Samui - one of the highlights of 21 Best Things to Do in Koh Samui and 10 Most Instagrammable Places in Koh Samui (Read all about Koh Samui here)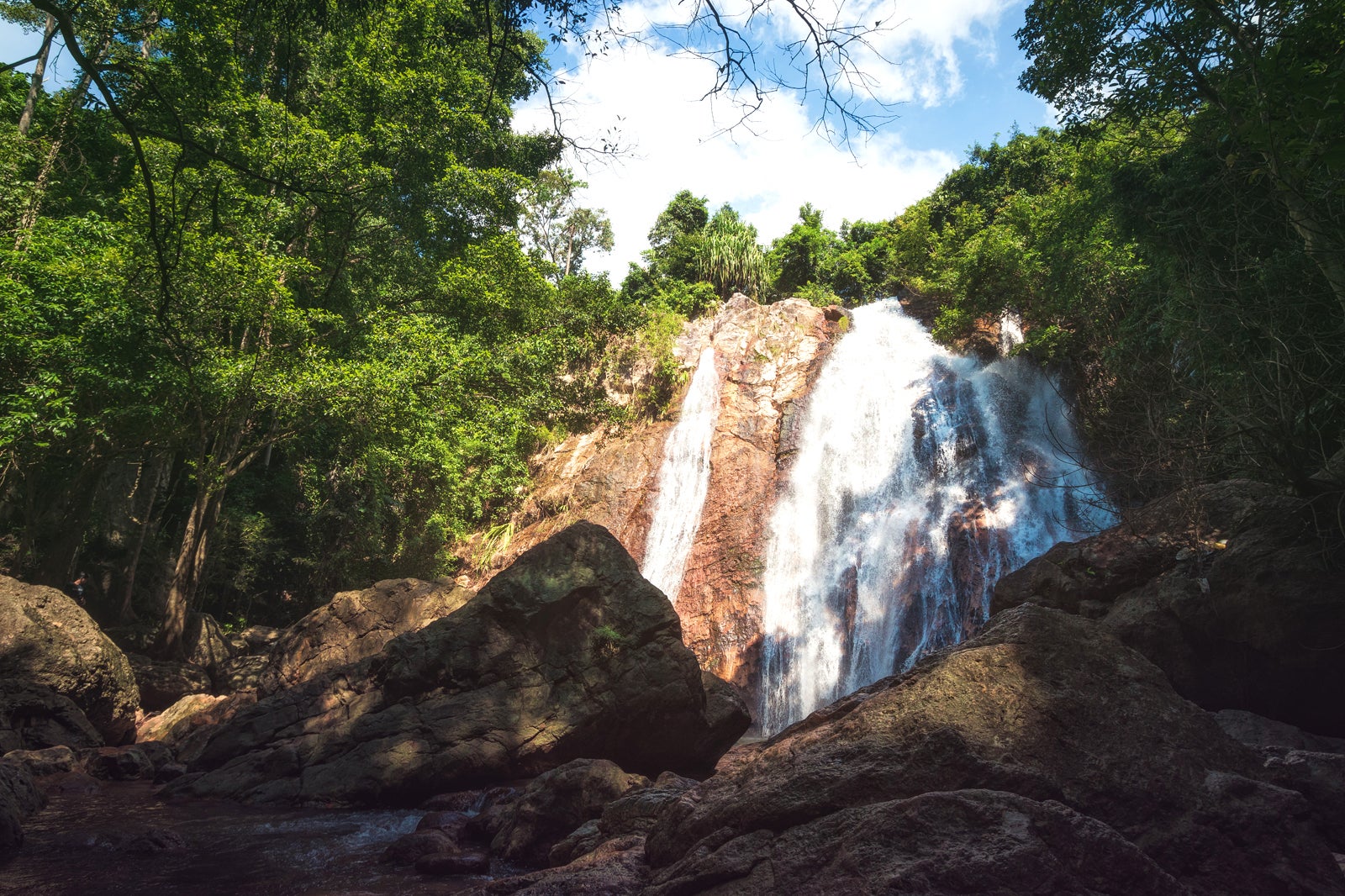 Namtok Na Muang, or 'Purple Waterfalls', are so named because of the striking purple shade of their rock faces. There are other waterfalls to visit on Koh Samui, but these are considered to be among the most scenic. The best time to visit is in the wetter months of September through November, when the waterfalls are in their full-flowing glory.
Na Muang is a popular place for families to relax and swim. Many Samui tours include a refreshing stop at the Na Muang Waterfalls on their itinerary.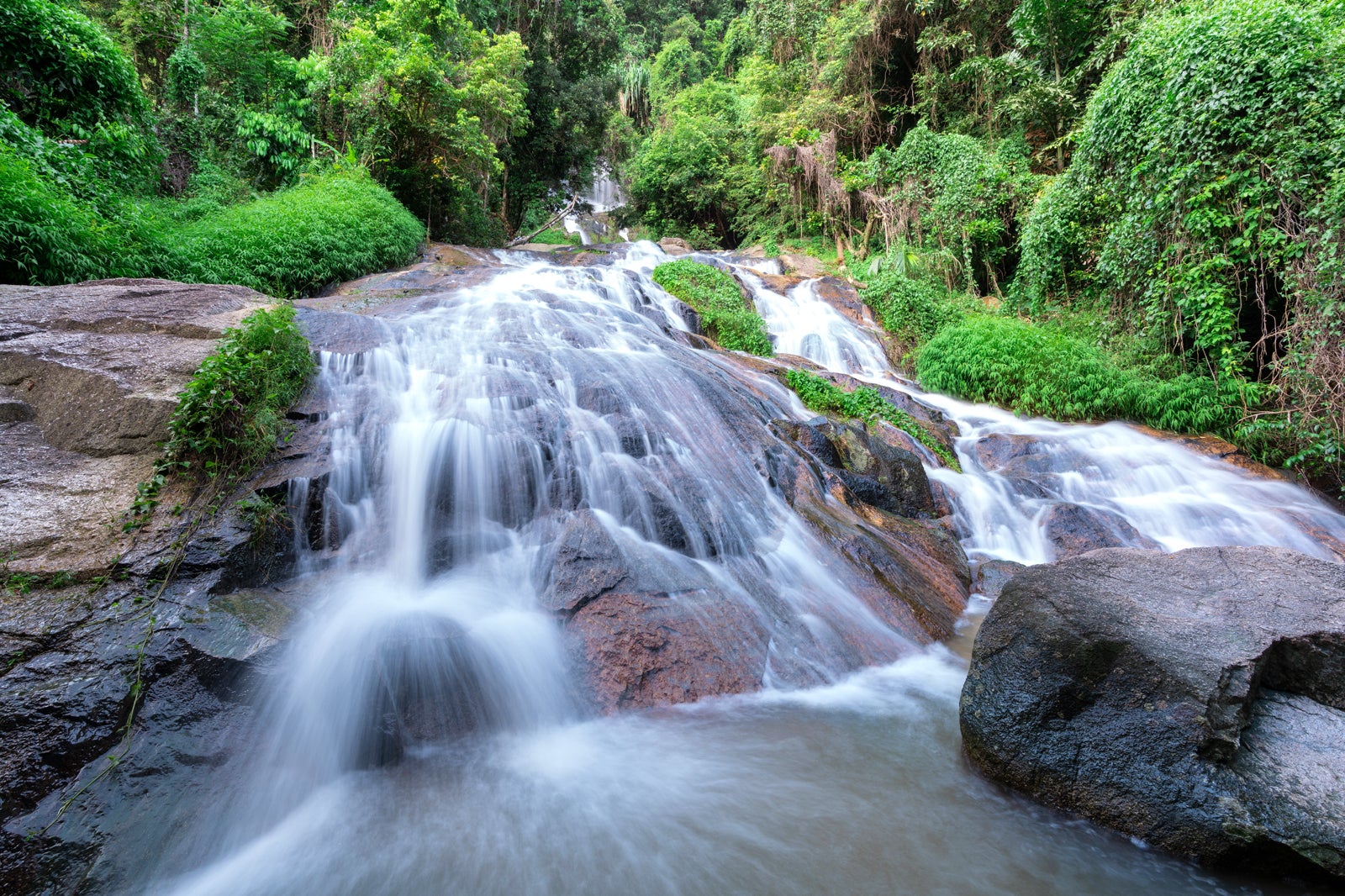 Highlights and features of Na Mueang Waterfalls
The Na Muang Waterfalls are set in lush jungle surrounds, easily accessible just off the main beltway (Route 4169), about halfway between Nathon and Lamai Beach. Visitors with a reasonable level of fitness will be able to reach the falls on foot. The paths leading to the falls can be steep or slippery in places so be sure to wear some sturdy footwear and take care when walking. Na Muang 1 is reached by a 100-metre walk from the parking lot, while Na Muang 2 is a further 100 meters away along a more challenging path.
Though access to the waterfalls is free, there's plenty to spend your money on along the way, including several stalls selling snacks and souvenirs and offers of a guided tour of the area (but be wary of touts trying to convince you that a guide or entry fee is required). An entire day could be spent at the falls bathing, hiking, exploring and picnicking. It's a cool and peaceful alternate to the beach.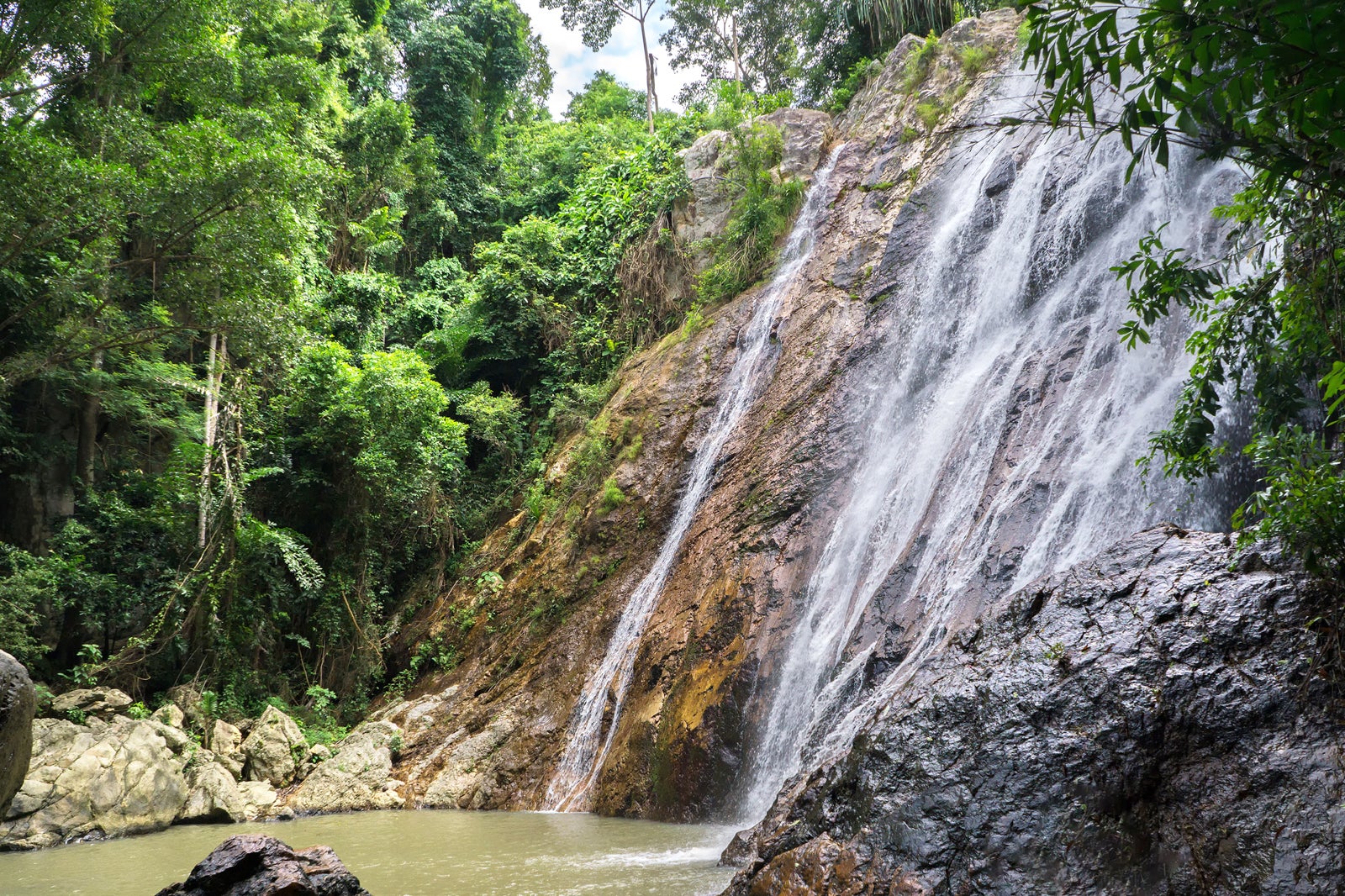 Na Muang Waterfalls in Koh Samui
Location: 37/1 Thawi Rat Phakdi Rd, Na Mueang, Koh Samui, Surat Thani 84140, Thailand
Open: Daily from 9 am to 5.30 pm
Back to top