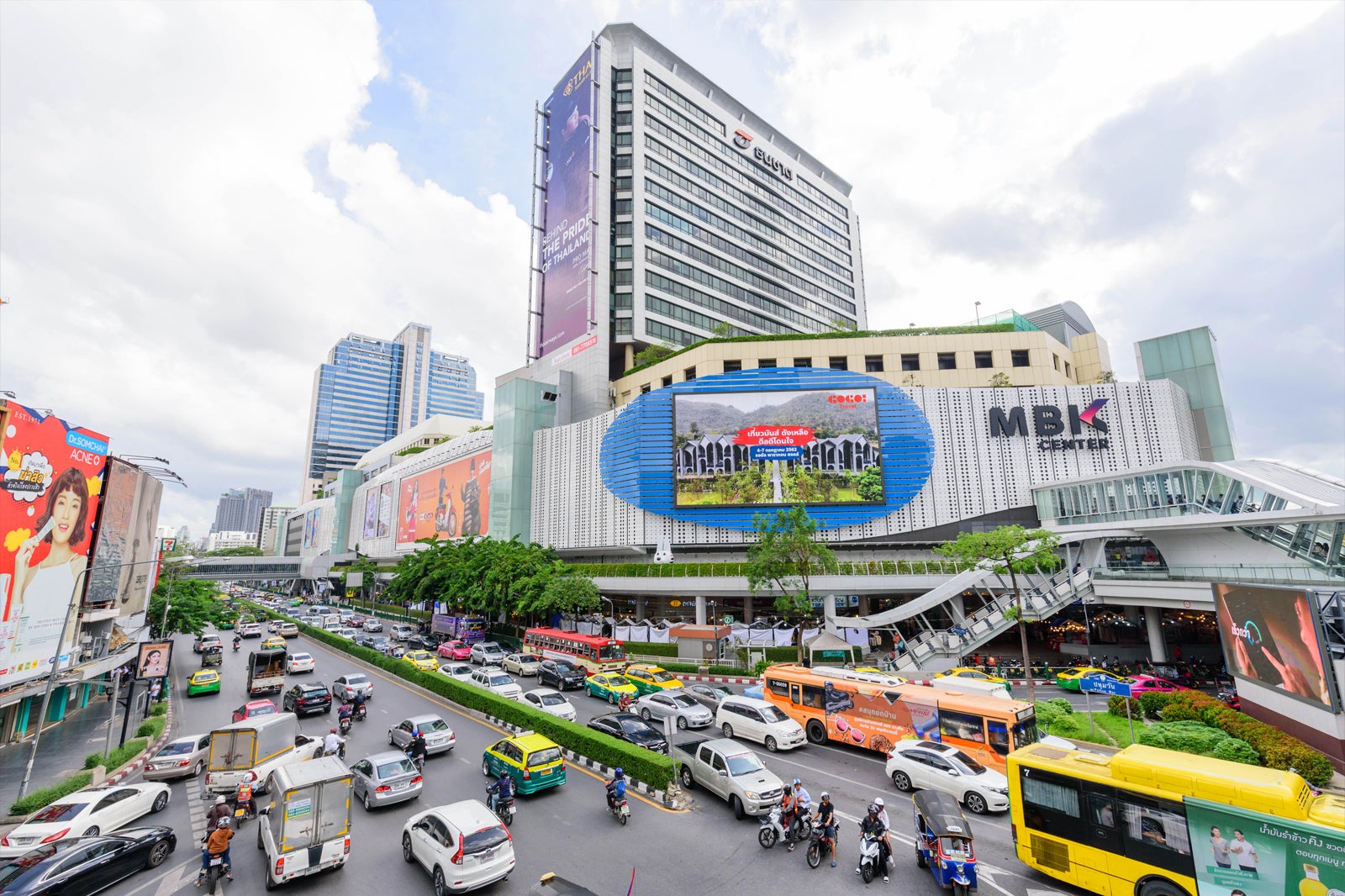 MBK Center is probably Bangkok's most legendary shopping mall, popular with both tourists and locals, and busy with shoppers every day. There are 8 floors packed with 2,000 shops that sell everything from clothing, fashion accessories, handbags, leather products and luggage to furniture, mobile phones, electrical appliances, cameras, stationery and DVDs.
Opened in 1986, MBK Center is a beehive of activity, especially on weekends, when half of Bangkok converges to shop for bargains. It's not as upmarket or stylish as neighboring Siam Discovery, Siam Center or the glitzy Siam Paragon, but it does offer a mindboggling range of goods, spread over 89,000 sq m, and is considerably less expensive.
MBK Shopping Center Bangkok - one of the highlights of 10 Best Free Things to Do in Bangkok and 46 Best Bangkok Shopping Malls (Read all about Bangkok here)
Exploring MBK Shopping Center
On the ground floor of MBK, you'll find lines of stalls selling fashion, shoes and handbags, fast food outlets and a Tops Supermarket, with an open space dedicated to sales offering prices discounted by 30% to 50%. As you move up the levels, you'll find enclaves of products almost randomly placed. Part of the fun of MBK is exploring the long, straight paths looking out for things that take your fancy. As a rough guide, fashion is mostly on the lower floors, a mass of electronics is found on the 3rd and 4th floors, with home furnishings and souvenirs on the 5th and 6th.
Like every shopping complex in Bangkok, there are plenty of options for when you get hungry. There are 2 food courts – a local one on the 6th floor and an international one on the 5th – with plenty of choices. The top floor comprises an entertainment complex boasting a multi-screen movie theater, karaoke, a computer games arcade and many other restaurants. MBK also has a 3D Trick Art Museum, which is a fun family activity that's also perfect for a rainy day.
MBK Center is relatively easy to reach thanks to a direct walkway linking to National Stadium BTS Skytrain Station. Literally, every taxi driver knows MBK as it's among the most famous shopping malls in Bangkok. So, you can hail a cab from anywhere, but mind that traffic can be intense around the mall.
Bargains galore – and free air-conditioning!
To start with, fashion outlets cover everything from jeans, outsized clothing (for the 'larger' western frame), shoes, handbags, accessories, jewelry, trendy apparel and famous-name brands. The bargain prices of many of these items mean that merchandise is often copy products or of questionable origin. It's important to take a closer look at the quality and craftsmanship.
But if your idea of a shopping bargain is to pay a few dollars for an Adidas T-shirt or a Gucci belt – and authenticity is not an issue – head straight to MBK. Many of the products that can be found here are similar to those at markets, but the convenience of shopping in an air-conditioned environment beats hot and sticky markets, especially in the hot season!
And, just like the markets, all prices are negotiable; MBK is probably the only mall in Bangkok where you can put your bargaining skills to the test. You'll be surprised how much a big smile can knock off the original asking price. If you're shopping wholesale, prices tend to get even more competitive.
Heaven for electronics and mobile phones
The 4th floor is dedicated to mobile phones, DVDs, and all kinds of related gadgets and paraphernalia in a market-type environment, with stalls crammed into every available space. New phones, second-hand phones, starter packs, the latest (copy) movies, PC games and game consoles, MP3 players and what have you...
A flagship tenant is the 4-storey Tokyu Department Store, the only one in Bangkok and a leading department store in Japan which offers a wide range of quality merchandise like clothing, apparel, cosmetics and household goods at reasonable prices. On the 4th level, you'll find a supermarket.
There's also a Tops supermarket at MBK (on the ground level) as well as a mini indoor craft market on the 6th floor offering a range of arts and crafts from all over Thailand, though a lot of them are the typical souvenir-type items targeted at tourists.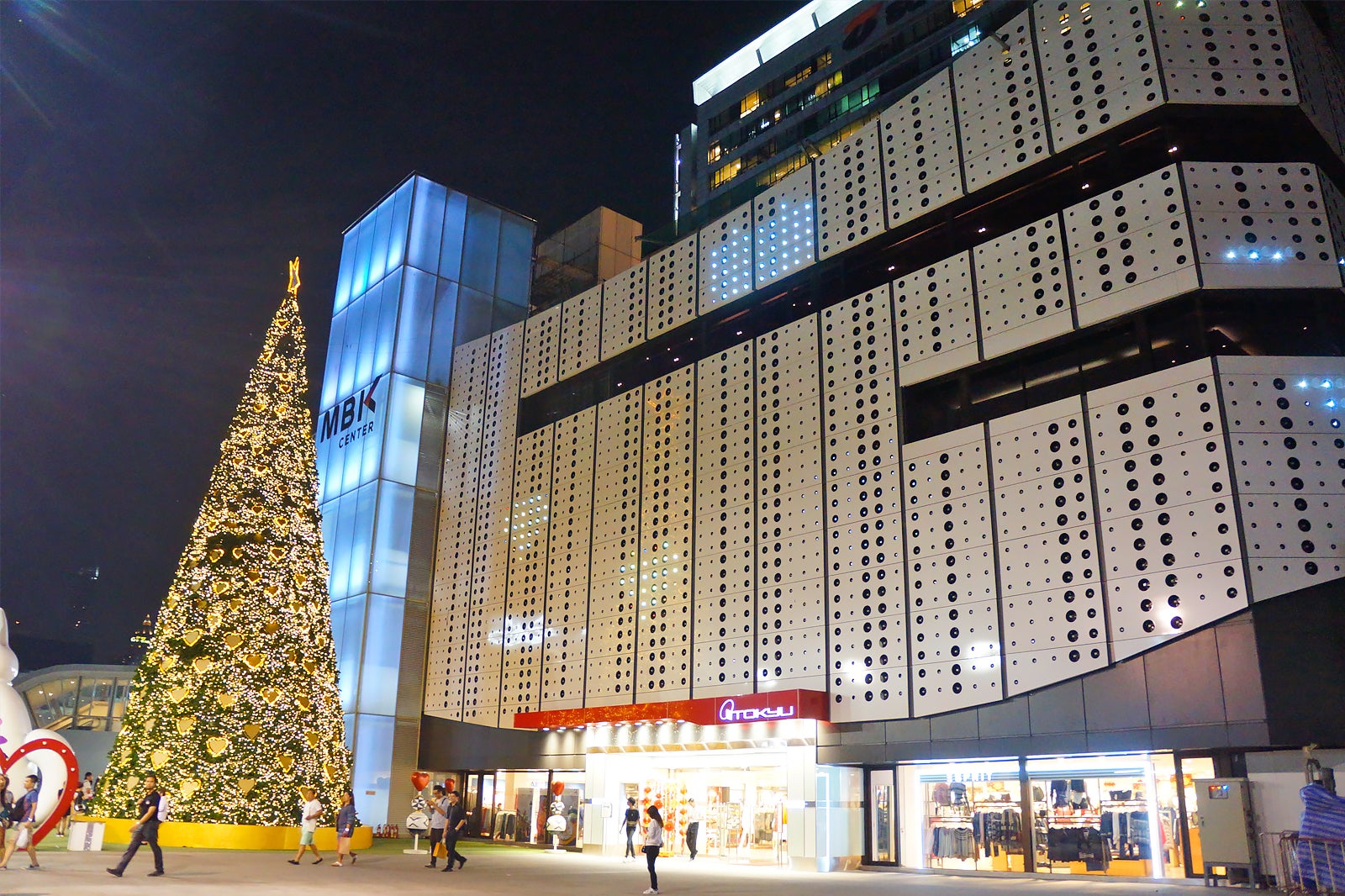 MBK Shopping Center Bangkok
Location: 444 Phayathai Road, Wang Mai, Pathum Wan, Bangkok 10330, Thailand
Open: Daily from 10am to 10pm
Phone: +66 (0)2 853 9000
Back to top