Maya Bay is a stunningly beautiful bay that's sheltered by 100-metre high cliffs on 3 sides. You can enjoy several beaches here. Most are small and some only exist at low tide. The main beach is around 200 meters long with silky soft white sand. The whole bay is one big reef and the underwater scene features colorful coral and exotic fish in exceptionally clear water.
Maya Bay became a top attraction on Phi Phi after The Beach (1999) was shot here. It was always very popular before the movie but ever since the movie came out, people around the world who haven't even heard of Phi Phi have certainly heard of Maya Bay.
Maya Bay in Phi Phi - one of the highlights of 10 Most Photographed Places in Phuket and Koh Phi Phi Leh (Read all about Ko Phi Phi here)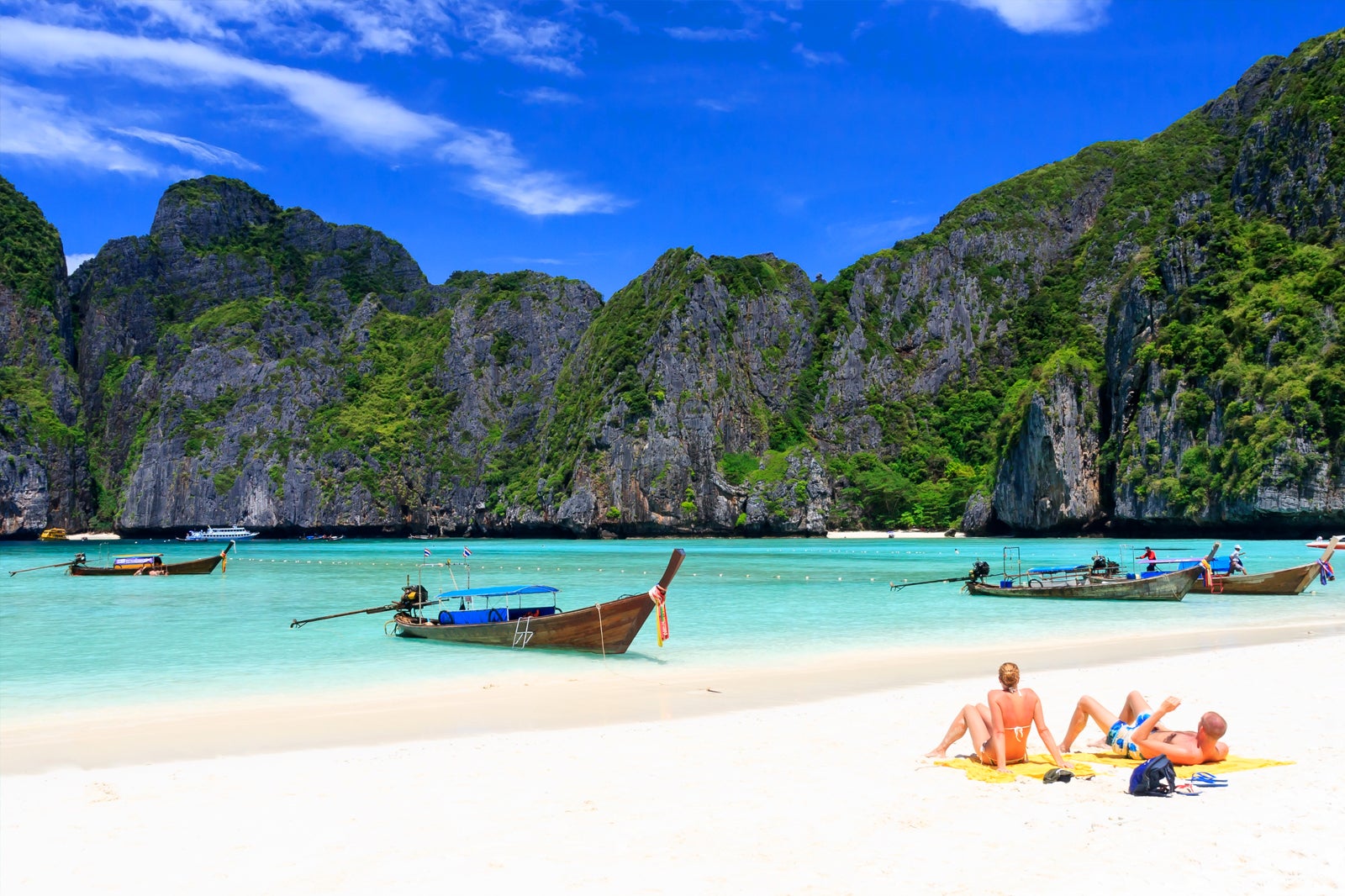 Good things to know about Maya Bay
The best time to visit Maya Bay is between November and April during the high season when the seas are calm, providing easier access to the bay. Rough seas from May to October may hinder access but rarely deny entry.
Beautiful it is… secluded it isn't. Thousands of people visited the beach each day since it gained popularity. The bad news is, many boats ferried visitors in and out and on any given day at any time, there would've been 30-plus speedboats and longtail boats on the beach, with large ferries carrying hundreds of snorkelers and sightseers moored in deeper water.
Thai authorities stepped in to protect Maya Bay from deteriorating and announced its closure to allow for the ecological recovery of the seabed and reef. It has significantly improved over the years and is expected to reopen in mid-2021. During the closure, vessels may enter the bay for you to take in the beautiful scenery but are forbidden to park near the beach.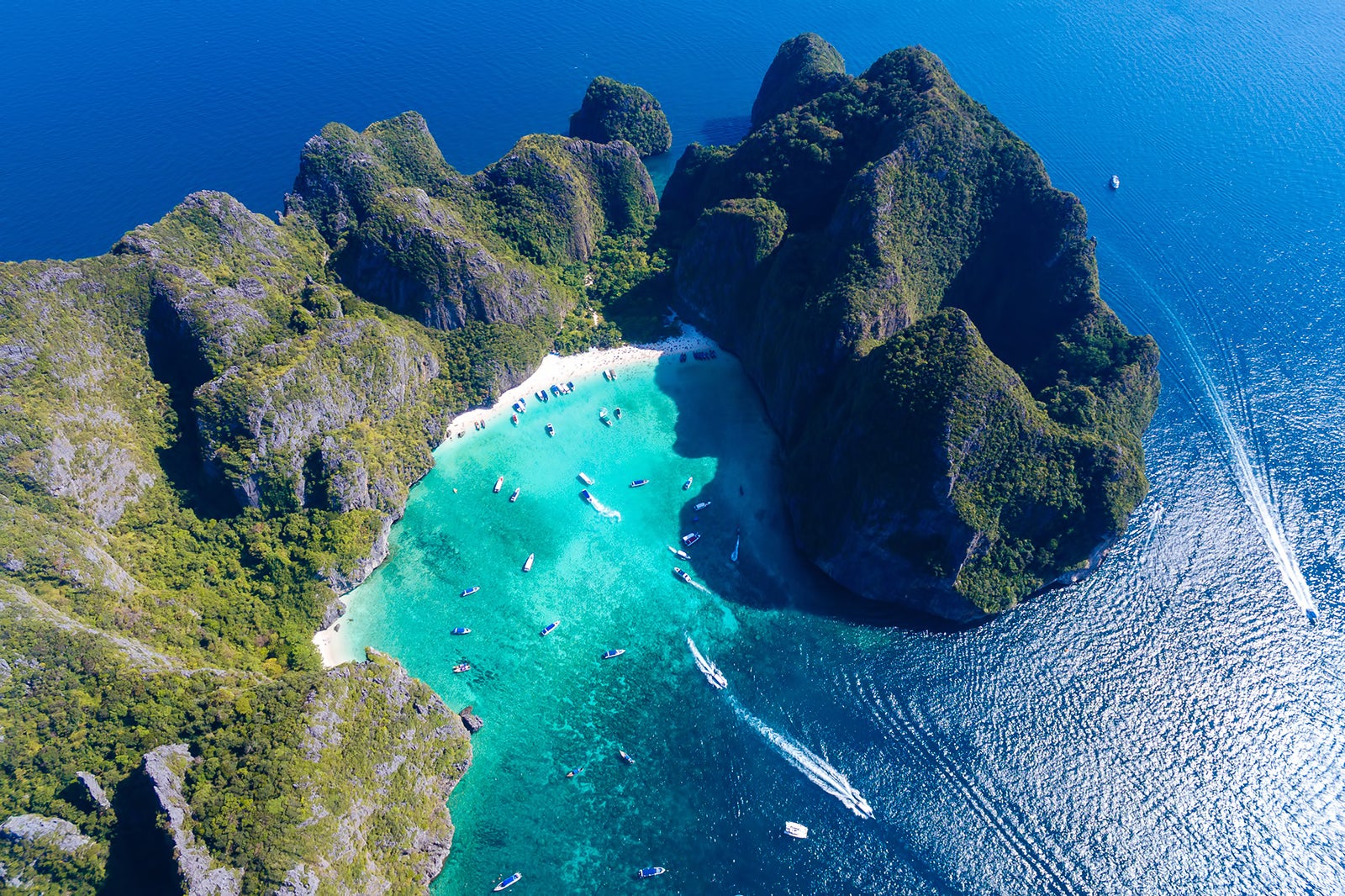 The Beach
The Beach by Alex Garland is about young travelers who drop out of society and go to live in a hidden lagoon in Southern Thailand. Fox bought the rights to the book, signed up Leonardo DiCaprio to play the lead role and then scouted for the location. Maya Bay was perfect. Fox decided that the perfect beach needed some palm trees and less vegetation so they rearranged the beach to fit a Hollywood stereotype.
Beforehand, environmentalists said removing vegetation would increase the risk of sand erosion and that the delicate natural ecosystem may not ever recover. The vegetation was replanted after filming had finished and additional bamboo fences were put in place to support the dunes. Filming commenced in 1999 and The Beach was one of the most eagerly anticipated movies of 2000. Many visitors cite the movie as the inspiration for their trip to Thailand.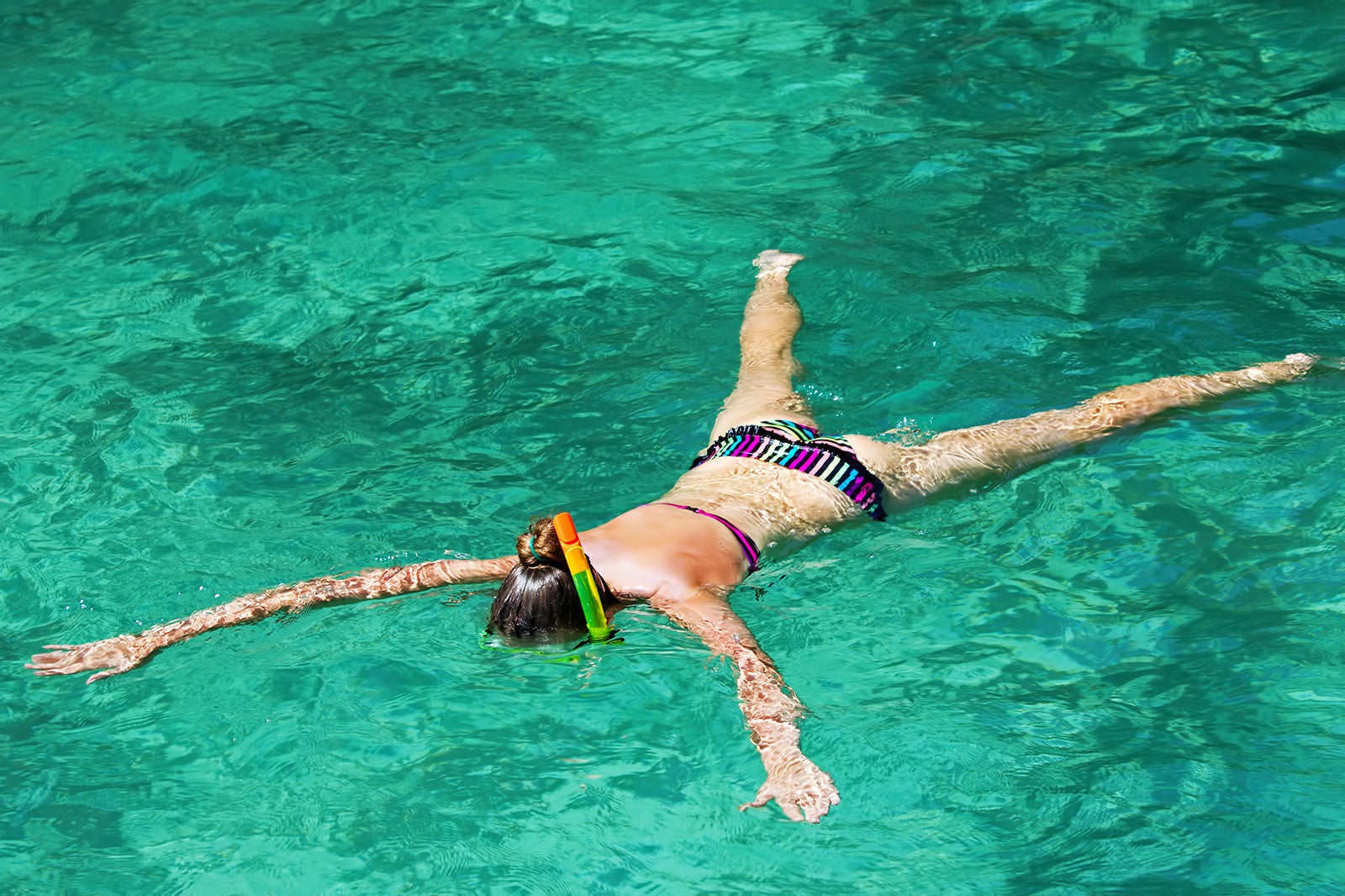 Things to do in Maya Bay
Snorkeling and diving are excellent throughout the bay. Large underwater boulders are encrusted with coral and it's teeming with brightly colored fish. Visibility is excellent. Many tour companies bring visitors here to snorkel from Phuket, Krabi and Phi Phi Don. Sea kayaking is also popular. Kayaking tour boats come into the bay and moor while letting clients explore.
Tour shops in Phi Phi Don began advertizing organized camping on 'The Beach', with drinking usually being part of the fun. Camping is only permitted on certain nights.
Facilities at Maya Bay
A small shack a little back from the beach sells beverages and snacks. Further back from the beach are toilets, but you'd only want to use them if you really need to. There's no food available here; those who camp must bring their own. Fires are not allowed but there is a permanent barbeque stand for cooking.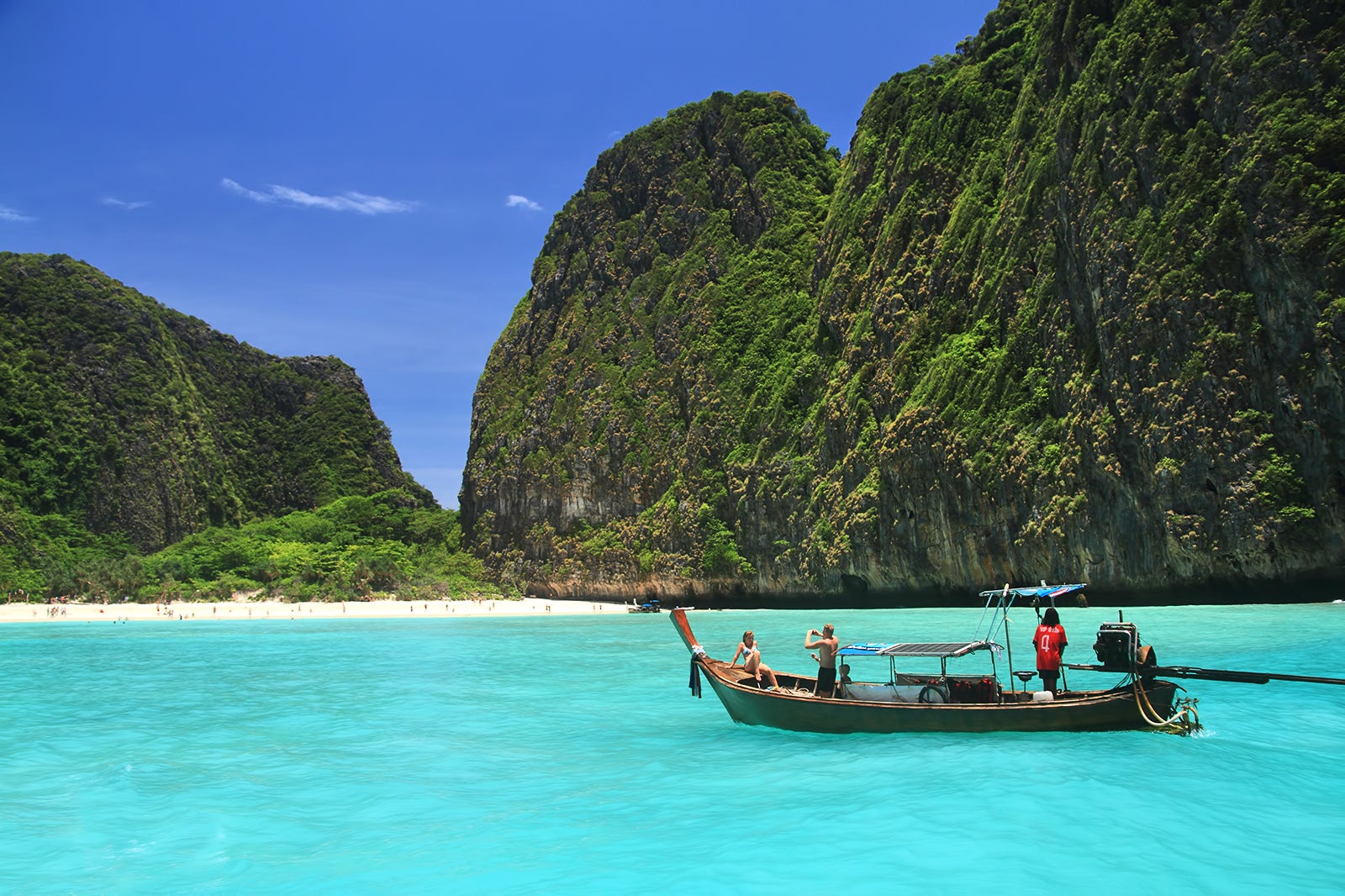 Getting to Maya Bay
From Phi Phi Don you can rent a longtail for 3 hours or for a full day, with a maximum of 4 passengers. Speedboats are also available for half-day and full-day rents and usually allow for a maximum of 6. There are also many different kinds of boat tours that include Maya Bay in their itineraries. Various kinds of boats are used, such as longtails, speedboats and ferry boats. From Phuket and Krabi, tours depart daily, mainly by speedboat.
Maya Bay in Phi Phi
Location: Koh Phi Phi Le, Ao Nang, Krabi 81000, Thailand
Back to top