Mae Nak Shrine in Bangkok is the site of the well-known local folktale, Mae Nak Prakanong or 'The Mother Nak of Prakanong District'. Most Thai love tales often end in tragedy, usually with the death of either a male or female protagonist, like the legend of Sarasin Love Bridge, which tells a story of star-crossed lovers who, together, decided to jump off Sarasin Bridge (the bridge connecting Phuket to the mainland) in hopes of reuniting in their next lives.
The tale of Mae Nak is no different, except that death isn't necessarily the end of everything.
Mae Nak Shrine in Bangkok - one of the highlights of 6 Great Bangkok Shrines and Spirit Houses (Read all about Bangkok here)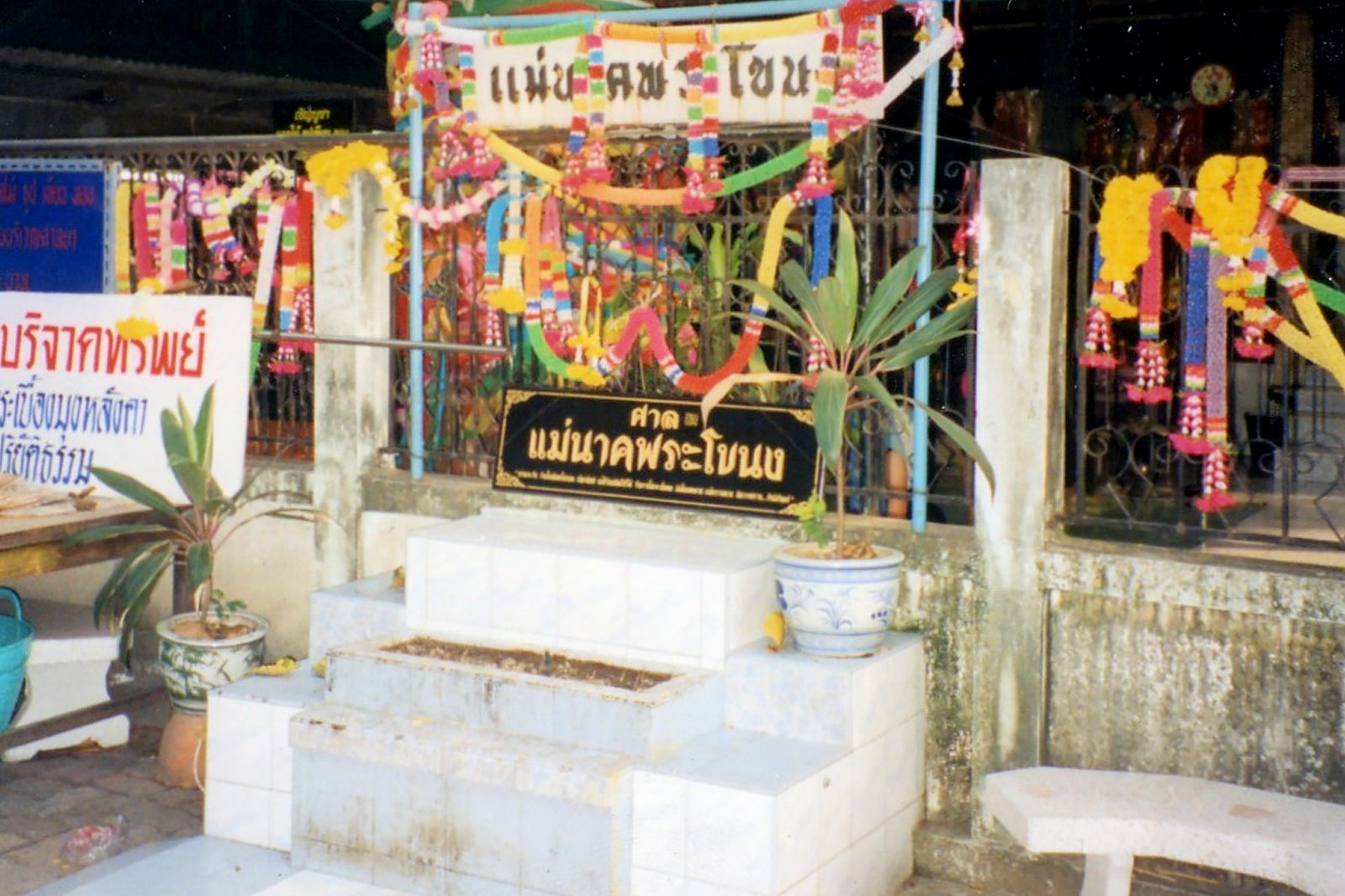 Mae Nak: 'till death do us part'?
With the story repeatedly told and dramatised, Thai people grow up hearing about Nang Nak's fierce spirit as well as her undying love for her husband. Legend has it that about 100 years ago, there was a beautiful young woman called Nak who lived on the bank of the Prakanong River. Nak married a man named Maak.
During the war, Maak was drafted to fight for his country, leaving Mae Nak at home alone when she was in labor and died in childbirth. Because of the love for her husband, her spirit refused to leave the house and waited for his return. Maak finally returned home not knowing about the death of his wife. The couple went on living together for some time as if everything was normal.
But once her husband discovered that she was just a ghost, he fled to the site of the temple. Mae Nak was furious and began terrorising people in the village. The whole community was terrified. The reverent mor pii (ghost doctor) heard of Mae Nak's rampage, so he came to the village and defeated her by cutting a piece of her forehead bone to make a buckle and capturing her spirit in a bottle.
Later, a shrine dedicated to Mae Nak was constructed in Wat Maha But. To this day, many people still go to the shrine for blessings and guidance.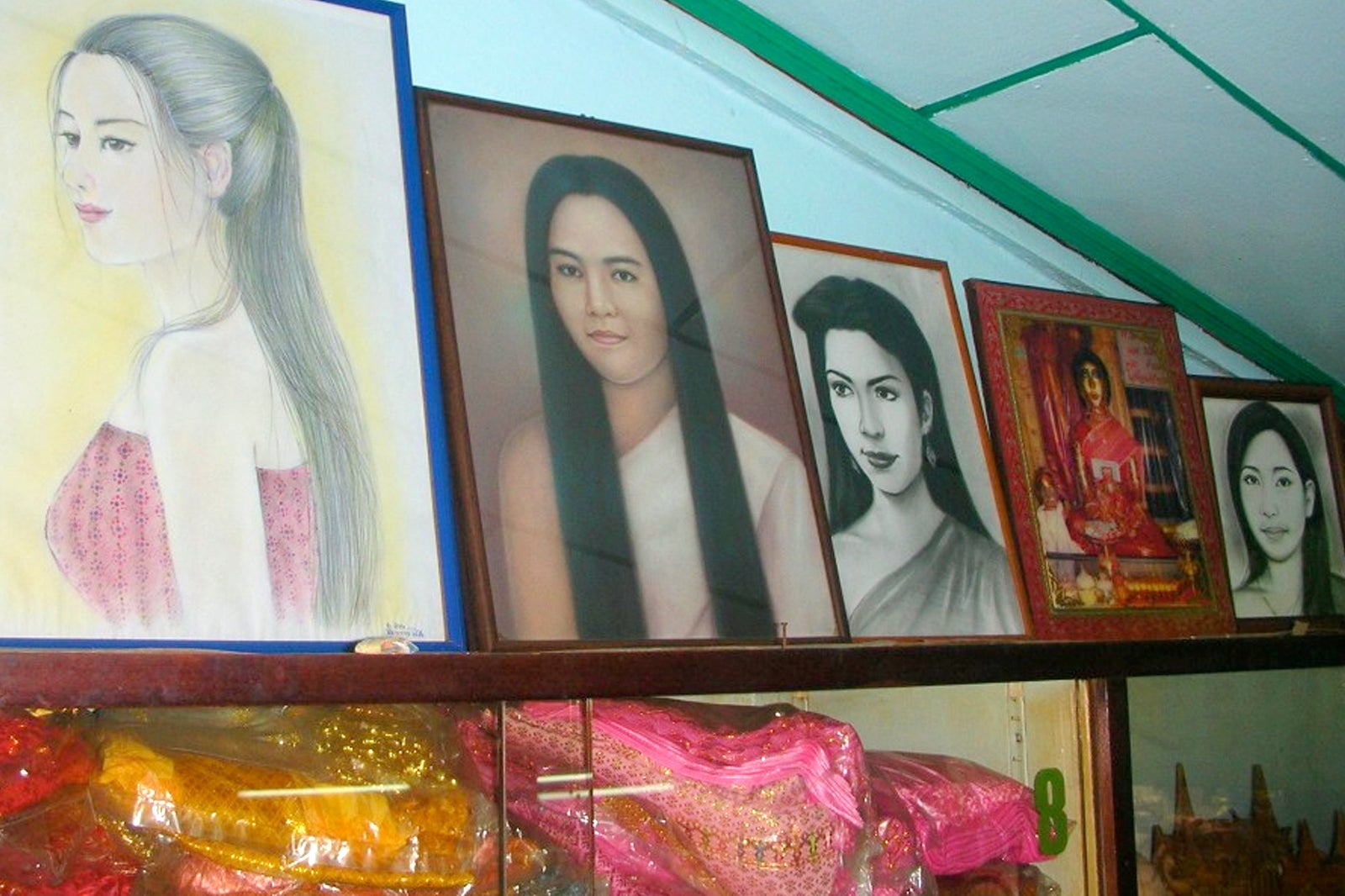 Be careful what you wish for at Mae Nak Shrine…
Mae Nak Shrine, supposedly her burial place, is located within Maha But Temple which was built in the late Ayutthaya period. The temple itself was named after the monk who initiated its construction. Locals often refer to it as Wat Mae Nak Prakanong (Temple of Mother Nak of Prakanong).
The shrine looks more like a 'home' for Mae Nak and her child as it's always filled with flower garlands, colorful Thai costumes, cosmetics, toys, diapers, and milk bottles offered by devotees as gifts for her child.
Other fascinating items include 'in-house entertainment' – the television is always on. Mae Nak is also believed to be benevolent at giving out winning lottery numbers. On the eve of the lottery draw, the shrine is bustling with ticket sellers, fortune tellers, and merit-offering vendors of fish and birds. The Mae Nak Shrine is also a hit among young men who have to attend military service draw.
Since Nang Nak's grief and misfortune was caused by military conscription, she is believed to detest the call-up and naturally becomes the patron deity for those who want to get out of it. But granting fertility and pregnancy are not her specialty. Expectant mothers are often advised to avoid visiting her for obvious reasons.
You can get to Maha But Temple by taking the BTS to the On Nut BTS Skytrain Station. The temple is about 900 meters down Sukhumvit Soi 77.
Mae Nak Shrine in Bangkok
Location: Wat Maha But, On Nut, Sukhumvit 77, Suan Luang, Bangkok 10250, Thailand
Back to top