M.R. Kukrit's Heritage Home in Bangkok offers a pleasant journey into the life of Thailand's former prime minister and multitalented personality. Tucked away in a quiet lane just off Soi Suan Plu in the Sathorn area and set on a picturesque pond garden, the 5 traditional teak homes showcase a rich collection of artifacts, including ceramics, antiques, fine arts and rare books.
M.R. Kukrit Pramoj was a Renaissance man. He penned more than 40 novels, stage plays, short stories and poems as well as actively promoting traditional Thai culture. He started a political party in 1945 and became Thailand's 13th Prime Minister from 1974 to 1975. His heritage home is a manifestation of his complex personality and lifelong passions for traditional Thai art and literature.
M.R. Kukrit Heritage Home in Bangkok - one of the highlights of 9 Best Things to Do in Sathorn and 30 Great Museums in Bangkok (Read all about Bangkok here)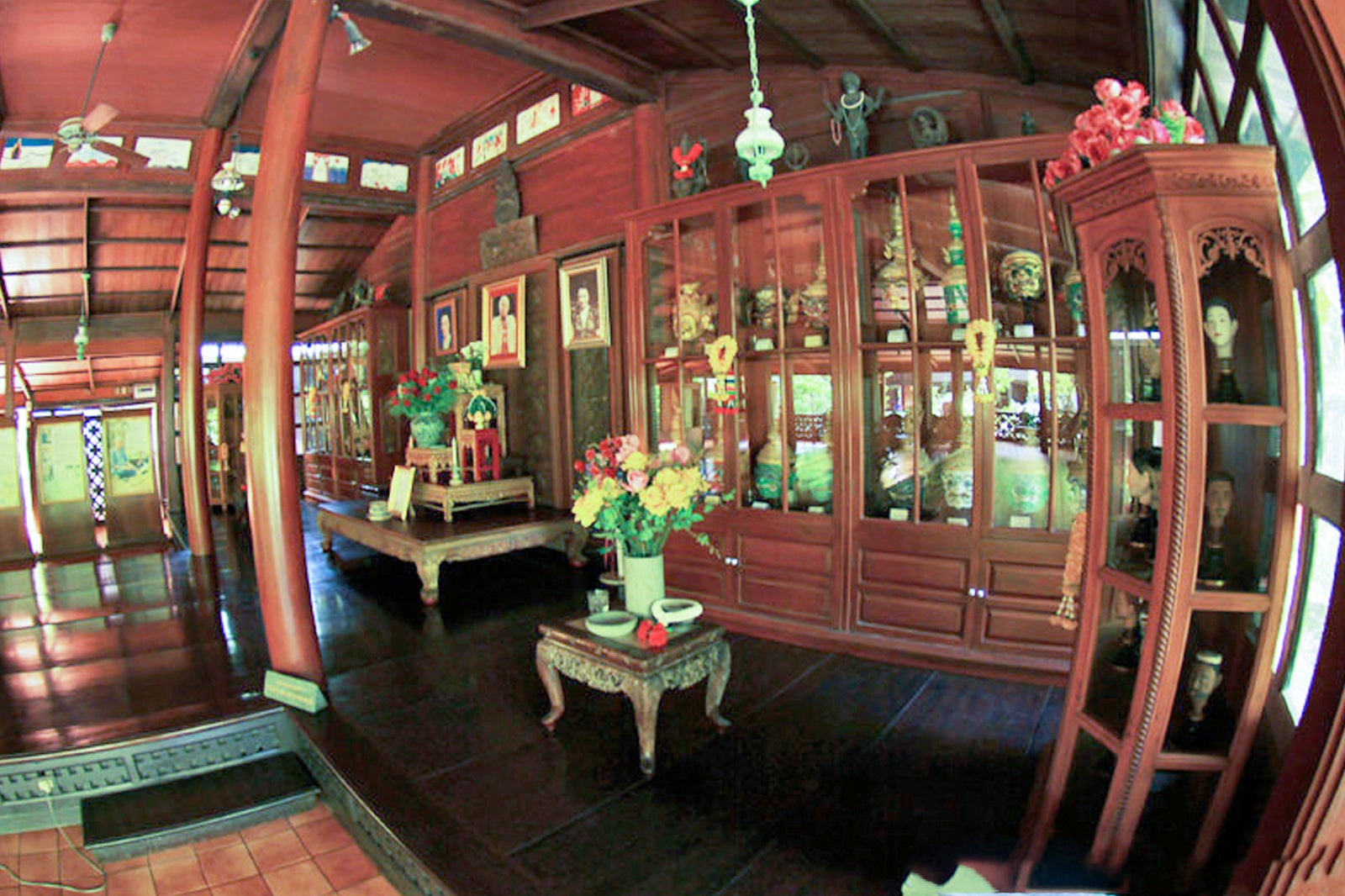 M.R. Kukrit's Heritage Home highlights
M.R. Kukrit's home is a cluster of 5 teakwood houses raised on stilts in traditional Thai style, all connected by a wooden corridor. Rather than completing them all in one go, he bought the houses from various parts of central Thailand and re-assembled them on-site, a process that took over 20 years to complete. Each house is interconnected and is full of fine-art treasures, not museum pieces but the things he saved and loved, like ceramics, precious furniture and Buddha images.
There is also a Thai-style pavilion used for public functions and an interesting library housing books covering a wide range of subjects, including English books from his days as a student at Oxford and others from fiction to philosophy – a proof of his diverse interests.
An integral part of M.R. Kukrit's home and any traditional Thai homes of the same scale is the expanse of well-maintained tropical gardens and ponds surrounding the cluster of buildings. M.R. Kukrit was particularly fond of sculpted miniature trees (called mai dat in Thai, not quite the same as Japanese bonsais), and evidence is found all around the house, along with fragrant trees, exotic plants and other garden features such as fountains and lily ponds.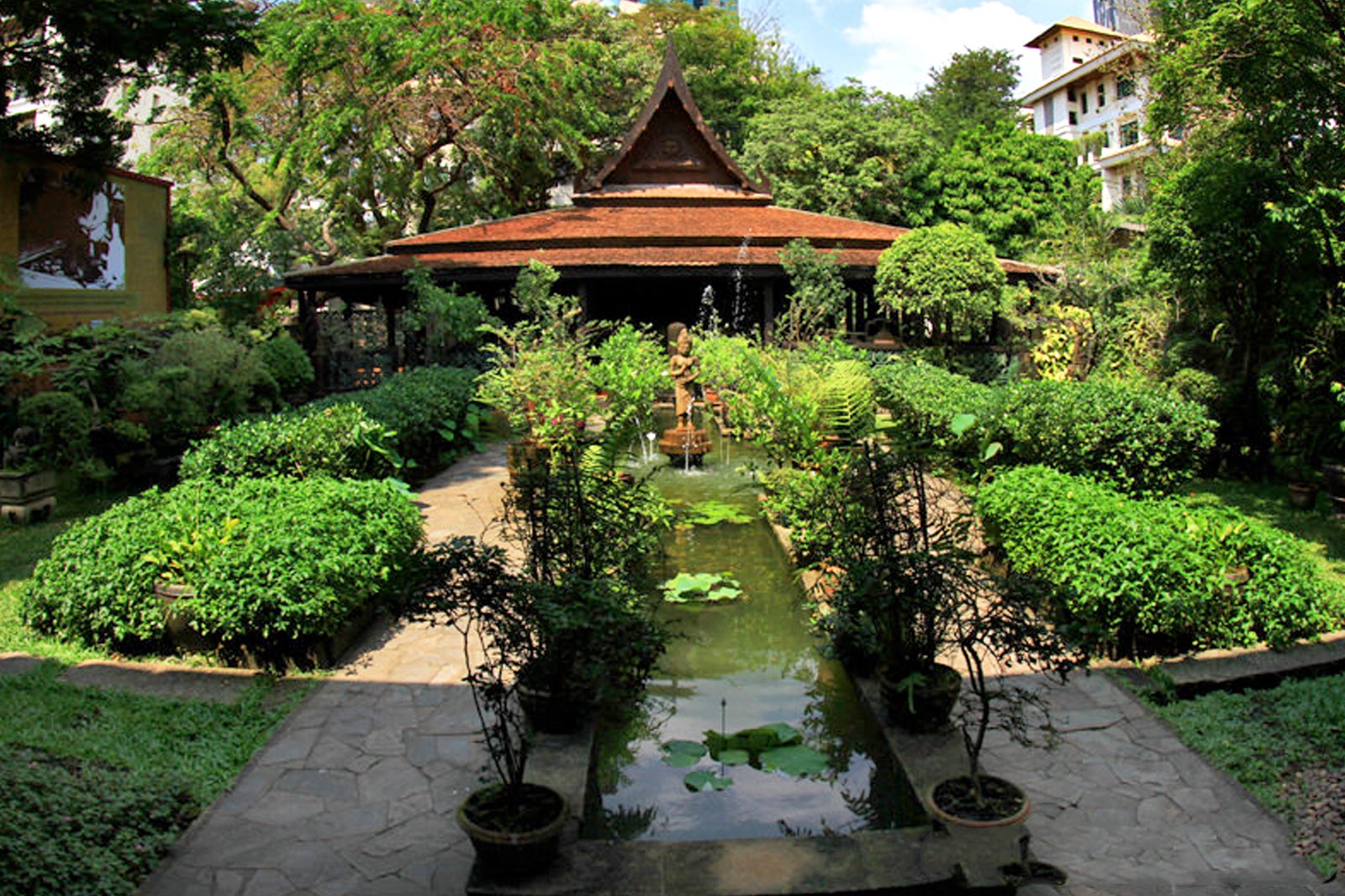 Why visit M.R. Kukrit's Heritage Home?
It might be tempting to compare M.R. Kukrit's home with Jim Thompson's House. Both were private homes before being converted into museums, and both contain personal and prized collections of artifacts. These venues are open to the public, often hosting private events and functions.
A major difference is in the character of each home, reflecting its owner's passions and interests. M.R. Kukrit's home embodies his diverse areas of interest and dedication to traditional Thai art, literature and exotic plants. Similarly, Jim Thompson's House has a bit of 'quirk' in the architectural design, fusing certain aspects of Eastern and Western architectures and embodies Thompson's passion for Thai silk as well as Asian arts.
Rather than saying which one is more interesting than the other, it is more fitting to say that these 2 historic houses offer a slightly different experience, where the focus is not just on the home or cultural objects but also on the person as someone who made an impact on Thai society as a whole.
To get there, alight from the Chong Nonsi BTS Skytrain Station, cross Sathorn Road and walk down Narathiwat Road, then turn left into Narathiwat Soi 7 (should take about 20 minutes from the BTS). It's best to call before you go as the place might be closed for private functions.
M.R. Kukrit Heritage Home in Bangkok
Location: 19 Narathiwat Soi 7, Yannawa, Sathorn, Bangkok 10120, Thailand
Open: Daily from 10am to 4pm
Phone: +66 (0)2 286 8185
Back to top