Krua Bophut Thai Restaurant is among the most popular of the many excellent restaurants lining the seafront in Bophut's Fisherman's Village. It's one of surprisingly few places that specialize in traditional local cuisine, served in a lovely Thai-style setting.
You get a choice of dining settings when you enter through Krua Bophut's greenery-lined gate. Unsurprisingly, the most popular option is down on the beach, separated from the slope down to the surf by a row of trees and potted plants. The space on the sand is limited so larger groups are usually seated on the outdoor decking. Few people plump for dining in the teakwood dining hall, choosing instead to enjoy the warm evening air and cooling sea breeze.
Krua Bophut Thai Restaurant - one of the highlights of 26 Great Restaurants in Bophut and 10 Best Thai Restaurants in Koh Samui (Read all about Koh Samui here)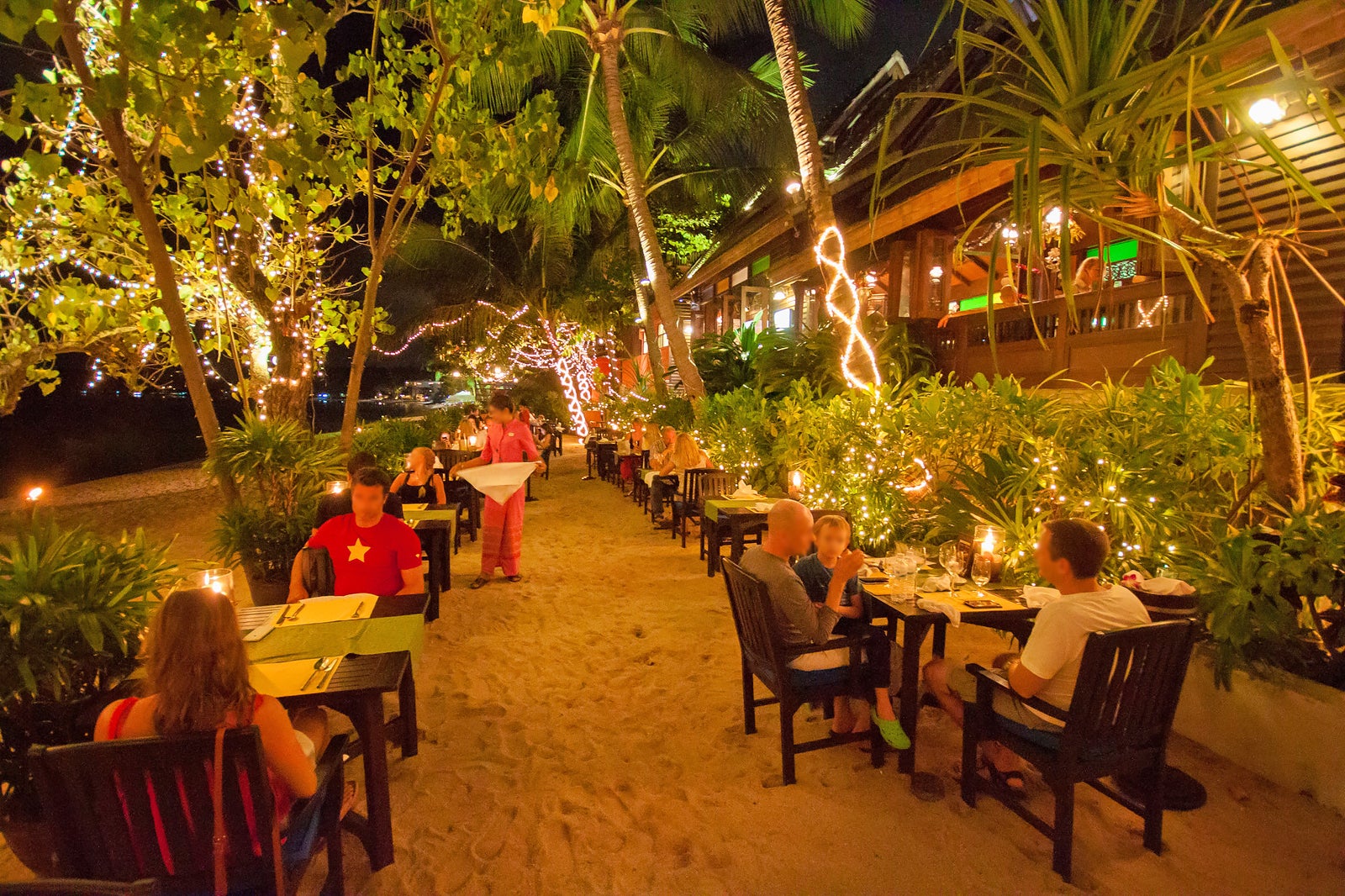 What to eat at Krua Bophut Thai Restaurant
Being situated right on the beachfront in a popular tourist area, it's not surprising that the menu at Krua Bophut Thai Restaurant is aimed at the western market. It's written first in English, then German and finally in Thai. It features a lot of old favorites like massaman curry, stir-fried chicken with cashew nuts and various preparations of fresh local seafood, which is displayed in a bed of ice by the entrance. Portions are large enough for 1 dish to satisfy 1 person to accommodate the western style of eating, instead of the Thai method of filling the table with lots of small plates and sharing each.
Start your meal with the signature selection of appetisers, which includes deep-fried spring rolls, shrimp tempura, deep-fried soft crab with garlic and pepper, and broiled chicken fillet with spicy Thai sauce, all served in a single big pot. Most of these appetizers are available in larger portions individually, but this is an economical way to sample them all, with just enough of each for 2 people to enjoy. They're certainly enjoyable, too, providing a mix of flavors and textures, with the crab being particularly moreish.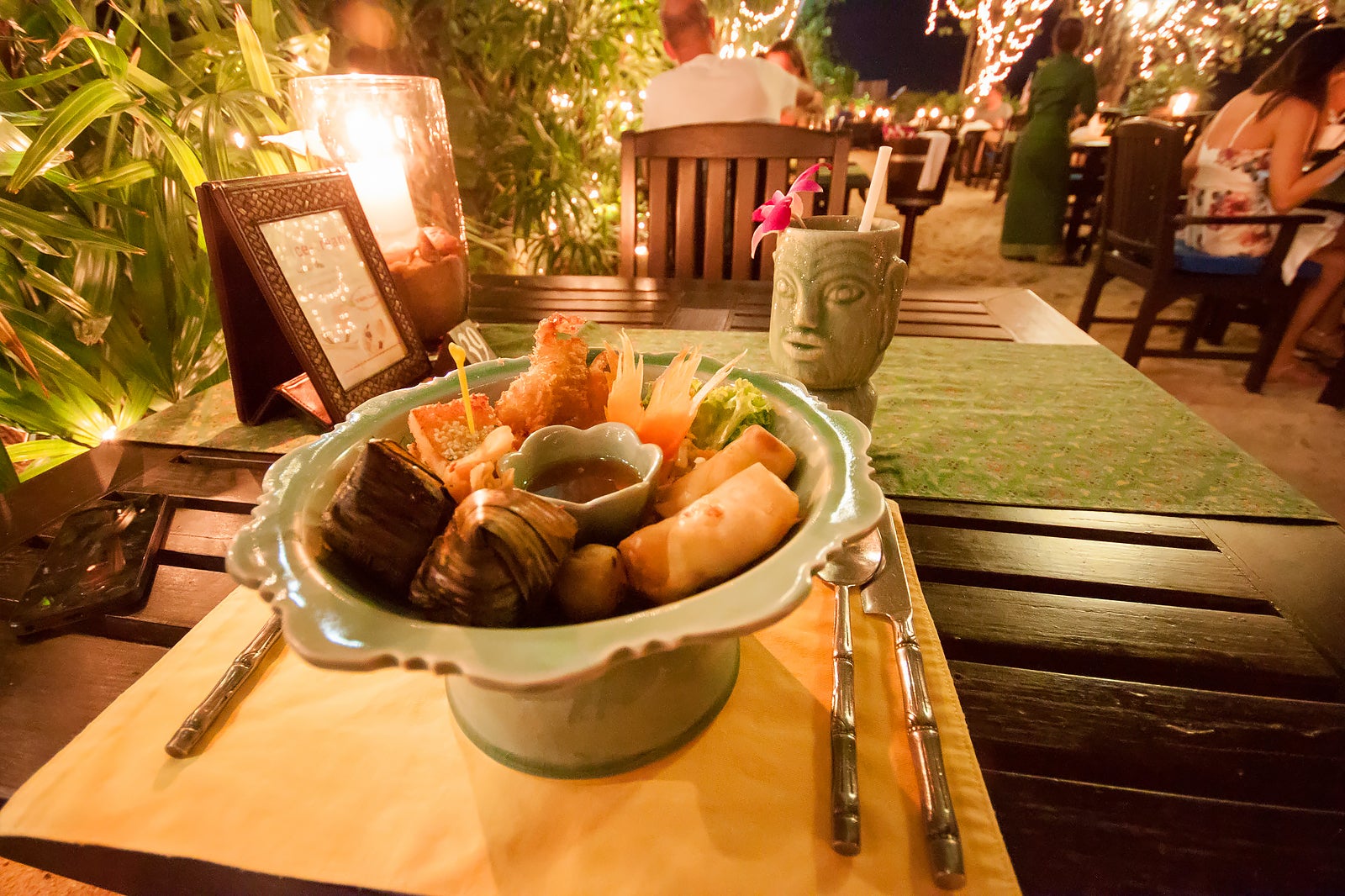 The main courses at Krua Bophut Thai Restaurant are divided by the meat being used, with a choice of pork, beef, duck, chicken and seafood. Under each heading, there are pretty much the same sauces and preparations for similar prices. You can get each meat served with Panaeng curry, stir-fried with garlic and pepper, with basil leaves or with 3 spices, among others. While the menu is limited, it is at least well-prepared, which is more important in the end.
Krua Bophut Thai Restaurant is regarded as one of the better restaurants along Bophut Beach, which is quite an achievement given the degree of competition. While the prices and preparations are perhaps a little westernised, it's an excellent high-end Thai cuisine restaurant and, with its feet-in-the-sand setting and dim lighting, is also one of the most romantic establishments in Fisherman's Village.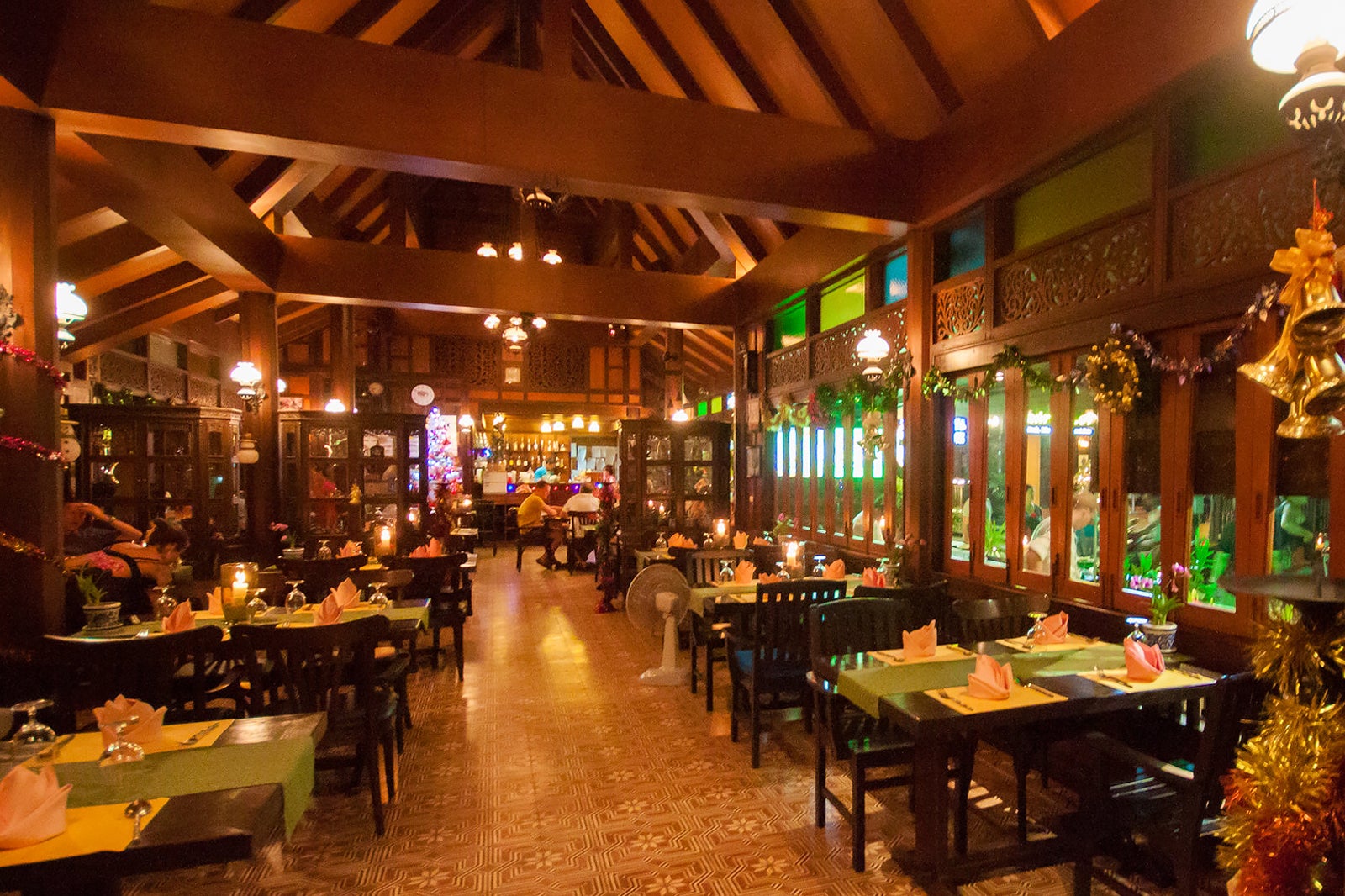 Krua Bophut Thai Restaurant
Location: 16/16 Moo 1, Bophut Beach Road, Fisherman's Village, Bophut, Koh Samui, Surat Thani 84320, Thailand
Open: Daily from 1 pm to midnight
Phone: +66 (0)77 430 030
Back to top