Karon Temple Market occupies part of Wat Karon (Wat Suwan Khiri Khet)'s 12,000-square-meter compound in Phuket. Twice a week – on Tuesdays and Fridays – this lively market offers a wide choice of products and local food, giving a real insight into the local culture. Karon Market is similar to the famous Phuket Weekend Market, which takes place in Phuket Town's southern suburb on Saturdays and Sundays.
Central Karon is a 500-meter-long street bordered at both ends by notable landmarks: you can find the elegantly decorated Karon Circle on the beachside, while Karon Temple lies on the inland side.
Karon Temple Market in Phuket - one of the highlights of 10 Best Things To Do in Karon and 14 Best Places to Go Shopping in Phuket (Read all about Phuket Province here)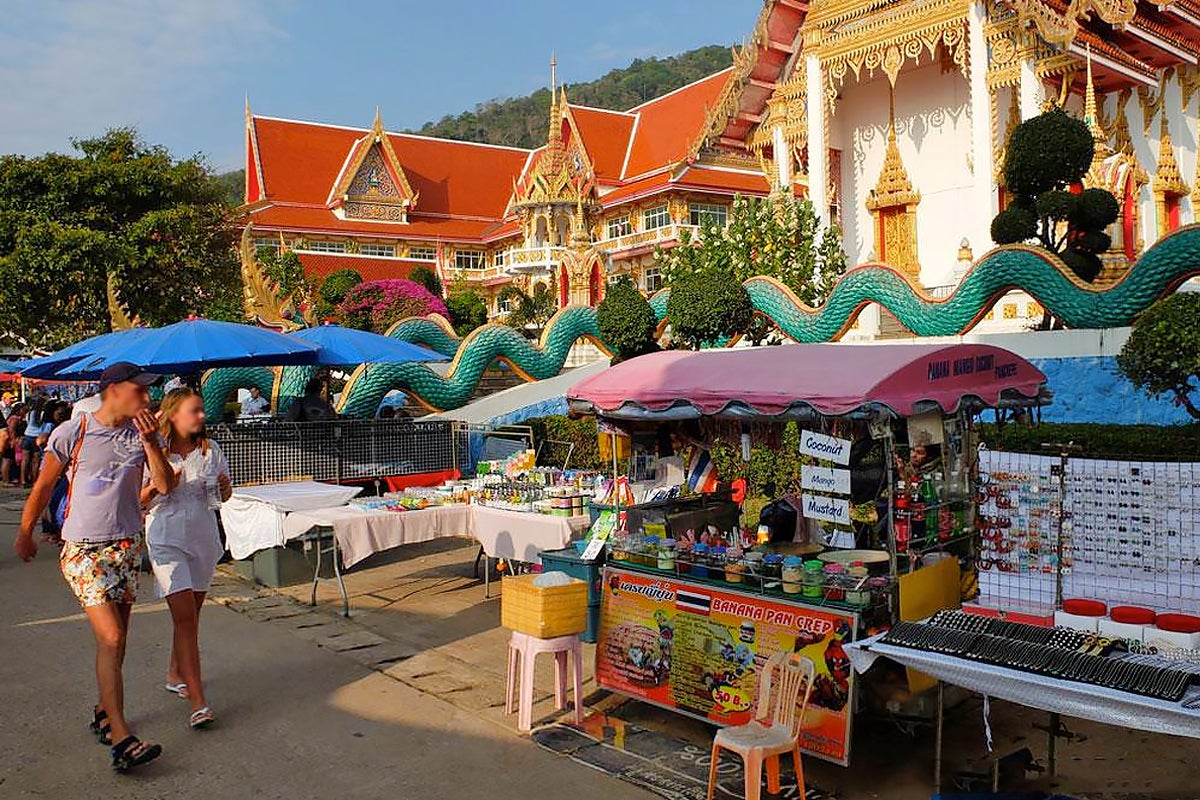 What to buy at Karon Temple Market
Most items at Karon Temple Market are quite tourist-oriented, ranging from fluorescent T-shirts with Singha logos, Muay Thai (Thai boxing) shorts and sarongs to multi-colored swimsuits and flower-shaped soap. You can also find several stalls selling cheap watches, handbags and jewelry.
Karon Temple Market also has vendors selling original pieces skillfully handcrafted by Thai artists, including miniature robots made with electric wires and springs, knitted teddy bears, and handpainted dolls. You can also shop for skincare products like aloe vera and virgin coconut oil.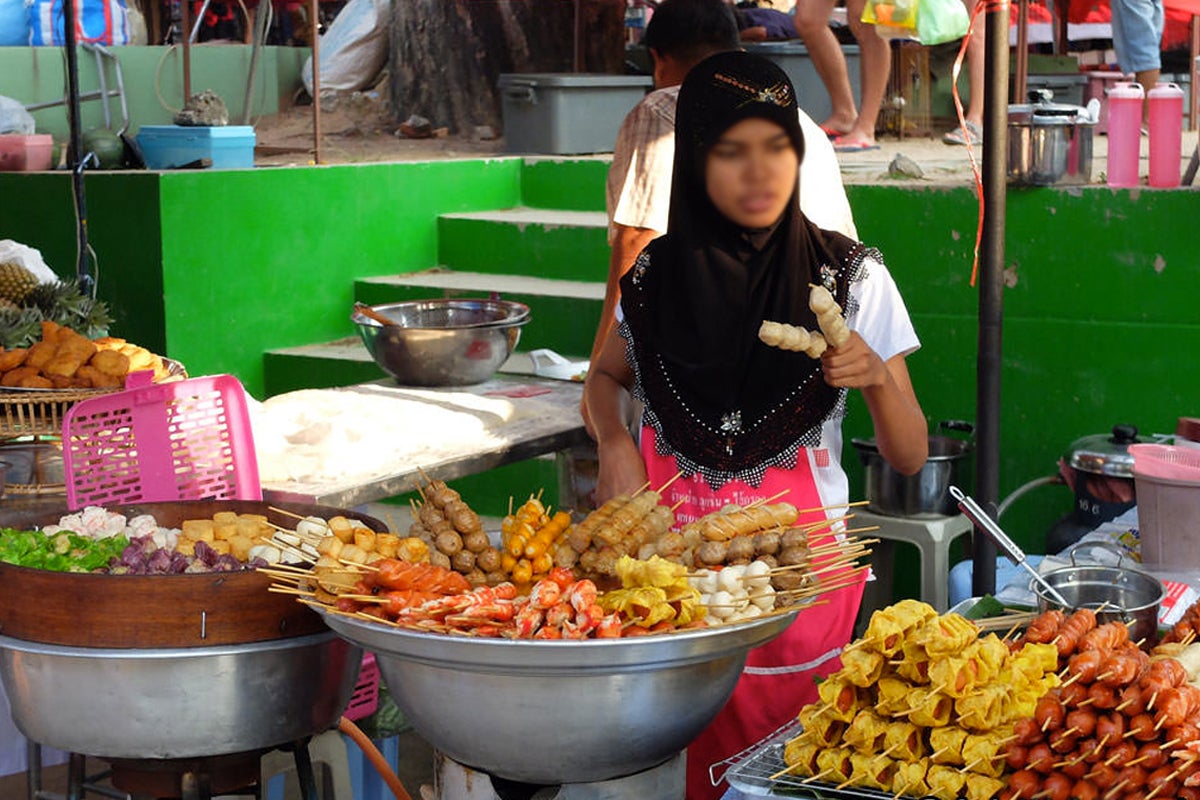 Good to know about Karon Temple Market
Karon Temple Market has all the usual suspects when it comes to local delicacies and Thai street snacks. The food section of the market is located towards the temple's main entrance (in the Karon center road extension). You can snack on Thai sweets (made from glutinous rice and coconut milk), sushi, fried insects, grilled or steamed meat and tofu, spring rolls, fresh fruit, plus a good choice of ready-made curry dishes.
If you're visiting the Karon Beach area, make a stop at Karon Market to enjoy a glimpse of southern Thailand's local life. Though most of the products are tourist-oriented, the market's general atmosphere is genuinely Thai.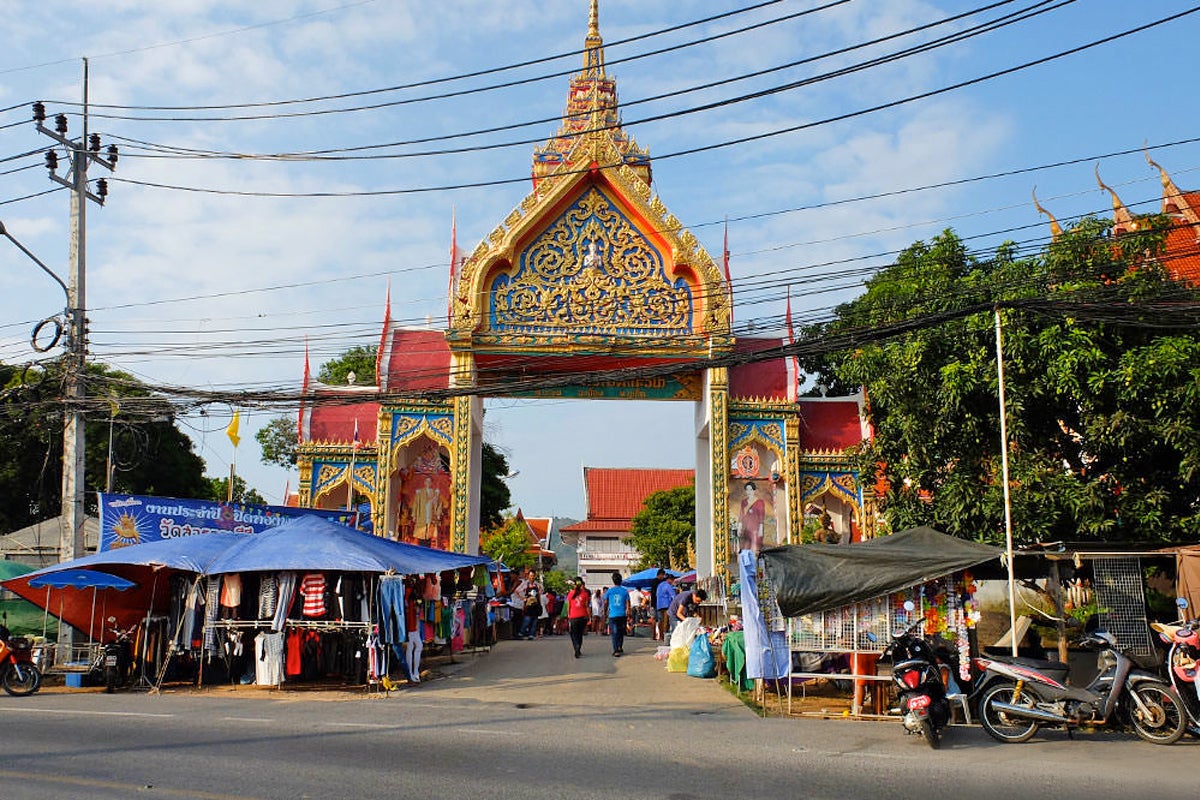 Karon Temple Market in Phuket
Location: Wat Karon, Patak Rd, Karon, Muang, Phuket 83100, Thailand
Open: Tuesday from 4pm to 9pm, Friday from 4pm to 11pm
Back to top