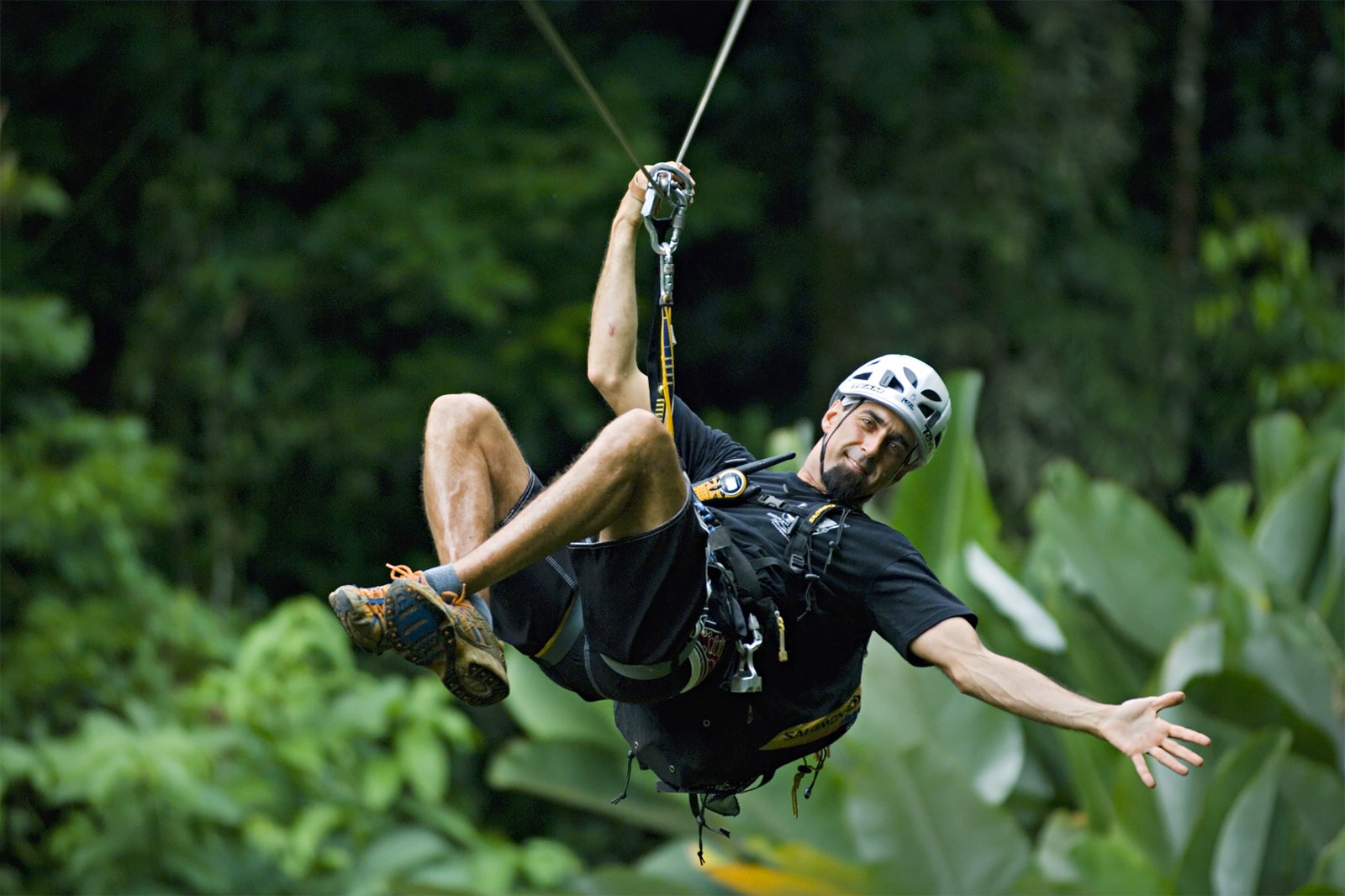 Jungle Xtrem Adventures and Zilpine Park, also known as Phuket Tree Adventure, is a cool challenge to take up in the hills for those extremists among us. On a hillside spanning almost 2 hectares and based in a rubber plantation above Wat Chalong, Phuket Tree Adventure is truly impressive with its range of facilities.
There are no less than 69 'Stations' – activities – up there including tightropes, flying fox, net walking, several different types of bridges and more. All the time, you'll be attached to a harness. The company was among the first treetop park developers in France and has had extensive experience since in the development of parks in France, Holland and Asia. Health and safety standards are sky-high, starting with independent, regular documented and certified inspections of the trees (mostly rubber) and all top-rate equipment guaranteed for years.
Jungle Xtrem Adventures Phuket - one of the highlights of 12 Best Things to Do in Chalong Bay and 7 Best Activities for Groups in Phuket (Read all about Phuket Province here)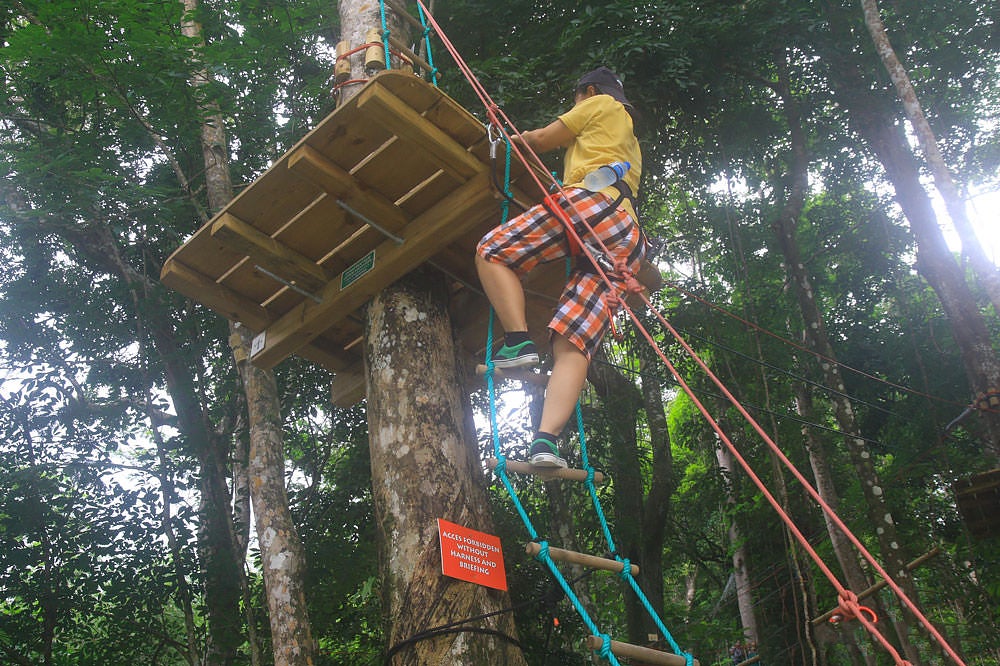 Jungle Xtrem Adventures Phuket safety features
Jungle Xtrem Adventures has a firm list of safety rules that are explained to punters when first arriving at the shady reception area. Every player is equipped by an operator with a safety harness, a double lanyard, 2 carabiners, one sling and a pulley.
Long hair must be attached and necklaces removed; appropriate shoes must be worn; the safety harness must be worn and attached to the red lifeline; no drinking from cans due to risk of bees and wasps – and many more rules, all of which make perfect sense and are strictly adhered to.
The Stations
The gradient up the hill towards the activities can be quite tough and you only then begin to appreciate just how fabulously fit the PTA team have to be to take the guests around this gruelling terrain.
There are, in total, 69 'stations' to choose from with 9 Blue stations marked 'easy', followed by another set of Blue 'easy' stations. Further up the hill, the tough get going. There are then 12 Red 'difficult' stations followed by 9 Black 'challenging' stations.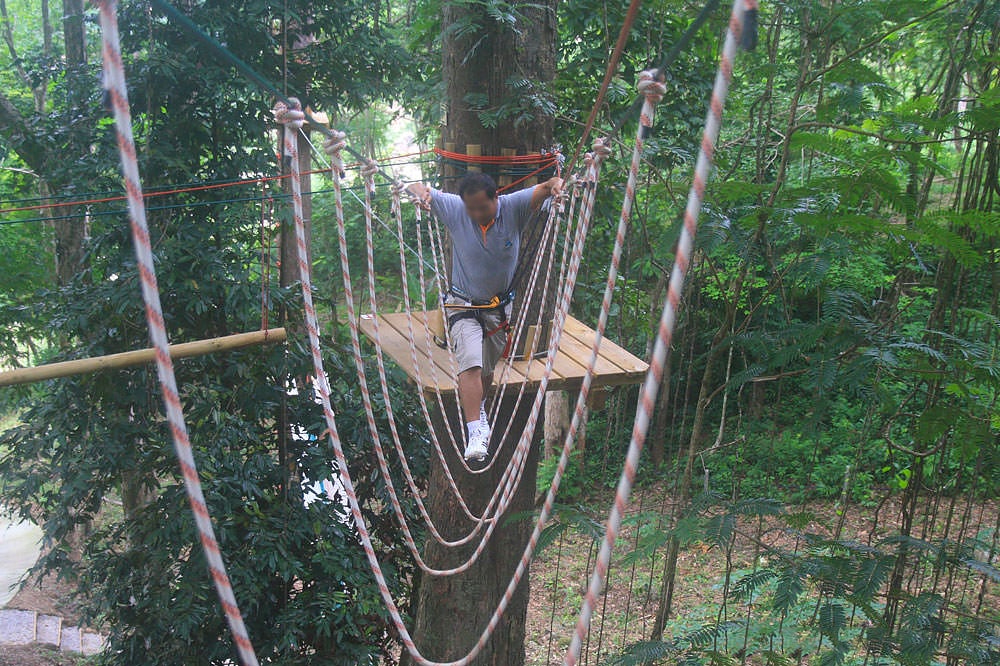 Safety first
The safety harness is indispensable and helps make light of the climbing, balancing, jumping and swinging, even flying activities going in the treetops, and what's more, players cannot attach it themselves – it's only attached by a supervisor.
Having said that, there's one particular area where safety harnesses can be taken off and that's the Accro Spider that allows players to roll freeform in what appears to be a huge spider web. Balancing on airborne steps or climbing vertically up a tree and 'flying' over to the next one is a real challenge and only a certain percentage of participants do or can finish all the 69 stations, but one thing is for certain – the bird's eye views over eastern Phuket lend the whole experience a sense of awe.
Options at Jungle Xtrem Adventure Park
The hillside is dotted with open-sided, thatched-roof salas (huts) for those who opt-out or want to take a rest. Above reception sits a restaurant for after-event celebration and an industrial-sized fan along with cooled water and energy drinks awaits at reception to cool players down.
PTA is challenging, tough, exhilarating and a pretty unforgettable experience. Given the high safety standards, it easily comes as a highly recommended activity to try out in Phuket.
Jungle Xtrem Adventures Phuket
Location: 54/17 Phuket Rd, Chalong, Muang, Phuket 83130, Thailand
Open: Daily from 9am to 6pm
Phone: +66 (0)62 767 2777
Back to top