Jungle Bungy Jump offers one of the most thrilling and challenging activities in Phuket: a 50-meter plunge towards a lake shrouded by jungle. Managed and run by a professional team from New Zealand, Jungle Bungy Jump is fully licensed and insured for this activity in Thailand. The entire operation is overseen by S.A.N.Z. (Standard Association of New Zealand).
The setting of Jungle Bungy Jump in Phuket is superb and inspiring: a small green lake in the middle of luxurious vegetation. On the side of the pond stand 3 bungalows: the office/front-desk/terrace, a small bar, and the area where jumpers are fitted out and equipped. Right behind the equipping area, a 50-meter tall crane overlooks the greenish waters of the lagoon.
Jungle Bungy Jump in Phuket - one of the highlights of 33 Best Things To Do in Patong and 67 Best Things to Do in Phuket (Read all about Phuket Province here)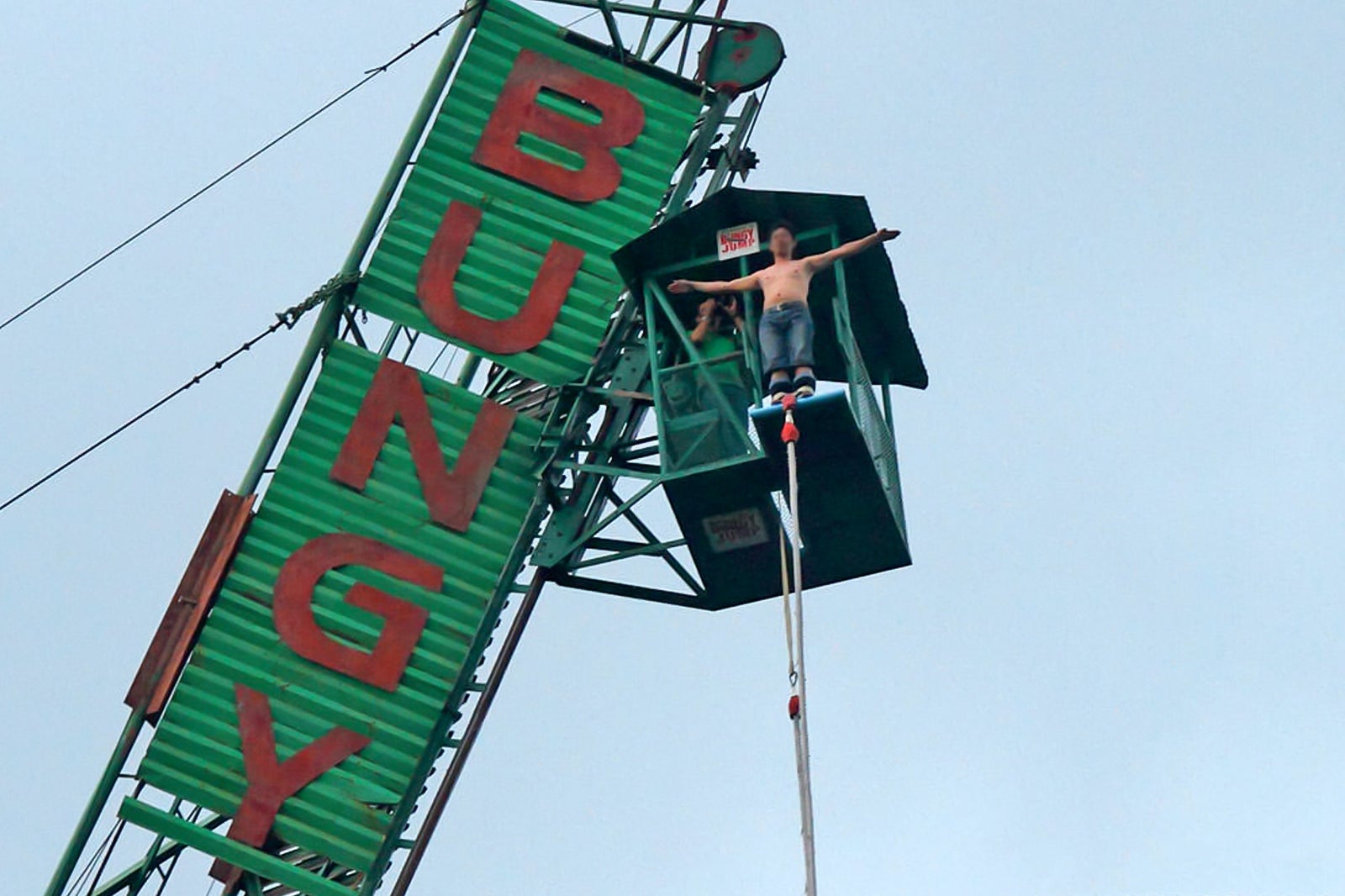 Jumping at Jungle Bungy Jump Phuket
Jungle Bungy Jump gives you a choice of 5 different jumping styles: standard Bungy, water touch (or water dip) Bungy, tandem Bungy, backward Bungy, and slingshot Bungy.
Standard and backward Bungy jumps allow you to 'draw figures' in the air; tandem Bungy offers a jump with your loved one (adding a little bounce to your love life); slingshot Bungy is the exact opposite to Bungy jumping as you start from the ground and are propelled into the air with the elastic stretched from the top of the crane.
Water touch (dip) Bungy allows a bit of fun for the audience and ladies please be careful to wear something practical as the water dip can result in an instant 'wet T-shirt' look, or worst, in a topless exhibition.
Good to know about Jungle Bungy Jump Phuket
Soft drinks, beers and ice cream are available at the bar, and you can stay and watch your friends' jump, while you're comfortably installed on the lakeside terrace. There's no age limit; the only condition required is that jumpers must weigh between 35 kg and 235 kg.
There's a no-refund policy; once at the top of the crane and if you decide not to jump, you won't get reimbursed (based on unofficial records, men chicken out more often than women). Jumping rates are between around 2,200 baht (with T-shirt and certificate) and 3,000 baht (with DVD movie, 25+ digital photos, T-shirt, certificate and a second jump for free).
To sum up: Jungle Bungy Jump is exactly the right place to go if you are looking for an adrenaline rush and a life-long action-packed memory from your trip to Phuket. All the people working at Jungle Bungy Jump are professionals who only have one thing in mind: thrills and fun in an extremely safe environment. And no worries, once at the top of the crane, they can give you a nudge - if you like.
Jungle Bungy Jump is located in Kathu, only 15 minutes by car from Patong Beach in Phuket. It's around 300 meters on the left after the Caltex Service Station towards Phuket Country Club golf course.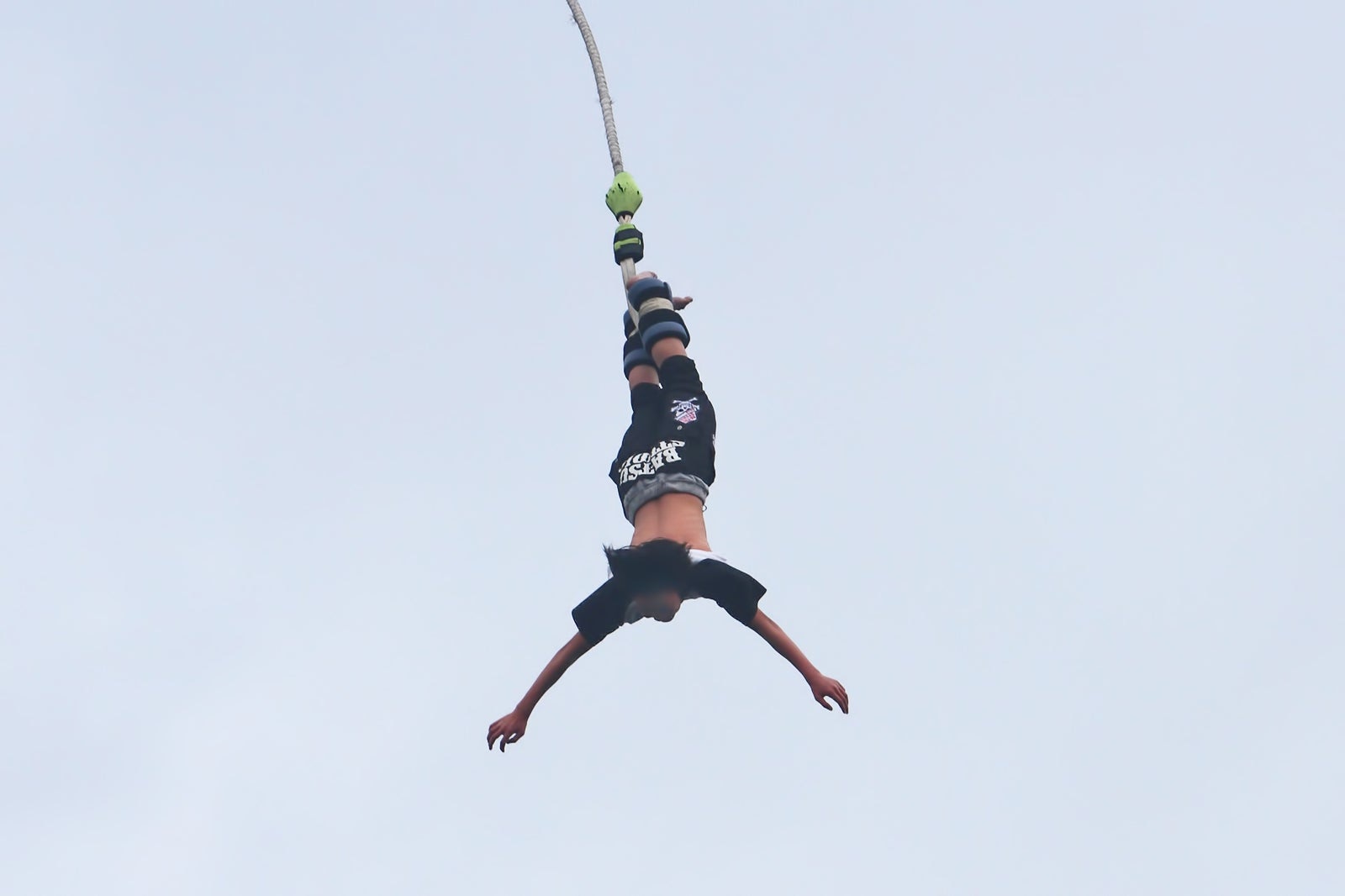 Jungle Bungy Jump in Phuket
Location: 61/3 Wichitsongkram, Kathu, Phuket 83120, Thailand
Open: Daily from 9am to 6pm
Phone: +66 (0)76 321 351
Back to top