Jui Tui Shrine is a traditional Chinese temple that plays a pivotal part in the annual Phuket Vegetarian Festival. One of the island's oldest and the most respected spiritual centres, it's a must-see for newcomers to Phuket.
The Taoist shrine, founded in 1911, was previously located in Soi Romanee in Phuket Old Town. After a fire, it was moved to Soi Phuthorn, Ranong Road, not far from Phuket's main market. The temple grounds are quite impressive, displaying photos of the temple when it was just a single, standalone construction without side buildings or walls.
Jui Tui Shrine in Phuket - one of the highlights of Phuket Old Town Neighborhood Guide and 22 Must-See Temples in Phuket (Read all about Phuket Province here)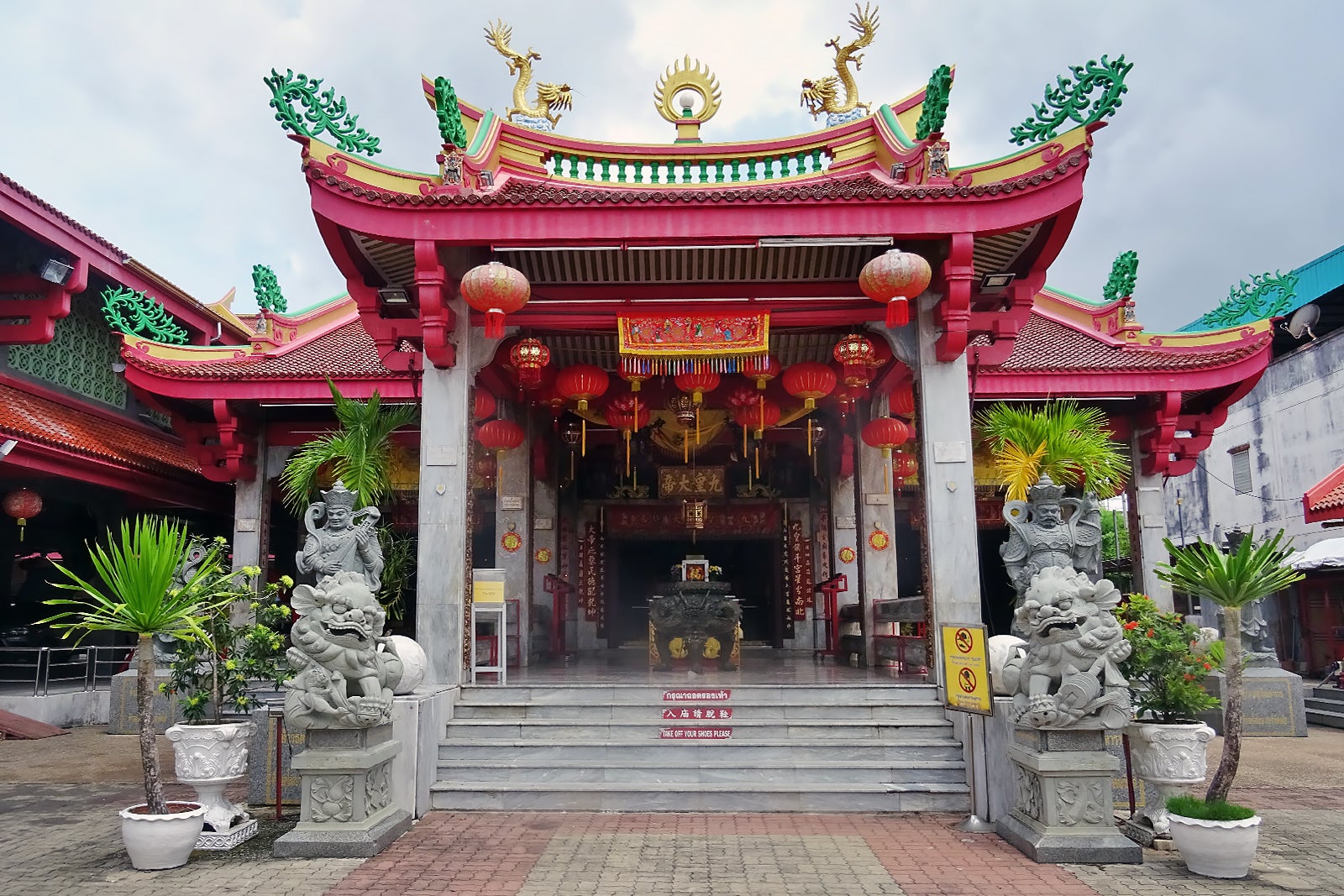 Highlights of Jui Tui Shrine in Phuket
The main building of Jui Tui Shrine has been through several renovations, resulting in an attractive structure with 3 large altars displaying statues of Chinese gods. Its principal deity is Tean Hu Huan Soy, a Taoist god associated with performing artists and dancers. Chinese operas often regard him as their patron.
His image is set in the middle and at the highest position on the main altar, accompanied by a statue of a dog and a chicken by his side. They are said to have been his favorite pets since childhood. You can take photos inside this hall.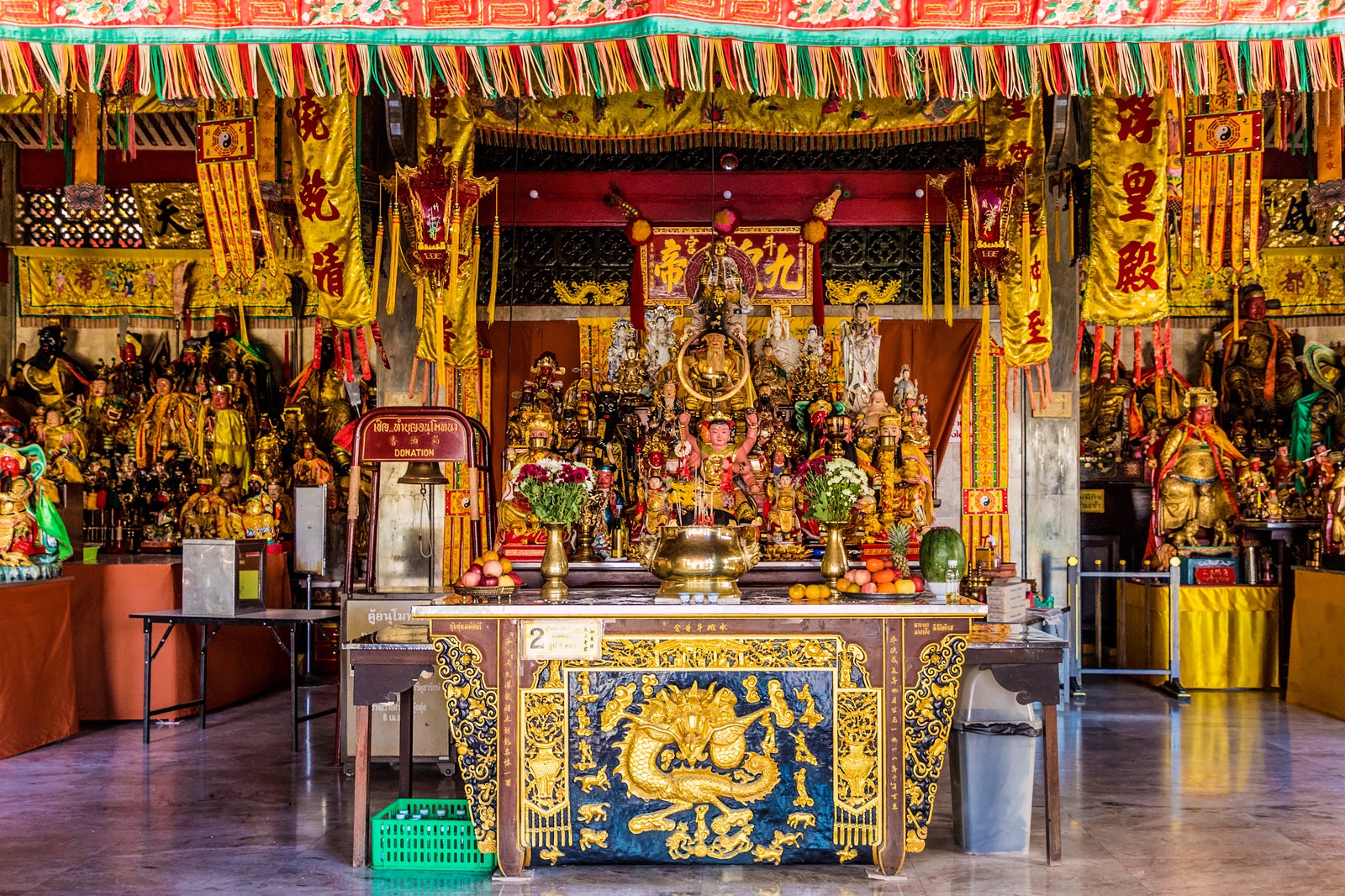 What to see and do at Jui Tui Shrine
The left-hand side of Jui Tui Shrine's main building stands an attractive 'firecracker house'. This tiny red building has a double-tiered roof and 4 slim columns with carvings of dragons around them. It's where people throw burning firecrackers, which helps reduce noise and air pollution.
Jui Tui Shrine is also popular for those who want to know about their fortune. At the prayer hall, hold and shake a bamboo cup containing fortune sticks. Each stick has a designated number. Stop when 1 stick has dropped to the ground (repeat if more than 1 stick falls out).
You can then fetch a fortune paper that matches the number, which is available at a nearby red cabinet. Note that the papers are written in Thai and Chinese, but you should be able to find a monk who can help tell you your fortune.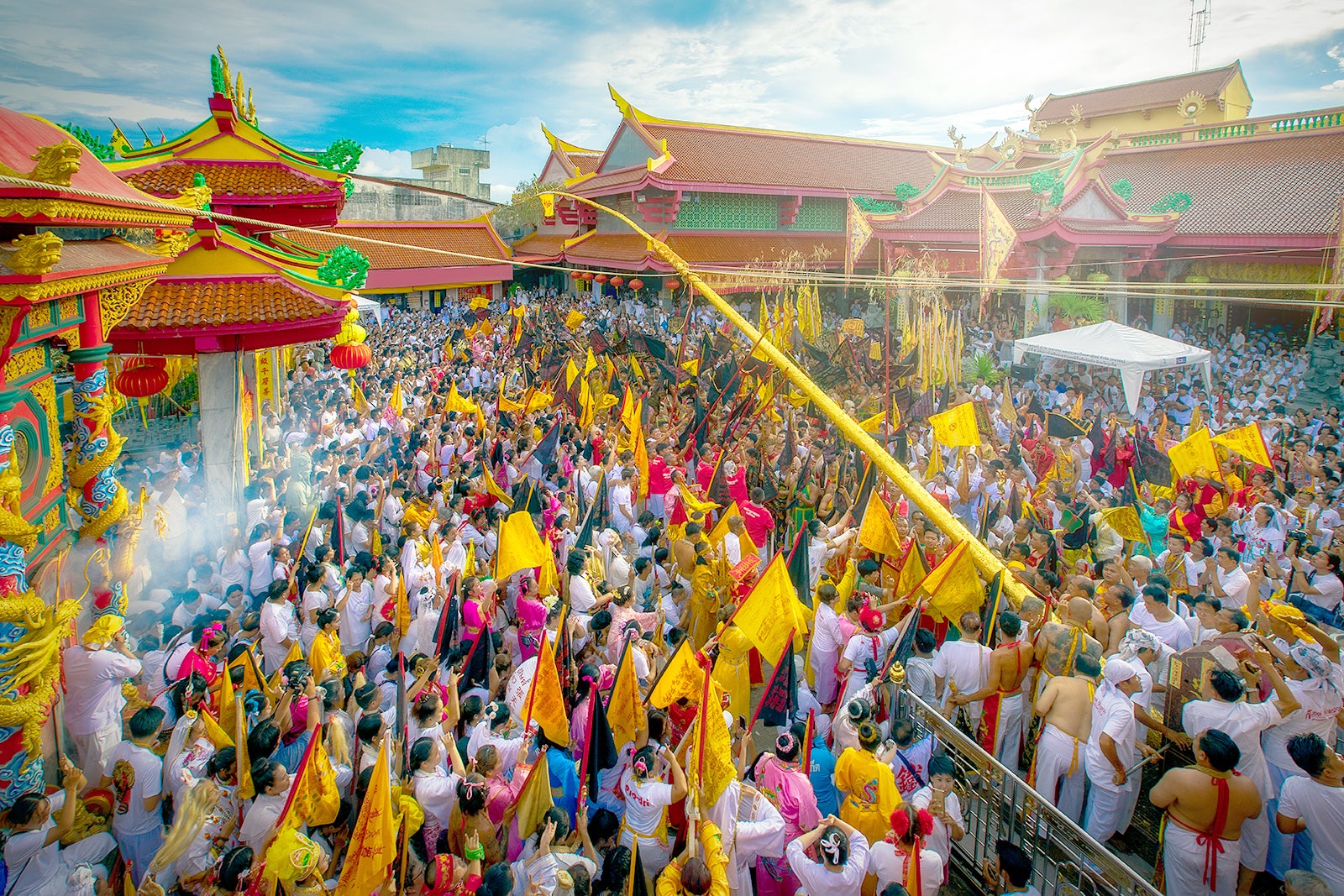 Good to know about Jui Tui Shrine in Phuket
Jui Tui Temple is the place where locals can come to celebrate special occasions (birthdays, weddings, newborn babies and healing) and share their sorrows and hard times. Tean Hu Huan Soy is very much counted as a senior family member by locals, especially those who live in neighboring communities.
It's common for Phuket students who are leaving the island to pursue a higher education to visit the shrine and invite the deity to give them protection at their new location.
There's a small area inside Jui Tui Shrine devoted to those who participated with temple works and activities over the years. Their names are posted here when they pass away. Some have family members listed for up to 3 generations, which says a lot about the strong connection between this Taoist temple and the local community.
Jui Tui Shrine in Phuket
Location: 283 Soi Phutorn, Talat Nuea, Muang, Phuket 83000, Thailand
Open: Daily from 8am to 8.30pm
Phone: +66 (0)76 213 243
Back to top