IKEA, the world-famous Swedish furniture brand, brings its sleek minimalist design to Thai homes. Its 43,000-square-meter warehouse and showroom space on Bangna-Trad Road displays more than 7,500 furniture and home décor accessories for bedrooms, living rooms, kitchens, and restrooms. The Bangna branch is IKEA's 1st flagship store in Thailand and features all the brand's signature services, facilities and a gallery-style showroom.
The store layout enforces self-guided shopping: you enter 1 way, walk through all the available sections with a shopping list and pencil in your hand, pick up your items from the warehouse, pay for your purchase and exit the store the other way.
IKEA Bangkok - one of the highlights of 46 Best Bangkok Shopping Malls (Read all about Bangkok here)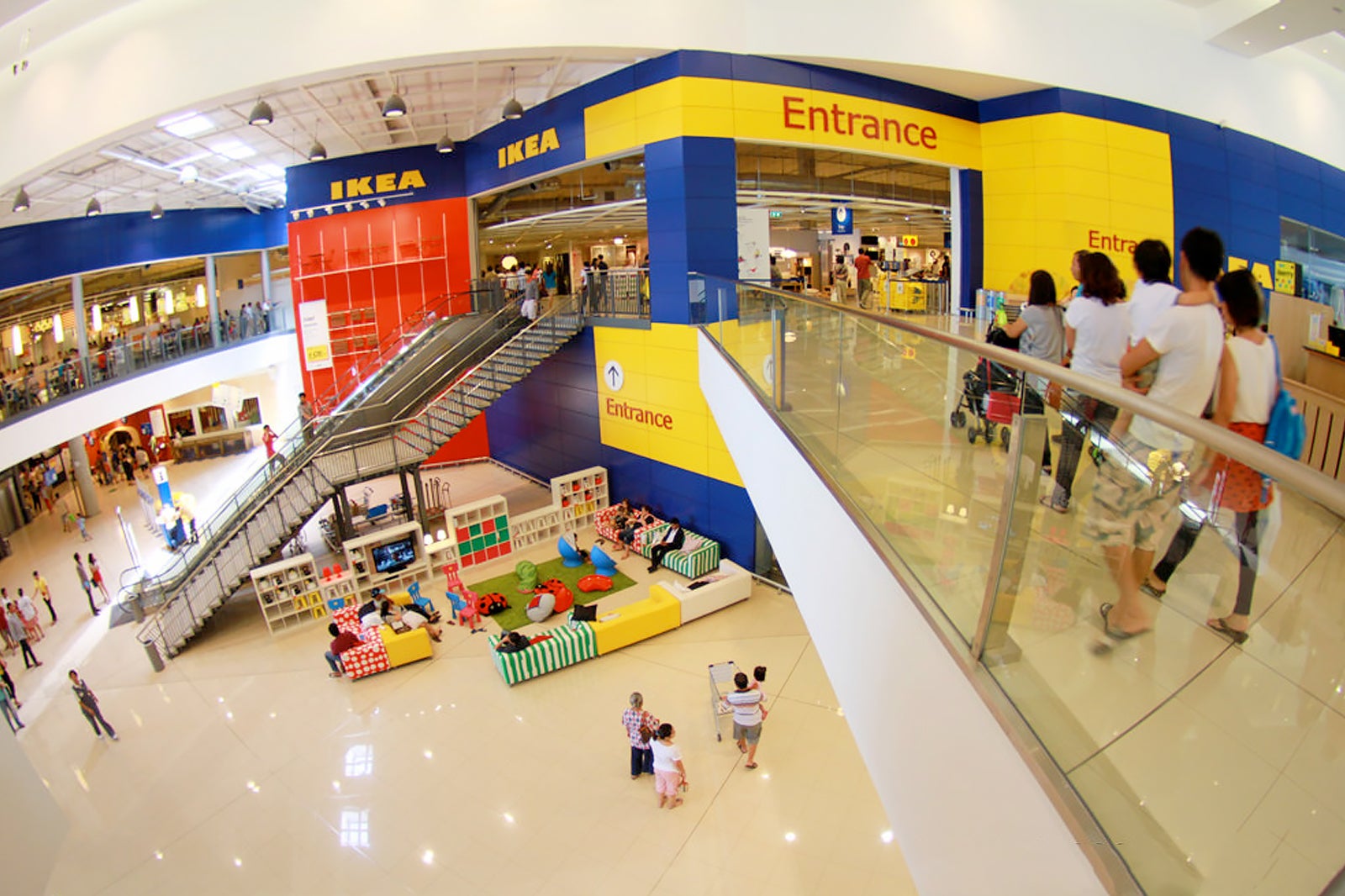 What to expect at IKEA Bangkok
IKEA Bangkok is essentially the same as any other IKEA stores worldwide. The boxy blue-yellow warehouse fuses practicality and fun, as you can play around with all the products – sit on a sofa, lie in a bed, move furniture around, open and close the parts – before deciding on a purchase.
Here, you don't just see one of each item but multiple versions of it, in different colors, sizes, materials, or fabrics. Plus, the gallery-style display, showcasing the products in a realistic setting, brings an element of imagination into your shopping experience. So, take as long as you want to browse, play and decide what to buy.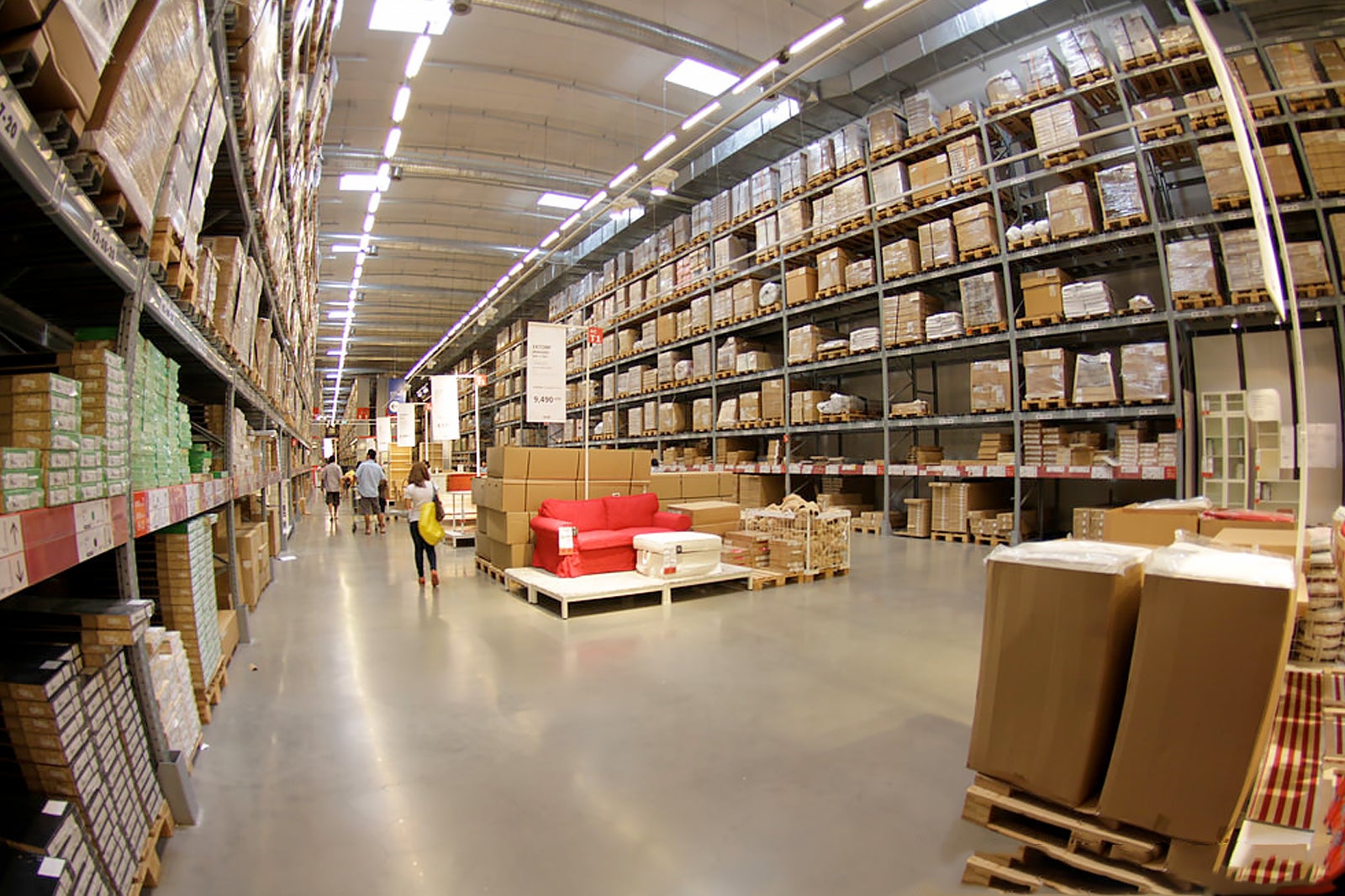 IKEA Bangkok store layout
IKEA Bangkok has 2 levels, and the starting point is on the 2nd floor where all the big furniture and DIY parts are displayed in a gallery-style setup. You'll find just about everything for your home. At the end of the walk-through is a 700-seat cafeteria offering a selection of Asian and western dishes. Again, this is self-service, so don't forget to put your plates away in the designated area.
From the cafeteria, the stairs lead down to the first level where home accessories and smaller items are displayed in sections. Start from glassware, utensils and cooking accessories, then proceed along to lighting, restroom accessories, decorative items, small storage, gardening tools, upholstery, pillows, and curtains.
The IKEA
All in all, shopping at IKEA Bangkok is a hands-on experience, as you browse the catalog (or the entire showroom), interact with the products, fill out the pick-up form, look for them in the warehouse and assemble them once you get home. Shopping aside, IKEA Bangkok offers additional services, including home delivery, assembly service, custom tailoring (for upholstery and furniture), and consultations with interior stylists.
IKEA Bangkok
Location: Megabangna Shopping Center, 38-39 Bangna-Trad Road, Bang Kaeo, Bang Phli, Samut Prakan 10540, Thailand
Open: Daily from 10am to 10pm (restaurant from 9.30am to 9.30pm)
Phone: +66 (0)2 708 7999
Back to top