Hanuman World Phuket is an exciting but safe treetop ziplining adventure just west of Phuket Town. With 16 thrilling lines up to 400 meters in length, dodging between huge and ancient trees in dense hillside jungle, it's a great way for families and thrill-seekers to get close to nature without risking either your own safety or that of the trees around you.
Just south of Prince of Songkla University in Phuket Town, the large adventure park also features a skywalk, allowing you to explore the forest canopy at a more sedate pace. The walk leads to a large platform with a trampoline-like sunlounger and a bar serving local fruits and juices. A 'roller zipline' also traverses the whole park at high speed in one long, twisting line.
Hanuman World Phuket - one of the highlights of 67 Best Things to Do in Phuket and 41 Best Things To Do in Phuket Town (Read all about Phuket Province here)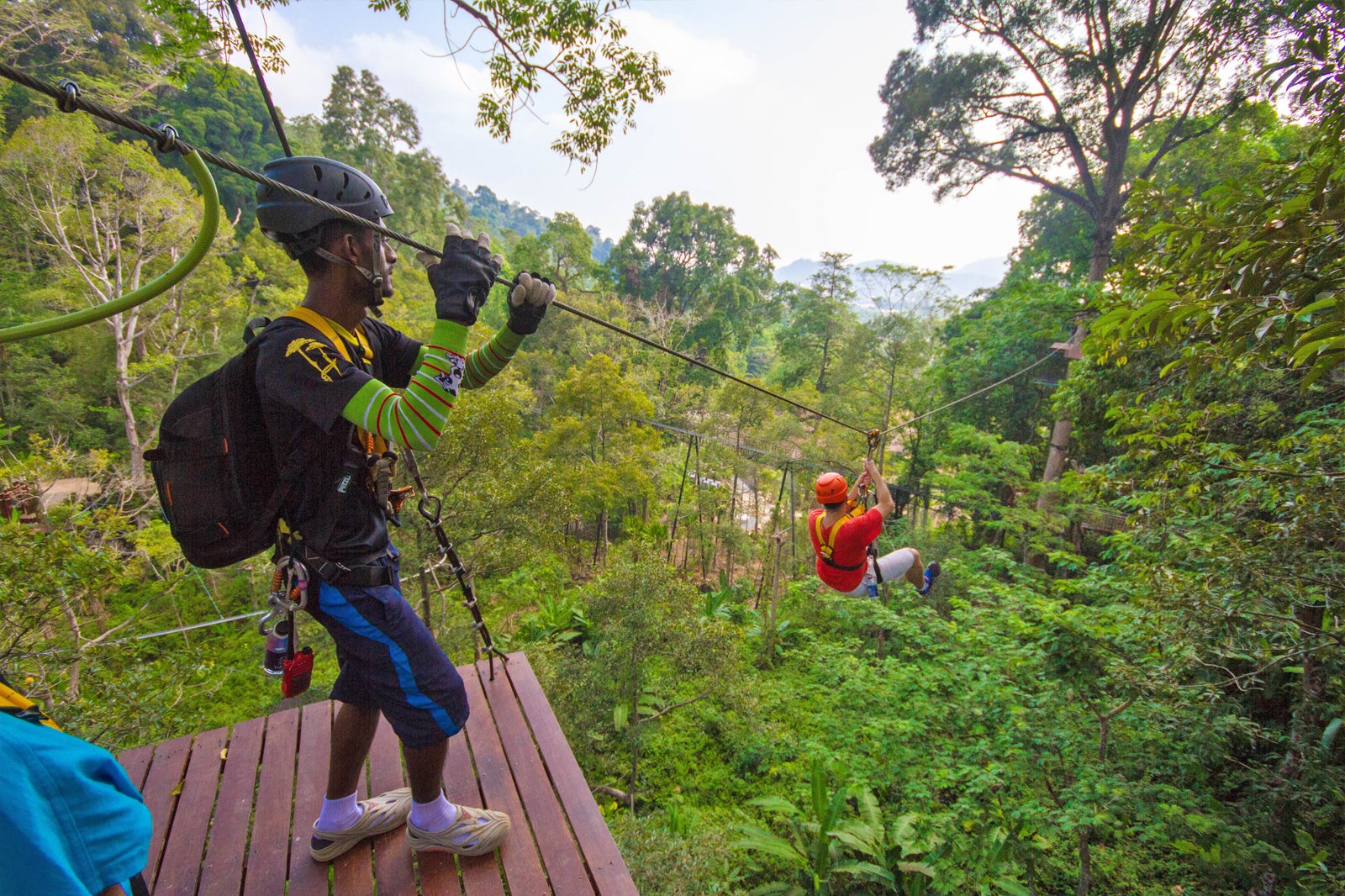 There are 30 platforms placed high in the trees of Hanuman World Phuket, but each is placed in such a way as to protect the trees from any serious damage. Wooden supports hold the steel ziplines securely in place without them rubbing the bark off the tree trunk and killing it. How many of those platforms you visit depends on the package you purchase from the almost Jurassic Park-like reception building, which has an adjoining restaurant.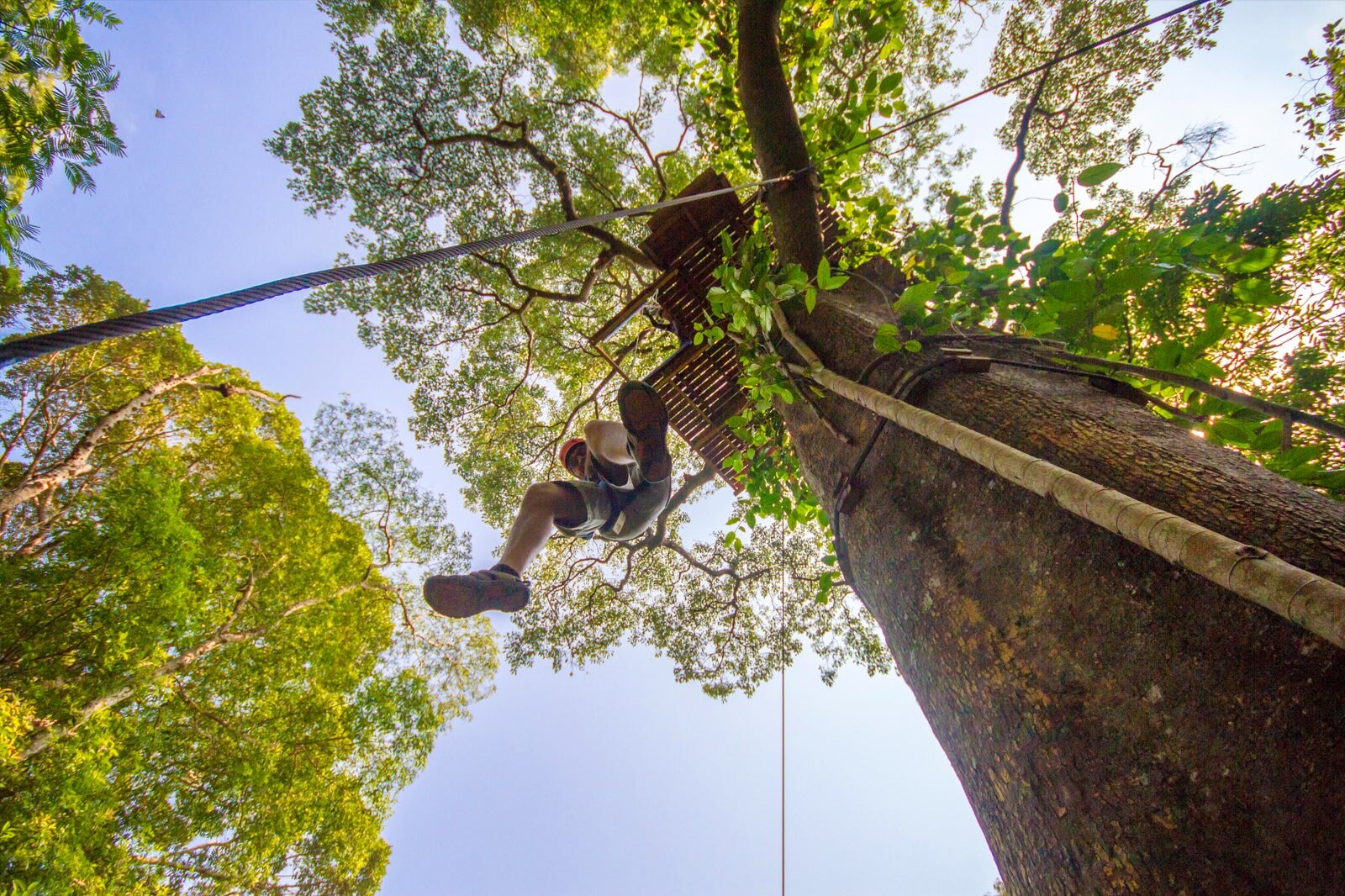 The packages available are World A (all 30 platforms, 16 ziplines, 3 abseil points, 3 sky bridges and 2 spiral staircases) for around 3,190 baht per person, World B (15 platforms, 9 ziplines, 3 abseil points, 1 sky bridge and 1 spiral staircase) for around 2,300 baht or World C (7 platforms, 3 ziplines, 2 abseil points and 1 staircase) from around 1,990 baht.
The full journey is highly recommended as it allows you to explore the entire 8-hectare forest, including the longer ziplines and the tallest of the abseils, which is a 40-meter drop from one of the oldest trees in the whole park.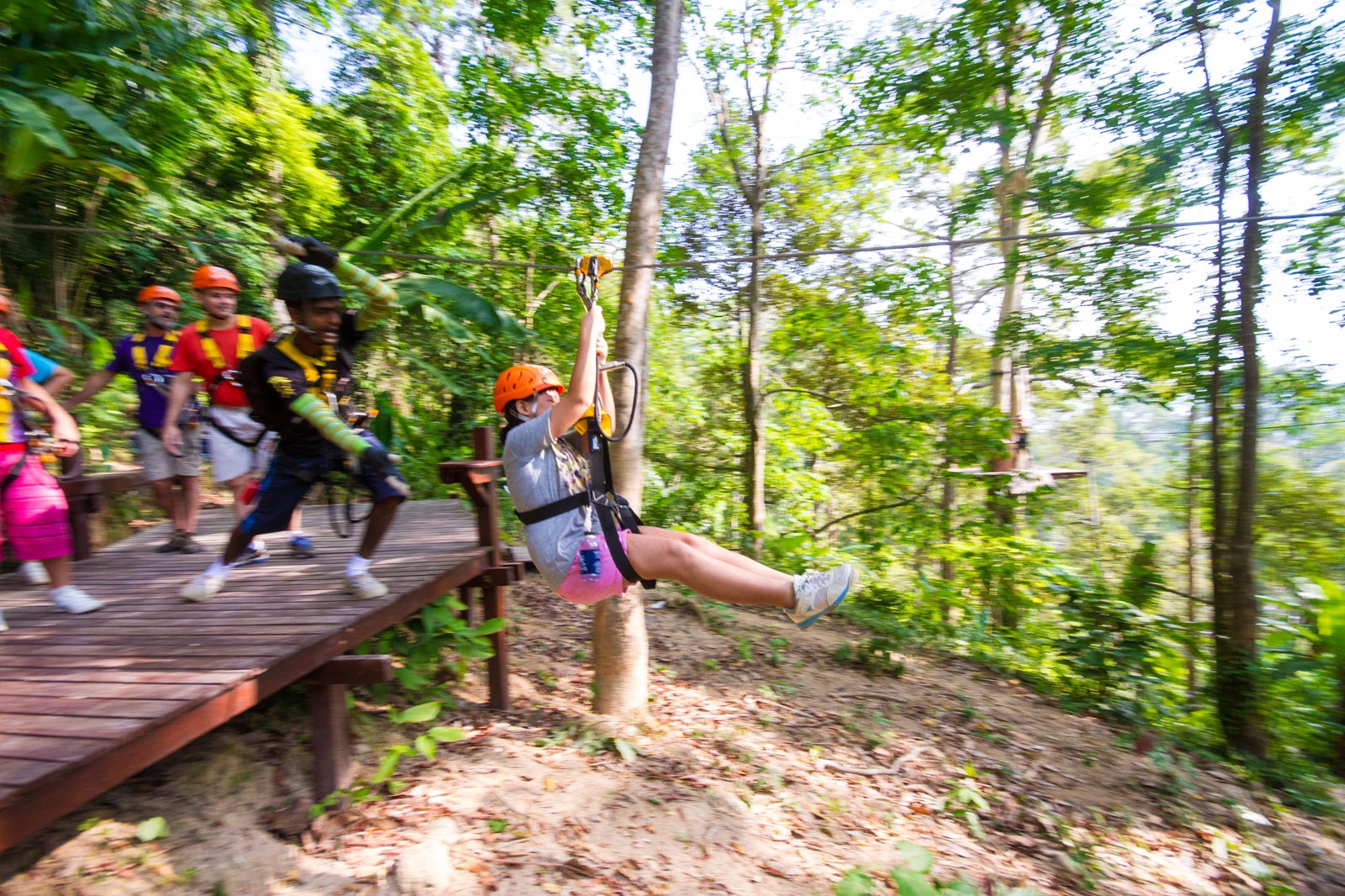 Safety is taken very seriously at Hanuman World Phuket. Despite their complete confidence on the platforms and ziplines, the friendly and fun guides still follow the rules strictly. At no point are you or they not connected to a safety cable, ensuring that you will never fall far if you slip on the well-maintained platforms.
Even when a guide just needs to reach around some of you when you're trying out the course, he'd still hook first onto the back of one of you, then onto a support wire, then to another guest, then back to the safety cable, so he's always connected to the tree by at least 1 carabiner.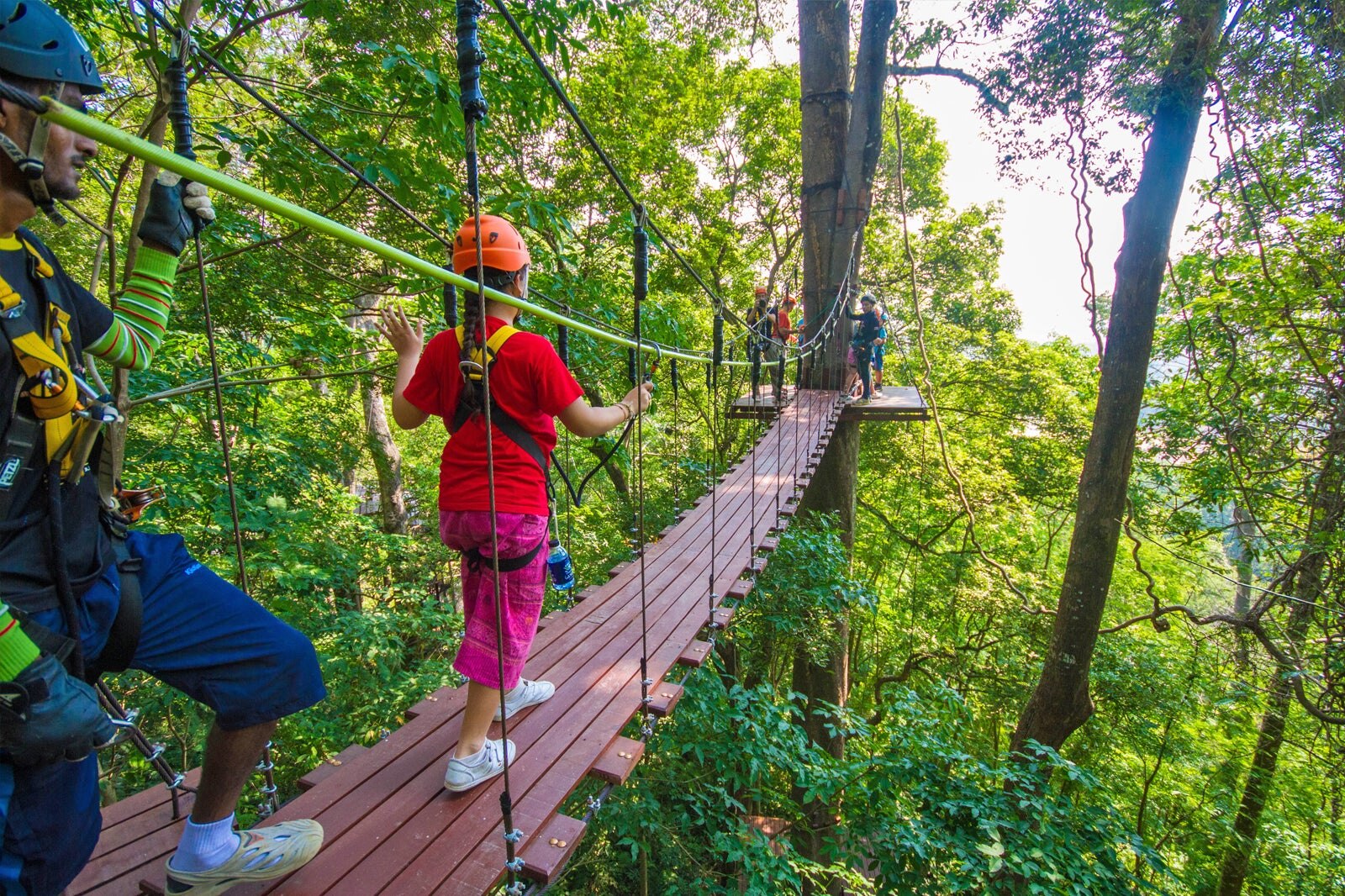 The safety equipment is also high-quality, mostly of European manufacture and well-maintained. You'll be fitted with a full harness and helmet, with great care taken over getting a set that fits you comfortably and correctly. Harnesses are available for quite a lot of different body sizes, from those well over 180 cm tall to small children as young as 6 years old.
The harness also has a bottle of water fastened to it, which comes in handy because, even if you take a morning tour, the temperature rises fast and you'll sweat a lot.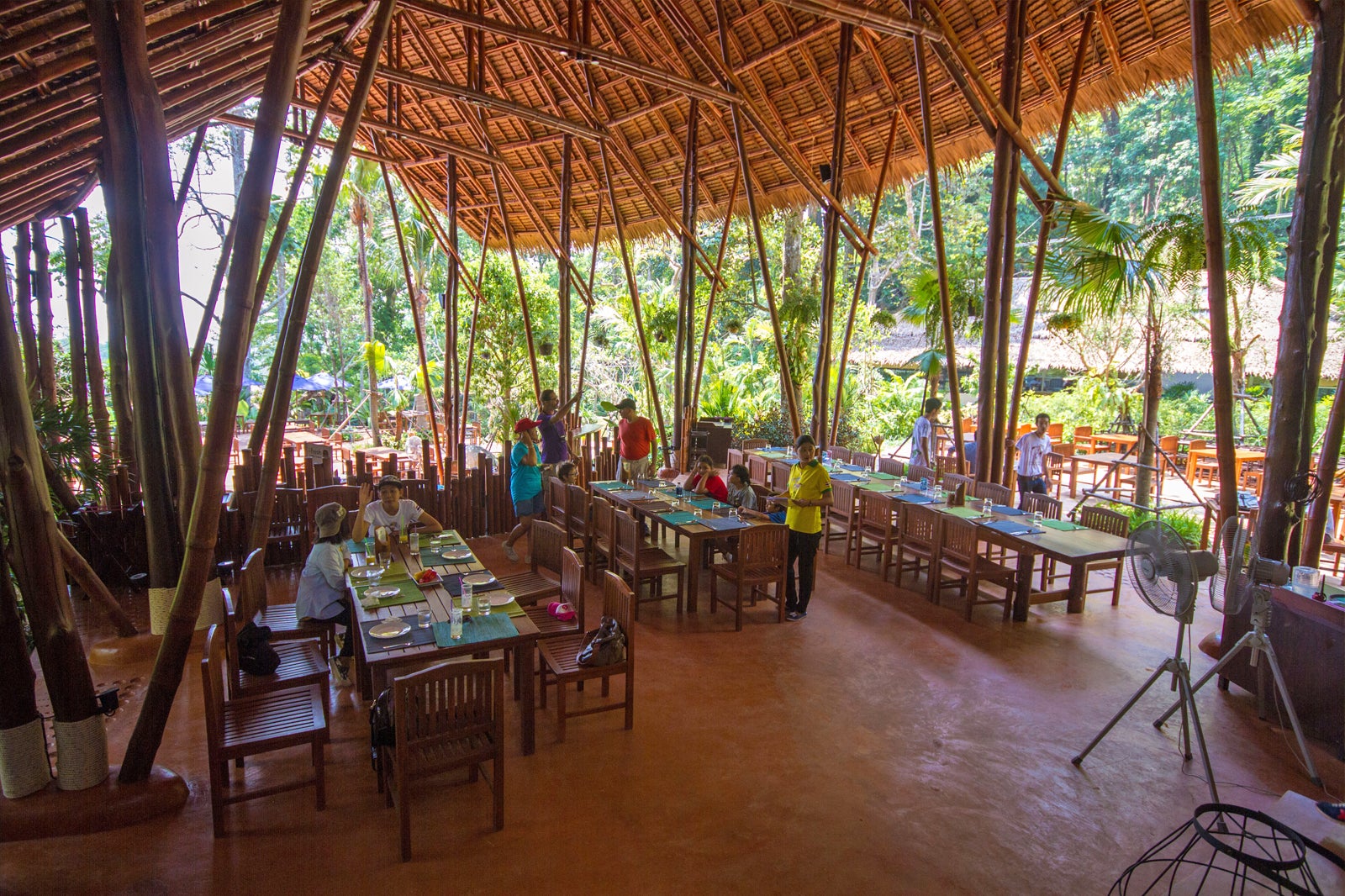 Hanuman World Phuket
Location: 105 Moo 4, Chao Fah Rd, Wichit, Muang, Phuket 83000, Thailand
Open: Daily from 8am to 5pm
Phone: +66 (0)62 979 5533
Back to top