This guide to driving in Phuket highlights a few things about road sense and manners. Do plan in advance if you're thinking of renting a car or motorcycle to get around the island. You need a driver's license, but your national license isn't valid in Thailand. You're required to carry an international license for the type of vehicle you plan to rent.
Rent your car or motorbike from reputable companies if you want to avoid unnecessary drama during your vacation. This can be a bit of a problem with motorcycles as they're often offered by small outfits with no international (or even national) reputation.
If you can, ask friends who have been to Phuket for recommendations. Daily rates cost from 140 baht for a standard motorbike, while a car starts from 1,000 baht (depending on the model).
Don'ts for driving in Phuket
Don't ride a motorbike with your shirt off as it's considered indecent exposure under Thai law. It probably won't be a problem if you're driving within the beach areas, but it's a different matter in Phuket Town or parts of the island that are away from the seaside.
The police may stop you, tell you to put your shirt on, and possibly fine you 500 baht. Thais are generally modest people, so if you ride past a school or explore a market half-naked, you're going to be regarded as ignorant.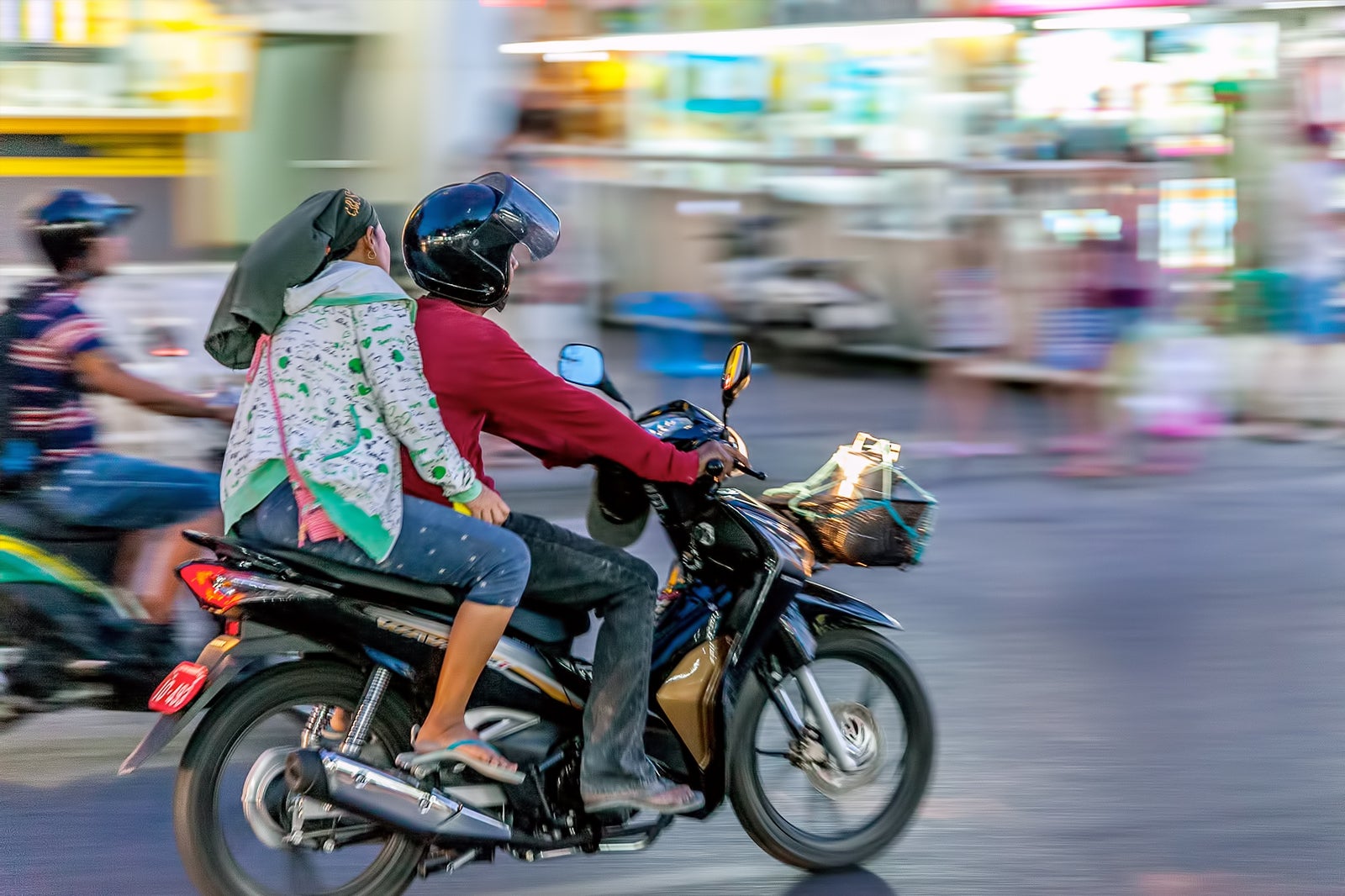 Don't ride a motorbike if you don't have experience. Driving in Phuket is much more challenging than your home country. There are bikes with automatic gears, which might make you think it's easy. The real problem lies with other road users, as they're infamous for rather reckless driving manners.
Don't copy the locals. Many Thais ignore the rules of the road, like not wearing helmets when riding motorcycles. That's no reason for you to take risks with your safety. If you ride without a helmet, there's a good chance the police will stop and issue you a fine.
We drive on the left side of the road in Thailand. You will see the locals driving on the right when they think it's convenient, but it's dangerous and illegal. Stay on the left, drive slowly, and be aware of drivers coming from all directions.
Good to know about driving in Phuket
Petrol stations
Petrol stations in Thailand typically open from 8am to 9pm. The Shell petrol station opposite Wat Mongkol Nimit stays open 24 hours a day. There are a few that offer fuel until 10pm or midnight. It's best to make sure to keep your tank full so that you won't need to spend hours pushing your bike back to your hotel.
Roadside fuel vendors
You'll see vendors with small booths selling petrol at the roadside, pumping by hand from barrels or selling it by the bottle. These are not recommended unless it's an emergency as the fuel may be substandard or adulterated. You could find yourself facing a hefty bill from the motorbike rental shop to pay a complete overhaul of the engine.
Fuel prices
The average fuel price per liter starts from 25 baht for diesel, 30 baht for 91-octane petrol and 35 baht for 95-octane gasohol. Your car or bike rental shop will usually tell you which the type of fuel to use.
Insurance
Make sure you get as much insurance coverage as possible. For bikes, this is likely to be '3-party only', which means the insurance only covers damage towards other people and property. You'll need to pay for your hospital bills or the cost of repair.
If you're renting a car, insist on full insurance coverage or go somewhere else if they refuse. Always insist on seeing the insurance papers to be on the safe side.
Back to top