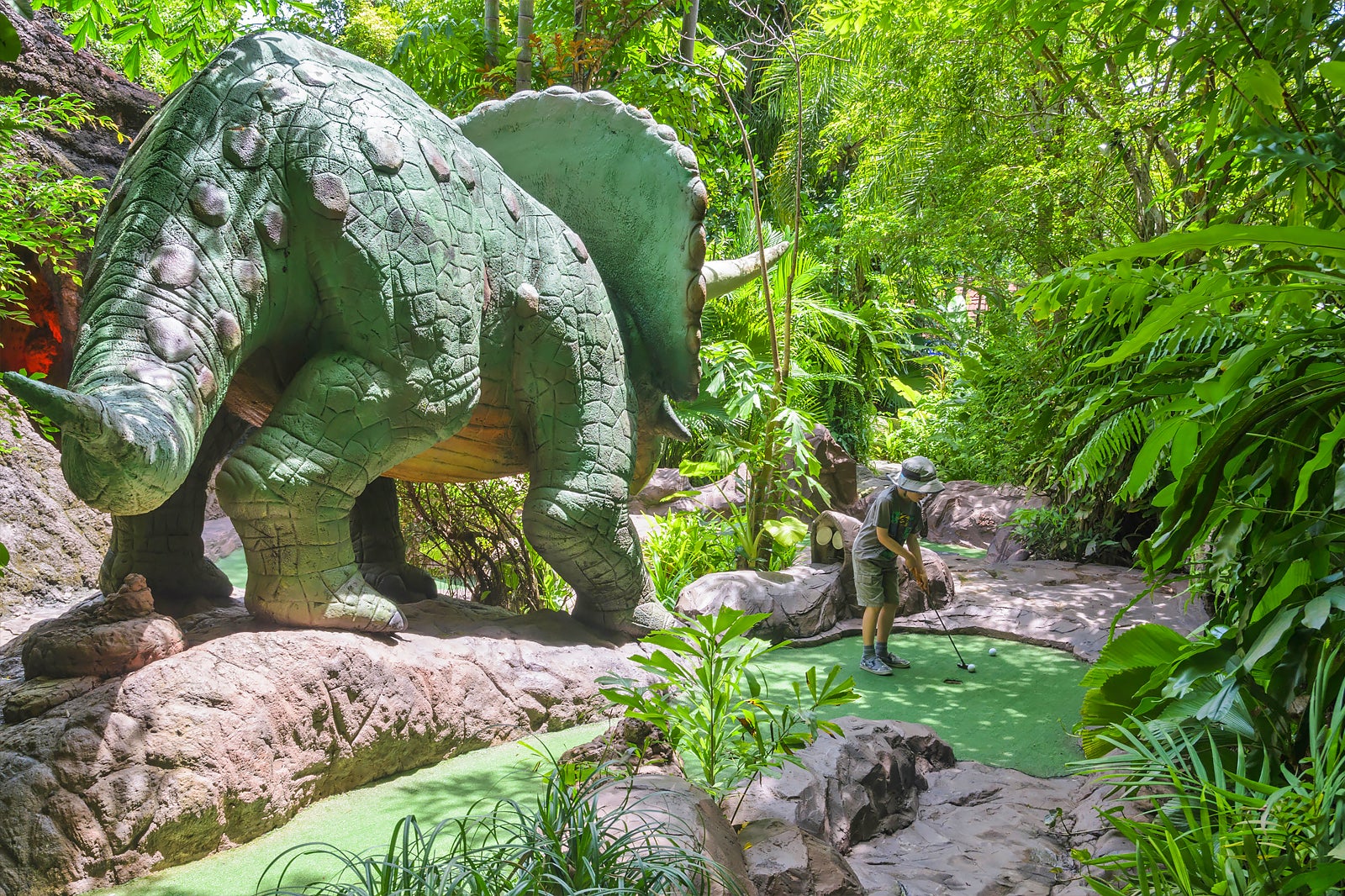 Dino Park Mini Golf is a fun and funky mini-golf course and restaurant located right in between Karon and Kata beaches on the Beach Road. With a full 18-hole course in a dramatic pre-historic setting – as well as a Flintstones-themed restaurant – it's a great place to enjoy a day out with the family.
As the name suggests, the course runs through a Jurrasic Park-like setting, with large and life-like dinosaurs around each hole, as though ready to snap up any errant golf ball (or golfer). The dense forestry and an erupting volcano complete the Land that Time Forgot feeling, providing a great escape from the sun and from any thoughts of taking life too seriously!
Dino Park Mini Golf in Phuket - one of the highlights of 11 Best Things to Do with Kids in Phuket and 67 Best Things to Do in Phuket (Read all about Phuket Province here)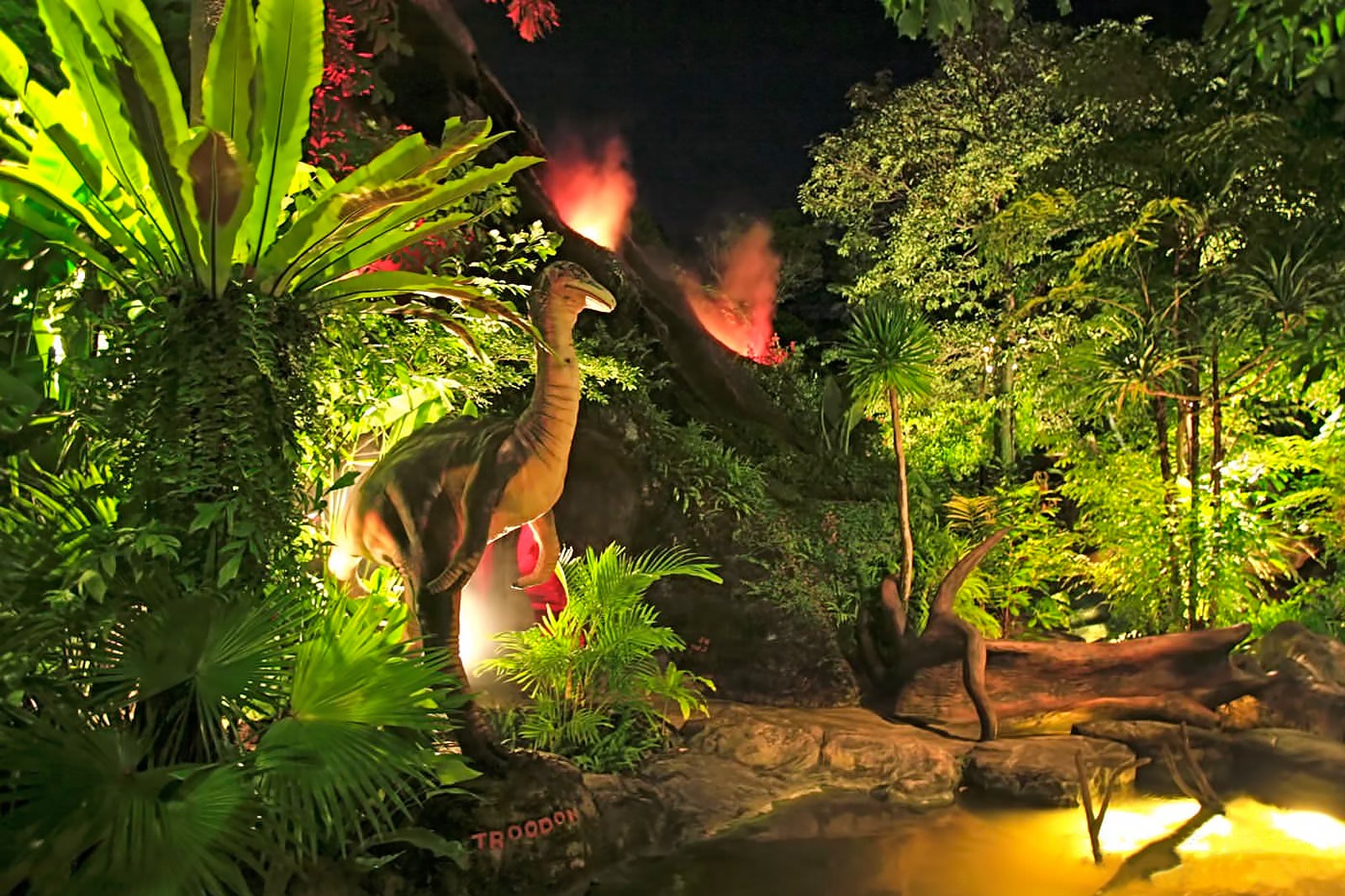 Dino Park highlights and features
Popular with both adults and kids, Dino Park Mini Golf is an ideal family outing destination. Because of Phuket's high humidity and heat, it's best to frequent the place after the heat of the day has abated. The 18-hole mini-golf course has different dinosaurs at each hole and is challenging in parts but nevertheless 'doable' for younger players. The clever lighting and atmospheric volcano that 'erupts' every 30 minutes with ersatz flames and a fog-like spray are best appreciated after dusk.
There are lots of contrasts here: players will pass a primaeval swamp, go through a lava cave, flank a moving and roaring Tyrannosaurus Rex, pass under a 12-meter waterfall and beneath an erupting volcano – all with impressive lighting and sound effects.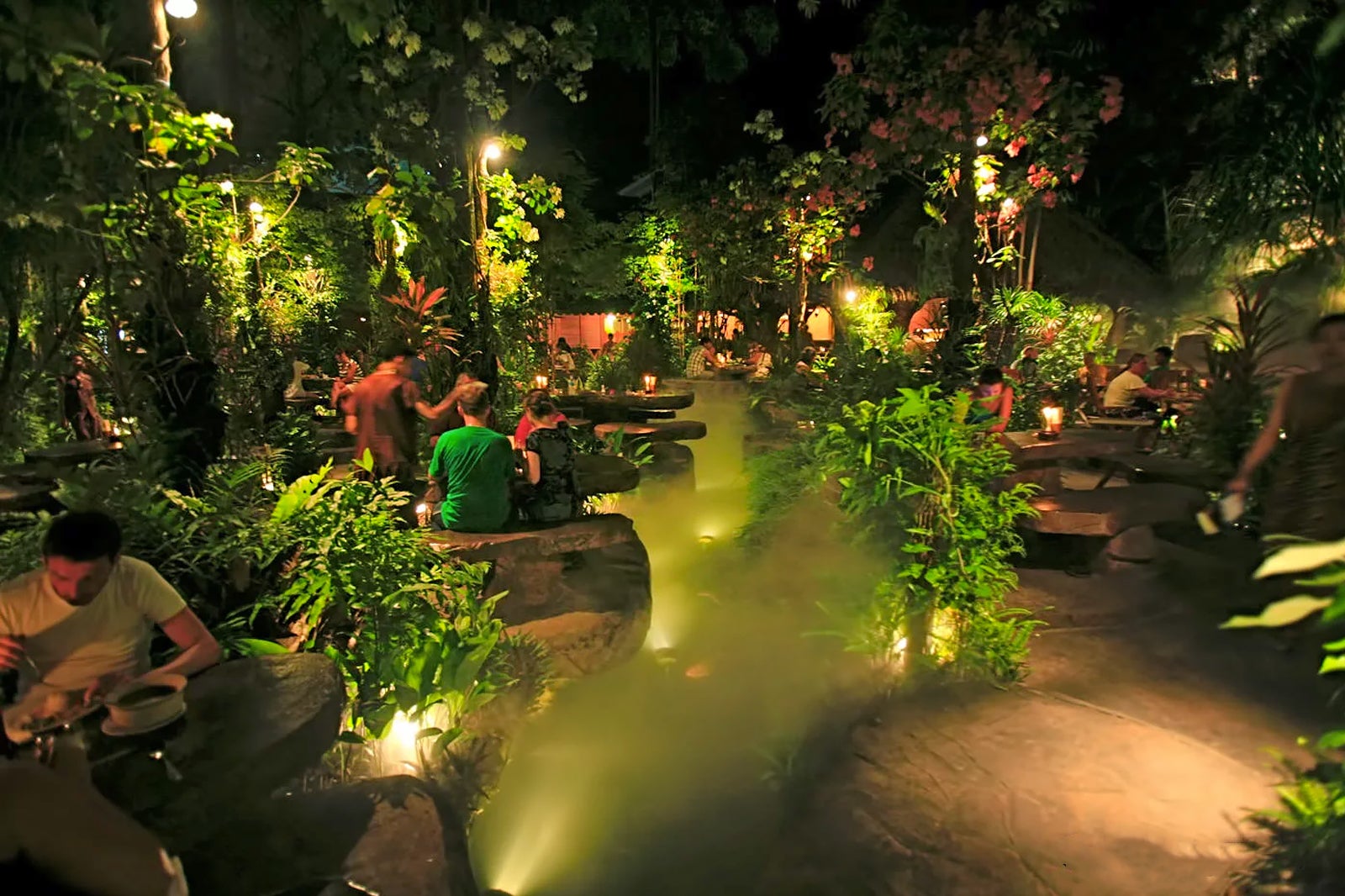 You won't find much in the way of cooling breezes in Dino Park Mini Golf so be sure to wear mosquito repellent, dress light and to pack some bottled water.
After a typical round of 40 minutes to an hour, the restaurant is a great place to cool off with a cold drink or burger, served up by Fred and Wilma dress-alikes. The décor of the restaurant is unique with its prehistoric/dinosaur theme with walls, chairs, tables and floors fashioned out of chunky concrete 'rocks'. Because of the layout of Dino Park, it's really best to go when the weather has been and still is dry.
Dino Park Mini Golf in Phuket
Location: 47 Karon Road Karon, Muang, Phuket 83100, Thailand
Open: Daily from 10am to 11pm
Phone: +66 (0)76 330 625
Back to top