10 Best Festivals in Thailand
Experience the Culture and Party On!
Thailand loves a festival, and it's not surprising when you consider having fun and socializing is as central to Thai culture as eating spicy food. You'll find festivals taking place all over Thailand, frequently held in temple grounds, and they are always a pleasant experience, but hardly worth flying halfway around the world to see.
Even so, there are also a handful of festivals that are a cut above. We've created this list to show you Thailand's craziest, coolest and most bizarre festivals and gatherings found all over the country and graded for your pleasure. If your idea of cultural sightseeing is dancing the night away to a village folk band, drinking shots of liquor with the locals and marveling at things you'll never truly understand, then this list is for you!
Note: many festivals are planned according to the lunar calendar, so the exact date varies each year.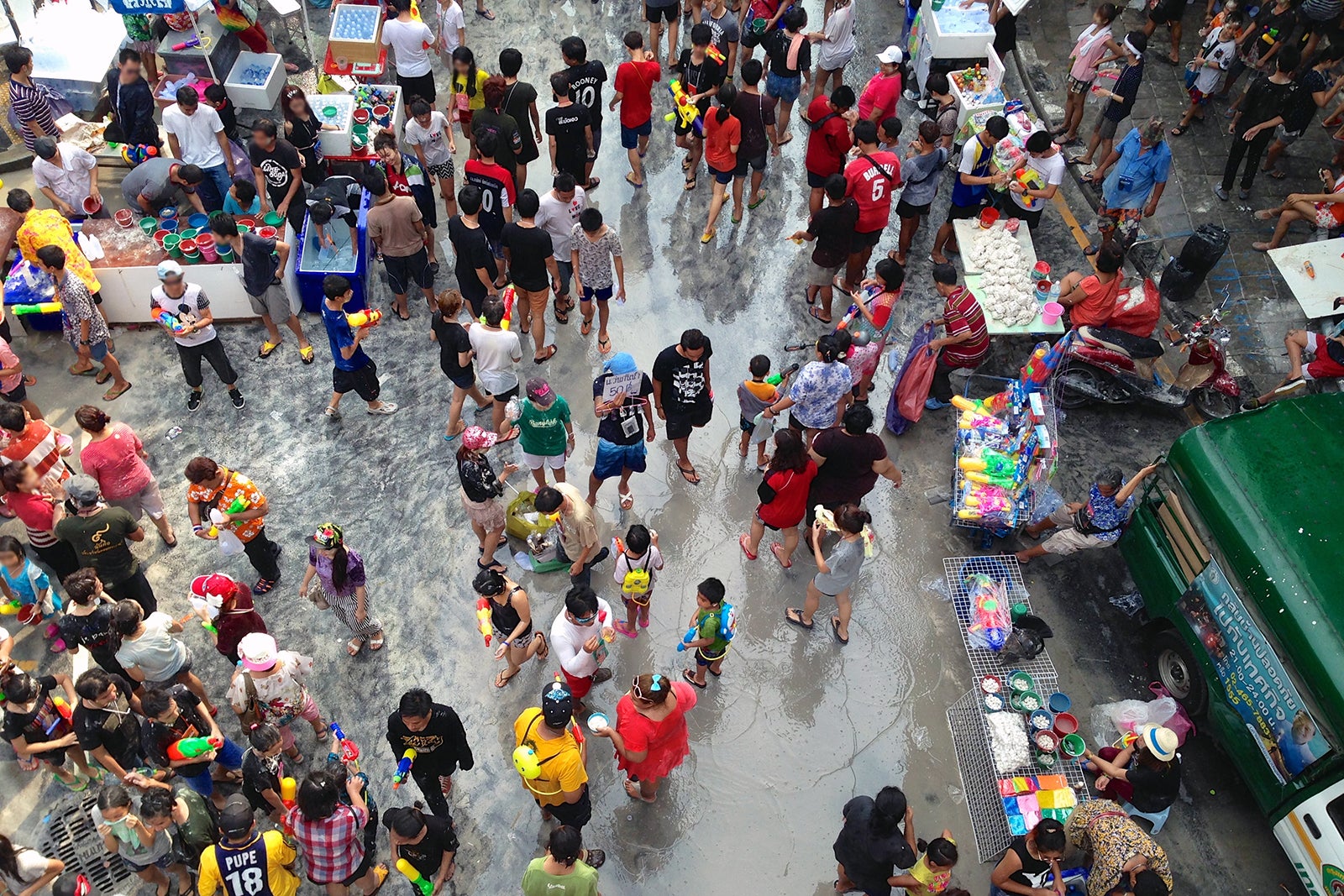 Crazy Factor: 5/5
Travel Difficulty: 0/5
This is the biggest, longest and most fun festival in Thailand… and maybe the world! Songkran is a 3-day water fight that takes place throughout the whole country. Wild scenes of exuberance can be seen throughout the Kingdom, with music, dancing, drinking and people drenched from head to toe. Water guns, hose pipes, buckets – in fact, anything you can get your hands on can be used to splash people. One thing is for certain: you will get wet!
No matter where you are in Thailand, from the 13th to the 15th April, you will be walking distance from some kind of fun celebration.
Read more
photo by James Antrobus (CC BY 2.0) modified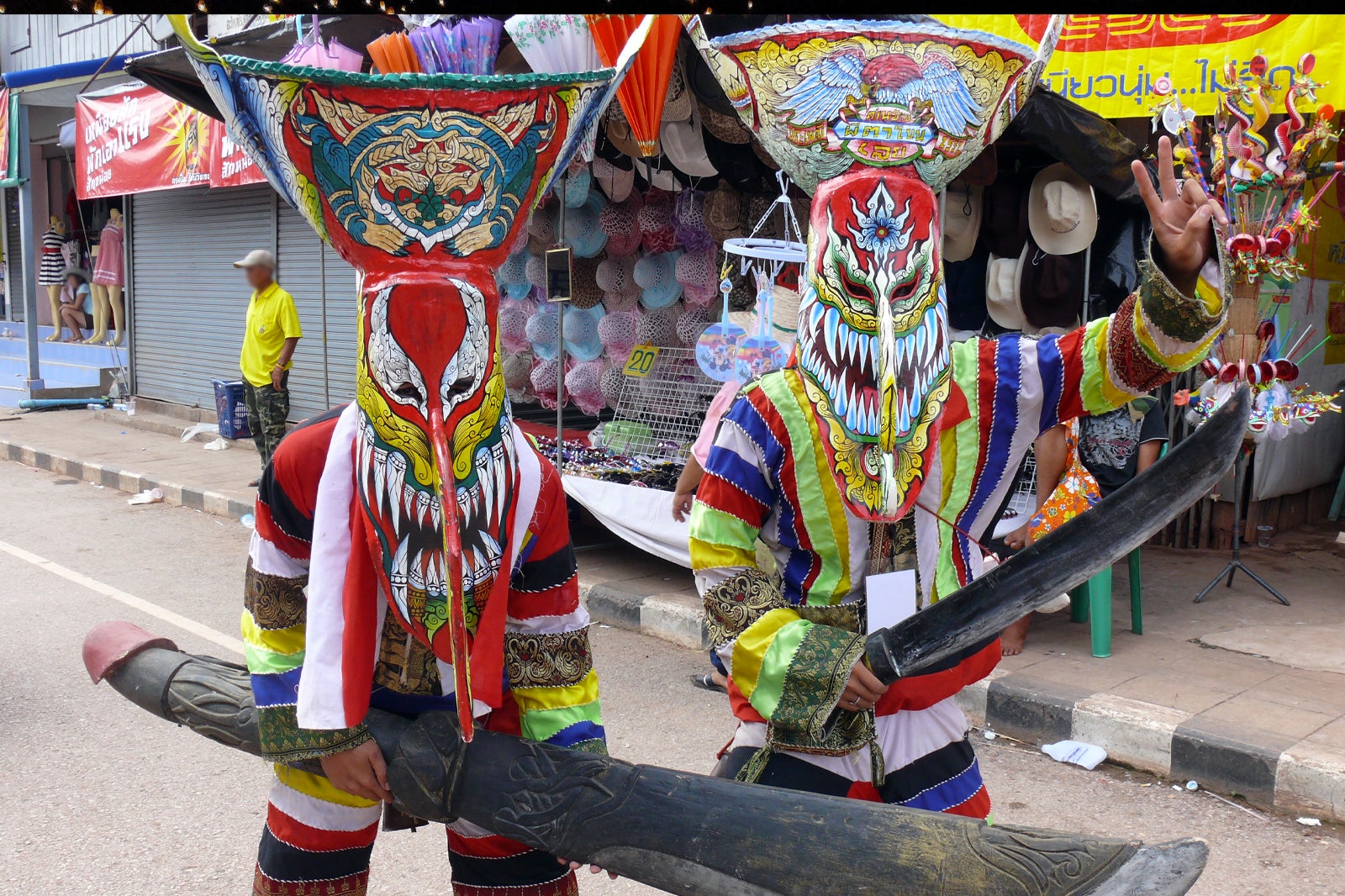 Ghost Festival (Phi Ta Khon)
Dan Sai, Loei Province – June or July
Crazy Factor: 4.5/5
Travel Difficulty: 4/5
Combining religious traditions, local handicrafts and fun-loving party atmosphere, Phi Ta Khon is a 3-day festival that's renowned for the colorful masks worn by thousands of locals. The masks are ghastly, stretched faces decorated in bright, gaudy colors. The origin of the festival is a mixture of animist and Buddhist beliefs. It's supposed to recreate the legend of when a party that was so fun, everyone wanted to attend – living or dead. The Ghost Festival is held on the weekend of the 6th full moon of the lunar calendar. It usually has the main parade on the Friday (dressing up as a ghost optional), with pageants and music on the Saturday and Buddhist ceremonies on the Sunday.
Located in Dan Sai Town in Loei Province, the Ghost Festival is quite hard to get to. It's easiest from Udon Thani (a 3-hour bus journey) or Chiang Mai (5-hour bus journey). From Bangkok, buses leave from Mo Chit Northern Bus Terminal about 5 times a day. It's around a 7-hour journey. As Dan Sai is a small town, accommodations gets booked up quickly, so make sure you book your hotel or guesthouse early.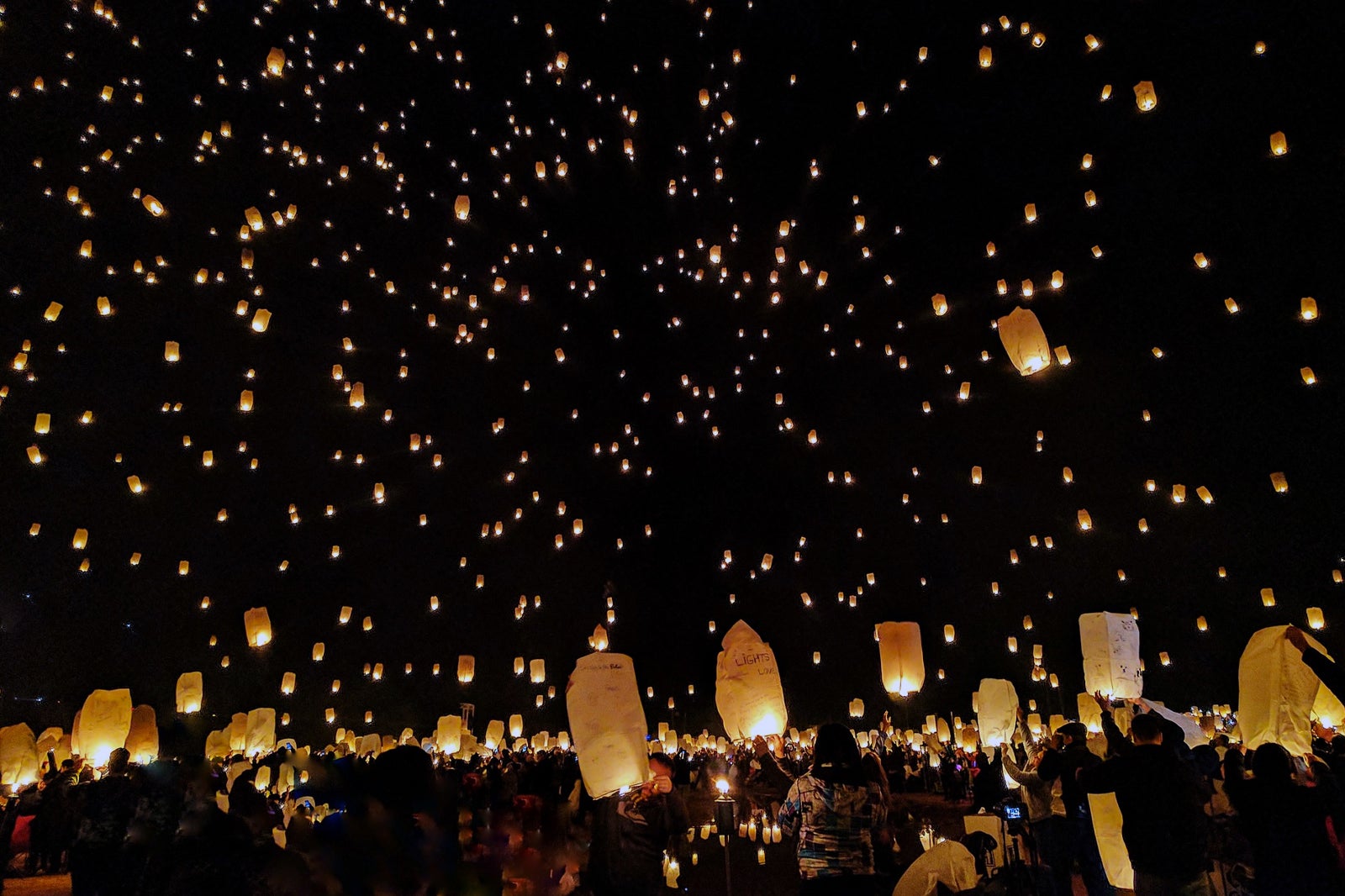 Lantern Festival (Yi Peng)
Chiang Mai - November
Crazy Factor: 1/5
Travel Difficulty: 1/5
Chiang Mai's lantern festival takes place every November and is truly a remarkable sight. Down by the banks of the Peng River, thousands of paper lanterns are released into the sky to float away on the evening breeze.
It's a more genteel affair than the other festivals on this list, but it's a great opportunity for snapping some breathtaking photos. Releasing lanterns is the most photogenic part of the festival, but there are also parades, religious ceremonies, fireworks and the releasing of paper floats in the river. Riverside hotels book up far in advance.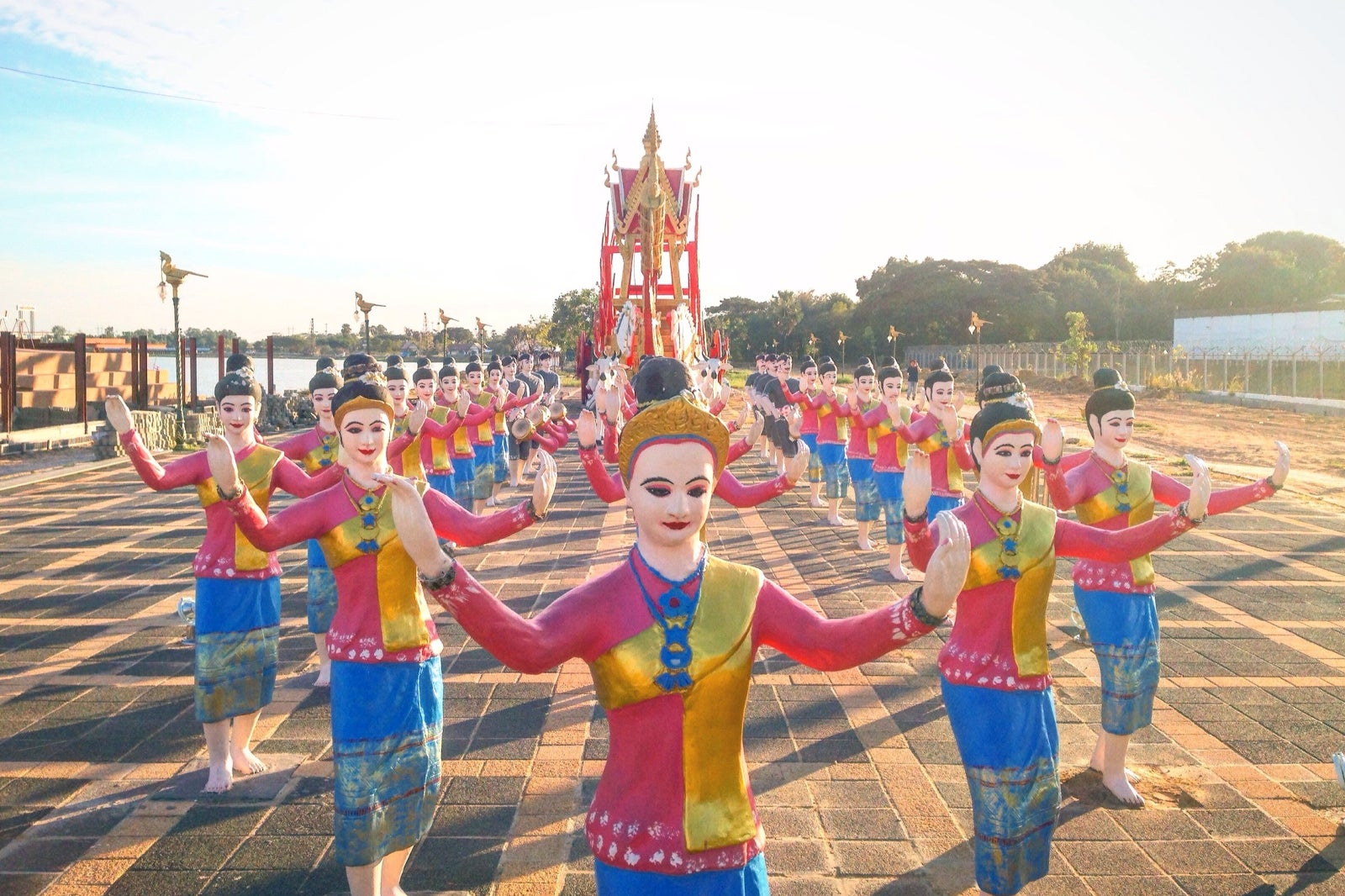 Rocket Festival (Boon Bang Fai)
Yasothorn Province – June or July
Crazy Factor: 4/5
Travel Difficulty: 4/5
In the farming communities of Issan (north-eastern Thailand), rocket festivals are important events attended by entire villages as they're considered the last big 'knees-up' before the planting season begins. The rockets are meant to encourage the gods to send plentiful rains to help the precious rice crops grow, with teams building ever more elaborate rockets. They are paraded around on the first day of the festival before being launched high into the air throughout the weekend. Supposedly, huge sums are gambled on who can build the best rocket, but considering gambling is illegal in Thailand we can't confirm this. If any rocket fails to launch, the builders of the said rocket are playfully thrown into a mud bath as punishment.
The main rocket festival is in Yasothon Province, though many districts hold their own smaller rocket festivals. Live folk music, the drinking of local rice wine, beauty pageants and a party atmosphere accompanies every rocket festival.
photo by Ananyut Maneechan (CC BY-SA 4.0) modified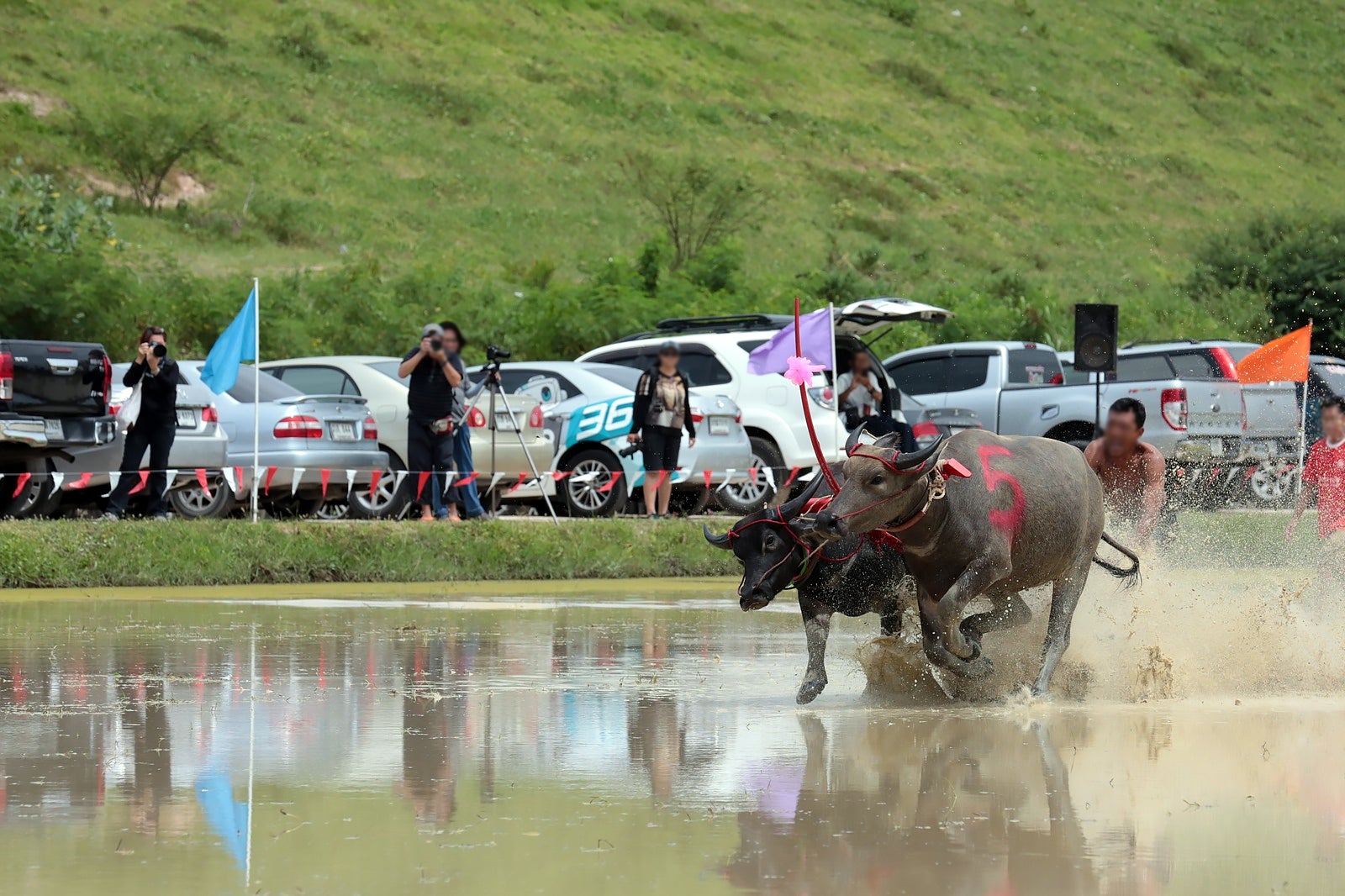 Buffalo Racing Festival (Wing Kwai)
Chonburi – October
Crazy Factor: 3.5/5
Travel Difficulty: 2/5
Buffalo racing, and the festivities that go on afterwards make this one of Thailand's best festivals. This tradition has been taking place for well over 100 years and now brings in the crowds – Thais and foreigners – from far and wide. The racecourse is around 100 meters long, located right in front of Chonburi City Hall. Crowds line the racecourse and cheer on the jockeys, who ride bareback on their trusty beasts. It is amazing to see how fast the massive beasts can actually run!
Chonburi is quite easy to reach from Bangkok, around 1 hour away from both Bangkok and Pattaya. The buffalo racing is the main attraction, but there are plenty more bovine activities to enjoy, such as a buffalo beauty contest, buffalo decorations and Muay Thai demonstrations. There's a small fair with rides for smaller children, and other fete games – definitely look out for the greasy pole game, which asks participants to climb up the pole to win 500 baht (or try to, at least). While it doesn't quite compare to the prestige of Ascott, the Melbourne Cup or the Kentucky Derby, Chonburi's annual buffalo race festival is still a hugely fun day out.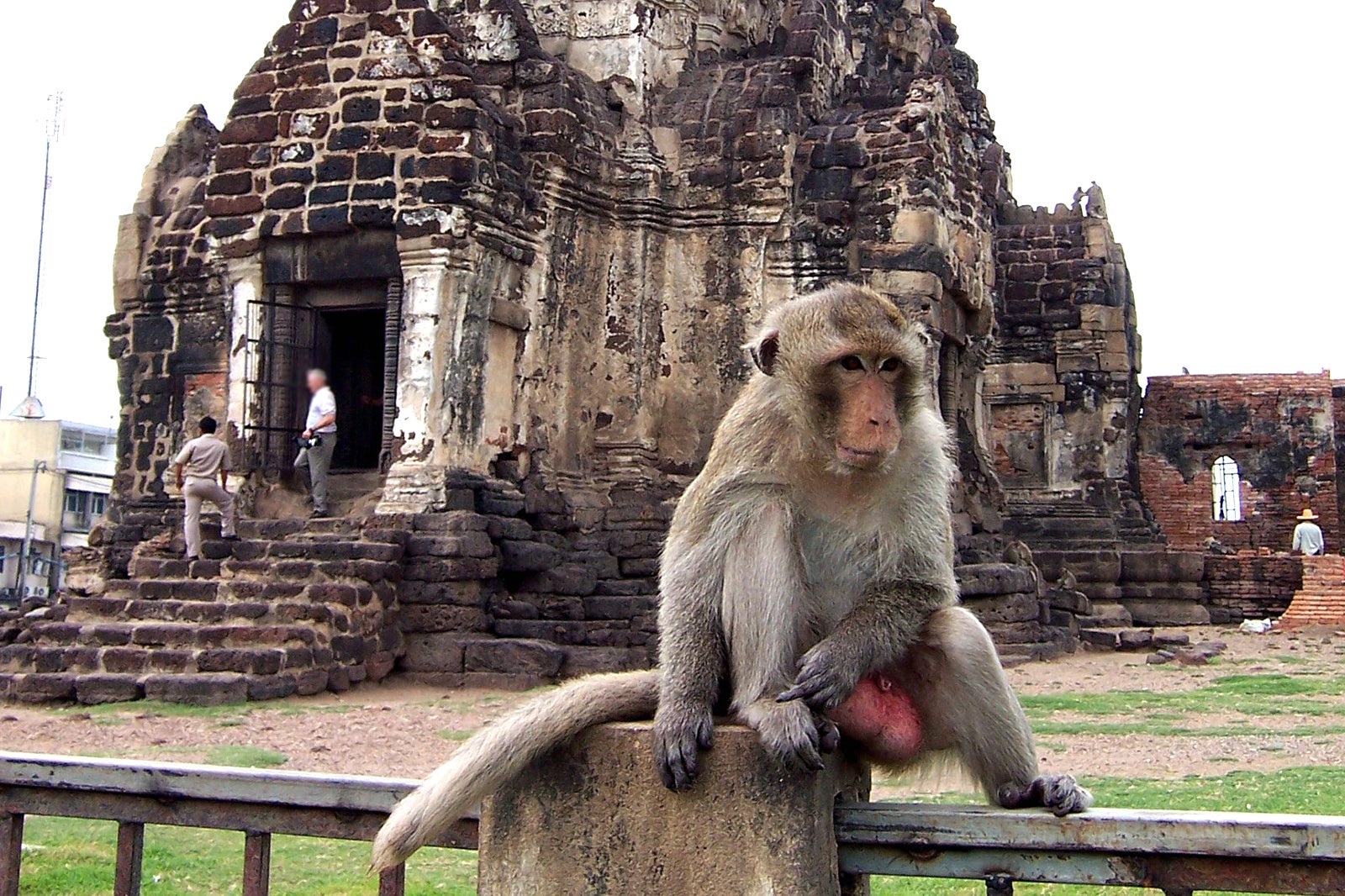 Lopburi Monkey Banquet
Lopburi - November
Crazy Factor: 3/5
Travel Difficulty: 2/5
Located 150 km north of Bangkok, Lopburi is best known for its packs of monkeys, thanks to the central temple being overrun by the pesky simians. It's a popular tourist activity to feed the monkeys but, during November, the simple bags of sunflower seed you can buy are replaced by something much grander.
There's a huge banquet laid out for the approximately 3,000 monkeys and they are allowed to feast on 4 tonnes of fruits, vegetables and other treats. It's a surreal experience that has traces of the Mad Hatter's Tea Party. Do be aware that the Lopburi monkeys will climb on you and try to take your food or valuables, so you should keep your wits about you.
photo by ryan harvey (CC BY-SA 2.0) modified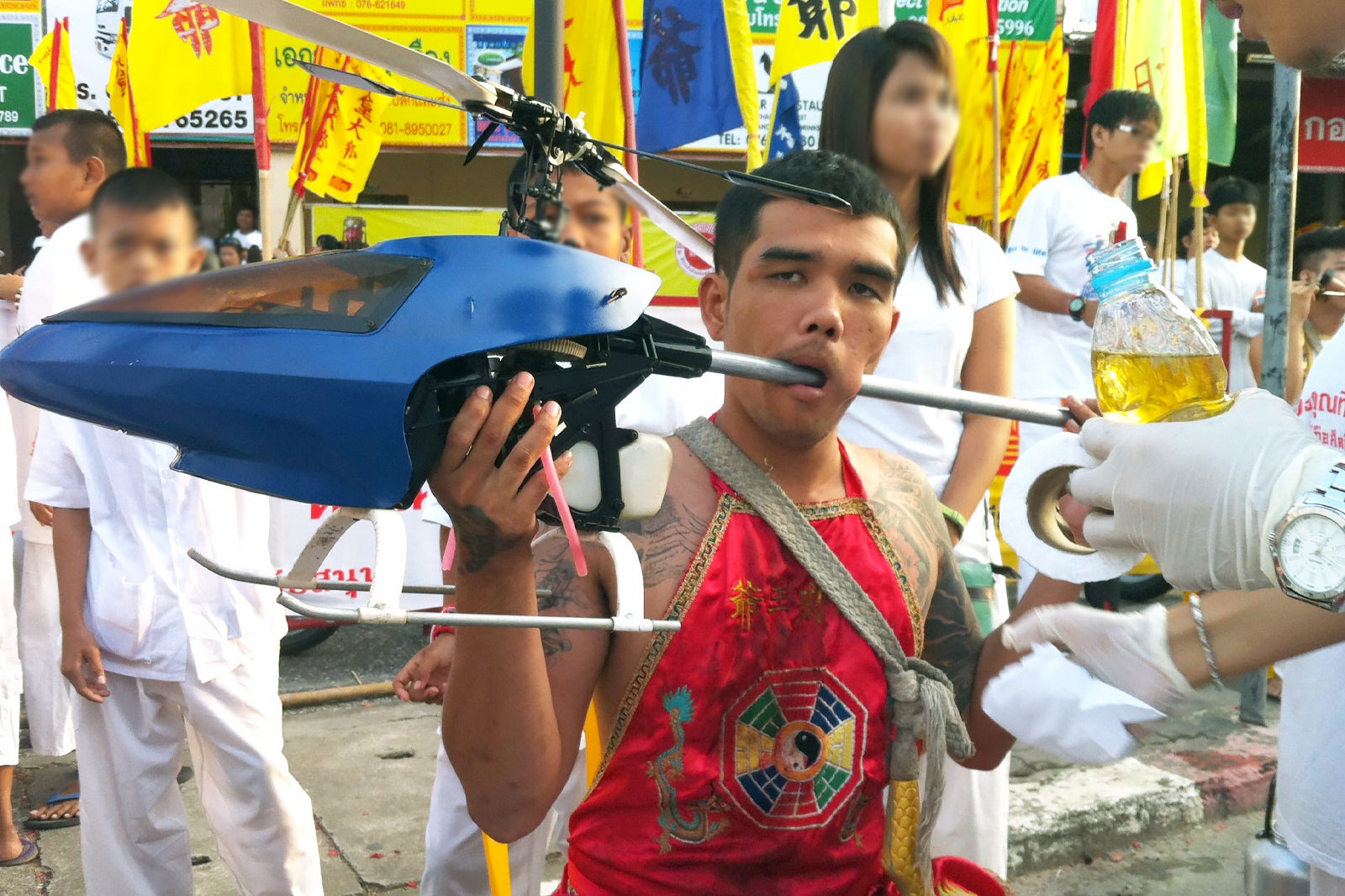 Crazy Factor: 4/5
Travel Difficulty: 1/5
Despite the name, Phuket's Vegetarian Festival is famous to world travelers because of the extreme acts undertaken by some locals. Especially gruesome is the body mortification, by way of swords and spiked objects cutting through participants' cheeks and other body parts, along with walking over hot coals. The belief is that Chinese gods will protect you from harm in return for painful demonstrations of your beliefs.
The ceremonies of the festival take place in the vicinity of the 6 Chinese temples scattered throughout Phuket. The main temple is Jui Tui Shrine, not far from the Fresh Market in Phuket Town. This annual festival takes place every October but, if you're sensitive to the sight of blood, you probably should give this one a miss!
Read more
photo by Kirill Kay (CC BY-SA 3.0) modified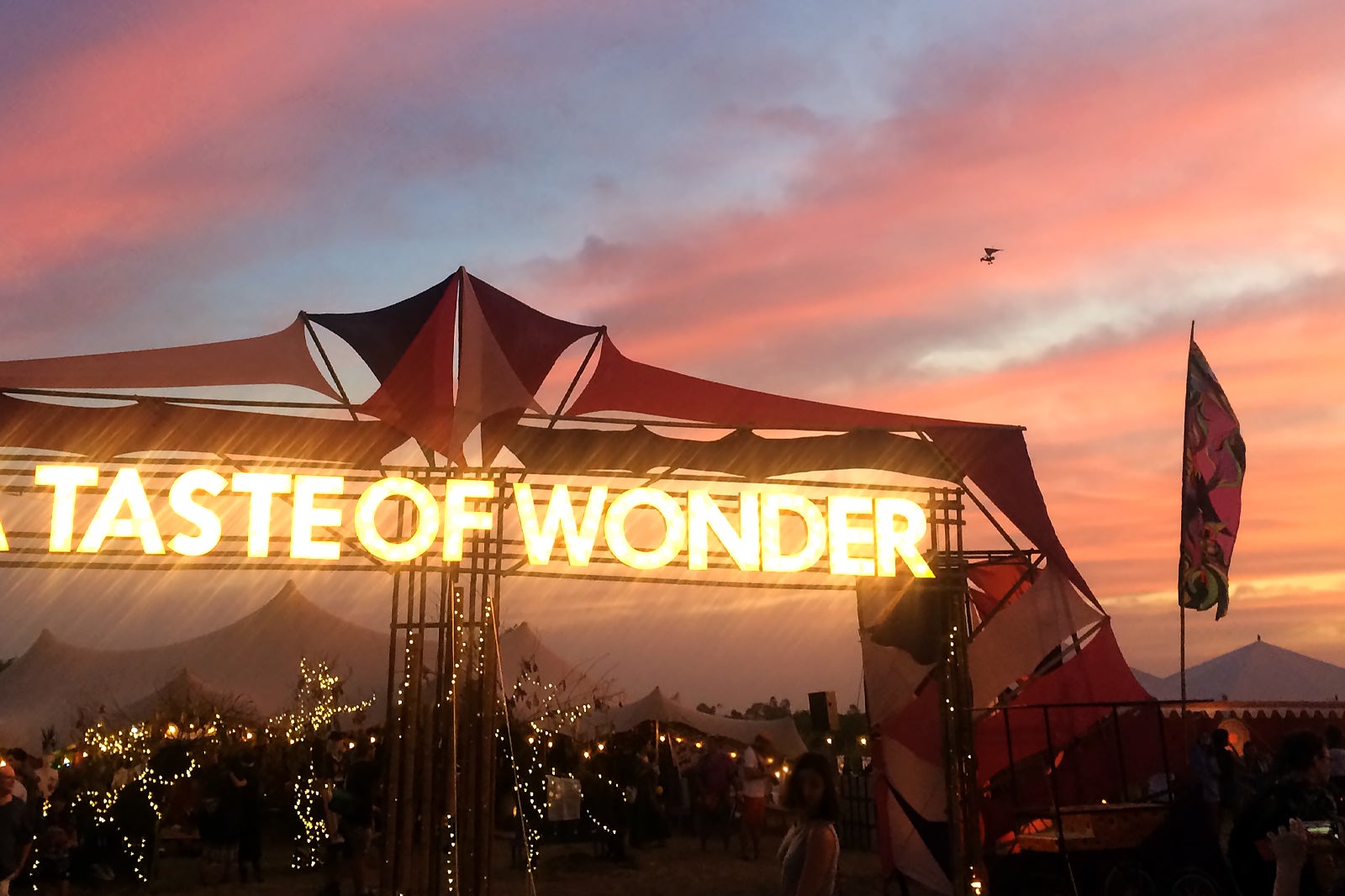 Wonderfruit Music and Arts Festival
Pattaya - December
Crazy Factor: 2/5
Travel Difficulty: 2/5
Okay, the only thing 'Thai' about this festival is the location, but it is the country's premier music and arts festival, taking after similar events in the UK and US – think Glastonbury or Coachella and you're on the right lines.
Wonderfruit usually takes place in December on the outskirts of Pattaya, and welcomes European and American artists to headline with many local bands playing, too. There's also yoga, meditation, arts and pop-up restaurants by some of Bangkok's best chefs.
photo by Sdegennaro (CC BY-SA 4.0) modified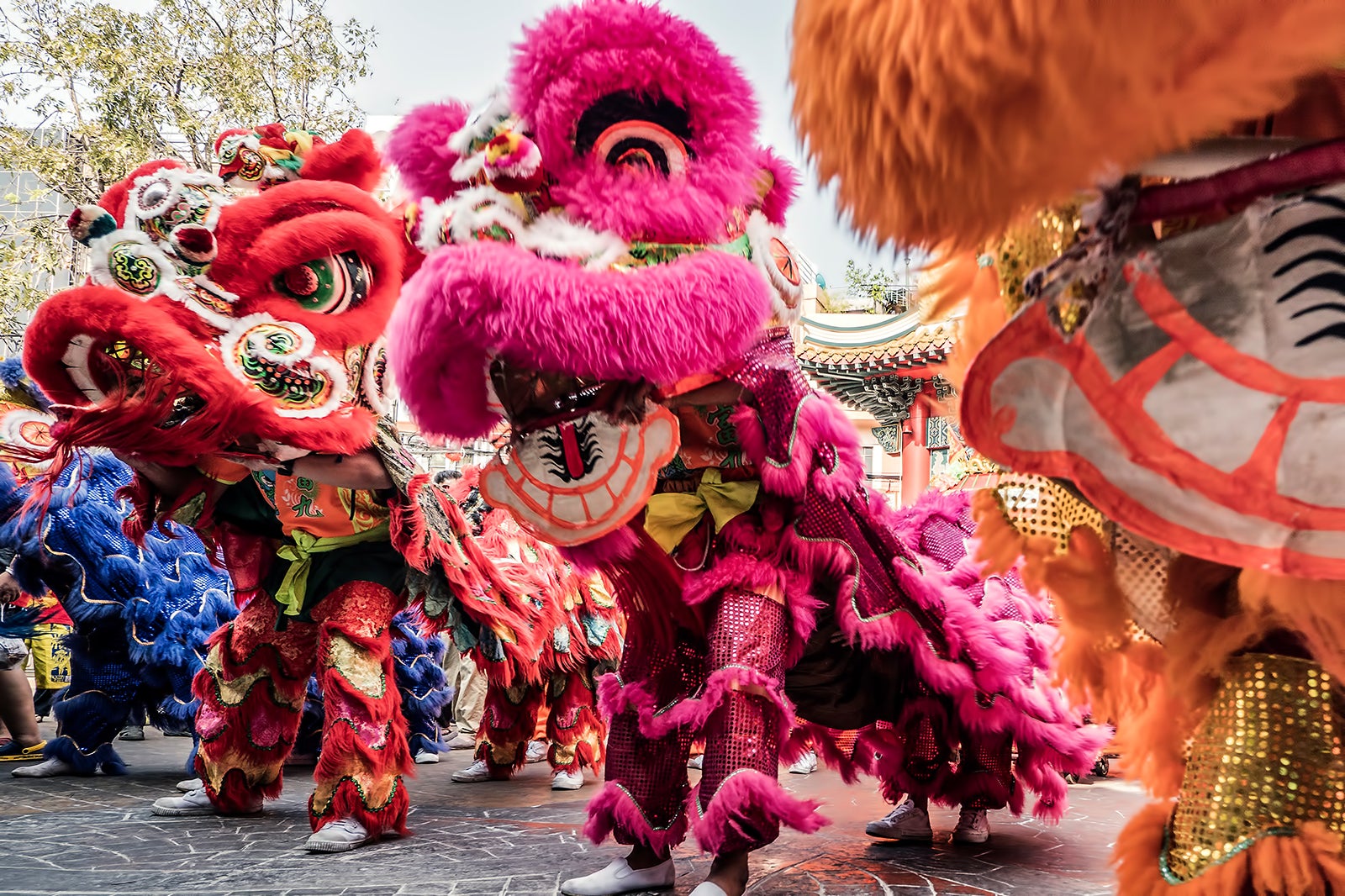 Crazy Factor: 2/5
Travel Difficulty: 1/5
Chinese New Year brings one of the most exhilarating celebrations to Yaowarat, which is officially the Chinatown of Bangkok. The narrow, bustling alleys of Chinatown are always a fun place to explore but, during Chinese New Year, things are ramped up a notch.
The entire length of the street (and surrounding alleys) comes to life, with crowds of worshippers, exploding firecrackers, dragon dancers and families of Chinese descent, who gather to partake in the street fanfare as well as enjoy sumptuous Chinese banquets. The best place to experience the festival in Bangkok is at Wat Mangkon Kamalawat on Charoen Krung Street at the northern edge of Chinatown.
Read more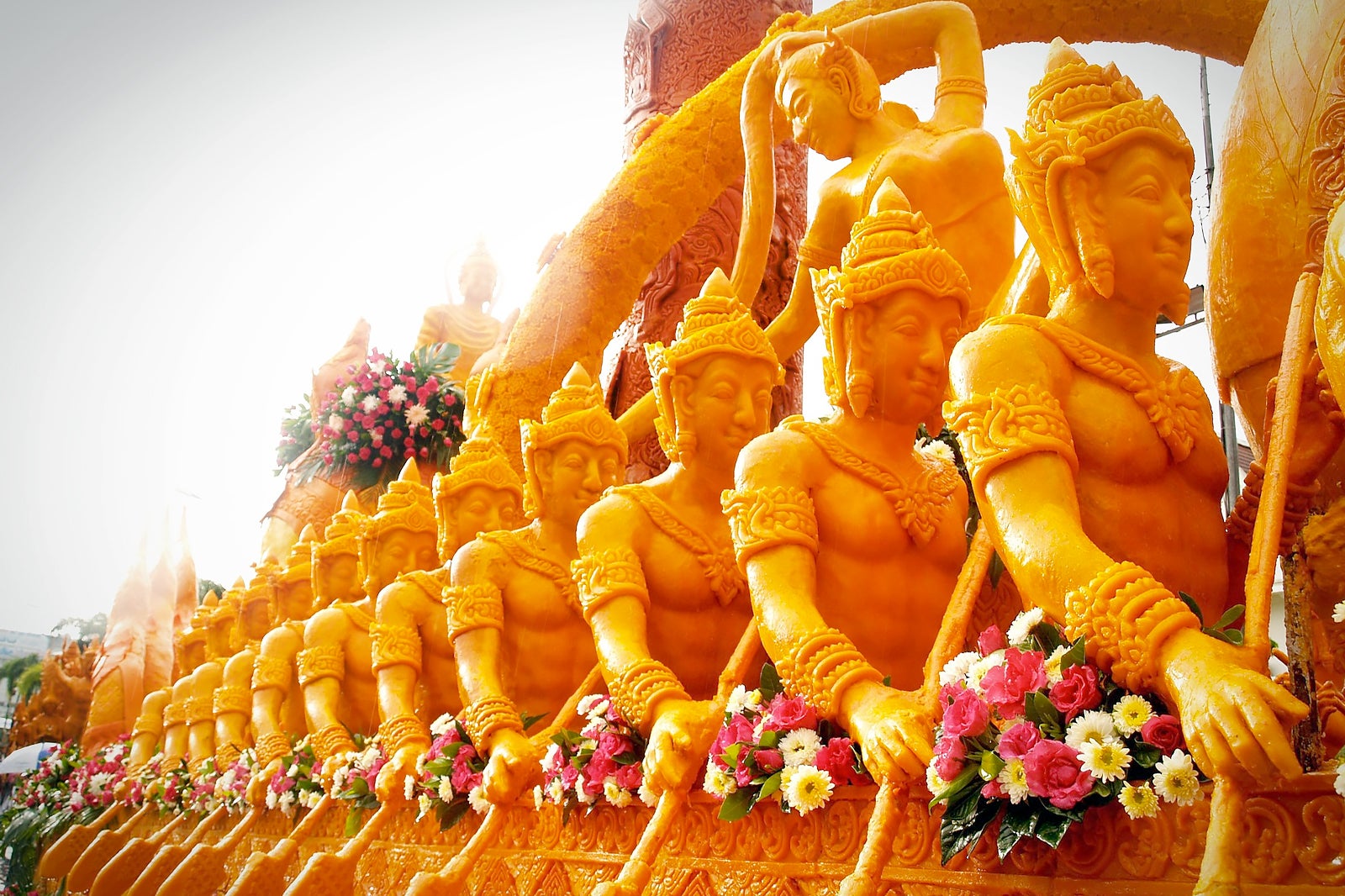 Candle Festival
Ubon Ratchathani – July
Crazy Factor: 1.5/5
Travel Difficulty: 4/5
This large festival in one of Issan's biggest cities is a nice mix of art, culture and celebration. Up to 10 huge wax sculptures are crafted by international teams of artists, mixing traditional art with more modern, abstract creations. The waxworks are paraded around on floats, accompanied by dancers and traditional folk music.
Principally, this is a religious festival on a sacred Buddhist vacation, when followers donate items to monks, but there's still a party atmosphere throughout the city. Remember that no alcohol is allowed to be sold in Thailand on Buddhist holidays, but it can be consumed. Most locals will stock up the day before and will be discreet about drinking out of respect for monks and devout Buddhists.