8 Best Things to Do After Dinner in Chiang Mai
Where to Go in Chiang Mai at Night?
The best things to do after dinner in Chiang Mai range from chilling out at riverside bars to clubbing. Live acts are also big in the Chiang Mai nightlife scene yet not all are loud and raucous. Most of the popular bars in Chiang Mai feature live bands performing anything from classic blues and jazz to rock tunes.
For partygoers, a hip, brash clubbing zone is found among the alleys of Nimmanhaemin Road, while a host of livelier clubs and bars are concentrated along Loy Kroh Road, just southeast of Tha Pae Gate. In this peaceful city, it's paradoxically not that difficult to party hard, soft or whichever way you want it. Read on to learn more about where to go in Chiang Mai at night.
1
Chiang Mai Night Bazaar
Intersection of Chang Klan and Loy Kroh roads
The Chiang Mai Night Bazaar is the place to shop, eat, drink and simply people watch after the sun goes down. Countless stalls pack along the sidewalks and spill out into the street, selling almost everything you can think of.
Like the goods on sale, the nightlife here is well-varied. Start your way from the intersection of Chang Klan and Loy Kroh roads. Here, you'll find a handful of sidewalk bars and western-style pubs that are perfect for stopping and having a mid-shopping drink. Such spots are great for taking a rest or to serve as rendezvous points as someone else in your group shops.
Location: Chang Moi, Mueang Chiang Mai, Chiang Mai 50100, Thailand
Open: Daily from 5 pm to midnight
photo by Christophe95 (CC BY-SA 4.0) modified
2
Chiang Mai walking streets
Great ways to spend an evening in Chiang Mai
Chiang Mai's walking streets are one of the great shopping and nightlife highlights of the city. The most prominent thoroughfares in Chiang Mai proudly named 'walking streets' are Ratchadamneon Road's Tha Pae Sunday Walking Street and the Wua Lai Walking Street held on Saturdays on Wua Lao Road.
Closed to automobile traffic after midday, these walking streets are the best places to see and experience Chiang Mai in its own skin. All kinds of vendors and crafts fill the entire stretch. Street food, beverages and cultural entertainment are all part of the experience – going out on an easy stroll along these streets is one of the best ways to spend an evening in Chiang Mai.
3
Ping River dinner cruise
For a scenic and romantic evening in Chiang Mai
A Ping River dinner cruise in Chiang Mai lets you enjoy scenic views of the Ping River and experience a few hours of romance. You'll be picked up from your hotel around dusk and taken to a pier to board your transportation for the evening. The menu available has plenty of options, but you can generally expect Thai classics like spring rolls, chicken in coconut milk soup, fried chicken, pork, or beef in red curry paste and stir-fried morning glory with oyster sauce. You'd usually order your food before you board.
Enjoy your authentic Thai cuisine while drifting past Chiang Mai's old temples and houses illuminated by twinkling lights. Before your boat departs from the dock, choose from a wide variety of delicious Thai foods and beverages. After your idyllic ride, return to the pier, where a transfer to your hotel awaits.
photo by Michael Coghlan (CC BY-SA 2.0) modified
4
Chiang Mai rooftop bars
Dine, drink and lounge with a charming skyline
Chiang Mai rooftop bars may not offer the dizzying heights of Bangkok's, but the views are no less spectacular. Although Doi Suthep Mountain might boast the most famous vantage point of the city, there's an ever-growing number of alfresco spots offering almost-as-nice views. Unlike the mountaintop, they also offer refreshing cocktails and delightful dining, too.
From golden oldies 24 floors up, to swish new terraces where the molecular cocktails will have you thinking you've swapped cities for the night, rooftop venues in Chiang Mai are great ways to spend an evening. The styles and atmospheres available are extremely varied, going from high-end cocktail bars to rough-and-ready backpacker haunts.
5
Chiang Mai riverside live jazz bars
Cool nightspots between Charoen Muang and Kaew Nawarat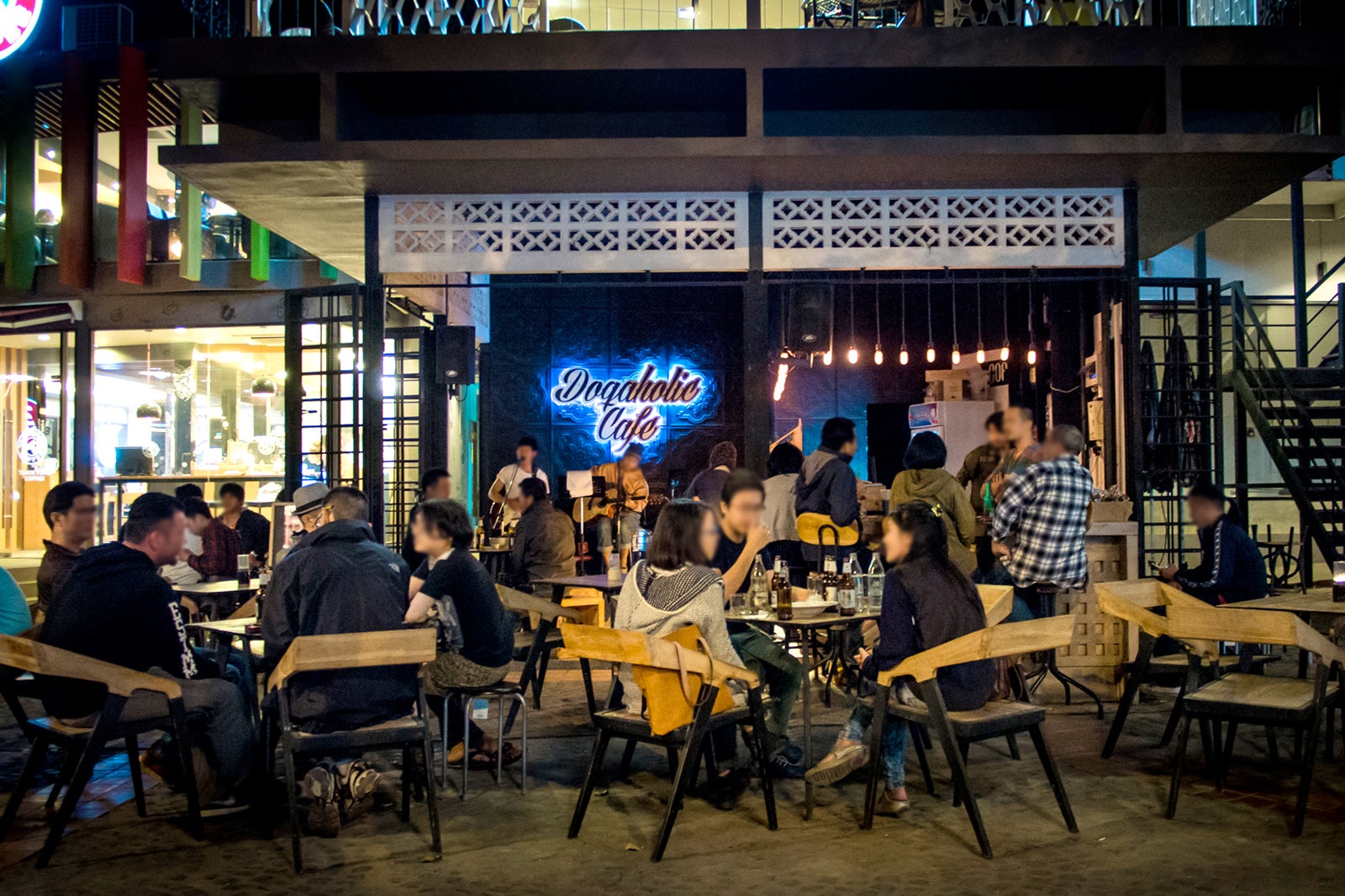 Chiang Mai riverside live jazz bars call the strip across the River Ping from the Night Bazaar home. Charoenrat Road runs parallel to the riverside and is home to a line-up of atmospheric resto-bars with the city's best live music, with jazz, soul, reggae, and classic rock and roll tunes.
Most of the live bars offer laidback vibes and a steady roster of live bands – some often featuring a performance nightly. Team the great atmospheres with the magnificent views and tasty food, and you can see why the Riverside is home to Chiang Mai's most sought-after nightlife spots.
photo by Takeaway (CC BY-SA 4.0) modified
6
Chiang Mai bars and pubs
Good food, beverages and entertainment in the Old City
Cool Chiang Mai bars and pubs make up the nightlife scene inside the Old City wall. They offer a more subdued vibe to it than Chiang Mai's Riverside or Night Bazaar but remain great spots for meeting people and enjoying live music.
They also come in a good variety. There are Irish pubs on Ratvithi Road that offer laidback vibes with good pub food and occasional open-mic nights. Bars opposite Tha Pae Gate that open from sunset until late are where you can lie down on some comfy cushions and drink to your heart's content, all while listening to electronic music.
7
Clubbing in Chiang Mai
Where to party as the locals do
The clubbing scene in Chiang Mai is nowhere near the level of Bangkok's, but there are still a few places in the city to shake it like a dry martini. The music is loud and thumping and the dance floors are usually packed with a mixture of Thais and foreigners.
If you want to party as the locals do, you can pick up a bottle at a local shop and bring it to the club with you most of the time. Most places don't charge corkage fees, as long as you buy your ice and mixers from them – at suitably increased prices.
8
Cabaret shows in Chiang Mai
Entertaining and dazzling performances
Cabaret shows in Chiang Mai offer spectacular entertainment when the sun goes down in the city. Like Phuket, Bangkok and the rest of Thailand, Chiang Mai has its fair share of dazzling cabaret performers and there are great venues in the city to spot the prettiest and most talented of them all.
Themes range from the glamorous to the hilarious, but the shows are always entertaining. Among the top venues are Chiang Mai Cabaret on Changklan Road, Miracle Cabaret Chiang Mai on Changhuak Road, and Siam Dragon Show Chiangmai on Huay Kaew Road.
Back to top