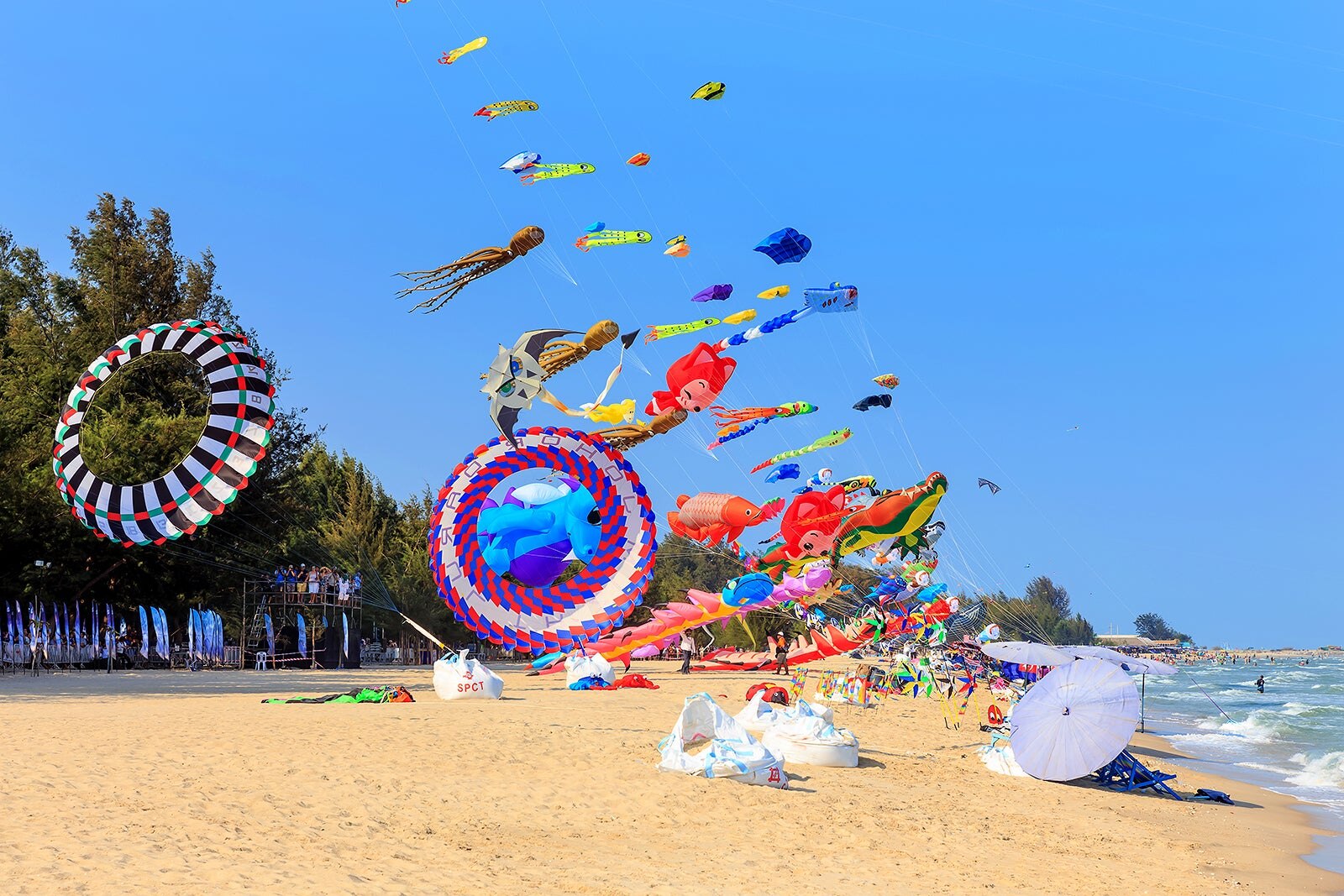 6 Best Festivals in Hua Hin
Hua Hin Celebrations You Won't Find Anywhere Else
The best festivals in Hua Hin are great for experiencing Thailand's unique culture with fun-loving locals. The coastal city may host traditional ceremonies like Loy Krathong and Songkran, but it also has plenty of annual festivals of its own.
From world-class jazz concerts to kite-flying tournaments, we've compiled a list of Hua Hin celebrations you won't find anywhere else in Thailand.
The Hua Hin Food Festival is a year-end celebration of the city's culinary scene. This November event lets you sample a variety of dishes from the city's most prominent restaurants and hotels.
Live performances, food contests, cooking demonstrations, fresh seafood stalls, and night bazaars are some of the many draws of this vibrant festival.
The Hua Hin Jazz Festival takes place in June, attracting renowned jazz musicians from Thailand and all over the world. Past performers include Lazaro Valdes from Cuba and Bill Bruford from the UK.
Stages are set right on the beach, with performances taking place every evening. Sponsors offer a variety of promotions, including the chance to win valuable gifts. It's a great event to have a good time and enjoy jazz on the beach.
The Hua Hin Cricket Sixes is a 5-day tournament that takes place in April each year. The grounds of the Dusit Resort hosts teams that comprise former test players, celebrities, and fans of the sport.
Over 13 teams from countries like Hong Kong, Australia and Thailand compete in a fun and action-packed cricket match. Each day usually starts from 8 am until 5.30 pm.
4
Hua Hin International Golf Festival
The Hua Hin International Golf Festival takes place in August on 6 local courses. These include Springfield Village Golf & Spa, The Imperial Lake View Hotel & Golf Club, and the Palm Hills Golf Resort and Country Club.
Hua Hin hosts numerous special events during this event, such as prize draws, golf swing clinics, local matches, and discounted rates at participating courses. You can even browse and buy a wide range of specially-discounted golf products at all participating courses.
5
Hua Hin Vintage Automobile Parade
The Hua Hin Vintage Automobile Parade is a joint collaboration between the Vintage Automobile Association and the Tourist Authority of Thailand. A parade of vintage automobiles (with drivers wearing 1920s costumes) starts from Bangkok and ends in Hua Hin. The festivities culminate with a 1920s party at one of the coastal city's most prominent hotels.
6
Thailand International Kite Festival
The Thailand International Kite Festival features hundreds of kites in all their colorful glory. It takes place in early March when steady southerly breezes blow throughout much of Thailand.
You can see a wide range of kites during the event, along with contests, games, and activities involving kites. But the festival is more than an event surrounding kites. You can enjoy ample opportunities for shopping, sightseeing, and simply having a good time.
Back to top