10 Best Family Things to Do in Koh Chang
What to Do for Fun in Koh Chang with Your Kids?
The best family things to do in Koh Chang include spending time at the island's beautiful beaches and lush rainforests. The island with its warm climate also offers many family-friendly outdoor activities. You can go hiking, snorkeling or swing through the jungle like Tarzan on a jungle adventure course.
Adults and children will both enjoy playing and bathing in the island's warm waters or splashing about in natural mountain pools under a waterfall. So if you're planning a vacation to Thailand's third-largest island, check out our selection of the best family things to do in Koh Chang.
1
Klong Prao Beach
For pleasant beach days on Koh Chang's west coast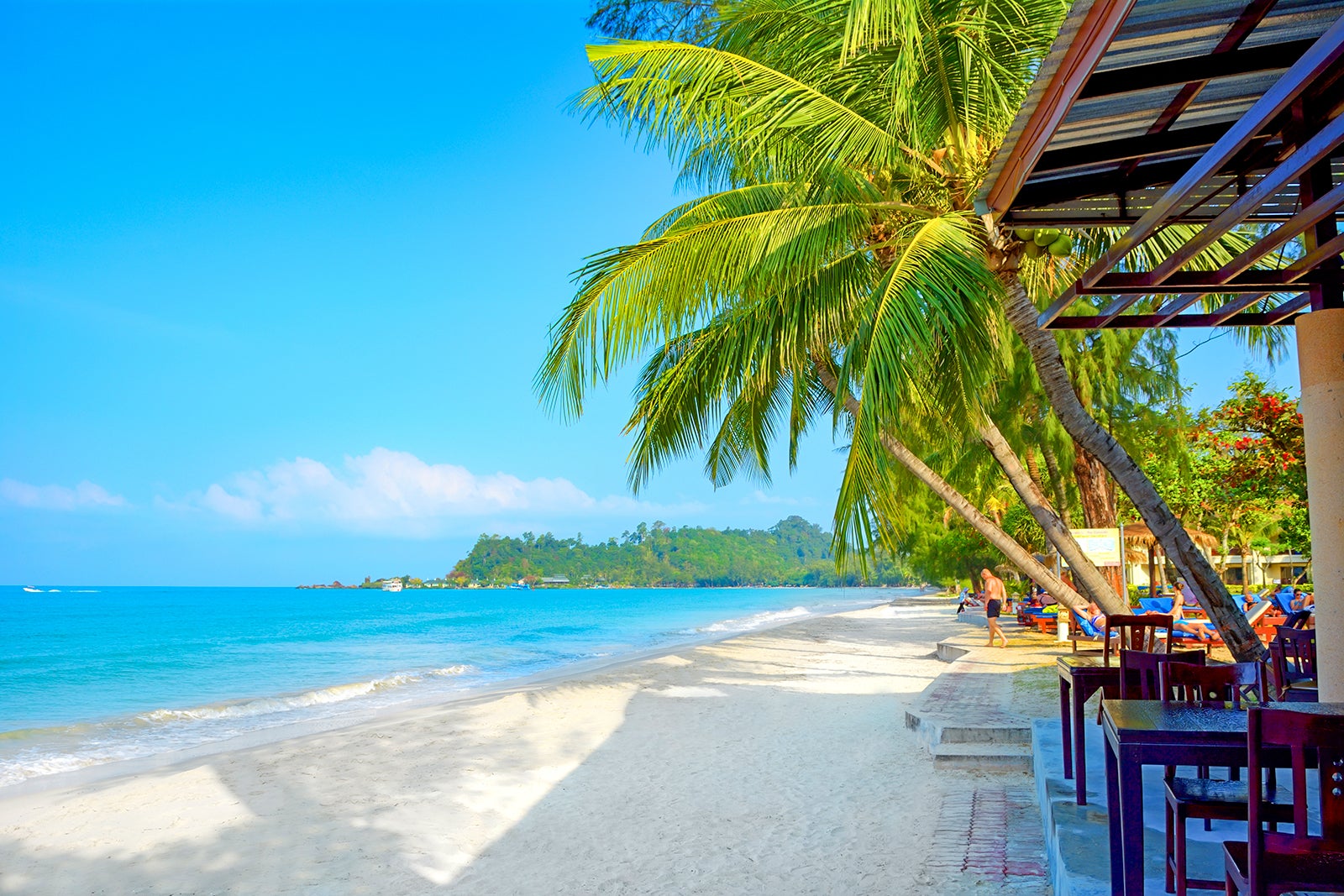 Klong Prao Beach is a quiet sandy strip on the west coast of Koh Chang. It's popular with families wanting to relax on a white-sand beach and swim in calm, shallow waters. You can choose from a wide range of beach restaurants serving Thai, Italian, fusion, and western cuisine for lunch.
Further north up the west coast, you can find the picturesque White Sand Beach. Lined with resorts, restaurants and shops, the beach can get very busy. However, the calm water and soft white sand make it a lovely spot to swim, snorkel, and soak up some sun with your family. Klong Kloi Beach, the island's southernmost beach, is another scenic stretch with a laidback atmosphere and a good choice of restaurants. The further along you go, the quieter the beach gets.
Location: Ko Chang, Ko Chang District, Trat, Thailand
2
Khlong Phlu Waterfall
A great break from the beach
Khlong Phlu Waterfall in the Mu Koh Chang National Park is one of the most beautiful falls on the island. If your family are big fans of nature walks and bathing, a day exploring the island's numerous waterfalls is a great alternate to the beach.
After paying an entrance fee, a half-mile hike through the jungle will take you to the waterfall. The path is suitable for children and all levels of fitness. Bring your swimsuit and enjoy a refreshing dip in the natural pool at the bottom of the falls. An equally stunning waterfall in the national park is Than Mayom on the island's eastern side. There are 4 drops and a natural pool at the base, perfect for bathing and relaxing. If you visit both waterfalls on the same day, you only pay to get into the park once.
Location: Ko Chang, Ko Chang District, Trat 23170, Thailand
Open: Daily from 8 am to 4.30 pm
3
Pearl Beach
Koh Chang's best spot for snorkeling
Pearl Beach, also known as Hat Khai Mook, lies on the west side of Koh Chang. Despite its name, there is no proper beach, only small pebbles and rocky, coarse red sand. However, what it lacks in soft sand, it makes up for by offering the best snorkeling on the island.
You'll have to swim 50-70 meters from the shoreline to reach the coral reef. But the water is shallow and usually calm, so it's safe for young swimmers. Children and adults alike will have fun exploring the reef, home to colorful fish and other underwater creatures.
Location: Ko Chang, Ko Chang District, Trat, Thailand
4
Mu Koh Chang National Park
Go hiking through pristine jungles
Families
Photo
Budget
Adventure
At Mu Koh Chang National Park, you can put your comfiest shoes on and explore the lush jungles of the island's interior. The park covers 75% of the island and offers a variety of jungle hikes to suit all ages and fitness levels. You can enjoy a short walk to see a waterfall, including Kai Bae Waterfall, Klong Chao Lueam Waterfall, or Klong Nonsi Waterfall.
If your family is up for a more challenging hike, the ascent to Khao Laem will get your heart pumping. But your efforts will be rewarded with spectacular 360-degree views of the island below. As the trail is not well-marked, it's best to do this hike with a guide. And be sure to carry sufficient food and water and your swimsuit if you want to enjoy a swim in a cool mountain stream or natural pool.
Location: 23/7 Moo 3, Koh Chang, Trat 23170, Thailand
5
Koh Wai
Treat your family to a day of island hopping
After exploring the beaches and jungles of Koh Chang, it's worth discovering the islands nearby. Start on Koh Wai, a laidback island located south of Koh Chang. There are no roads, shops or ATMs – just a forest trail that connects the 2 main stretches of unspoiled white sand and crystal-clear water. It's where you can snorkel, swim and relax in paradise.
Further south lies Koh Mak and Koh Kut. Both islands offer pristine beaches and warm, calm waters. You can reach Koh Wai on a slow or speedboat that runs from Bang Bao pier to Koh Kut a couple of times a day, stopping at Koh Wai, Koh Kham, Koh Mak and Koh Rayang. There are no inter-island boats from May to October.
Location: Koh Chang Tai, Ko Chang District, Trat, Thailand
6
Koh Man Nai
Rent a kayak and explore a nearby island
Koh Man Nai is a small island to where you can rent a kayak and paddle out, especially if you're looking for an adventurous family activity in Koh Chang. Located approximately 1 km west of Kai Bae Beach, Koh Man Nai is easy to reach, even for novice or young paddlers. After your paddle, you can spend a few hours relaxing, collecting seashells, hunting for crabs, or snorkeling.
Before you go kayaking, check the weather – windy conditions can make the trip challenging and dangerous. And be sure to pack sunscreen, snacks, water, and a waterproof bag for your camera, cellphone, and towels.
Location: Ko Chang, Ko Chang District, Trat 23170, Thailand
7
Tree Top Adventure Park Koh Chang
Explore the island from a unique perspective
At Tree Top Adventure Park, you can go on a jungle adventure and see Koh Chang's magnificent lush rainforests from above. It offers 3 courses: an easy one suitable for children and 2 others that are fun and exciting for the whole family. Children must be over 10 years old and above 1.4 meters in height to participate.
After a mandatory briefing, you and your family will be soaring through the jungle from one treetop platform to the next by bridges, Tarzan swings, zipper lines, flying skateboards, and tightrope walks. You'll need to wear comfortable clothes and closed shoes, preferably sneakers – no flip-flops or sandals allowed. Bookings are essential.
Location: 115 Koh Chang Tai, Ko Chang District, Trat 23170, Thailand
Phone: +66 (0)84 462 3003
8
Bang Bao Village
For scenic views and delicious seafood
Bang Bao is a tiny fishing village on the southwest coast of Koh Chang. It's a great place to visit with your family for the lovely scenery. Enjoy a walk along the concrete pier that extends 700 meters from the mainland into the bay, ending at a photogenic lighthouse with beautiful sea and coastline views. Lining the pier are homes built on stilts that nowadays house seafood restaurants and shops selling souvenirs, clothing, and diving equipment.
If you need a quick snack, you can find vendors selling waffles, fresh fruit shakes and iced coffee. To enjoy the usually peaceful and laidback atmosphere of Bang Bao Pier, avoid visiting at 9 am and 4 pm, when the dive and snorkeling tour boats are leaving and arriving.
Location: Koh Chang Tai, Ko Chang District, Trat 23170, Thailand
9
Koh Chang ATV adventures
Have a thrilling ride through the jungle
Book an ATV adventure and discover the beautiful jungles of Koh Chang from the seat of a ATV. You can choose between a 20-, 60-, and 90-minute ride and each bike seats 2 people. During the excursion, your family will ride through the jungle and up a hill to a viewpoint offering scenic vistas. You'll also stop at a waterfall where you can take a refreshing dip.
Before you hit the road, you'll have mandatory training and practice, plus wear full protective gear. Once everyone feels confident on the ATV, you'll follow the guide and start revving for the tour.
10
Koh Chang Animal Shelters
Volunteer at a local animal clinic
For a meaningful travel experience on Koh Chang, spend a day volunteering at a local animal shelter. In Klong Son, in the north of Koh Chang, you can find 3 well-run animal shelters that are always looking for volunteers to help with daily tasks. Animal Project, Animal Voice, and Happy Dogs Safe House are non-profit animal health clinics that help pets and abused, injured or abandoned animals on the island.
These organizations offer everything from neutering and emergency care to feeding and adoption. As a volunteer, you will take the dogs for a walk, play and socialize with them, feed them, and bathe them.
Back to top