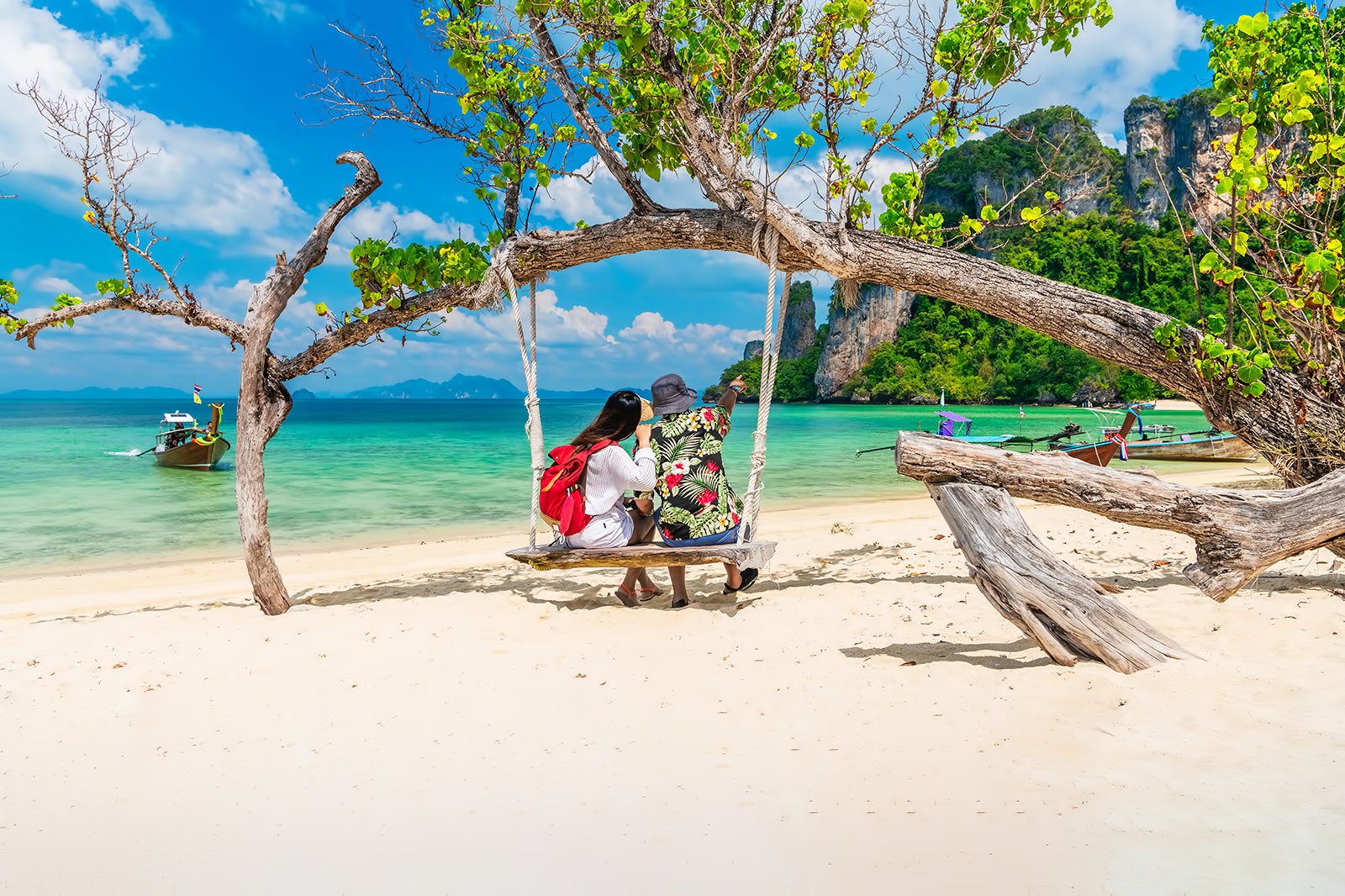 10 Best Things to Do for Couples in Krabi
What to Do on a Romantic Trip to Krabi?
Couples activities in Krabi offer everything from a tranquil and quiet beach escape to exciting nature adventures, pampering massages and amazing fine dining with rooftop views. Krabi offers gorgeous white sands, endless stretches of turquoise waters, stunningly verdant mangrove forests, fantastic dining and shopping and viewpoints that are sure to take your breath away. You can rent a bungalow to live among the trees in fairy tale wonder, get pampered like royalty and enjoy some of the best seafood around.
Whatever your idea of the ultimate romantic getaway for 2 might be, you can find something to fit the bill in Krabi. Check out some of the best romantic activities for a couples' vacation here.
1
Island-Hopping in Krabi
Explore a 150-isle archipelago
Island-hopping in Krabi offers the chance to see beaches, nature reserves, resorts and all sorts of amazing sites while having every kind of adventure you can imagine. This province has more than 150 islands, so you can spend days upon days exploring and still not see everything there is to see. From the iconic islands of Koh Proda, Koh, Tub, Koh Mor and Koh Gai to lesser-known islets, you can find crystal clear waters, snorkeling, bathing, sunbathing, natural wonders and a world of adventure.
For a shorter tour, grab the popular and famed Four Island tour that just covers the iconic islands mentioned above. You can find plenty of options to explore further if you like.
2
Emerald Pool
Enjoy a natural mineral pool and bird watching
The Emerald Pool is a natural mineral pool located in the heart of the lush Thung Teao Forest Natural Park, with clear turquoise waters and refreshing bathing. This pool can be reached by a roughly 20-minute walk along a wooden path, where you'll find the sparkling waters waiting. The pool is famed for its surreal beauty, and it's a welcome dip after the hike. You can also engage in bird watching here, as the forest is famed for its propagation of rare species including the Gurney's Pitta.
The pool is about 45 minutes southeast of the city centre. You can also visit the wilder, scenic Blue Pool that's surrounded by quicksand (no bathing allowed), just up the trail.
Location: Khlong Thom Nuea, Khlong Thom District, Krabi 81120, Thailand
Open: Daily from 8.30 am to 4.30 pm
Phone: +66 98 041 8171
3
Railay Beach
Swim, snorkel, climb and spelunk
Railay Beach is a small peninsula that due to the surrounding rocky headway is accessible only by boat and offers gorgeous white-sand beaches with clear waters, limestone cliffs and stunning viewpoints. You can explore natural cave complexes, even swim in a hidden lagoon nestled between cliffs, and even go rock climbing and snorkeling here. Best of all, all these activities are within easy walking distance once you reach the beach. You'll find no roads and no vehicles here, only boats and footpaths.
It's called Emerald Beach because the waters are emerald green, offering a stunning vista unlike many other beaches in the world. The end result is a true tropical paradise just 35 minutes from the Krabi resort.
Location: Ao Nang, Mueang Krabi District, Krabi, Thailand
4
Couples' Spa
Get pampered between adventures
A couples' spa treatment should be an essential part of every romantic getaway, whether you're looking to connect on an intimate level or recharge and relax for the next day. Just about every resort in Krabi and many high-end hotels offer spas, and you often don't have to be a member to use the facilities. At these places, you can relax in a sauna or hot tub, or get a couples' massage to work out the kinks in your muscles and relax after a long day of outdoor adventuring.
When you're done, many spas also have delicious, healthy-eating, fine dining restaurants nearby. The options to feel like royalty with all your needs tended to are near endless.
5
Krabi Hot Spring
Soak in therapeutic volcanic mineral springs
The Krabi Hot Spring, also called the Klong Tom Hot Springs, in the south of the district offers a dip in mineral hot springs reputed to have healing properties. These springs are said to cure such ailments as rheumatism and other conditions. They are certainly a pleasant place to soak and relax in 35-42° Celsius waters. The springs are heated by ancient underground volcanic chambers. You might want to bypass the main springs, which can get very crowded, and seek some of the bigger nearby springs, which have fewer crowds.
The Krabi Hot Springs are about 70 kilometers south of the city centre. They're surrounded by lush rainforests, so they're good for the spirit and the body.
Location: Khlong Thom Nuea, Khlong Thom District, Krabi 81120, Thailand
Open: Daily from 8.30 am to 6 pm
6
Than Bok Khorani National Park
Explore over 120 kilometers of lush wilderness
Than Bok Khorani National Park offers 121 square kilometers of jungle reserve with unique flora and fauna, hiking, limestone mountains, a variety of forests and other sights and sounds. The park hosts 2 main natural trails. The first is a 1-kilometre path inside the park. The second spans nearly 4 kilometers and leads through the deep mangrove forests that are essential to the ecology of the region, acting as a natural defense against tsunamis and storms.
The various types of forest you'll find here include peat forests, evergreen forests and mangrove forests. The park also spans numerous islands with undersea flora and fauna to explore. It's about 38 minutes north of the city centre.
Location: 2 Ao Luek Tai, Ao Luek District, Krabi 81110, Thailand
Open: Daily from 8.30 am to 4.30 pm
Phone: +66 75 681 096
7
Krabi Walking Street
Shop dozens of stalls and enjoy live music
Krabi Walking Street is among the liveliest night markets in Krabi, with a mind-boggling range of products and food as well as live entertainment and tons of local culture. While you explore the dozens of vendors on this street you can take in live music from local acts performing on the stage. You'll find everything here from wall art to handmade clothing, jewelry and accessories like purses and souvenirs. You can also grab a bite to eat from tons of stalls offering all sorts of food, and plenty of seating to take a load off while you eat.
This is a spot where you can explore local culture while you find the perfect gift. It's right in the heart of Krabi.
Location: Pak Nam, Mueang Krabi District, Krabi 81000, Thailand
Open: Friday–Sunday from 5.30 pm to 10 pm (closed Monday–Thursday)
8
Dragon Crest Mountain
Take a wildlife hike and climb for fantastic views
Dragon Crest Mountain, also called Khao Ngon Nak, is a mountain rising 565 meters above sea level and offering astounding panoramic views of the surrounding forests. The hike to the top of the mountain is about 3.7 kilometers long and is a moderately challenging hike but offers 2 astounding viewpoints as you traverse along a stream and waterfall. Reaching the first viewpoint takes about 1.5 hours of climbing and overlooks the Andaman Sea. The full climb to the second viewpoint takes about 2.5 hours through steep terrain.
You'll explore jungle rainforest, mountains, plantations and tons of stunning natural vistas. The trailhead can be found only about 35 minutes from the Krabi city centre.
Location: Khao Ngon Nak National Park Office, Nong Thale, Mueang Krabi District, Krabi 81000, Thailand
Open: Daily from 8 am to 2 pm
9
The Grotto at Rayavadee Resort
Dine among natural wonders in an exclusive resort
The Grotto at Rayavadee Resort is an elegant restaurant that allows you to dine under an ancient limestone cliff right on the edge of Phranang Beach. You can enjoy a leisurely lunch or evening cocktails with light snacks, all with a sense of romance in the air. It's all part of the Rayavadee Resort, which allows you to live as one with nature surrounded by lush green space surrounded by towering limestone cliffs.
This restaurant is for guests of the exclusive resort only. It's about 35 minutes from Krabi Resort and offers 100 pavilions styled like huts to blend into natural surroundings. You'll discover breath-taking ocean views and sunsets while you relax in the ideal secluded getaway.
Location: 214 Moo 2, Tumbon Ao-Nang, Amphur Muang 81000, Krabi, Thailand
Open: Daily from noon to 10.30 pm
Phone: +66 230118613
10
The Hilltop Ao Nang
Enjoy seafood with a great view of the beach
The Hilltop Ao Nang is a bar and restaurant that offers idyllic dining and breath-taking views of Ao Nang beach far below, as well as staggering sunsets. This popular nightlife spot offers authentic Thai cuisine with incredible seafood surrounded by stylish design and surroundings. Here, you can enjoy Andaman lobsters, king prawns, giant oysters, crabs and many other types of locally sourced, fresh seafood. Some of the most popular dishes include southern curry with crabmeat and local herbs or prawn salad in a taro pastry basket.
In addition, the restaurant serves up a range of delicious wines, craft beers and unique cocktails whipped up by master mixologists. It's just 22 minutes west of the city centre of Krabi.
Location: 99 Moo 3, Ao Nang, Krabi Town 81000, Thailand
Open: Tuesday–Sunday from 11 am to 11 pm (closed on Mondays)
Phone: +66 75 637 195
Back to top