5 Best Known Scams in Bangkok
...and How to Avoid Them
Bangkok is a great city to visit, blessed with a very high level of safety compared to any other capital cities in the world. However, just like anywhere, some unscrupulous individuals specialize in the art of taking advantage of new visitors. Despite their tricks being rather obvious, people who are a bit lost, a bit jet-lagged, and maybe also a bit naive still fall into the bad guys' net every single day. It happens to the best of us, from time to time.
However, forewarned is forearmed and knowing what to look out for (and applying a healthy dose of common sense) will help you dodge the more common scams. In all the following examples, the patterns are similar and a simple "No, thank you" is all you need to say.
1
The "Grand Palace is closed today" scam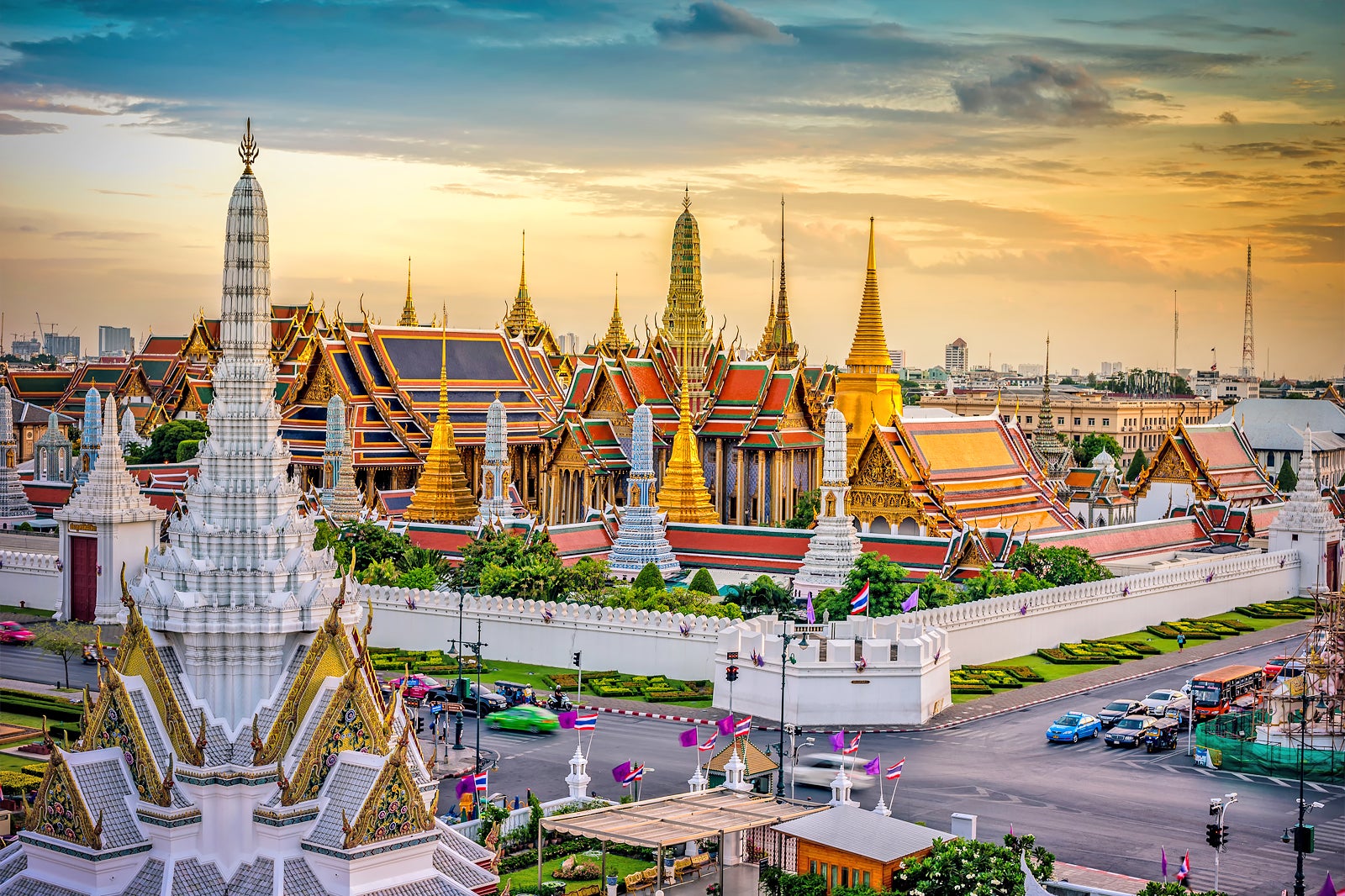 This is one of the best-known scams and yet dozens of tourists fall for it every day. You're walking around one of the Bangkok landmarks, let's say the Grand Palace (Wat Phra Kaew) or neighboring Wat Pho, when a smiling Thai stranger approaches, asking where you're from. Following a little small talk, the guy will ask where are you going and by doing so will quickly analyze who you are and if this is your first time in Thailand. If it is, the story starts. "Oh, you want to see the Grand Palace today? Such bad luck – it's closed for the whole day for a special royal event!"
Of course, this kind of scam occurs far from the gate, making sure you can't see the huge crowd walking in. Instead, he will offer to show you other great temples around Bangkok in his tuk-tuk for only 20 to 40 baht, and he can even be your guide to a wonderful day you'll never forget. In a way, he is right about that.
As you are very disappointed to have traveled all the way to find the Grand Palace closed, you'll feel relieved that this gentleman happens to be on your path. He'll take you on a fun tuk-tuk ride to another temple, which will probably be very nice, increasing your level of trust. In this temple, you'll 'accidentally' meet another 'honorable' man who will welcome you and ask if you heard about this great government promotion (called Thai Gem Expo or similar names), which allows tourists to buy duty-free gems and stones at very low cost. Now here is how the trick works for him.
1) He will stop at an 'Authorized' TAT (Tourism Authority of Thailand) agency just in case you would like to take advantage of those amazing travel deals that are just ending today. What a chance! Of course, the agency is in no way connected to the TAT, and the deal doesn't end today... it's not even a deal since you'll probably pay more than in any other agency.
2) He'll stop at the above-mentioned jewel shop where someone will show you some beautiful stones, maybe even including some real ones. But because the offer is duty-free, the gems you are buying will have to be shipped directly to your home address. The stones may really arrive, but the market value of what you'll get will be ridiculously low.
From this moment onward, the friendly smiling guy will become increasingly pushy, trying by any means to make you buy tickets or packages until you do, then will suddenly vanish while you are visiting the next temple.
How to recognize the scam: While it's very normal for people to help you when you do need help, it's very suspicious when someone offers you help when you don't need it. A friendly unknown Thai guy speaking English a little too well, especially near a tourist area, is usually a pro. He often carries a map and an umbrella because it's hot for him to be out there all day long.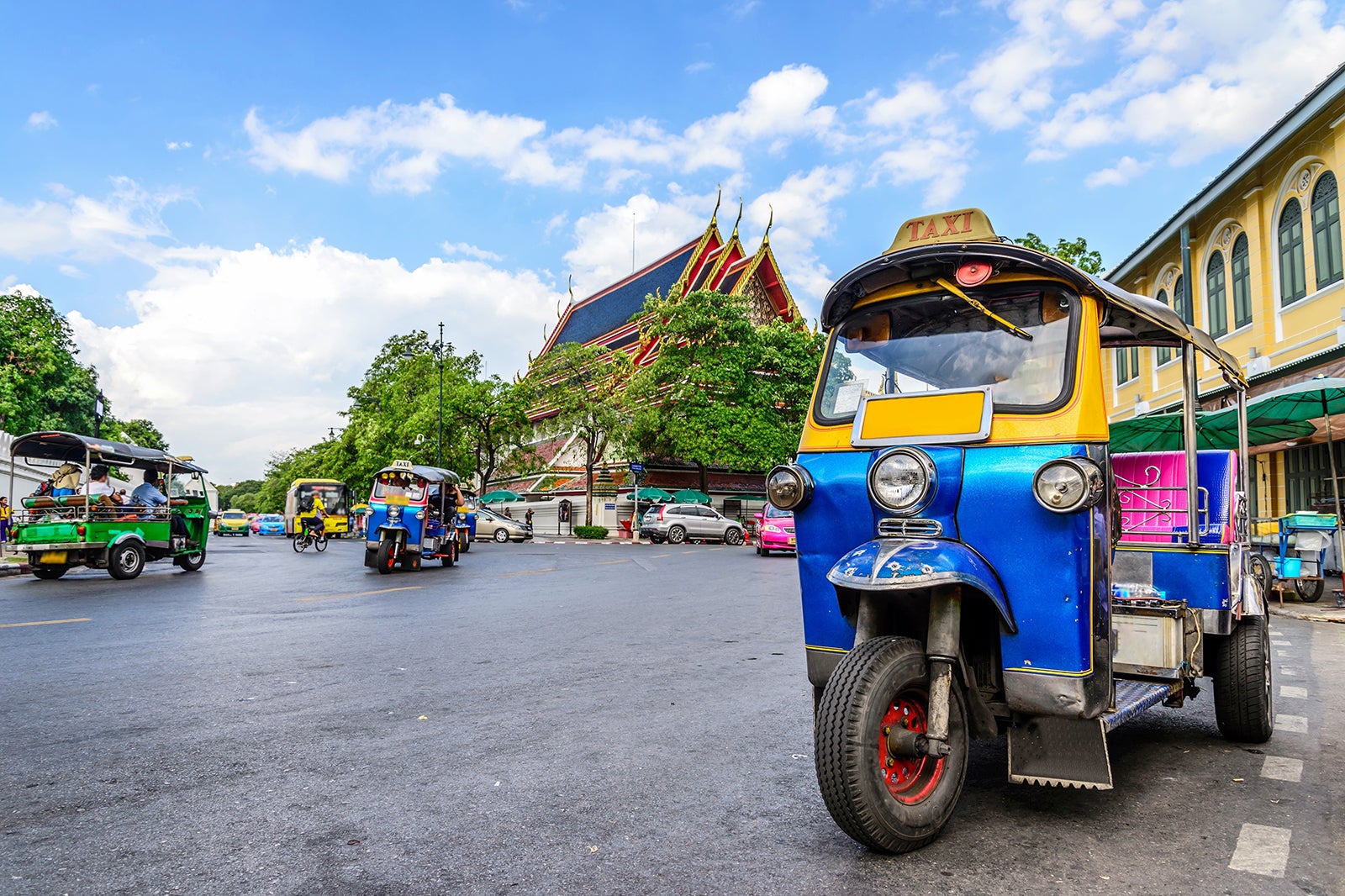 Similar to the Grand Palace scam, but in a more straightforward manner: Tuk-tuks parked in front of landmarks, hotels, shopping malls and other touristy places ask for a ludicrous fare for a short distance and/or serve you lines like, "Can you please help me get free gasoline by just stopping few minutes at the gem shop? You don't even have to buy something, you can just look around and leave."
Because you are a very nice person, you won't mind, just to do your random act of kindness for the day. Thanks to the high-pressure sales tactics, most people end up buying something. In the best case, the driver will get his kickback; in the worst case, you buy a superb piece of worthless colored glass.
How to recognize the scam: Avoid tuk-tuks parked near malls and hotels or decline any stop on the way to your destination.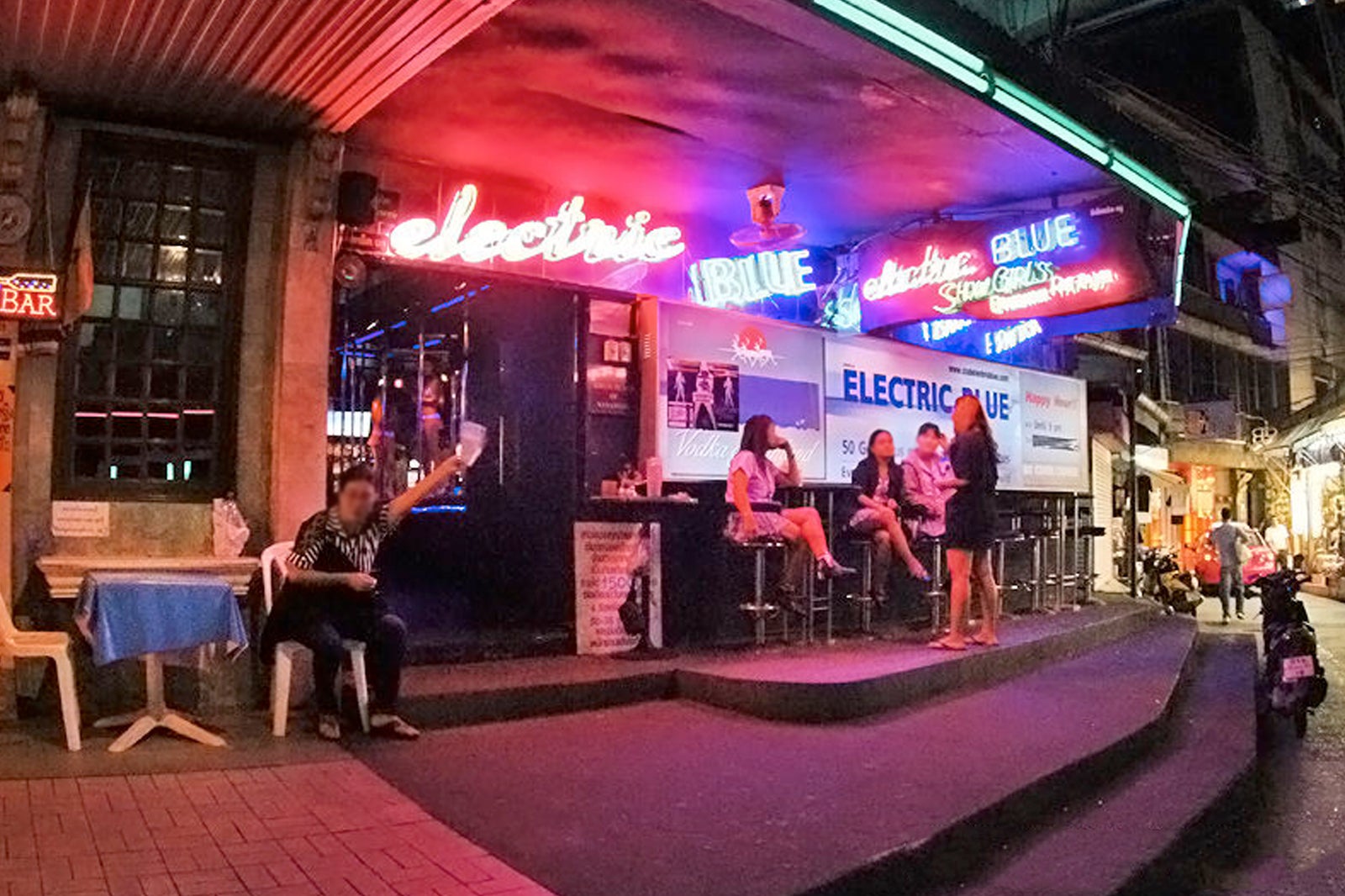 The good old Patpong scam still works just a smoothly as it did over 20 years ago, taking advantage of naughty curiosity. As you walk through the red-light district of Patpong, trying to decide which go-go bar looks the least suspicious, a man approaches you with "The Menu". This is a list of all the fun acrobatics you'll be lucky enough to witness if you follow him (the famous ping pong show is one of the tamer examples). Of course, you are curious and you have every right to be. You think this is probably as good an opportunity as any to take your walk on the wild side, especially when the guy adds, "If you no like, you no pay".
Now, this is when you can start being suspicious. The bar is usually upstairs and has no name... just a plain door opening on a small, shady joint with a small bunch of girls, some of whom will join you when you take a seat. You order a beer and, by doing so, you're already done for the day! The girls will push for a lady drink. Want to ask how much a lady drink cost? "No problem! Same yours!" – of course, you have no idea how much yours cost in the first place, but you'll find out soon enough. Some kind of show starts, probably one from "The Menu". Just 1 tiny trick and already you'll be pressured to tip generously.
At that point, most people figure out something isn't quite right and consider leaving. "Check please! 2,000 baht, sir", which is the price for your beer and some lady drink you can't really remember ordering. Of course, you'll contest that bill, but the big guy next to the door will give you "The Look" and maybe a small discount, but pay the bill, you will!
How to recognize the scam: Any guy approaching you with a naughty menu is suspicious. All the bars at ground level in Patpong have fixed prices for drinks, while any located above is probably a scam. If you are invited to 'go upstairs', just tell them you changed your mind and suddenly feel like having ice cream instead.
4
The taxis parked in front of your hotel scam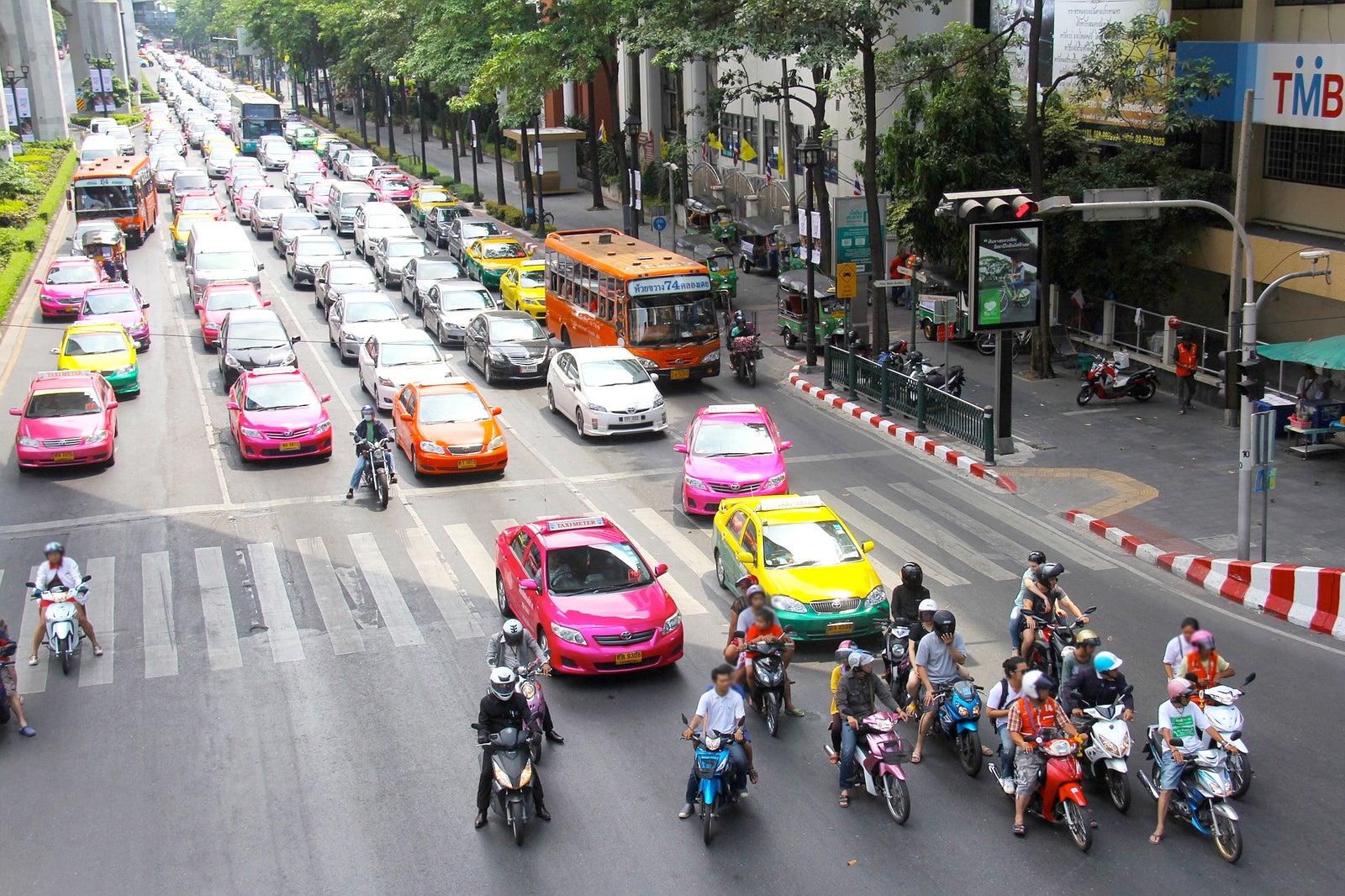 This is an easy scam to spot and easy to avoid once you are aware of it. In front of every 4- and 5-star hotel, there are always 2 or 3 cabs parked all day long, with taxi drivers hanging around, obviously not desperate to pick up any customers from the street. These taxis might appear to be assigned to the hotel, but they are in no way a service provided by your hotel.
Instead, they'll spot hotel guests looking for a taxi and kindly offer their service. Since they are always parked here, you think that's convenient, so you hop in and off you go. That's when you realize that the meter is off, so you kindly ask to have it turned on. At that point, the driver will make an offer, something like 500 baht to the airport (instead of the usual 300 to 350), but will never switch on his meter. As you are already rolling, it's hard to ask the taxi to stop, especially since your suitcase is in the boot.
How to avoid the scam: It's always better to flag a taxi down from the street but, if one isn't available, insist on the meter being switched on before you start rolling. If all else fails, use a ride-hailing app like Grab.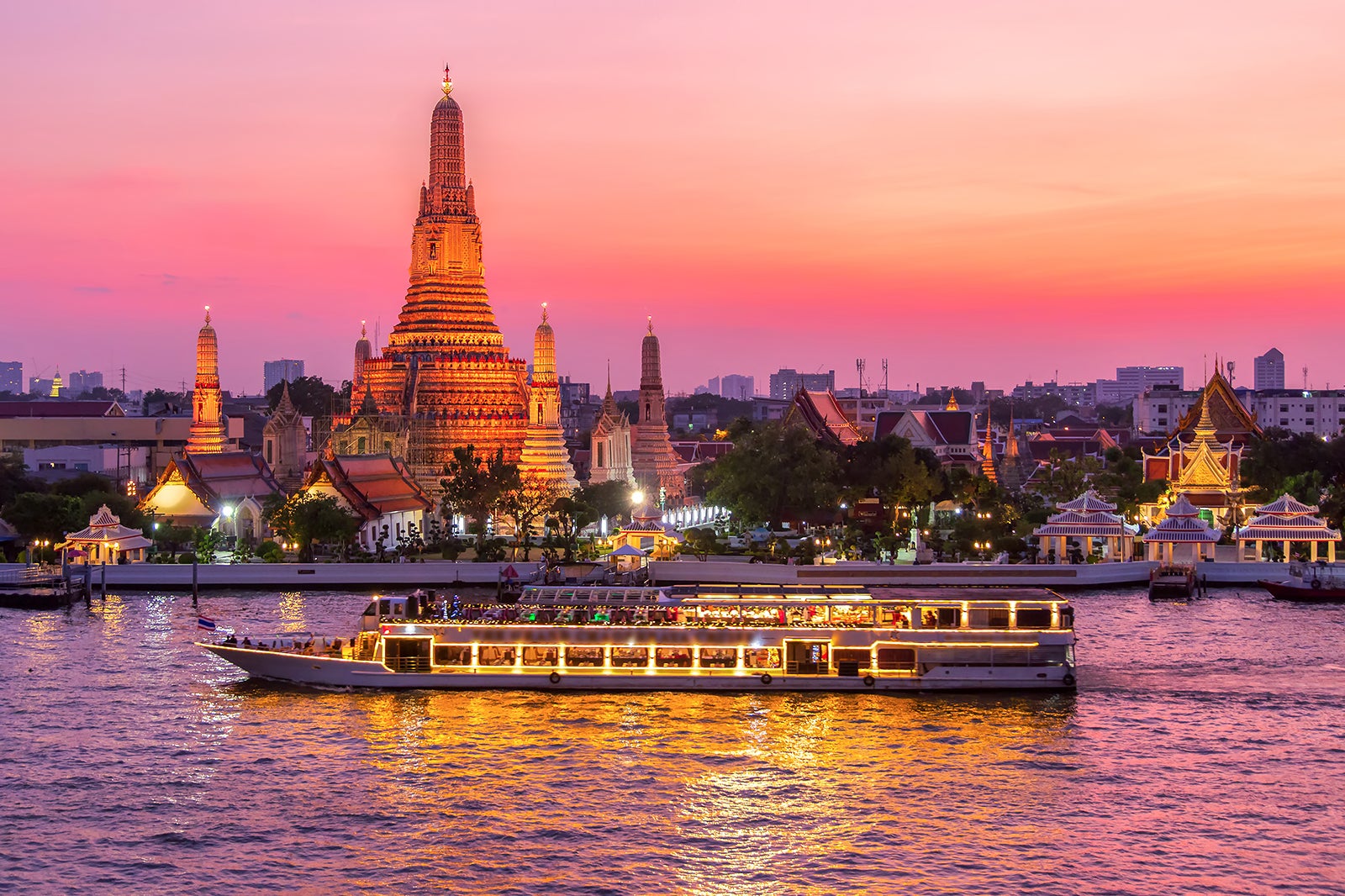 A friendly Thai man will approach you in the street and will start the same small talk that kicks off the Grand Palace scam. These guys always seem to have an anecdote about your country and always know a couple of sentences in your language. They also seem to know all the soccer players from every country, so if you are a soccer enthusiast, you just found yourself a buddy who'll happily hit on that nail. The man will offer you to ride his friend's longtail boat to go around the famous khlongs (canals) of Bangkok for a ridiculously low price.
The tour is real and actually very nice, so enjoy it – you might as well get something good out of the day before the scam ruins what's left of it! Your guide might even stop at a riverside bar and kindly offer you a soft drink. So far so good, and as the ride is about to end you think how lucky you have been today!
As you approach the pier, the engine stops 200 meters from the pier and your new friend will ask for an additional 1,000 baht – or more – for the cost of the boat ride. No matter what you say and how much you argue, the boat won't get any closer to the pier. You will, of course, pay because the alternate is swimming back to the pier with your expensive camera and smartphone, neither of which are worth less than 1,000 baht.
How to avoid the scam: Don't trust strangers approaching you in the middle of nowhere with too good intentions. Just smile and decline. If you want to explore the khlongs by boat, book a trip with a tour agent or at the piers. Note that smiley guys might try to approach you at the pier as well, but always buy your own ticket at the counter.
Back to top