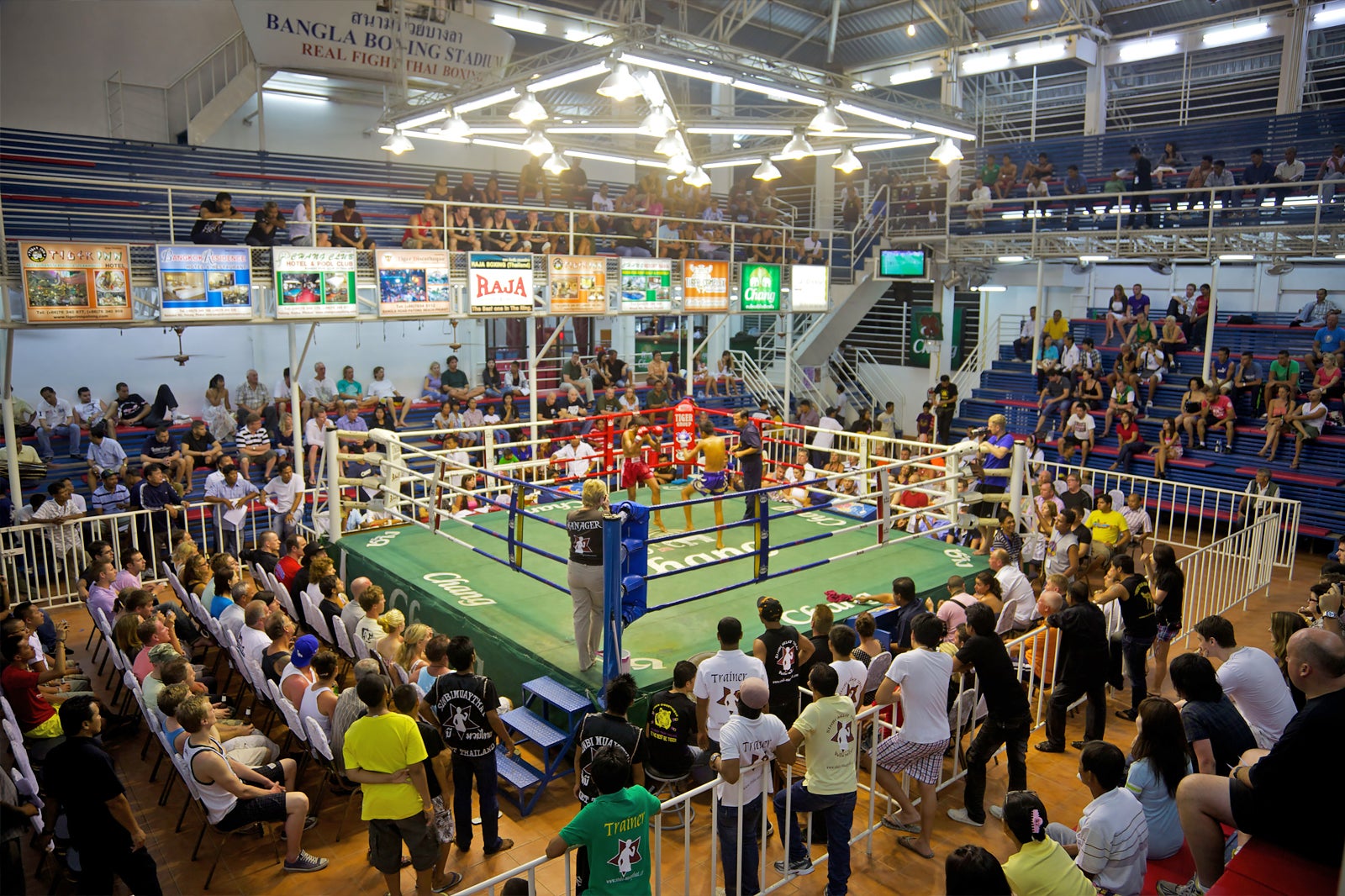 Bangla Boxing Stadium is a prominent Muay Thai arena in Patong Beach. The 2-storey stadium is hard to miss – its first floor has 4 beer bars with hostesses, while the second is an amphitheater surrounding the boxing ring. You can spot large statues representing Thai boxers at the front of the building.
Bangla Boxing Stadium hosts real Thai Boxing matches, with real champions fighting for prizes, titles and to improve their rank on the Thai boxing scene. Fights typically take place on Wednesdays, Fridays and Sundays.
Bangla Boxing Stadium in Phuket - one of the highlights of 33 Best Things To Do in Patong and 67 Best Things to Do in Phuket (Read all about Phuket Province here)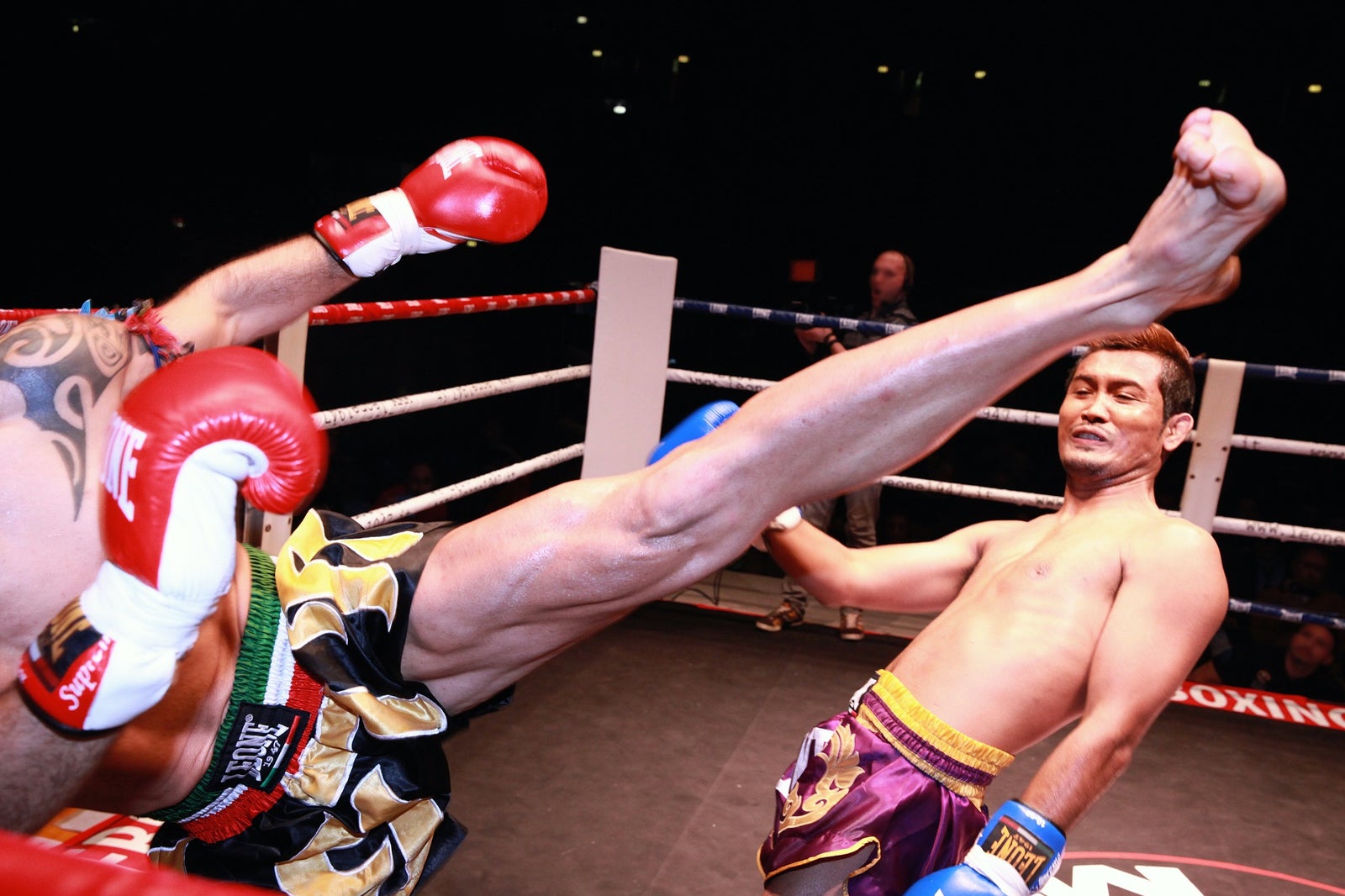 Thai boxing at Bangla Boxing Stadium
When arriving at Bangla Boxing Stadium, the first things you'll notice are the 4 beer bars – Lucky Bar, Koala Aussie Bar, Casanova's Bar and B1 Bar – which are the only part of this setup reminiscent of Bangla Road – the heart of Phuket's 'naughty' nightlife. You can have a drink here if you're too early for the fights upstairs.
The boxing stadium is on the second floor, with a well-lit large open space with comfortable seats arranged for punters to see the ring and the action happening in it. VIP seats are available at the first row around the ring, which cost around 2,500 baht. Ringside seats are from 2,000 baht.
Tradition is at the heart of all Thai boxing events. Sarama – the hypnotic Muay Thai traditional music – fills the air and takes both fighters and audience to another level. The wai kru ram muay (pre-fight ritual dance) is performed to show respect to the fighters' trainers and coaches. Thai boxing is not only a show of force and skill, but it's deep-rooted in Thai history and spirituality.
Thai boxing fights at Bangla Boxing Stadium
Fights at Bangla Boxing Stadium usually start from 8pm to midnight – the evening can be shorter if too many knock-outs occur. Young fighters between the age of 12 and 14 often open the show (note that it can be somewhat disturbing to see such young boys hitting and kicking each other).
The quality of the matches increases as the evening unfolds until the climax at the last fight which usually features national and international champions. Foreign boxers are usually more impressive to watch due to their size – among the Super Heavyweight World Champion titleholders was a Russian – and Thai boxers do not lead the world championship any more, even though their style is certainly purer than a lot of international boxers.
Bangla Boxing Stadium is a great place to witness one of the most popular sports in Thailand. It's centrally located and well organized with friendly staff. Watching outstanding physical performances by powerful athletes is a great way to spend an evening in Patong.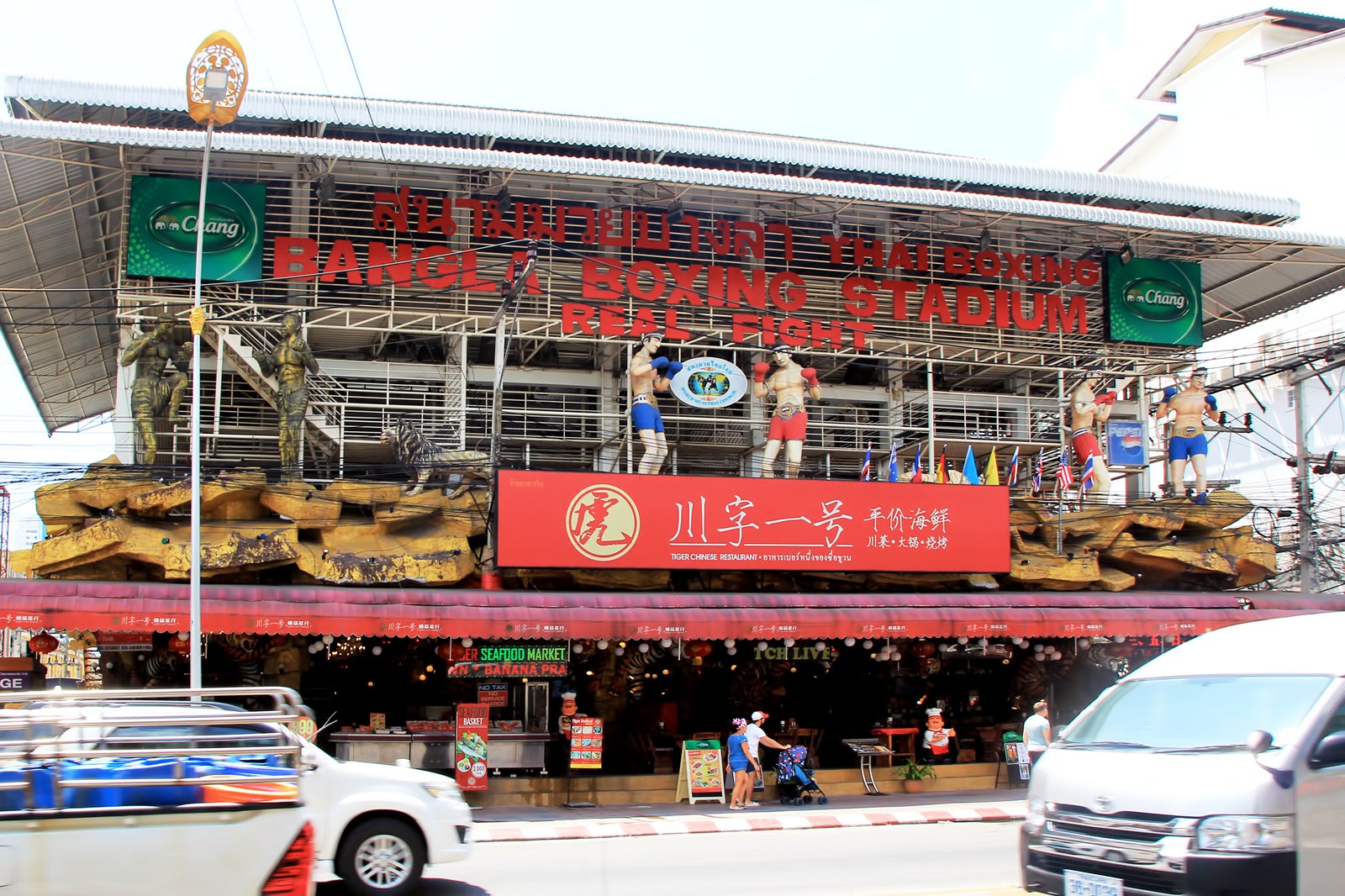 Bangla Boxing Stadium in Phuket
Location: 150-55 Phang-Muang-Sai Kor, Patong, Kathu, Phuket 83150, Thailand
Open: Wednesdays, Fridays and Sundays from 8pm to midnight
Phone: +66 (0)64 061 5050
Back to top