The Bangkok Art and Culture Center (BACC) is the hub of Bangkok's burgeoning art scene and offers the widest range of contemporary art, design, music, theatre and film in the city. Located only a few minutes' walk from the National Stadium BTS Skytrain station, it regularly hosts changing exhibitions from both Thai and international artists.
Entry to BACC is free. While it hasn't quite reached the calibre of the great art centres of London and New York, its potential is evident and it's worth dedicating an hour or so for a visit.
Bangkok Art and Culture Center (BACC) - one of the highlights of 16 Great Art Galleries in Bangkok and 10 Best Free Things to Do in Bangkok (Read all about Bangkok here)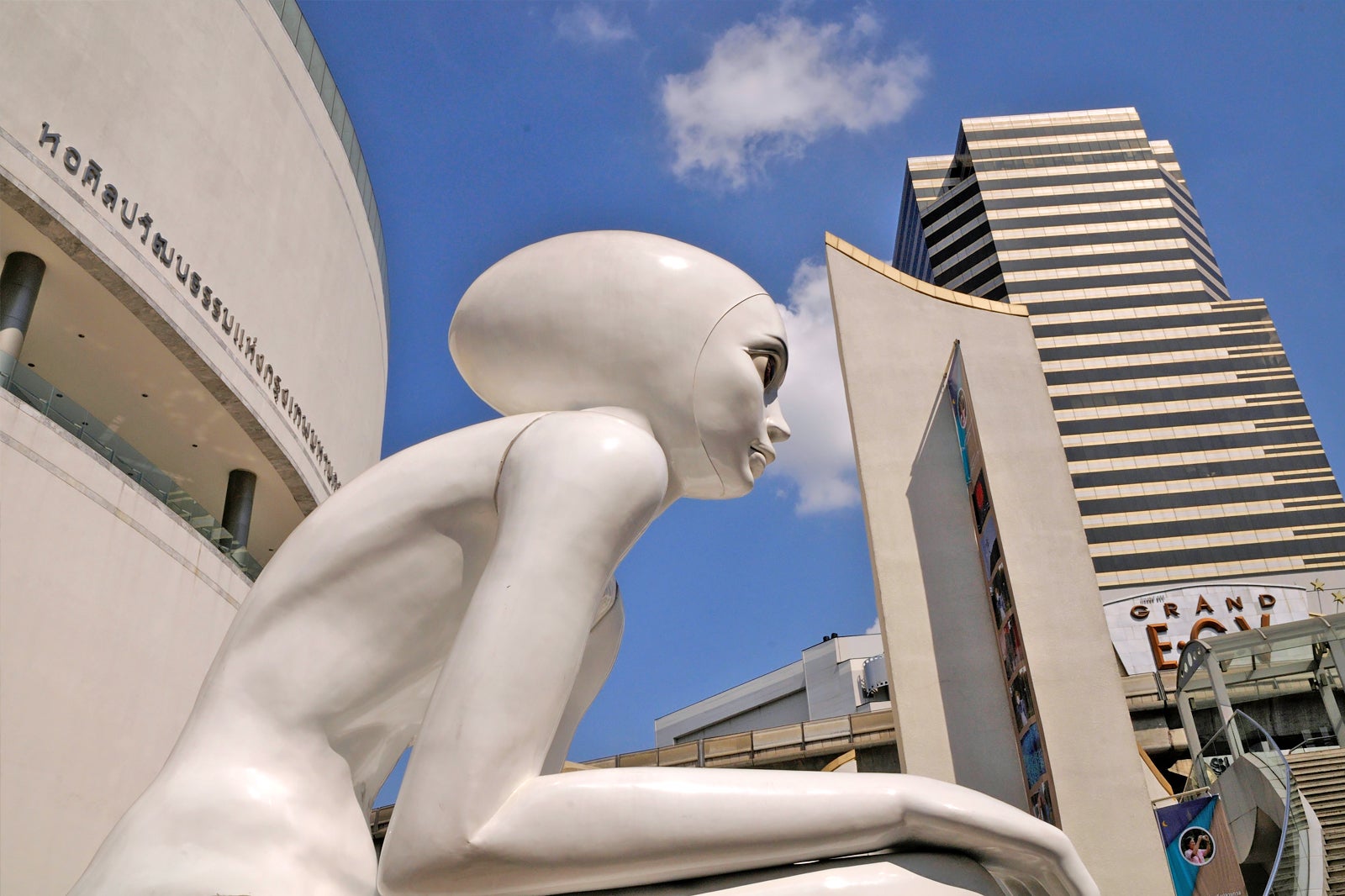 Bangkok Art and Cultural Center (BACC) features
Both inside and outside the building is reminiscent of the Guggenheim in New York, with its huge white curving facade and spiral walkways. It stands out on the corner of the Pathumwan intersection among the malls and often displays some interesting sculptures in the front square. It finally opened in 2008, 13 years after the idea was first suggested.
Political stumbling blocks, changes in government and granting funding prolonged the process. The advocacy paid off and it continues to dedicate itself to the aim of providing somewhere for locals and visitors to define and explore art and culture. As well as over 4,000 sq m of exhibition space it also houses shops, an art library and a couple of cafés serving coffee and snacks.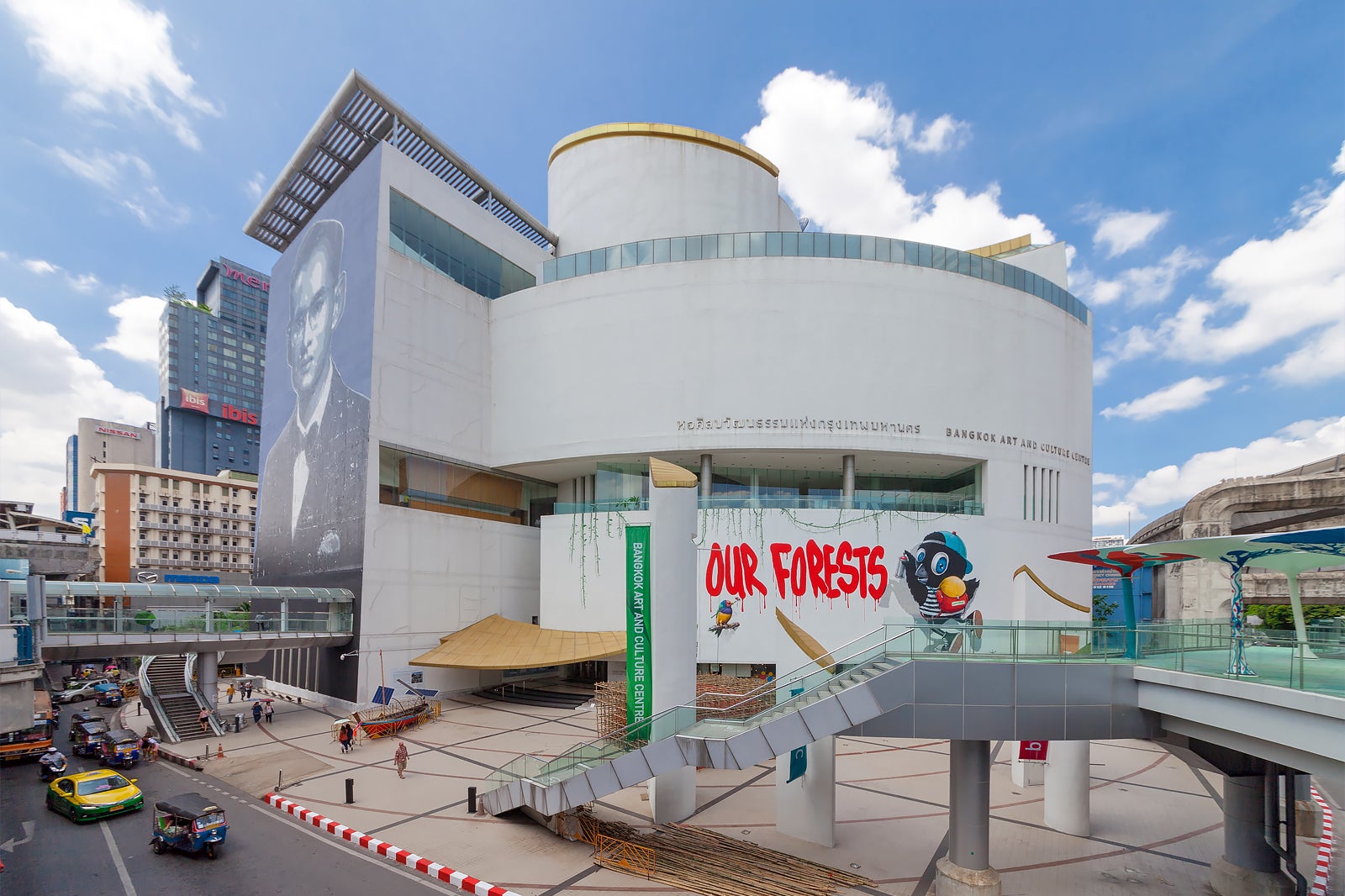 Varying exhibits at BACC
The exhibitions on display at BACC vary widely. It has an international feel with explanations in English and bilingual staff on hand to enhance the experience. At times, the large space can feel empty but once you step inside the galleries the innovation is obvious.
Rotating curators insure that there's always something exciting and challenging to see. Over the past few years, this has included new Asian photography, the Young Thai Artist Award, contemporary Japanese crafts, The Mekong River Art Project and many others.
Good to know about Bangkok Art & Cultural Center
The art center has quickly become a popular hangout for students, though the enthusiasm has not always been picked up by the general public and visitors to the area. While there are some limitations and not every display is of world-class standard, it does give a great insight into modern culture in Thailand.
Tip: It's worth picking up the Bangkok Art Map during your visit if you are interested in exploring some of the smaller galleries in town. Partly sponsored by the BACC, it provides a monthly update on the current exhibitions and their locations throughout the city.
Bangkok Art and Culture Center (BACC)
Location: 939 Rama I Rd, Wangmai, Pathumwan, Bangkok 10330, Thailand
Open: Tuesday–Sunday from 10am to 9pm (closed on Mondays)
Phone: +66 (0)2 214 6630
Back to top