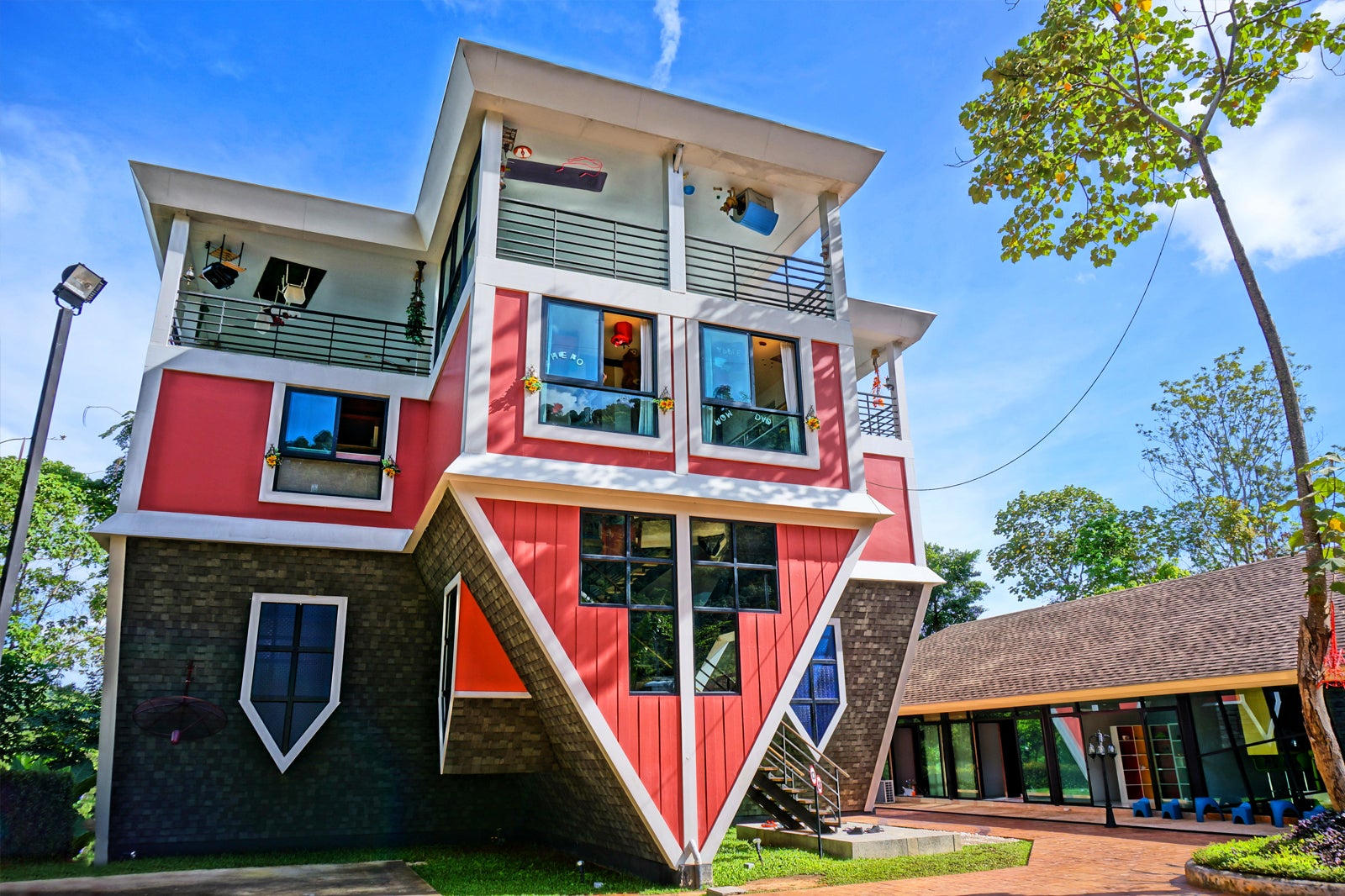 Baan Teelanka in Phuket is a family-friendly attraction located around 10 km north of Phuket Town. The complex offers 3 main activities to entertain the whole family. Baan Teelanka is a 3-storey upside house with A-Maze-in-Phuket, a maze-shaped garden in its backyard.
The Chamber of Secrets at Baan Teelanka has 2 escape rooms, where you need to find clues and solve puzzles to open the doors. It also has a modern coffee shop and a souvenir store. Complimentary Wi-Fi is available throughout the property, allowing you to instantly share quirky pictures of Baan Teelanka on social media.
Baan Teelanka in Phuket - one of the highlights of 11 Best Things to Do with Kids in Phuket and 67 Best Things to Do in Phuket (Read all about Phuket Province here)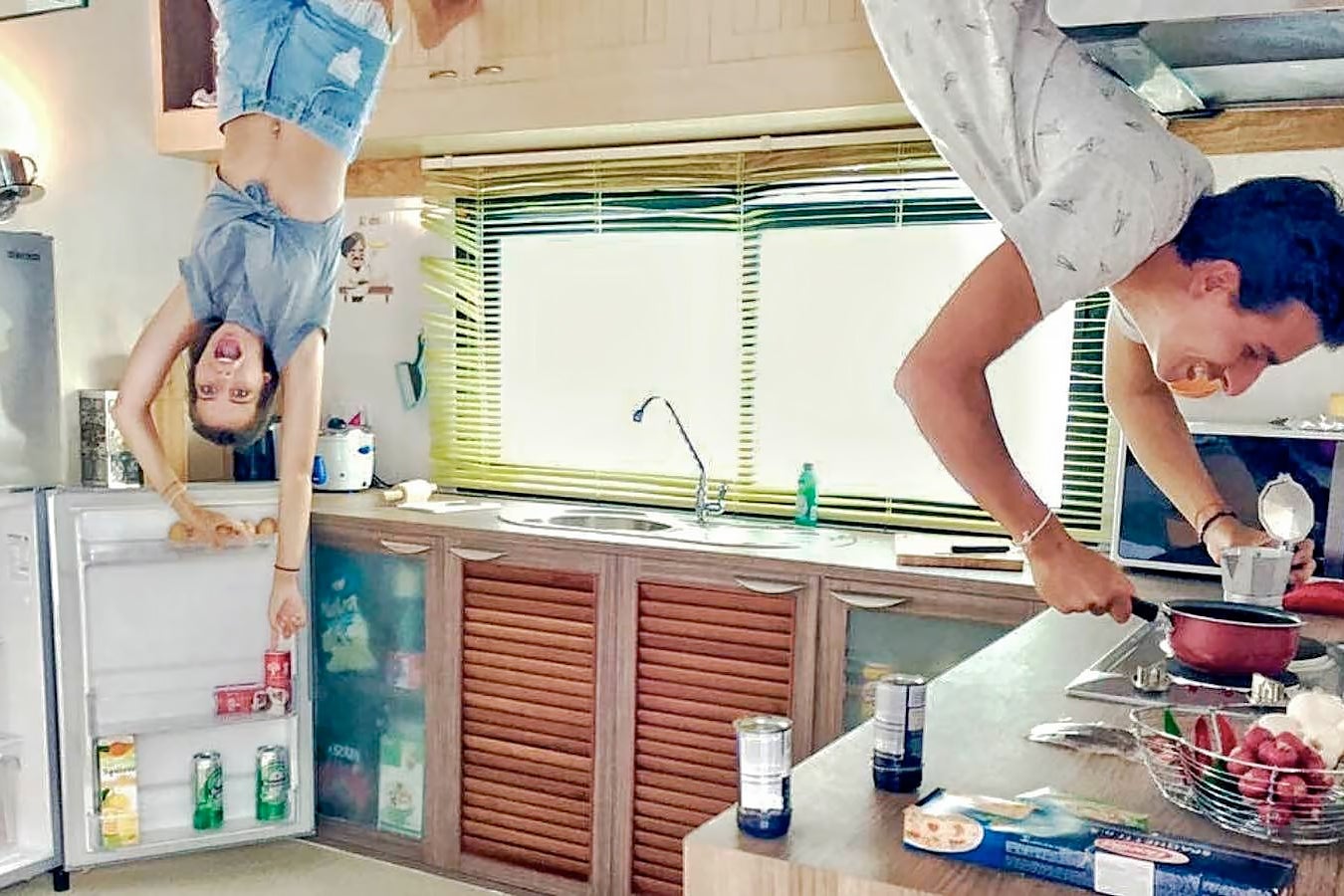 Highlights of Baan Teelanka in Phuket
The 13-meter-tall Baan Teelanka lets you leave all logic behind as you enter the house from its roof, passing through the attic to reach the 2nd floor. You can visit all the rooms like in a standard house – the only difference is that you do so while walking on the ceiling.
See 3 bedrooms (including a children's bedroom), living room, kitchen, and restroom, with all furnishings and decorations hanging upside down. A flight of stairs takes you to the 3rd floor, where you'll find a garage and utility room. This floor overlooks the maze garden at the back of the house.
A-Maze-in-Phuket at Baan Teelanka
Baan Teelanka's garden has a 1,000-square-meter labyrinth called A-Maze-in-Phuket. It has 7 gates which, according to their positions, offer a range of different routes. On average, it takes between 10 and 15 minutes to find your way out of the maze-like garden.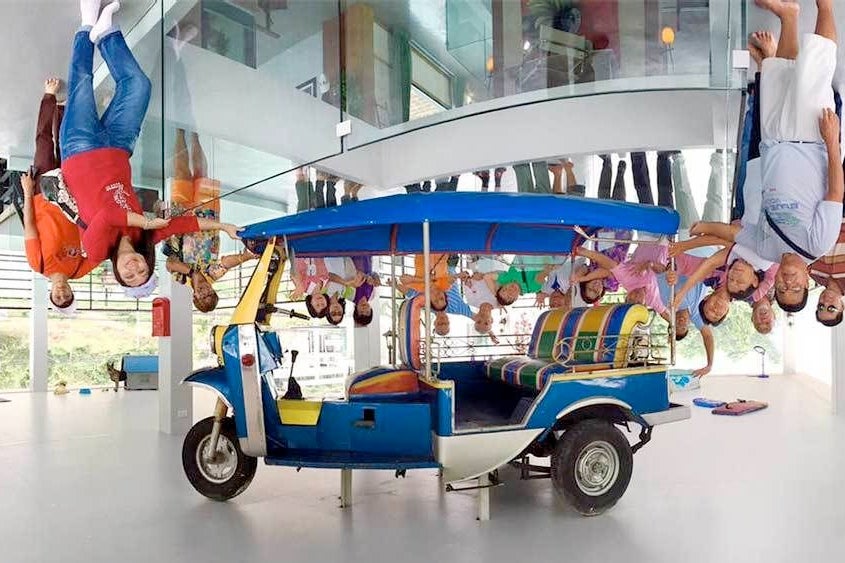 Chamber of Secrets at Baan Teelanka
Chamber of Secrets at Baan Teelanka has 2 separate series of escape rooms: Jenny's Love Coordination and Room Omega. A maximum of 4 people can play in the first room and usually escape within 40 minutes. Room Omega can accommodate up to 6 participants, with a time limit of 60 minutes.
The rules of an escape room game are simple – players are locked in a room and must find clues to help them find a key or code required to open the door to the next room, then out.
It's a really fun and challenging experience, requiring the input of each participant to escape. Different types of assets – a sense of observation, calculation, and logic – are necessary to succeed.
Baan Teelanka in Phuket
Location: 51/11 Village 5, Chalermprakiat Ratchakan Thi 9 Road, Rassada, Muang, Phuket 83000
Open: Daily from 9.05am to 6.15pm
Phone: +66 (0)84 456 5279
Back to top