Baan Chinpracha is a fine example of a Sino-colonial mansion in Phuket. Located on 98 Krabi Road in Phuket Old Town, it's just a few doors away from the famous Blue Elephant Restaurant. Not only will you be able to enjoy a sneak peek of how a wealthy Phuket family used to live many decades ago, but you can also meet its owner too.
Jaroonrat 'Daeng' Tandavanitj and her late husband, Pracha Tandavanitj, inherited this elegant, 20th-century building from his father, who was the eldest son of mansion's original owner, Phra Pitak Chinpracha.
Baan Chinpracha in Phuket Town - one of the highlights of 8 Beautiful Old Phuket Houses and Phuket Old Town Neighborhood Guide (Read all about Phuket Province here)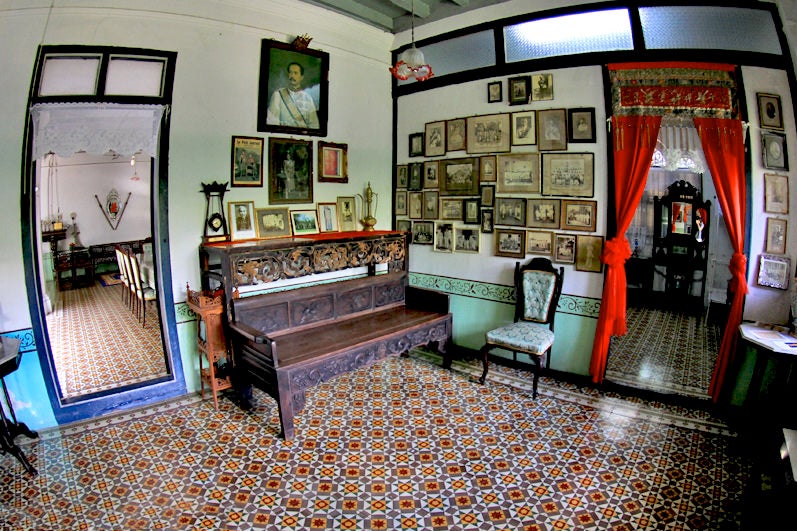 Baan Chinpracha highlights
Khun Daeng opens most of her house to the public, including the 2 upstairs bedrooms, the kitchen and the ground floor area. She has managed to keep this beautiful house in fine condition – you can see vintage Italian floor tiles, some original furniture that was imported from Europe and China, and many old pictures of the Tandavanitj clan.
One of Baan Chinpracha's most attractive features is the inner courtyard, which opens up to the sky. In the old days, this central open area was the heart of Sino-Colonial style houses. You would find the women of the house chatting while cooking or doing laundry. It was also, in a sense, the lungs of the house, allowing air to flow through.
What to see ayt Baan Chinpracha
The large kitchen has old-style stoves, clay cooking pots, brass pans and kettles as well as kerosene lamps. There are quite a few food carriers (pinto in Thai) displayed above the wooden cabinet. This item is an important part of Southeast Asian food culture. People often use it as a lunchbox and to transportation fresh home-cooked food when visiting friends and family. You'll also see locals carrying a pinto on their way to the temple, when they donate food to the monks in the morning.
Good to know about Baan Chinpracha
Baan Chinpracha has been used as a filming location for Thai and western movies, including Oliver Stone's Heaven & Earth (1993) and the TV series The Young Indiana Jones Chronicles (1992).
Baan Chinpracha is the only Sino-colonial mansion in Phuket that's open to the public. A small entrance fee applies for every visit.
Baan Chinpracha in Phuket Town
Location: 98 Krabi Rd, Talat Nuea, Muang, Phuket 83000, Thailand
Open: Daily from 9am to 4.30pm
Phone: +66 (0)76 211 281
Back to top