10 Best Places Locals Love to Go in Taipei
Locals' Guide to Must-Visit Sites in Taipei
The most popular places locals love to go in Taipei will impress you with endless wonder and unforgettable memories. Visit Longshan Temple of Manka and feel the majestic solemnity of this centuries-old temple. Visit the Palace Museum in Shilin, lingering in the time tunnel-like exhibition room. Taste the special food in Tamsui Old Street, embarking on the return journey with satisfaction against the beautiful waterfront sunset. Head to Beitou for a relaxing hot springs bath, and then to Yangmingshan National Park for a panoramic view of the mountains, or take the Maokong Gondola to enjoy the magnificence of the surrounding mountains from high in the air.
If you've come to experience the local customs, you mustn't miss the Pingxi Sky Lantern Festival, where you can send good wishes to the sky. The charming Dadaocheng neighborhood embodies the beauty of both the past and new eras. No less impressive is Huashan 1914 Arts Park. Converted from a winery, it resonates with the soft power of Taipei's cultural and creative industry. Taipei 101, the city's most iconic building, is the best place to take in the prosperity and splendour of Taipei.
Located in Wanhua district of Taipei, Longshan Temple of Manka was built in 1738. It is a national monument attracting a large number of pilgrims. The palace-style architecture of Longshan Temple is magnificent, with exquisitely carved roofs, beams, columns and decorations. Every corner of the temple is full of amazing details you can't help but admire. Regardless of their religious beliefs, anyone who comes to Longshan Temple will be effected by the religious atmosphere. Watching believers devoutly worship the Guanyin Buddha in the grand hall surrounded by incense can be truly mesmerizing.
Longshan Temple is also one of the best places to experience traditional festivals, such as the Lantern Festival, Buddha Bathing Festival, and Chungyuan Festival. They always attract large numbers of believers, creating a lively atmosphere. After visiting Longshan Temple, you may stroll around Huaxi Street Tourist Night Market or Bopiliao Historic Block to experience the Wanhua neighborhood's unique charm.
Location: No. 211, Guangzhou Street, Wanhua District, Taipei City, Taiwan 10853
Open: Daily from 6 am to 10 pm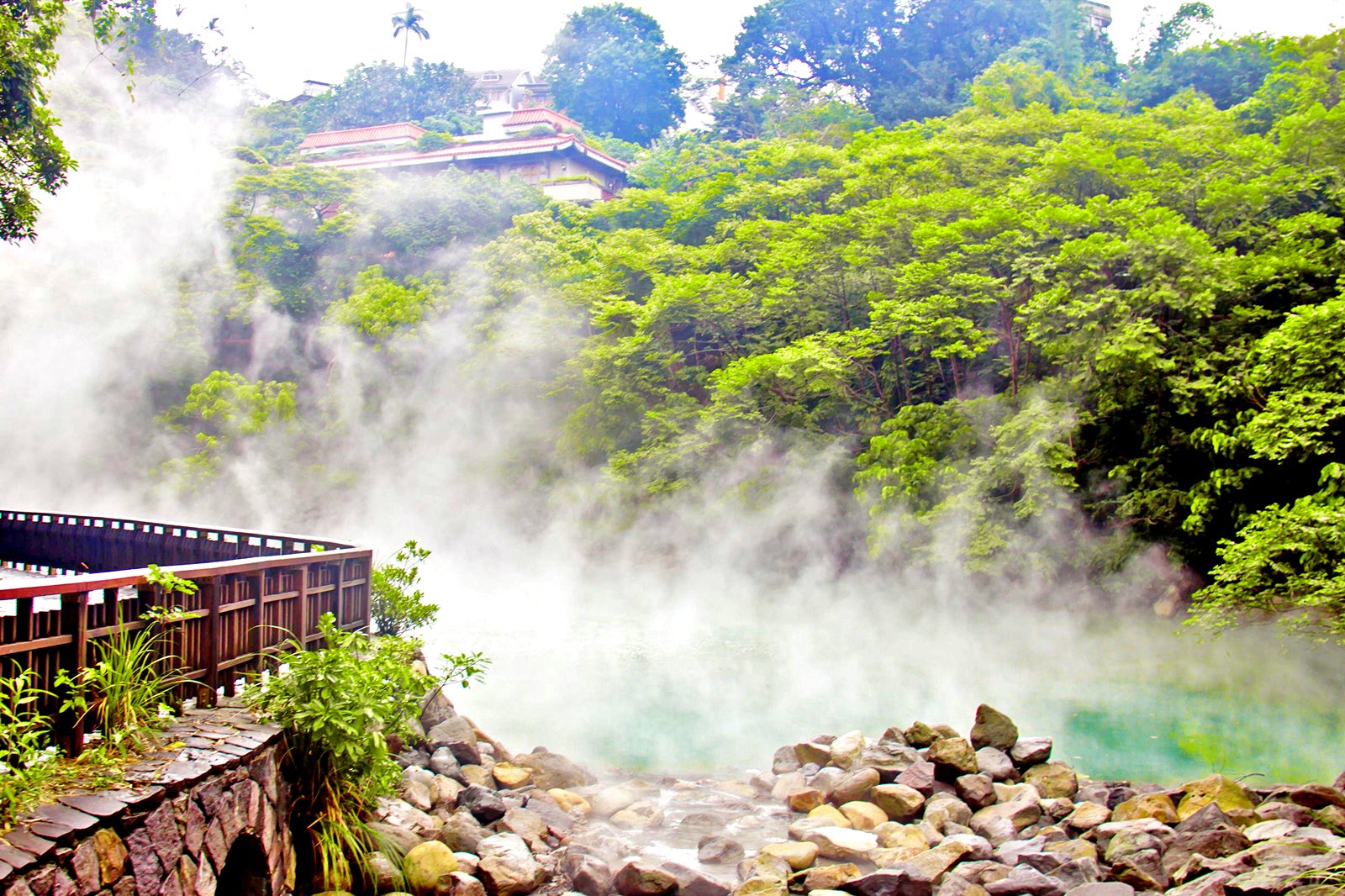 The Beitou neighborhood of Taipei is famous for its hot spring resorts. The first hot spring spas were built here by the Japanese as early as the end of the 19th century. Beitou, with its natural geothermal activity, is the place to go to enjoy hot springs in the winter. Visitors arriving at Xinbeitou Station by MRT will notice the smell of sulfur in the air as soon as they leave the station. The sulfur-infused hot springs here have excellent water quality and bathing in the steamy hot water in winter is guaranteed to soothe both body and mind.
In addition to hot spring resorts, Beitou also has other unique appeals. The Japanese-style architecture of Xinbeitou Historic Station pays tribute to the region's history. Beitou Library, made of wood, is a well-known green building in Taipei. Beitou Hot Spring Museum is a good place to learn about the history of Beitou, so is Thermal Valley which is a natural geography classroom. A visit here offers relaxation in hot springs while being surrounded by the special Japanese style of Beitou.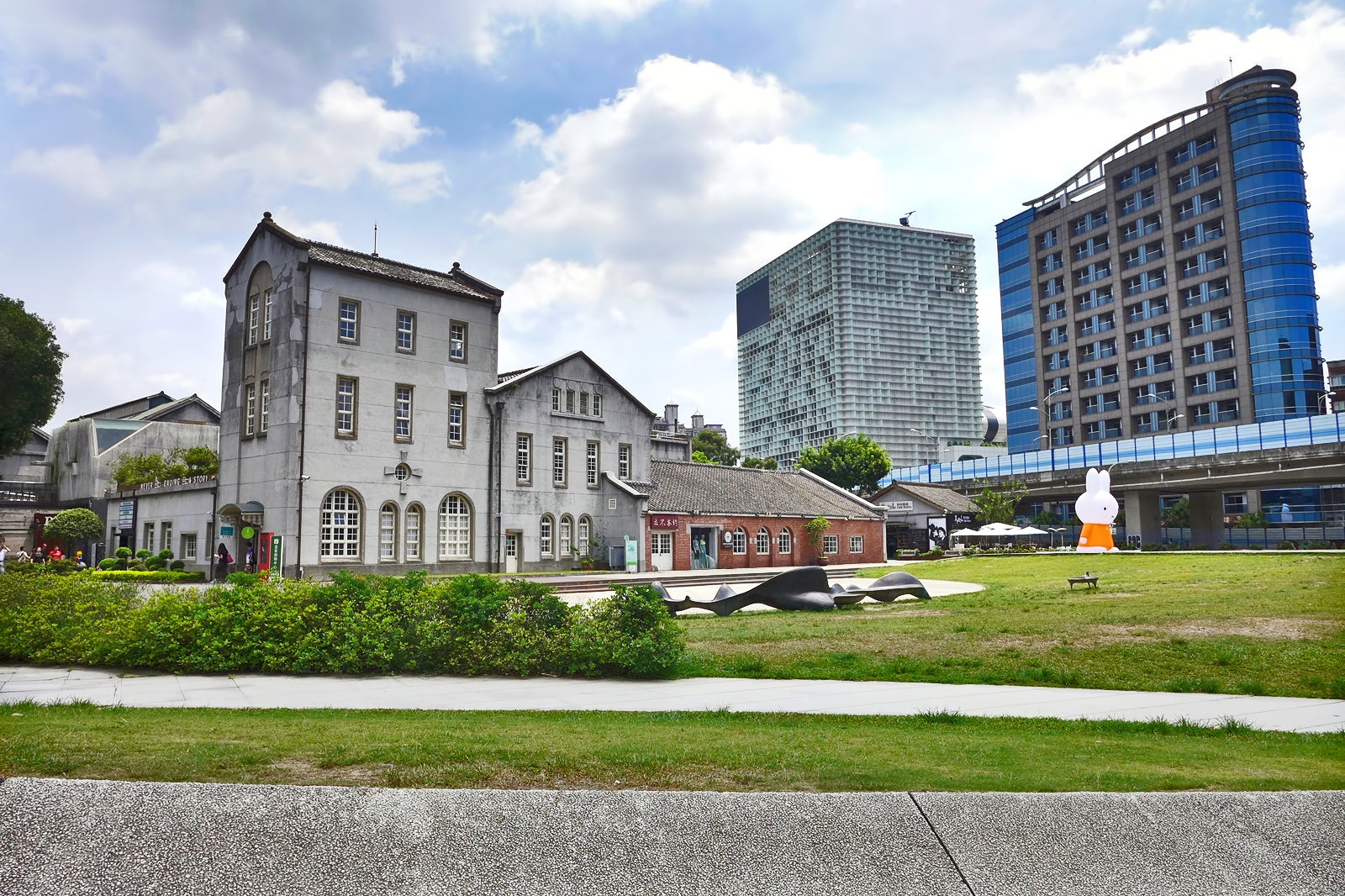 Huashan 1914 Arts Park is the rebirth of the former Taipei Winery and has become a well-known cultural and creative industry hub in Taipei. The park has many spaces for art and music exhibitions, and a host of cultural and creative shops and restaurants, attracting many young cultural and creative teams to take up residence. Here, visitors can deeply feel the strength of Taipei's vigorous cultural and creative industry.
Large-scale art festivals are often held in Huashan 1914 Arts Park, with many popular singers invited to perform and attracting legions of fans. This also means tickets are often in short supply. There are plenty of other wonderful activities, including writers' reading parties, handcraft markets and farmers' markets. Even so, the park has a large expanse of grassy fields that draws many Taipei residents for weekend picnics. You can also prepare a picnic basket to join the locals on the grass and have a picnic under the stars.
Location: No. 1, Section 1, Bade Road, Zhongzheng District, Taipei City, Taiwan 100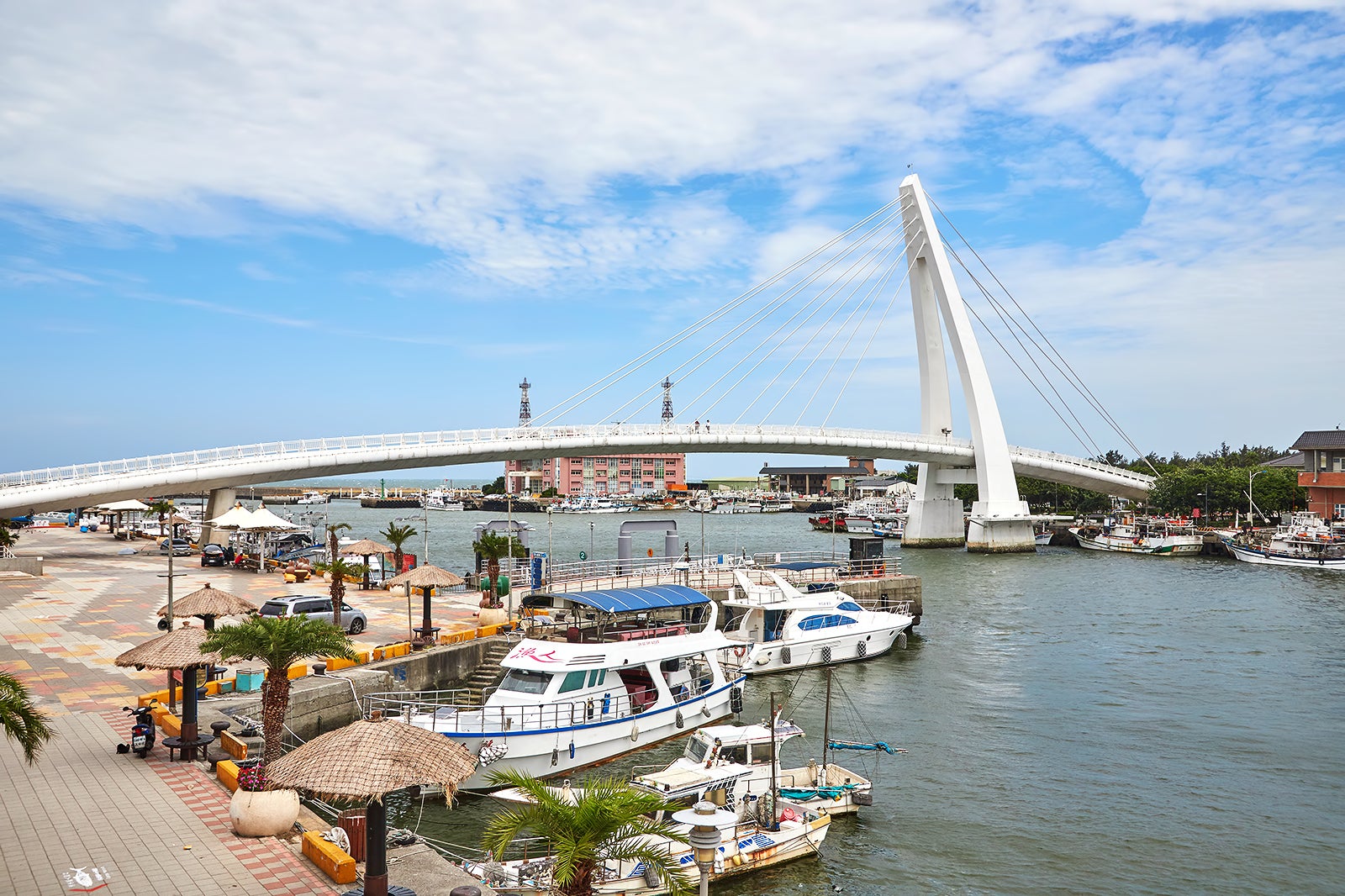 Tamsui is a fantastic place to watch the sunset in Taipei. Many Taipei residents take the MRT to Tamsui to enjoy a sunset over the Tamsui River. As they watch the bright red sun slowly sink into the sea, leaving a sky full of rose-tinted clouds, the lingering clouds in their hearts waft away on a gentle sea breeze.
Tamsui, now a popular seaside resort, has a long history. The Spanish had built a fort here in 1628. The main fortress, Fort Santo Domingo, still stands today and is a notable landmark. Foreign visitors mingle with the throngs of Taipei residents who like to take the MRT to visit Tamsui on weekends with their families. Check out the beautiful Tamsui Old Street, Fort Santo Domingo, and Fisherman's Wharf, hop on the Danhai LRT or visit the mangrove forest. The food in Tamsui is appetizing. Iron egg (tie dan), Tamsui a-gei (a gei), fish crisps (yu su) and fish ball soup (yu wan tang) are all great and delicious local dishes you can only find in Tamsui.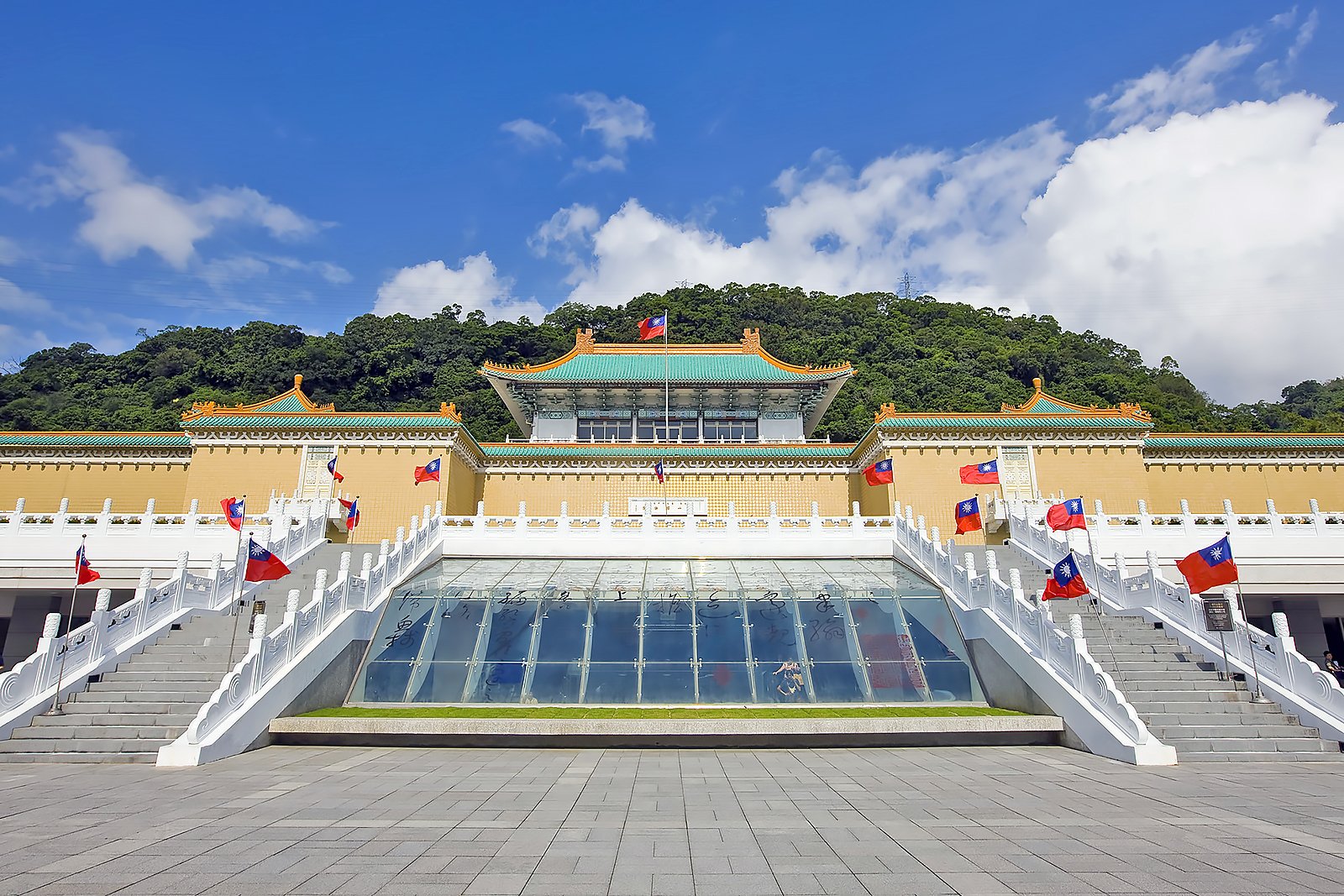 National Palace Museum in the Shilin district of Taipei has nearly 700,000 extremely precious pieces of ancient Chinese cultural artifacts and works of art. It is a museum that you shouldn't miss when visiting Taipei. The museum is surrounded by beautiful mountains and its architecture embodies Chinese palace-style aesthetics. The garden is elegantly landscaped.
The Palace Museum's rich collection includes well-known pieces such as the Jadeite Cabbage, Pork-shaped Stone, Duke Mao Tripod, and Dwelling in the Fuchun Mountains. They're all well-preserved treasures of human art and artistry. After viewing the precious exhibits, you may have a meal at the adjoining Silks Palace, where the chefs use local Taiwanese ingredients to prepare delicacies in the shapes of the Jadeite Cabbage and Meat-shaped Stone.
Location: No. 221, Sec 2, Zhi Shan Rd, Shilin District, Taipei City, Taiwan 111
Open: Sunday–Thursday from 8.30 am to 6.30 pm, Friday–Saturday from 8.30 am to 9 pm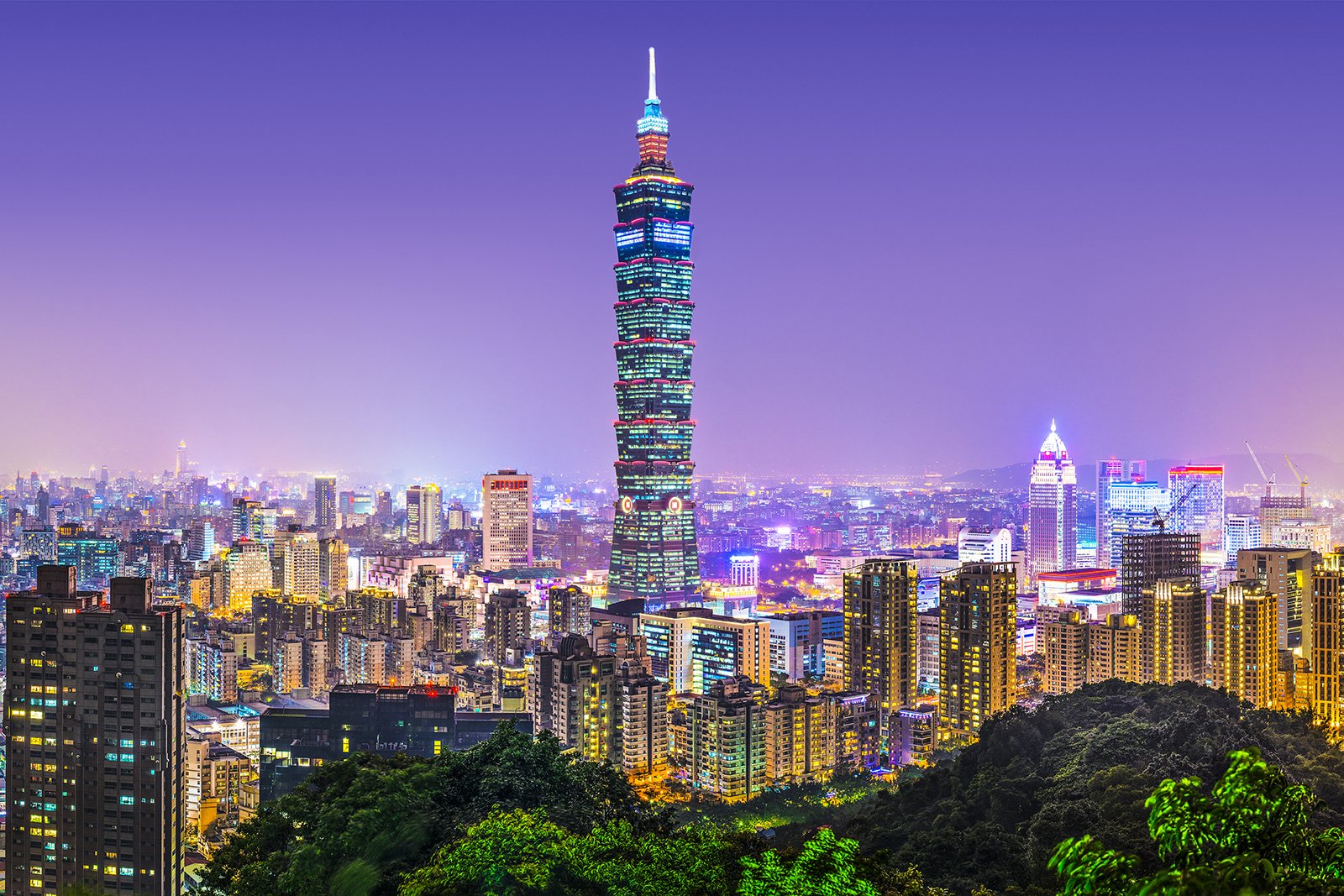 Taipei 101 is the tallest building in Taipei City, standing 509.02 meters tall and shaped like a towering bamboo tree climbing up section by section. It is the most significant landmark in Xinyi District of Taipei. Taipei 101 is a complex that comprises malls, office buildings and restaurants. Visitors to Taipei 101 take the high-speed elevator to the scenic platform on the top floor, overlooking the bustling city of Taipei, to take in the panoramic views.
Arriving at the observatory, visitors will be able to see dampers that slow any swaying by the skyscraper and learn about the building's unique engineering feats. There's a mall where famous brands from all over the world vie for attention, and contemporary fashions are displayed in the windows. It is a gathering place for Taipei's celebrities. After leaving Taipei 101, be sure to look back and enjoy the exterior rainbow lights that illuminate the building at night.
Location: No. 7, Section 5, Xinyi Road, Xinyi District, Taipei City, Taiwan 110
Open: Observatory open daily from 9 am to 10 pm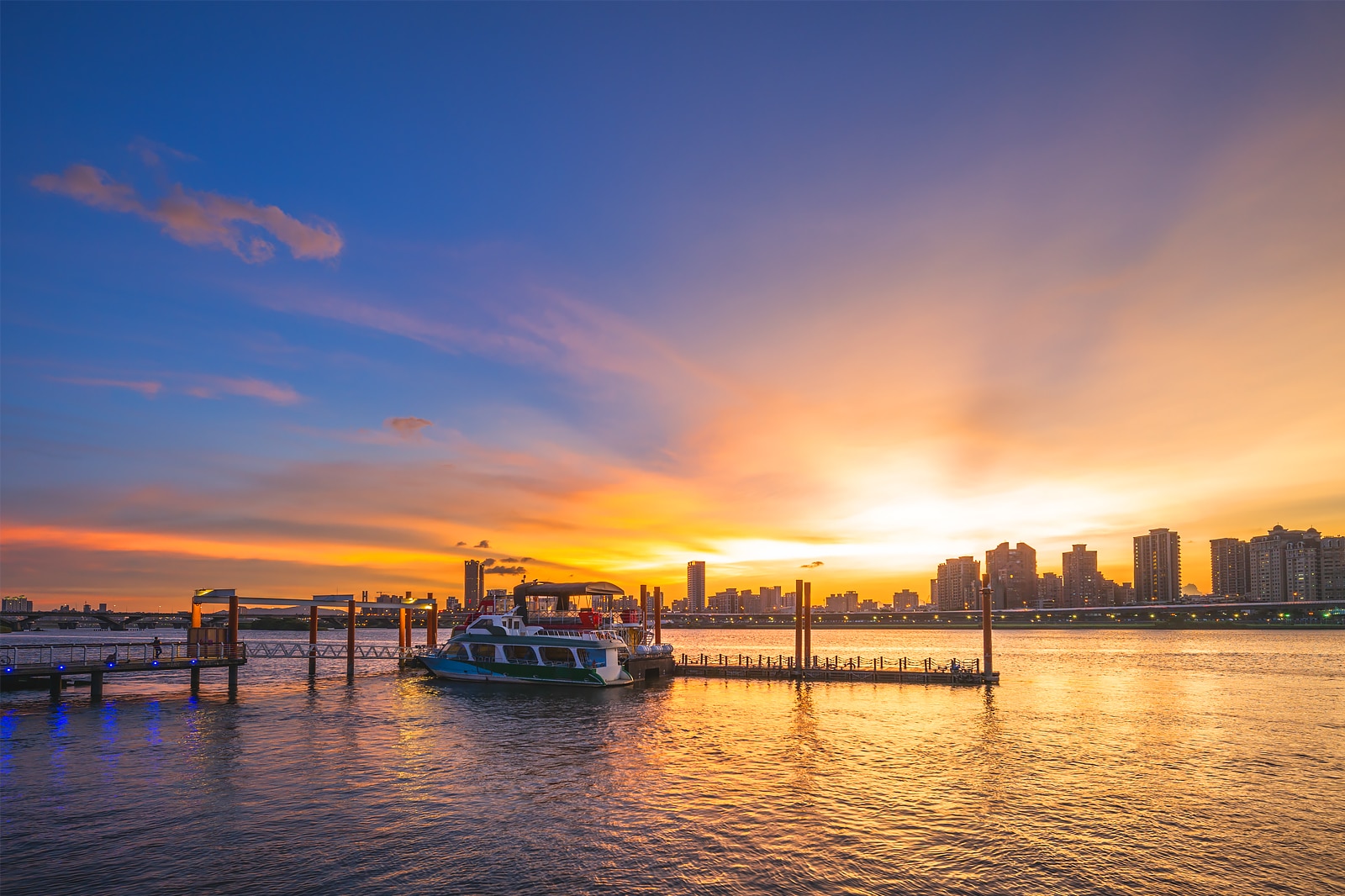 Dadaocheng in the Datong district of Taipei city used to be the material distribution hub of Taipei, where many cloth and tea merchants plied their trade. In the old days, farmers used a large area of open land in the area to sun-dry rice grains, and this gave rise to its name Dadaocheng, which means "big rice courtyard". When the Tamsui River silted up, the port lost its important position, and Dadaocheng also gradually declined. Dadaocheng has since been transformed from an old downtown area into a very fashionable neighborhood of Taipei, now with numerous cafes, restaurants, art galleries and theatres attracting lots of young creative talents.
Now it is a charming urban area that's great for walking. The most comfortable way to visit Dadaocheng is to wander through it on foot. After arriving by MRT, visitors can stroll along the nearby old street and Dihua Street, visit Dadaocheng Wharf and Taipei Xia-Hai City God Temple, and have a drink while enjoying the sunset at the PIER5 Container Market. To visit Dadaocheng is to witness a perfect blend of the charm of the old era and the vitality of the new.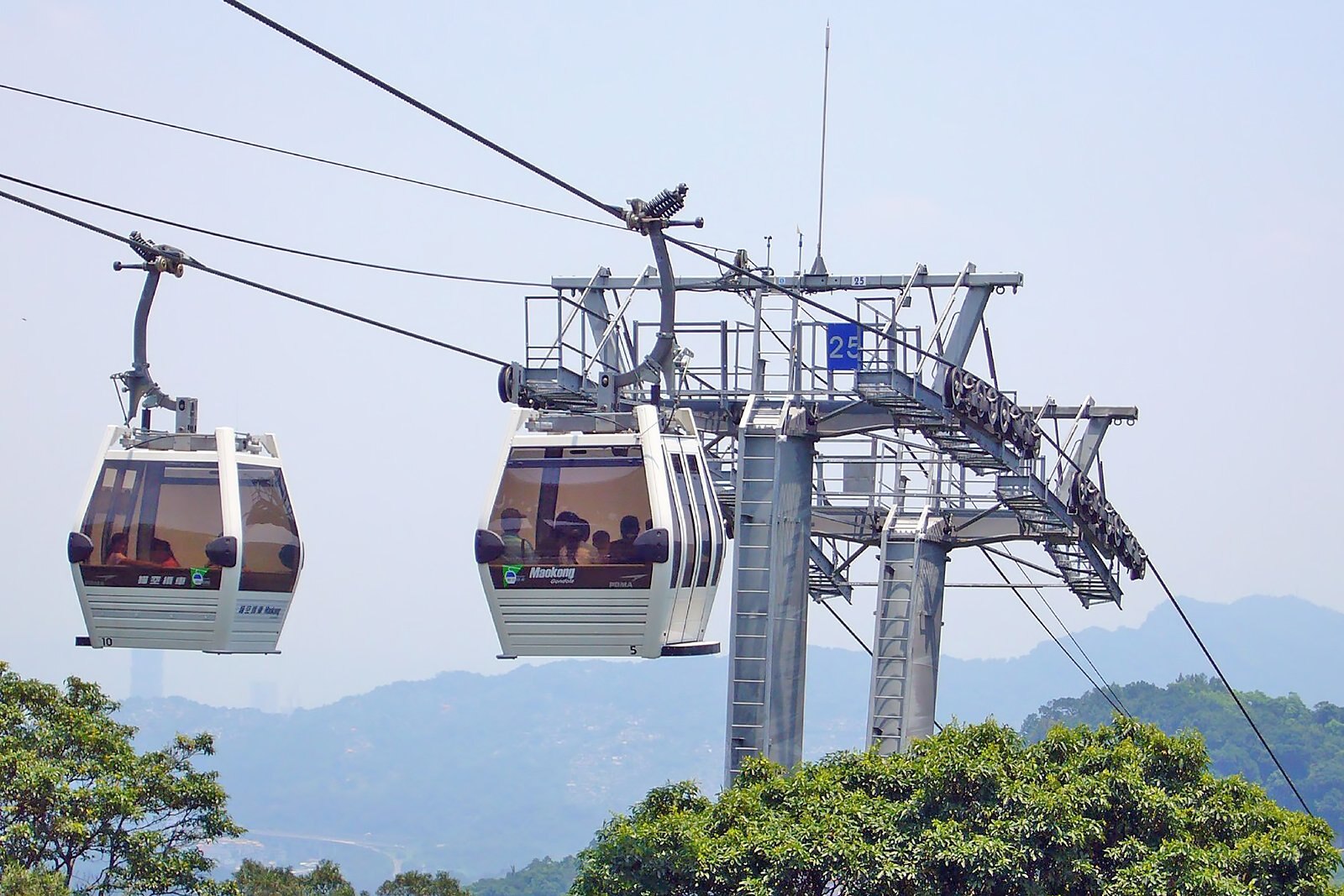 Maokong in Taipei's Wenshan District is famous for its tea garden. It is a prime attraction overlooking Taipei's evening cityscape. The most convenient way to visit Maokong is to take the Maokong Gondola. The total length of Maokong Gondola is 4.03 km, with 4 stations in total: Taipei Zoo Station, Taipei Zoo South Station, Zhinan Temple Station and Maokong Station. Most travelers start from Taipei Zoo Station and take the gondola all the way to Maokong Station, which takes less than 30 minutes. Along the way, the views overlook Taipei City and the surrounding mountains with spectacular scenery.
After arriving at Maokong, visitors can casually find a tea restaurant and sit down for a cup of locally produced Wenshan Pouchong Tea. Maokong offers a number of cozy open-air restaurants where local ingredients are served, and you can taste delicious food while enjoying the night view of Taipei. In addition to the tea gardens, there are also many attractions in Maokong, such as Apricot Blossom Garden, Camphor Tree Trail and Zhangshan Temple. The unique mountain scenery is beautiful year-round.
Location: No. 8, Section 2, Xinguang Road, Wenshan District, Taipei City, Taiwan 116
Open: First Monday of each month from 9 am to 9 pm, Tuesday–Thursday from 9 am to 9 pm, Fridays from 9 am to 10 pm, Saturdays from 8.30 am to 10 pm, Sundays from 8.30 am to 9 pm
photo by Cheng-en Cheng (CC BY-SA 2.0) modified
9
Pingxi Sky Lantern Festival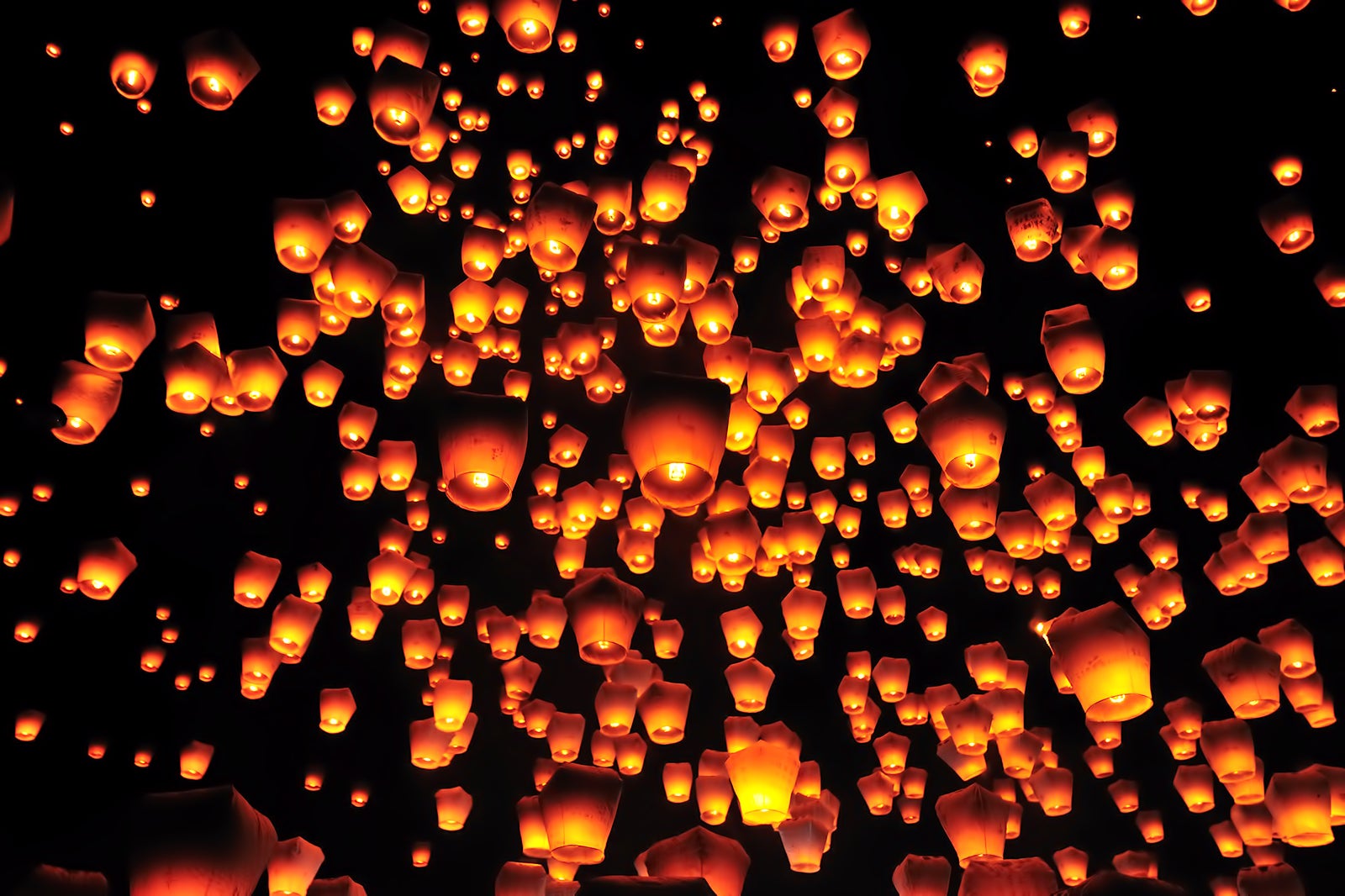 Pingxi, a small mountain town in Taipei once teeming with coal, is now a charming travel destination. The Sky Lantern Festival is held in Pingxi each year when many would write their wishes on lanterns and slowly release them into the sky. The thousands of bright lanterns floating in the sky make for a spectacular sight. This important local event is as famous as Tainan's Yanshui Beehive Fireworks Festival, and there's even a common saying, "Sky lanterns in the north and beehive fireworks in the south."
If you want to send a sky lantern aloft, you don't have to wait until the Lantern Festival. You can come to Pingxi on normal days and join in the action when lanterns take to the air. Pingxi has a special terrain and many amazing natural landscapes. For example, Shihfen Waterfall is spectacular and a rarity in Northern Taiwan. When visitors enter Pingxi Old Street, it's like walking into a time tunnel and seeing Pingxi in its prosperous heyday when coal was king. Don't forget to walk on Jing'an Bridge overlooking the river valley to enjoy the beauty of the river and mountains.
10
Yangmingshan National Park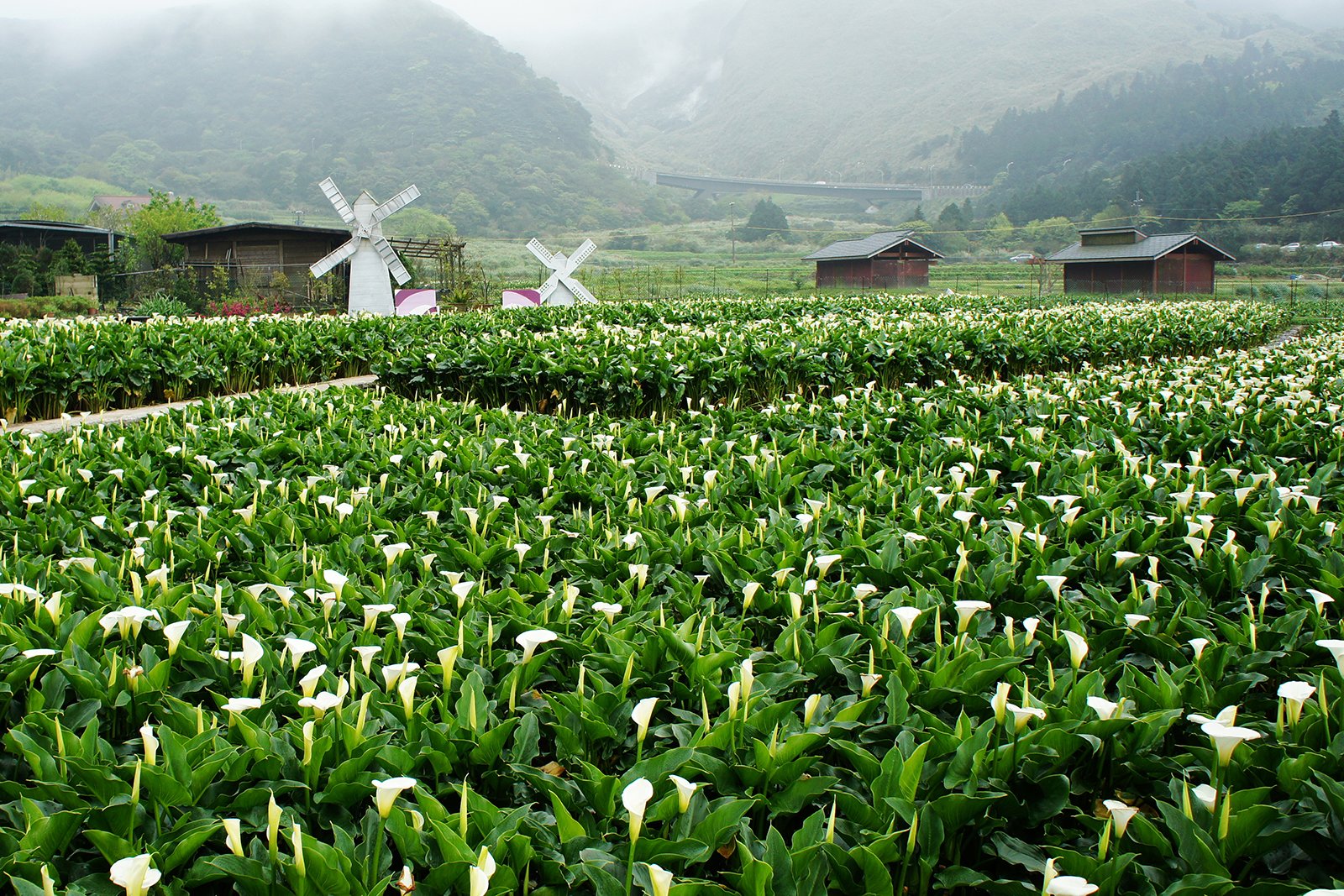 Yangmingshan National Park is the closest National Park to Taipei City. It is famous for the volcanic terrain of the Tatun Volcanoes. Visitors to the national park can observe the special volcanic terrain up close and leave their worries behind as they hike in the beautiful mountains and forests. There are many scenic spots in Yangmingshan, such as Yangmingshan Park, Yangmingshan Flower Clock, Yangming Shuwu, Erziping Trail Recreation Area, Lengshuikeng Recreation Area, Siaoyoukeng Recreation Area, Menghuan Pond Ecological Protected Area, Qingtiangang Recreation Area and Ci Sing Park.
Each attraction has its own unique and amazing natural terrain. For example, the rare quillwort species Isoetes Taiwanensis grows in Menghuan Pond, making it a very precious ecological conservation area. If visitors come to Yangmingshan in winter, they can choose to stay in a hot spring hotel and enjoy the soothing waters of Yangmingshan. Bathing in the hot springs while enjoying the beautiful scenery of Yangmingshan is an absolutely unforgettable experience.
Back to top