10 Best Taipei Foods Everyone Should Try
A Guide to Local Specialties You Should Try in Taipei
You can experience the irresistible charm of Taipei as a gastronomic capital by tasting its best local dishes. Must-tries for travelers include Din Tai Fung's famous xiaolongbao (steamed soup dumpling) and crispy roast duck (kao ya), the signature dish of 3-Michelin-star restaurant Le Palais. Check out Taipei's night markets for street food like beef noodle soup (niu rou mian), Shenkeng stinky tofu (chou dou fu), and Gongguan pork belly bun (guabao­).
Traditional Taiwanese breakfast spots like Yong He Dou Jiang are integral to the diets of Taipei residents. Are you strolling along Tamsui Old Street? Be sure to taste the local specialty Tamsui agei (deep-fried tofu stuffed with noodles and stewed ground pork) before you leave Taipei. For dessert, try mango shaved ice (mang guo cuo bing) on Yongkang Street or drink Taipei's famous pearl milk tea (zhen zhu nai cha).
1
Stinky tofu (chou dou fu)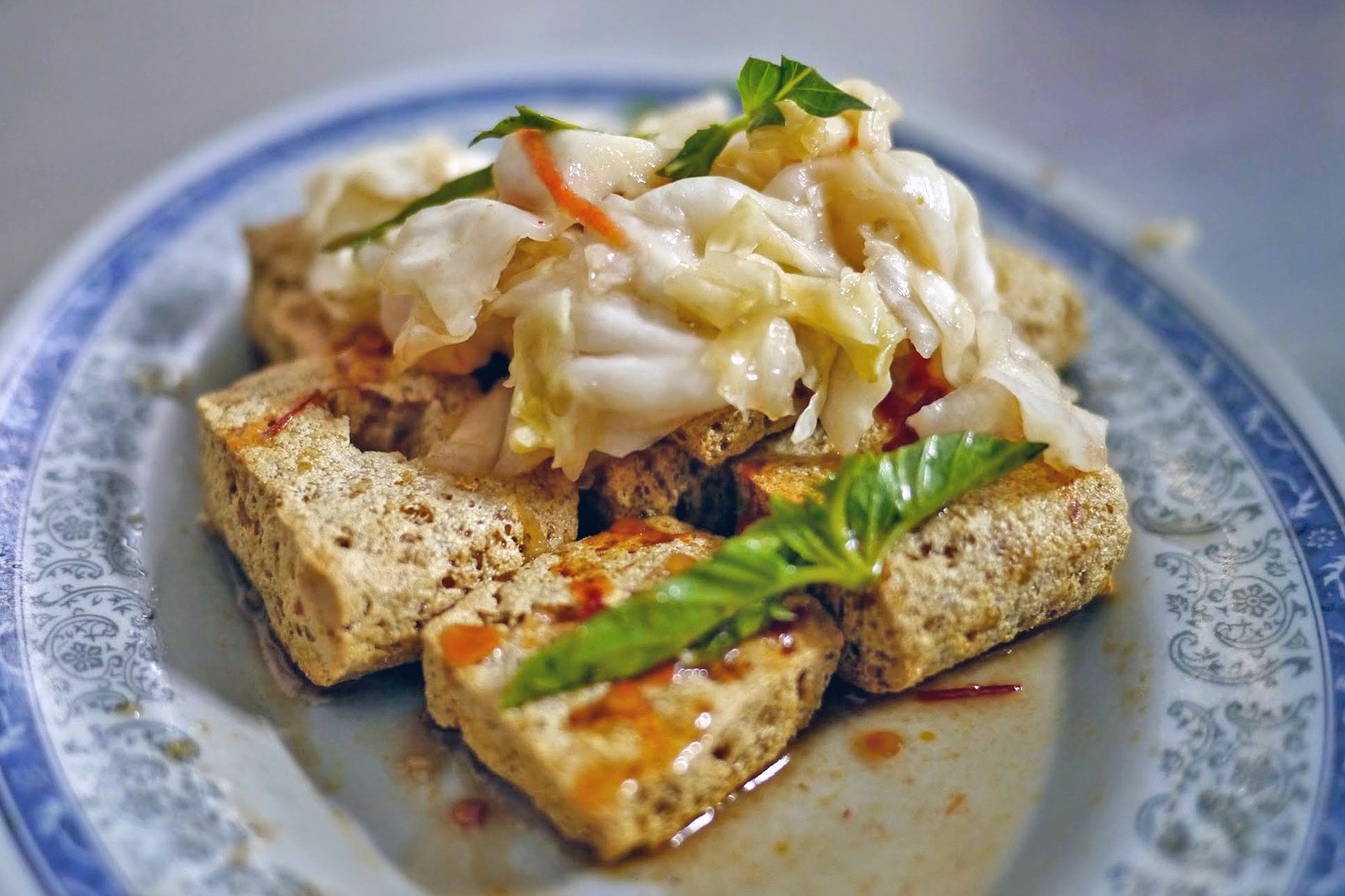 Stinky tofu is a common street snack in Taiwan, made from fried or spicy fermented tofu and usually served with Taiwanese pickles. Stinky tofu has a strong aroma but tastes sweet. This dish was even praised by Hollywood star Hugh Jackman when he came to Taipei to promote one of his films. Shenkeng Old Street is the best place to taste stinky tofu in Taipei. The street is famous for stinky tofu, served either stewed, braised, or spicy.
Each seller has their own unique recipe that turns stinky tofu into a creative dish, giving you a rich taste and an unforgettable dining experience. Shenkeng stinky tofu can be served with peanut powder, pickled cabbage, or pickles. At Shenkeng Old Street, it's paired with the famous Chinese herb tea to enhance the flavor.
2
Spicy hotpot (ma la guo)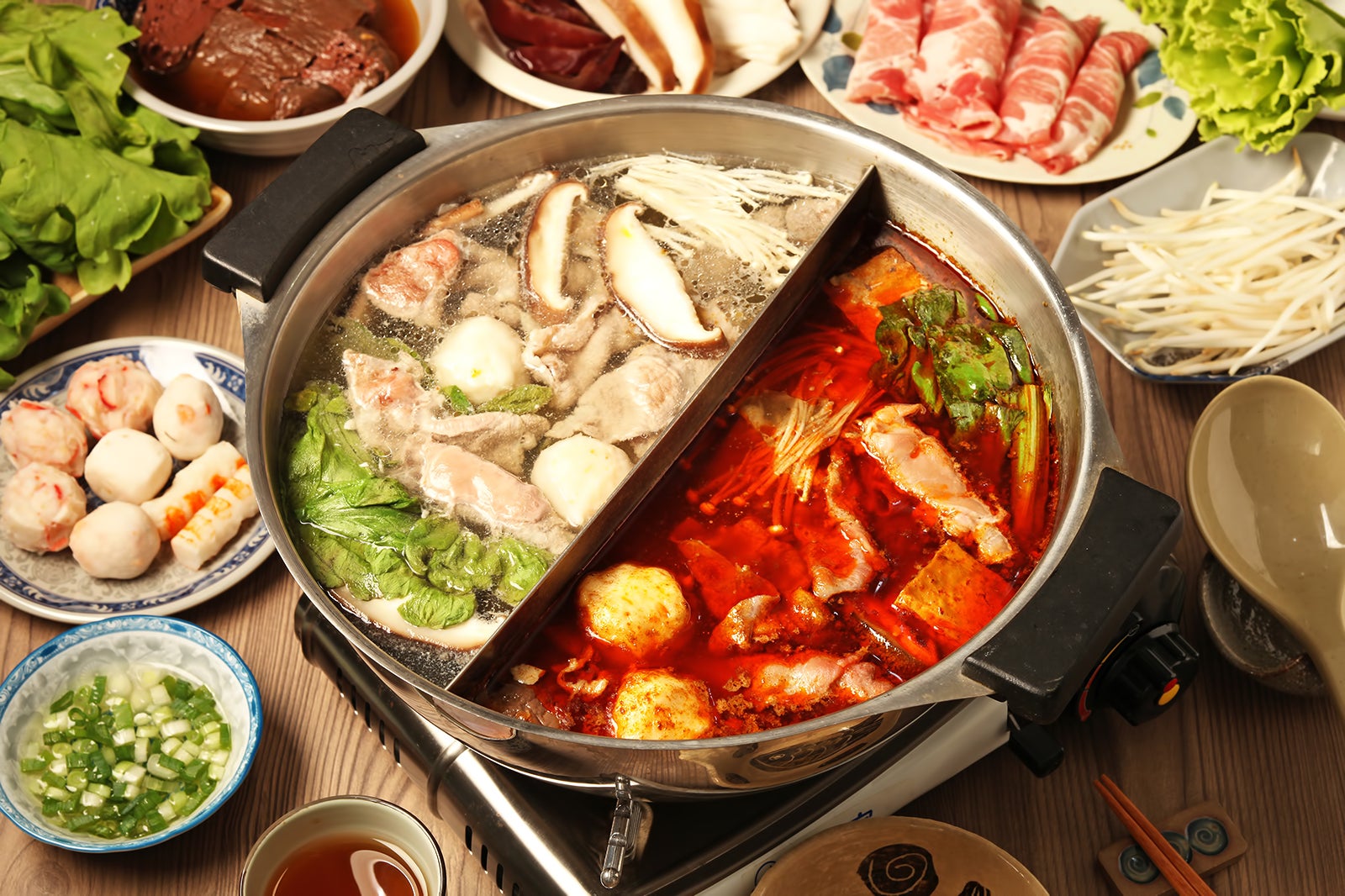 Spicy hotpot in Taipei is renowned for its choking spiciness, but on chilly days, many spicy hotpot restaurants in Taipei are packed with customers. Friends, colleagues, and families often have get-togethers over some spicy hotpot to chase away the cold weather.
The essence of spicy hotpot is the spicy red pepper soup, which contains Sichuan peppercorns, green pepper, and spices simmered for a long time. Your tongue may feel hot and numb just by the looks of the soup's bright-red color. The taste of spicy hotpot gets richer by adding various ingredients to the soup, such as duck blood, tofu, meatballs, fish, shrimps, and vegetables.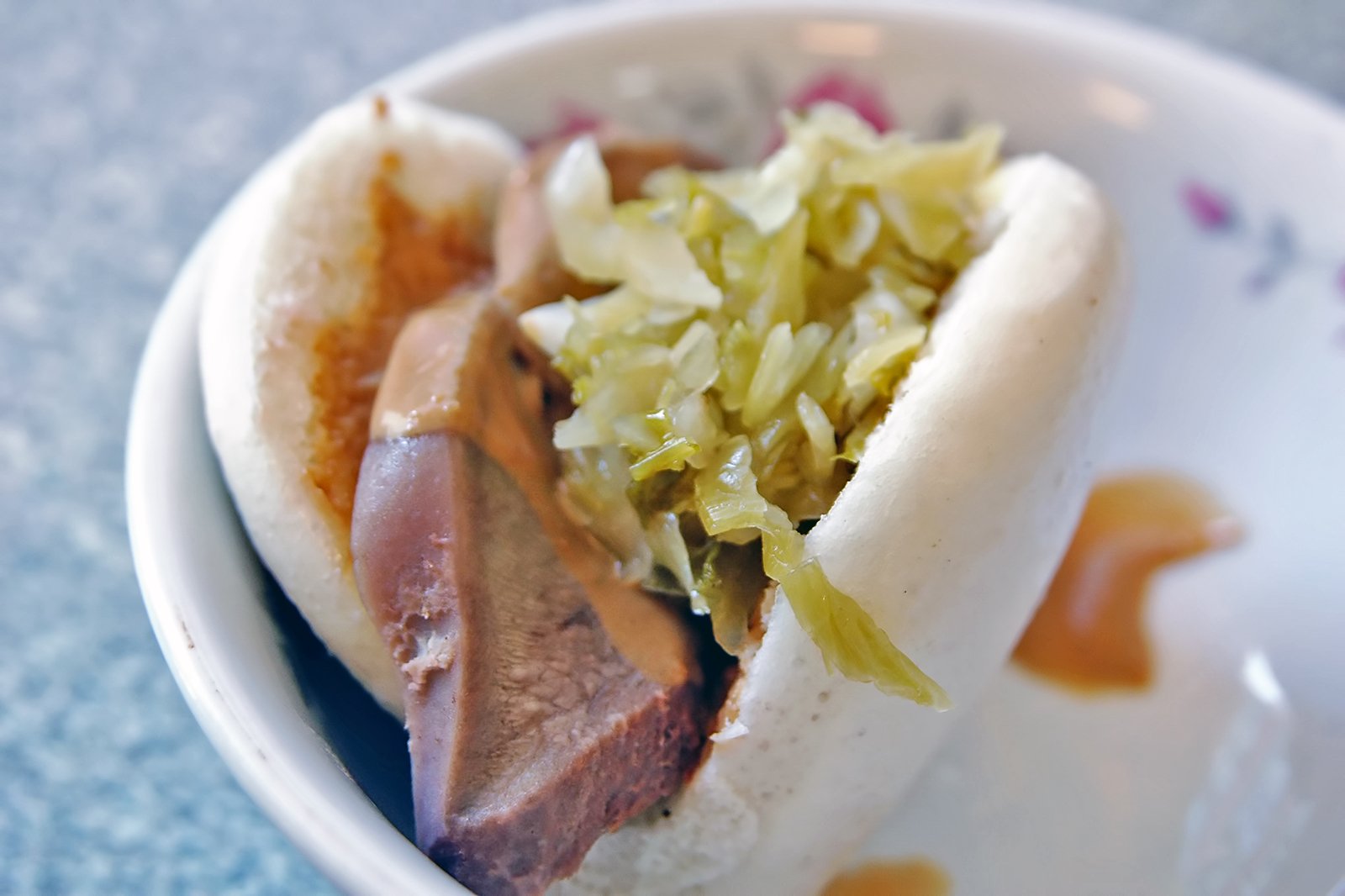 Guabao is a popular Taipei snack that combines soft Chinese steamed buns with delicious brined pork stuffing. It has an unusual and fun shape, with an opening in the middle that resembles the mouth of an animal. Brined pork – stuffed into the hot steamed bread through the opening – must be cooked for a long time to let the brine completely seep into the meat.
Pickled cabbage, peanut powder, and coriander are served along with your steamed bun for added flavor. Guabao is nicknamed the 'Taiwanese hamburger' for its portability and pleasing appearance. You can eat it while strolling down the street or enjoying it at a local restaurant.
photo by TACO Huang (CC BY-SA 2.0) modified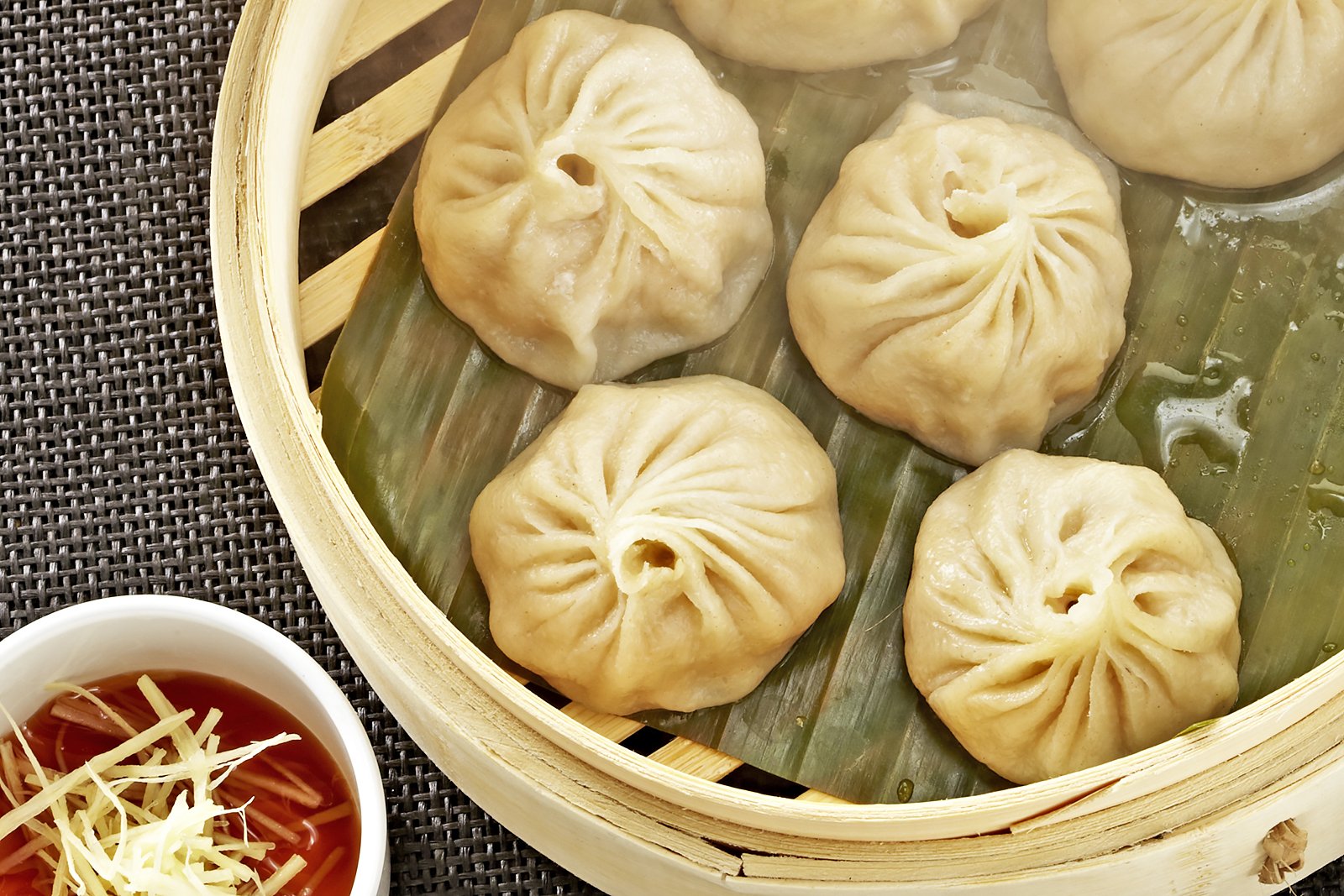 Xiaolongbao is a typical delicacy in Taipei. It's first made by rolling out the pastry by hand and cutting it into pieces of thin wrappers. The chef then places a wrapper on his/her palm, puts in fresh meat stuffing, and places several dumplings in a steamer. The juices are released but covered by the thin pastry during the steaming process. This results in a layered taste and texture to the fillings, together with the soft wrapper, the fresh and sweet-tasting meat, and savory broth.
There are several famous xiaolongbao restaurants in Taipei that offer a wide variety of delicious stuffing besides the traditional pork, such as beef, shrimp, and even chocolate. Many traditional markets in Taipei have stalls selling delicious xiaolongbao at affordable prices – some even rival the flavors of those served at well-known restaurants.
5
Pearl milk tea (zhen zhu nai cha)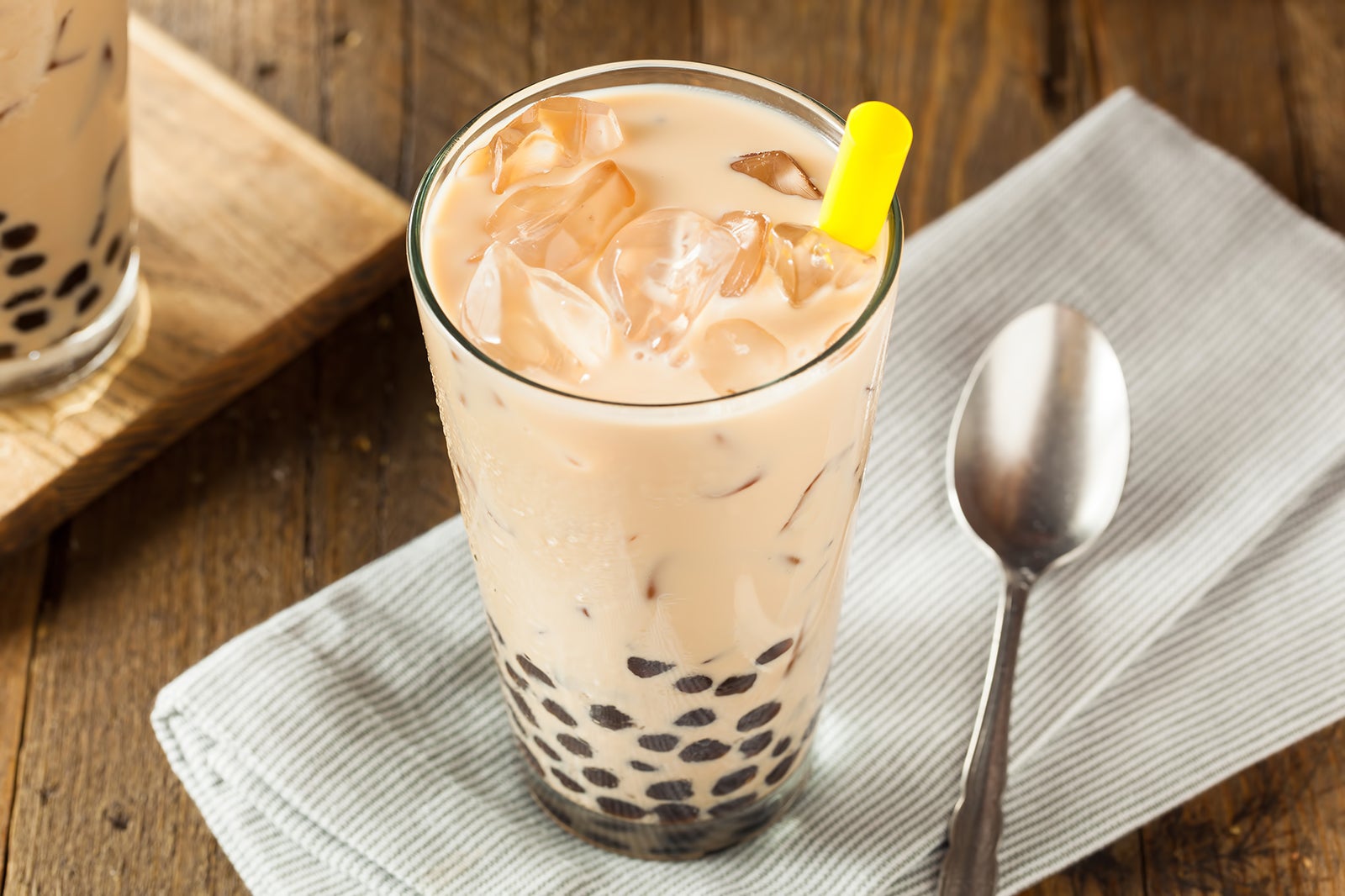 Pearl milk tea is what many consider as a Taiwanese national drink. You can stumble upon hand-shaken beverage shops just about everywhere in Taipei. The ingredients of pearl milk tea are simple – fresh milk or milk essence, ice, sugar, and pearls (tapioca balls) are added to hot black tea. Make sure to mix until everything is combined before taking a sip. The main ingredient of pearl milk tea is the chewy pearls, which are either transparent or colorful and vary in size.
The pearls must be boiled slowly and then cooled in cold water to gain the chewy texture. You can adjust the tea's level of sweetness and amount of ice according to your taste. Pearl milk tea is best enjoyed during midsummer – the cold tea and chewy pearls make for a refreshing treat while strolling the streets. You can even find warm pearl milk tea if you're visiting Taipei during the winter months.
6
Mango shaved ice (mang guo cuo bing)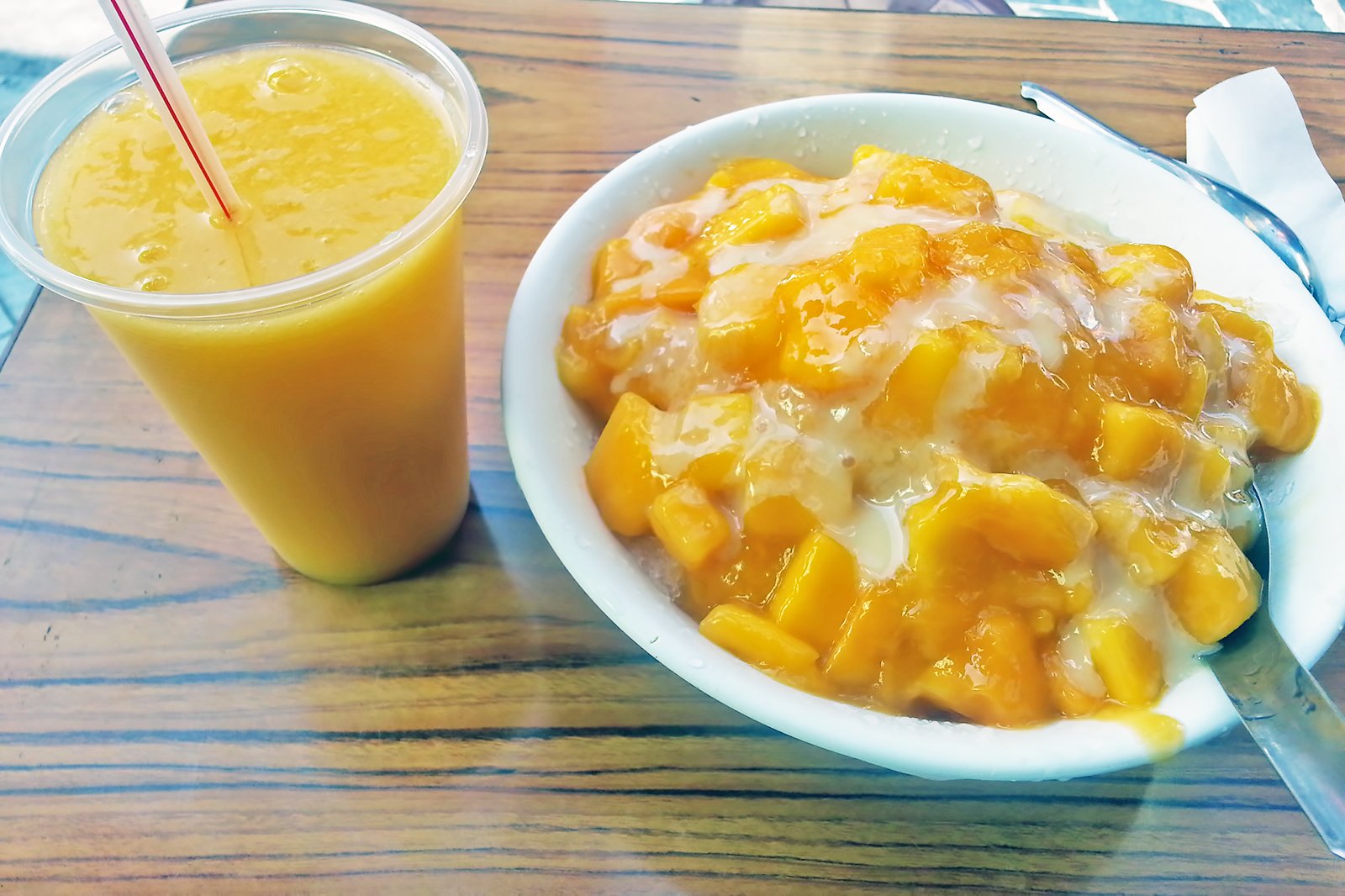 Mango shaved ice is a popular summer dessert in Taipei. The main ingredient of mango shaved ice is the fruit mango, obviously. On a bowl of fine ice, a ripe Taiwanese mango is cut into slices and topped with a scoop of ice cream and a drizzle of honey, sugar water, or condensed milk. Mango season in Taiwan runs from May to August, and midsummer is the best time to eat mango shaved ice in Taipei. A plate of mango shaved ice can alleviate Taipei's summer heat – you are sure to feel refreshed when you finish the entire bowl. It's light enough that you can go for another to indulge yourself.
photo by 台南美食典 (CC BY-SA 2.0) modified
7
Beef noodle soup (niu rou mian)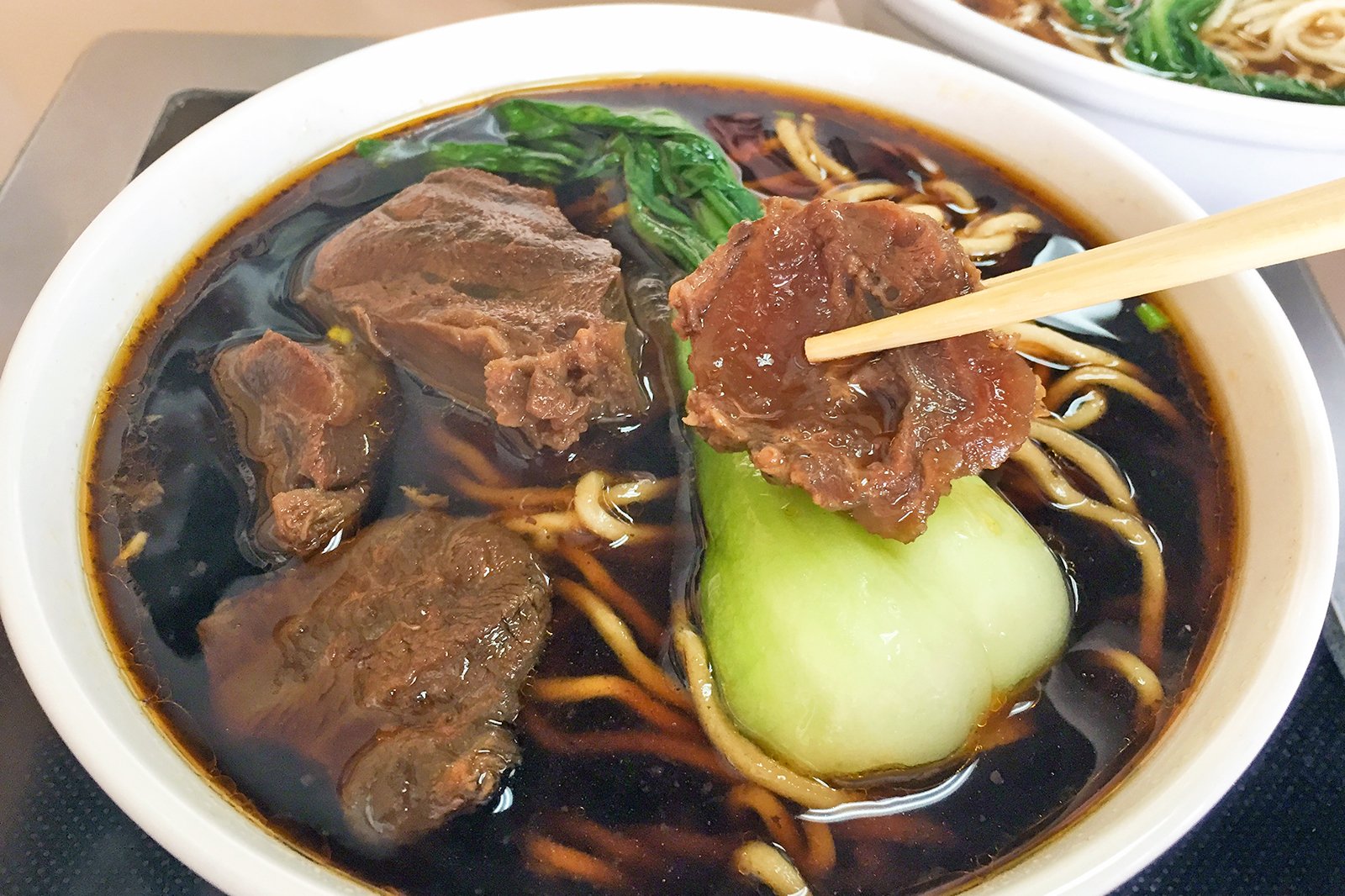 Beef noodle soup consists of large bones cooked in a stewed soup containing spices such as anise, ginger, and cinnamon, as well as slow-cooked beef. Noodles and vegetables are added to the soup right before serving. You can add additional ingredients such as pepper, onion, garlic, and pickled cabbage to suit your taste. Taipei locals are very fond of beef noodle soup – restaurants and street stalls are everywhere, each offering a unique recipe to keep things interesting.
You can find many different types of beef noodle soup in Taipei. Noodles served with hot soup might leave you slightly sweaty on a warm day in Taipei. Lightly flavored beef noodle soup is best enjoyed during summer as it's less greasy but still has the distinctive flavor of beef noodle soup.
8
Traditional Taiwanese breakfast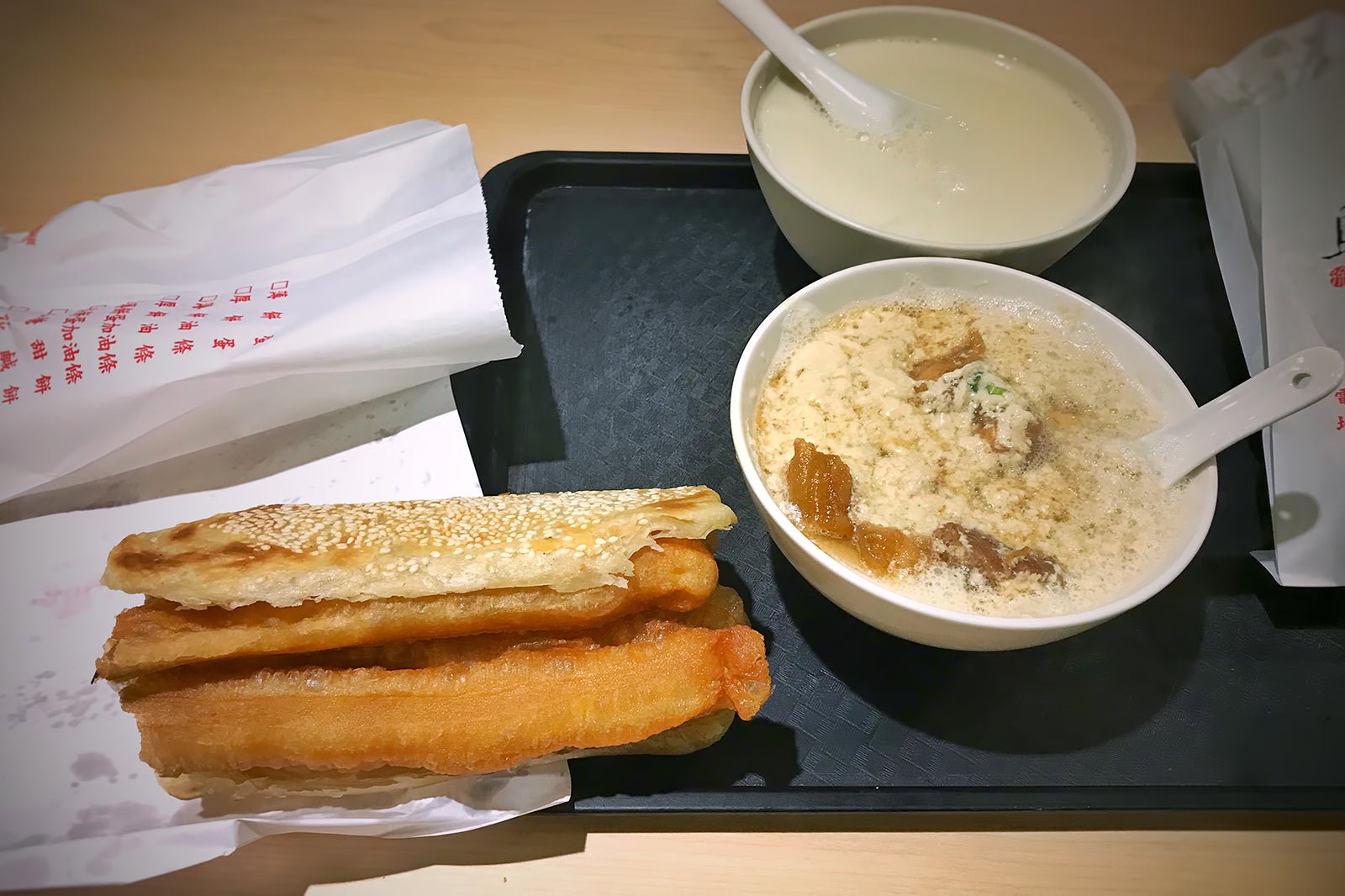 The traditional Taiwanese breakfast originates from the Yonghe district of Xinbei, which has many restaurants selling breakfast delicacies made from soybean milk. It often comes with a cup of soymilk, along with your choice of clay oven rolls, fried bread sticks, rice balls, or egg pancakes. Due to the popularity of the traditional Taiwanese breakfast, many local restaurants and street stalls at Taipei's night markets also offer these snacks until late.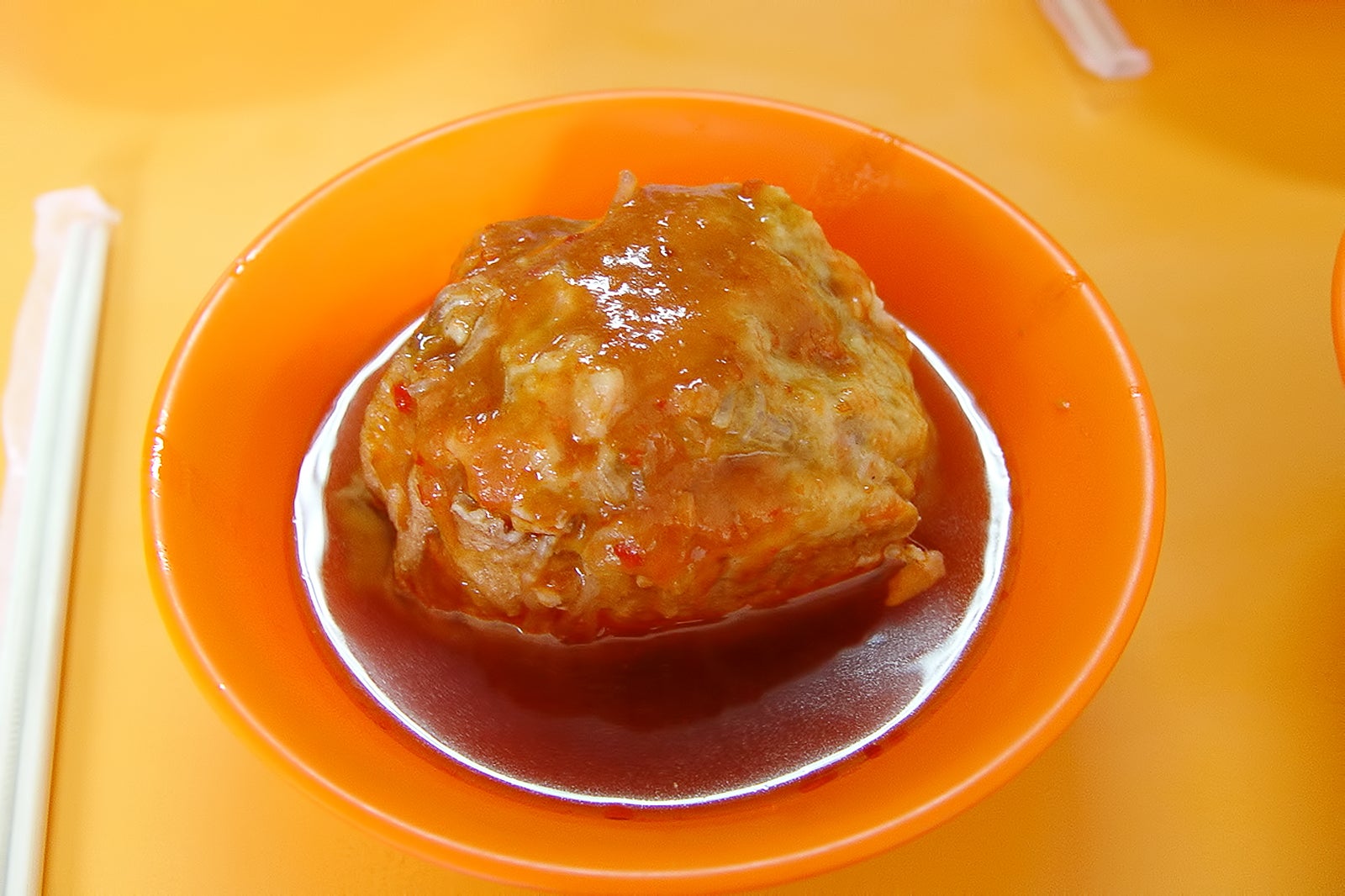 Agei is one of the most unique savory snacks in Taipei, with Tamsui being the best place to enjoy the most authentic variation. It's made with fried tofu deep fried in an oil pan and hollowed out in the middle to fill in pre-fried bean noodles. The opening of the fried tofu is then sealed with fresh fish paste, before the entire ensemble is steamed until cooked. A sweet and spicy sauce is sprinkled on top before serving. You can enjoy agei with fish ball soup (yu wan tang) for a more substantial meal.
photo by Seasurfer (CC BY-SA 2.0) modified
10
Crispy roast duck (kao ya)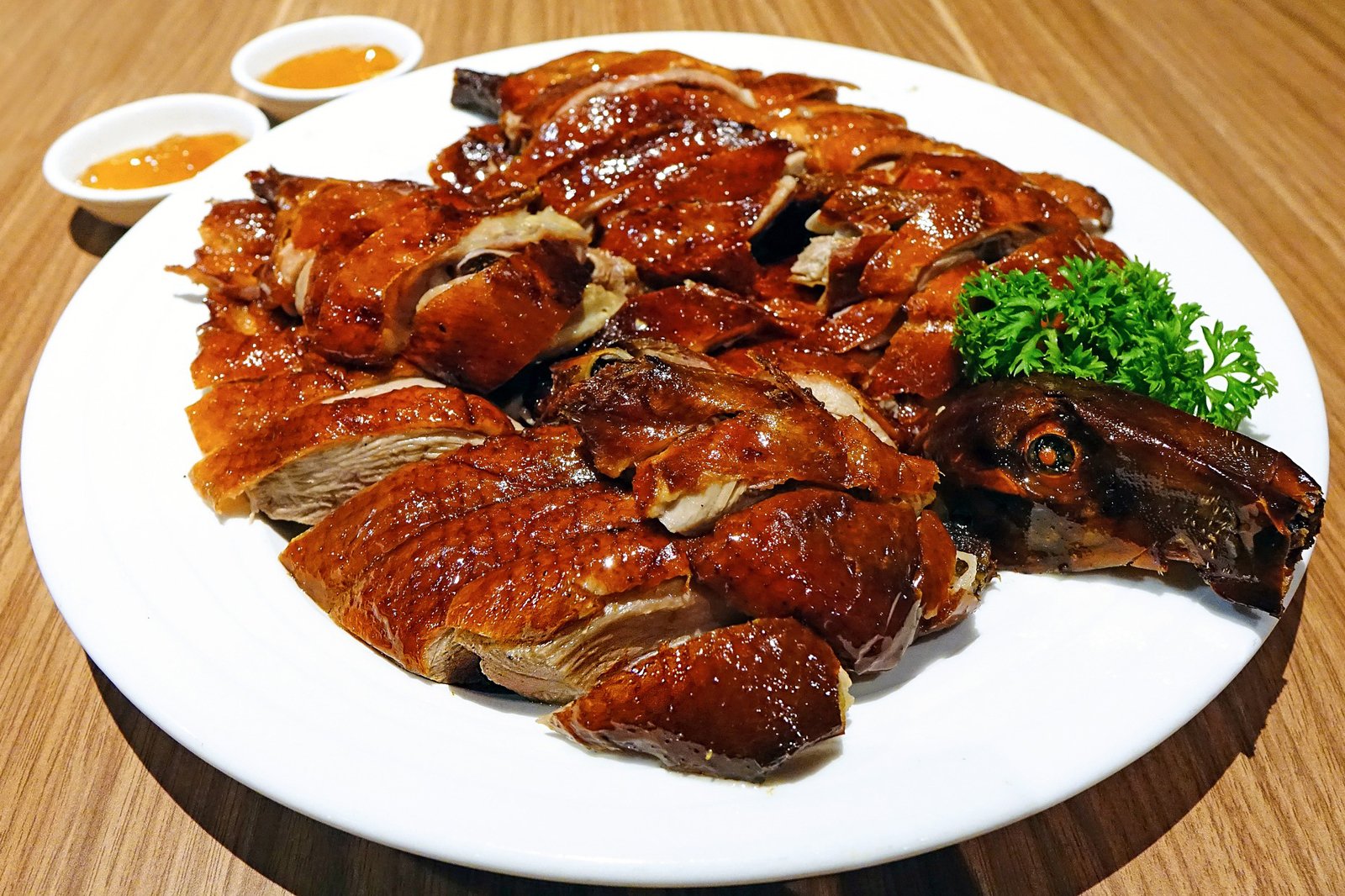 Crispy roast duck consists of fat and fresh duck slowly roasted over a charcoal fire. The roasted skin is crispy and tender, while the meat is sweet and smooth. There are many ways to eat crispy roast duck. You can eat sliced duck meat on its own to really enjoy the pure flavor, or wrap it in a pancake with cucumber slices, onion slices and sweet sauce. The leftover bones are used to make soup and porridge.
You can enjoy crispy roast duck at a Michelin-starred restaurant, where you can see the chef's amazing carving skills at your table. Many stalls sell crispy roast duck at traditional markets and streets in Taipei, where freshly roasted ducks are often prepared right in front of you.
Back to top