Taipei Airport Information
Taiwan Taoyuan International Airport
There are 2 Taipei airports, with 1 serving most of the international arrivals while the other is primarily for domestic travel around Taiwan. As is often the case, the city center airport – Taipei Songshan Airport – is the older of the 2, but found itself swamped by a rapidly growing tourism industry and with no more room to expand. International flights were therefore routed to an out-of-town airport – Taiwan Taoyuan International Airport - with high-speed transportation links connecting it to the city center.
As befits a destination as cultured and sophisticated as Taipei, the airports serving it feature a great range of facilities to ease your arrival and departure, as well as sleek, modern designs, clear sign-posting and helpful staff. Both also have a selection of comfortable airport hotels to choose from.
1
Taiwan Taoyuan International Airport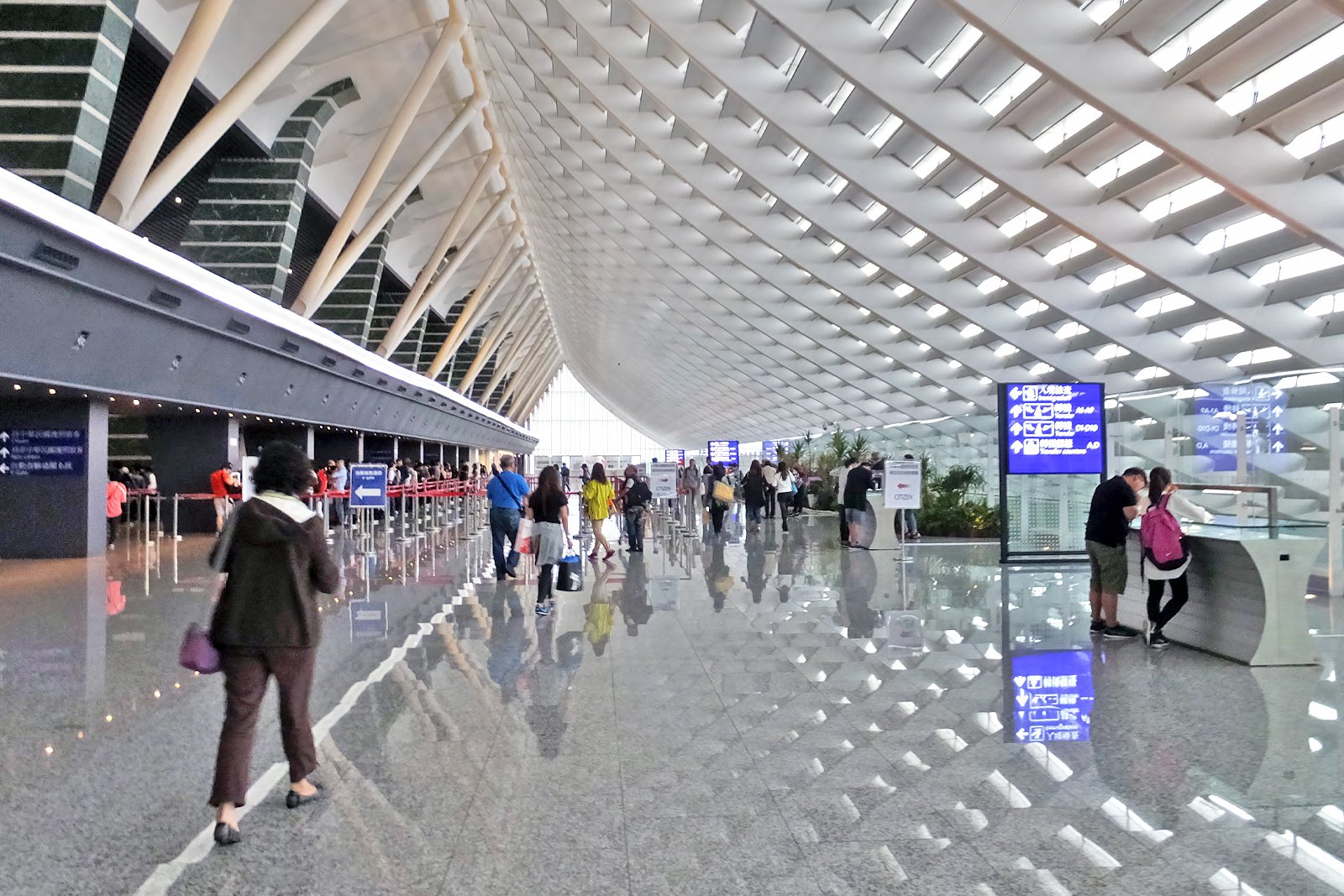 Taiwan Taoyuan International Airport (TPE) is the main gateway for tourists visiting Taipei and the northern part of the island. Among the busiest passenger airports in the world, it sees nearly 36 million people passing through its 2 terminals every year, along with over 2.08 million tonnes of cargo. It is the home port of Taiwanese flag-carrier China Airlines, as well as EVA Air. It operates direct flights to and from most of Southeast Asia, Australasia, North America and parts of Europe and the Middle East.
photo by lienyuan lee (CC BY-SA 3.0) modified
2
Getting from Taoyuan Airport to Taipei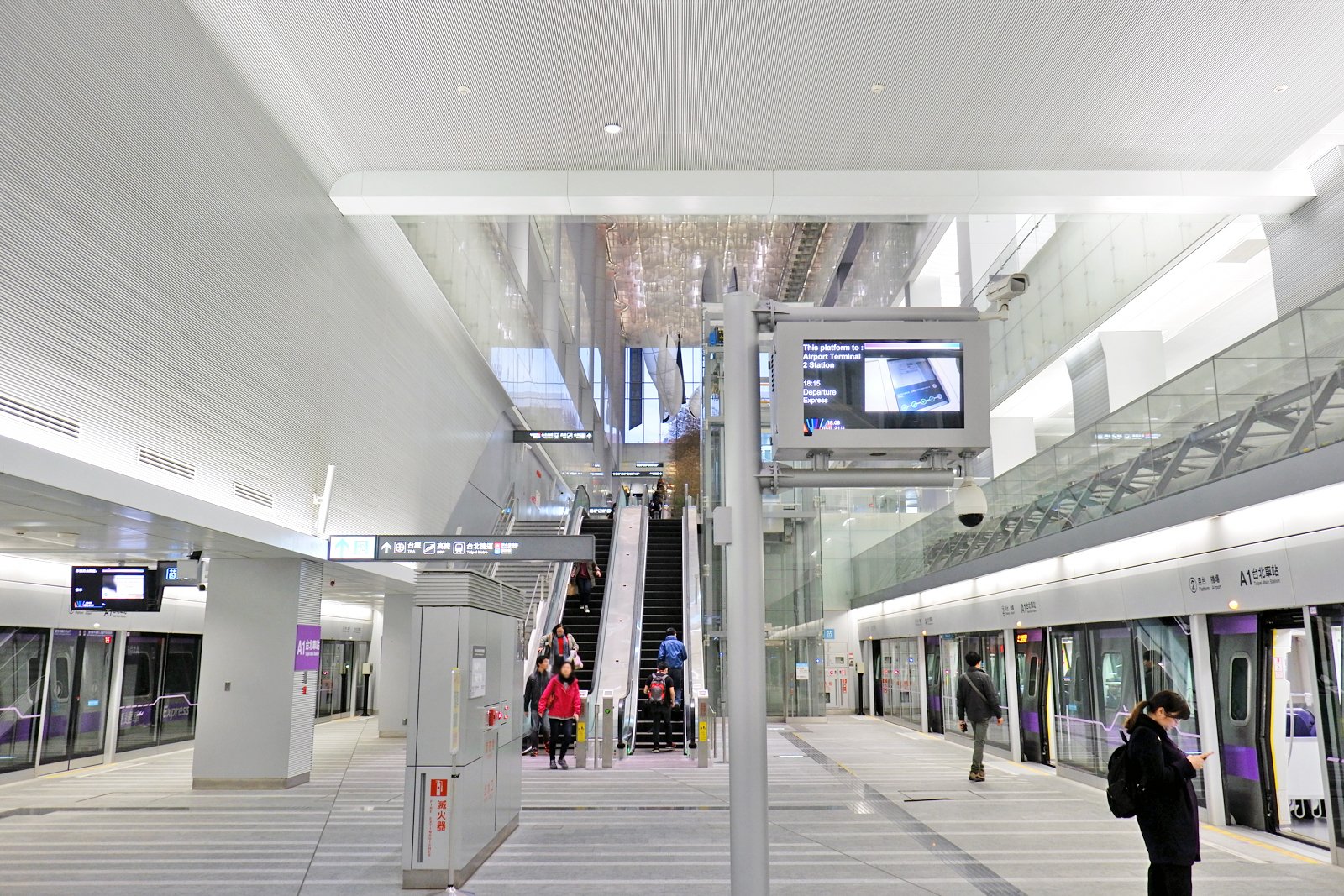 The airport was, until September 2006, called Chiang Kai-shek International Airport and is located 40 km west of Taipei, with a number of convenient transportation links to the city center available. Various car rental companies can be found in both terminals and metered taxis operate 24 hours a day, with a ride from the airport to downtown Taipei costing about NT$1,250, including a 15 per cent surcharge.
Several bus companies operate routes into Taipei, taking about an hour and about NT$125 to reach city center destinations. There is also a NT$30 shuttle bus to the nearest high-speed rail station: THSR Taoyuan Station. From there, a single fare to Taipei costs NT$175 and will take only 20 minutes. Finally, the airport links into the Taoyuan MRT system, with a line that can take you directly to Taipei Main Station.
photo by Littlebtc (CC BY-SA 4.0) modified
3
Facilities at Taoyuan Airport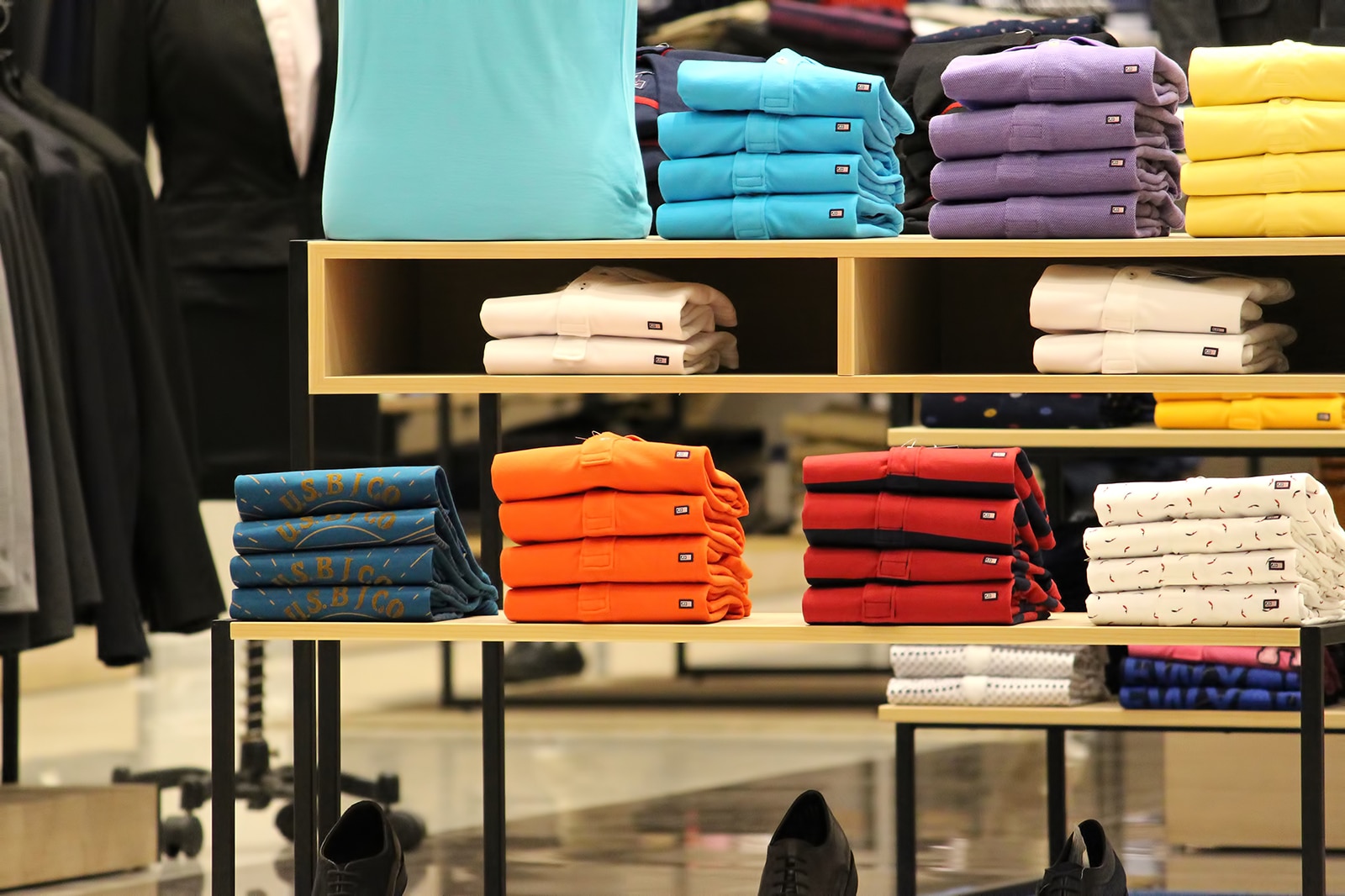 There are plenty of places to eat, both before and after security screening, including fast-food outlets, cafés, bars and a mix of Taiwanese, Chinese and western restaurants. The duty-free shopping available is extensive and features a range of boutique outlets and locally-based brands selling souvenirs, jewelry, clothes, books, liquor and tobacco products and much more. These are mostly concentrated around the departure areas. Bank branches, ATMs and currency exchange services are available throughout both terminals. There is also an aviation museum, medical center, hairdressers, massage services, prayer rooms, shower facilities, and a nursery/playroom on site.
Location: No. 9, Hangzhan S Rd, Dayuan District, Taoyuan City, Taiwan 33758
Phone: +66 (0)3 273 3728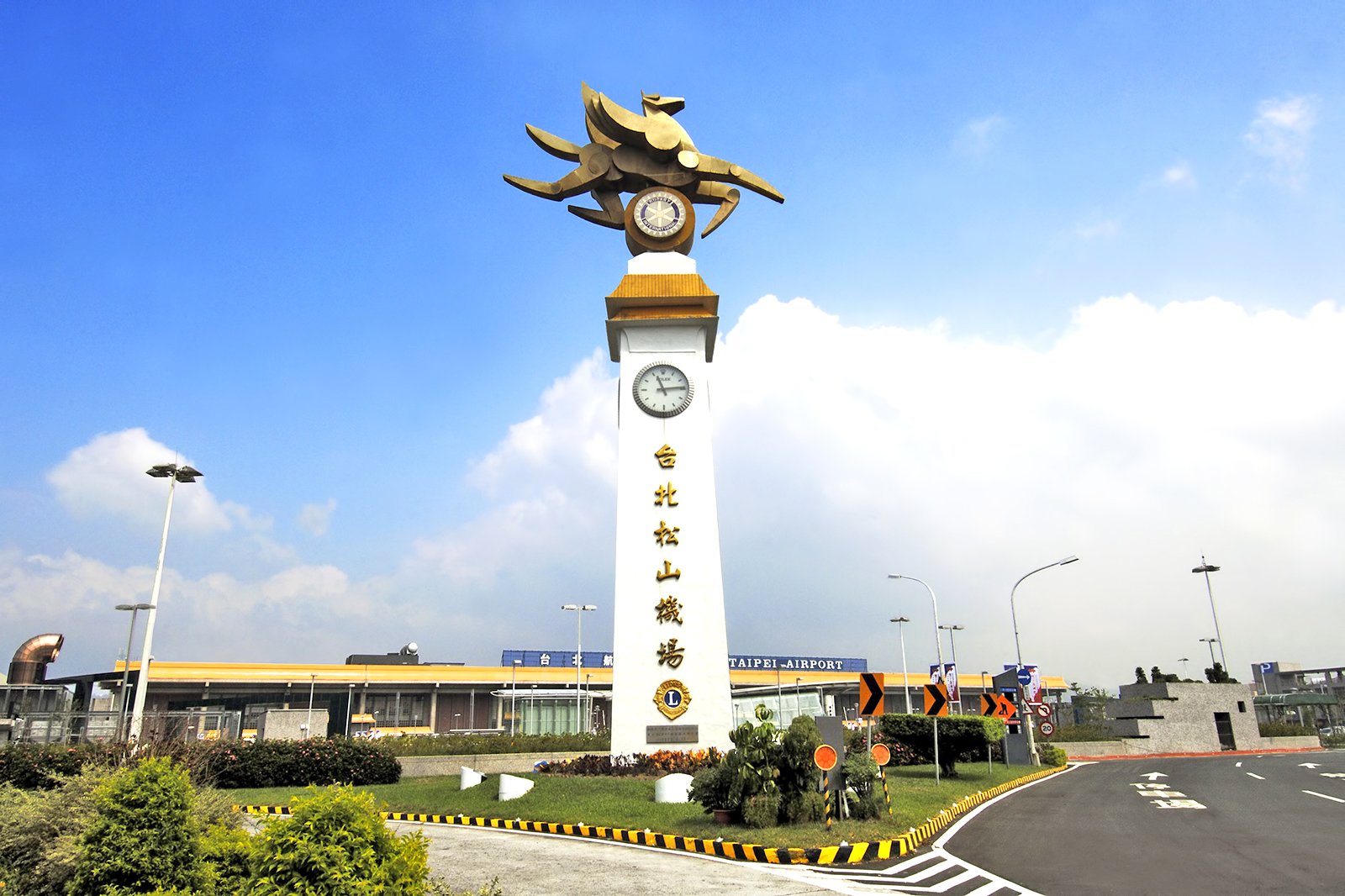 Taipei Songshan Airport (TSA) is within the city, just to the north of its center. Officially named Taipei International Airport, increasing demand out-grew the limited facilities available in Songshan, so most major international flights shifted to the larger Taoyuan Airport in 1979. Songshan Airport remains an important domestic and regional travel hub.
Songshan is the home port for Mandarin Airlines, as well as budget carriers TransAsia Airways and UNI Air. Flights operate to and from small, Taiwanese-owned islands as well as mainland China, Japan and South Korea. There are very few services to other airports on Taiwan itself because the Taiwan High Speed Rail is such a quick, efficient and cost-effective alternate.
5
Getting from Songshan Airport to Downtown Taipei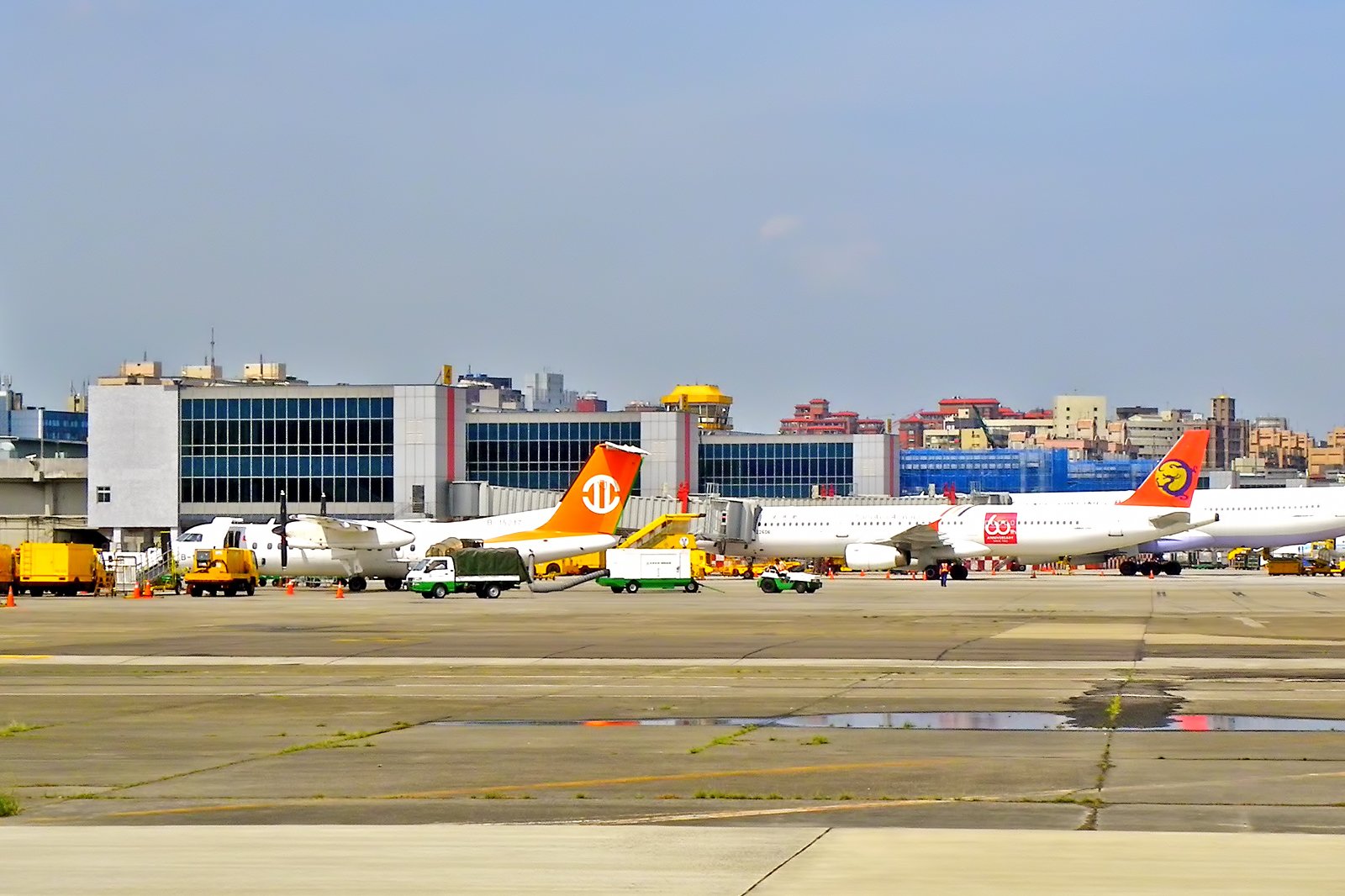 Part of Taipei Songshan Airport is a Republic of China Air Force base, operating the President's and Vice President's Flight. The civilian section's 2 terminals handle over 6 million passengers and 43,500 tonnes of cargo each year. They're connected to the rest of the city by several bus routes and Songshan Airport MRT Station on the Wenhu (Brown) Line. Several car rental services are located in the arrivals lobby and metered taxis are available from the rank directly outside. Taxi fares to anywhere in Taipei are generally under NT$250.
photo by 玄史生 (CC BY-SA 3.0) modified
6
Facilities at Songshan Airport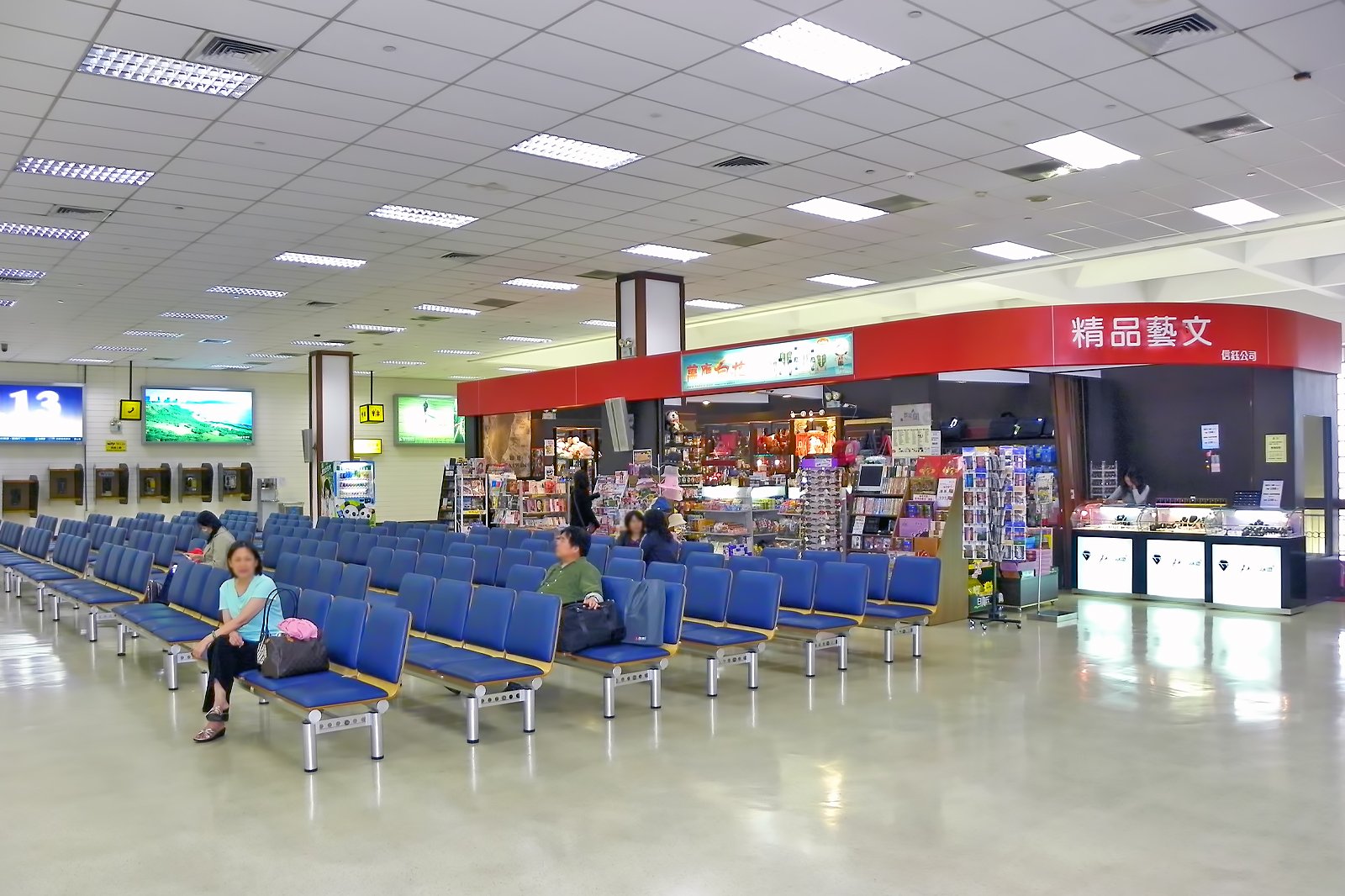 The dining options in Songshan Airport are limited, consisting mostly of fast-food outlets and coffee shops, with a Taiwanese cuisine restaurant in the international terminal. Shopping facilities are similarly limited, with only a convenience store in the domestic terminal and a modest selection of boutique shops and duty free in the international terminal. Other facilities include various banking and currency exchange services, nursery rooms and VIP lounges. An observation deck on the roof of the domestic terminal provides avid plane-spotters with a good view of the airport's runway.
Location: No. 340-9, DunHua N Rd, Songshan District, Taipei City, Taiwan 10548
Phone: +886 (0)2 8770 3460
photo by 玄史生 (CC BY-SA 3.0) modified
Back to top