5 Best Shopping in Kaohsiung
Where to Shop and What to Buy in Kaohsiung
Shopping in Kaohsiung is nearly as varied and exciting as it can be in Taipei, with a great choice of malls and markets. As with anywhere in Taiwan, night markets are the stars of the show, with great bargains and street snacks to be found. In Kaohsiung, some of the markets specialize in just 1 kind of product, so you know exactly where to go for the widest range of choices.
At the other end of the spectrum, the southern city is home to one of the biggest shopping malls in Asia. It's one of the star attractions of the city, with a great choice of entertainments for you to enjoy between shopping sprees. There are a number of smaller malls dotted around Kaohsiung, too, often forming shopping districts in the streets around them.
If you're planning on splashing the cash on shopping, save your pennies elsewhere by booking budget-friendly acommodation in Kaohsiung.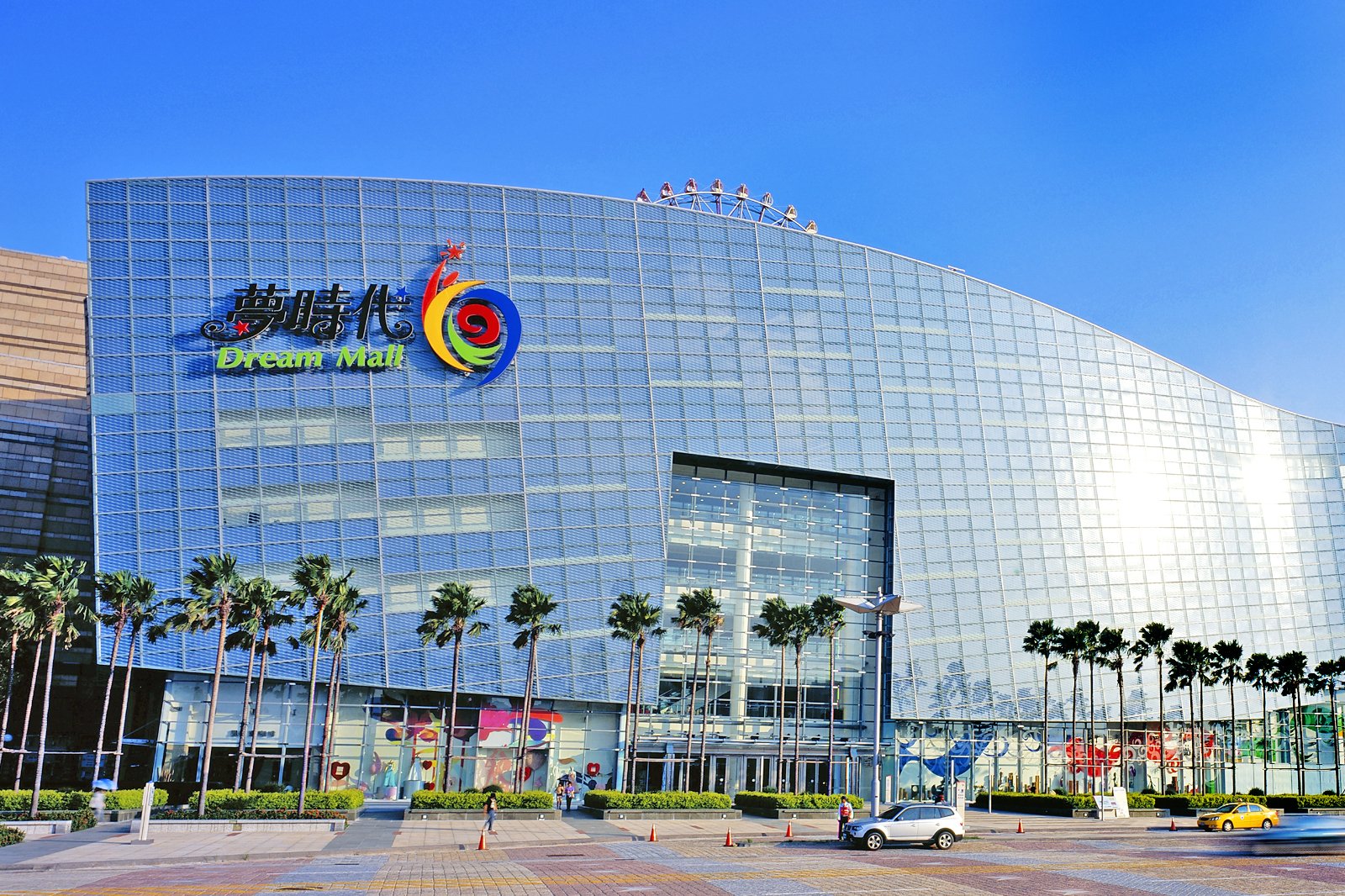 Among the biggest malls in Asia, Dream Mall spreads across 400,000 sq m, of major international brands and entertainment complexes. It has everything from a movie theater to a gym to a rooftop Ferris wheel – the famous Kaohsiung Eye.
When it comes to shopping, there are around 2,300 stores to choose from, including top and mid-range brands from Taiwan and around the globe. Other than the 10 floors of shopping, you'll find a food court spread over the 2 underground floors, with restaurants spread throughout the building.
Location: No. 789, Zhonghua 5th Road, Qianzhen District, Kaohsiung City, Taiwan 806
Open: Monday–Friday from 11am to 10pm (Fridays until 10.30pm), Saturdays from 10.30am to 10.30pm, Sundays from 10.30am to 10pm
Phone: +886 (0)7 813 5678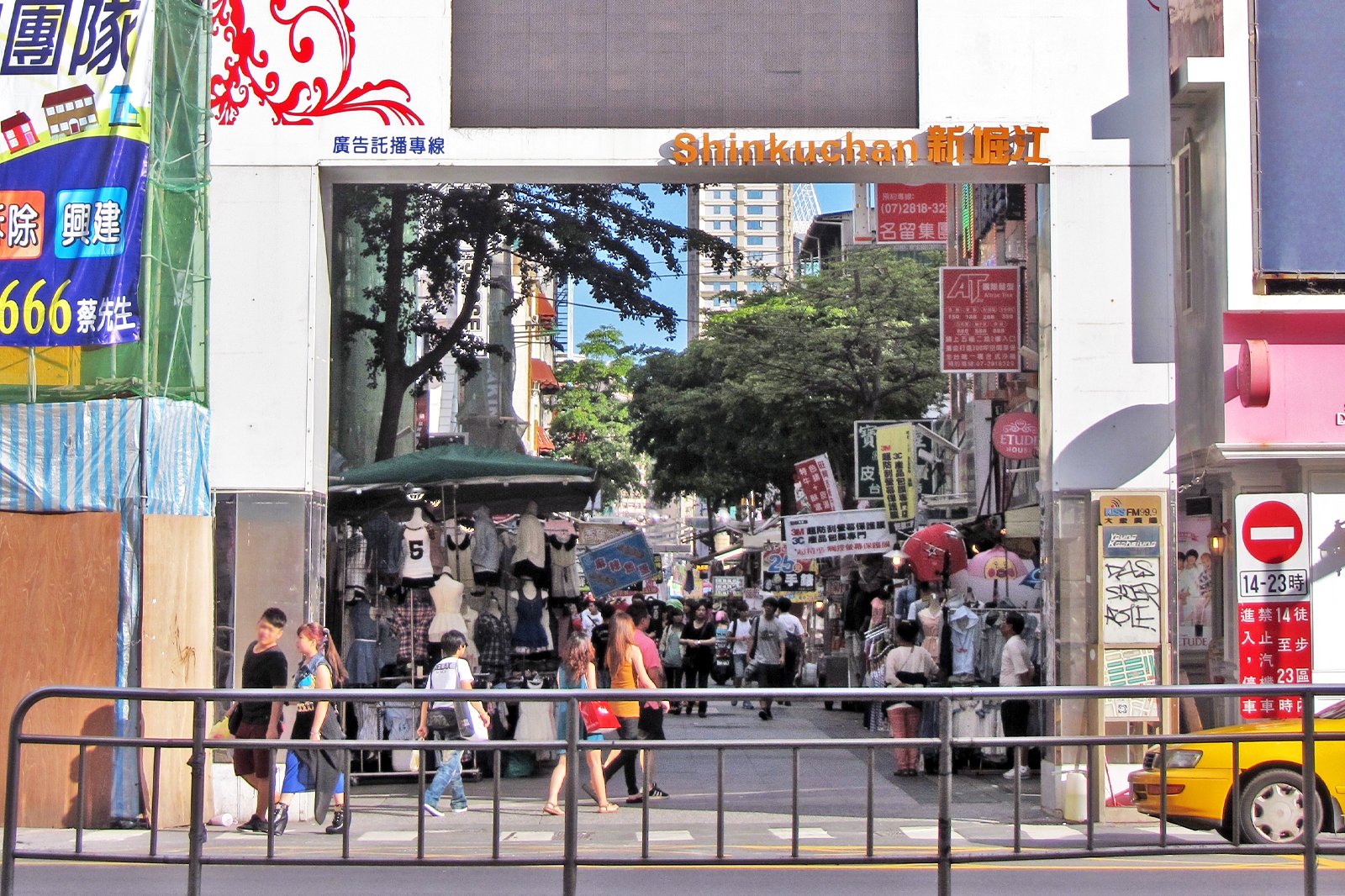 Shinkuchan Shopping District
Shinkuchan Shopping District is a favorite with the younger generation. Located around Yuzhu Street, the stores and hawkers sell here often stock the newest tech gadgets at cheap prices. If you're looking for anything electronic, this is definitely the place to head.
There are 3 big-brand beauty stores in the Shinkuchan Shopping District, as well as some trendy fashion shops. When night falls, the area becomes a night market, which inevitably brings out a good range of food stalls. Book a hotel in Shinkuchan to visit the shopping area on foot.
Location: Xinxing District, Kaohsiung City, Taiwan 800
Open: Daily from 1pm to late
photo by SSR2000 (CC BY-SA 3.0) modified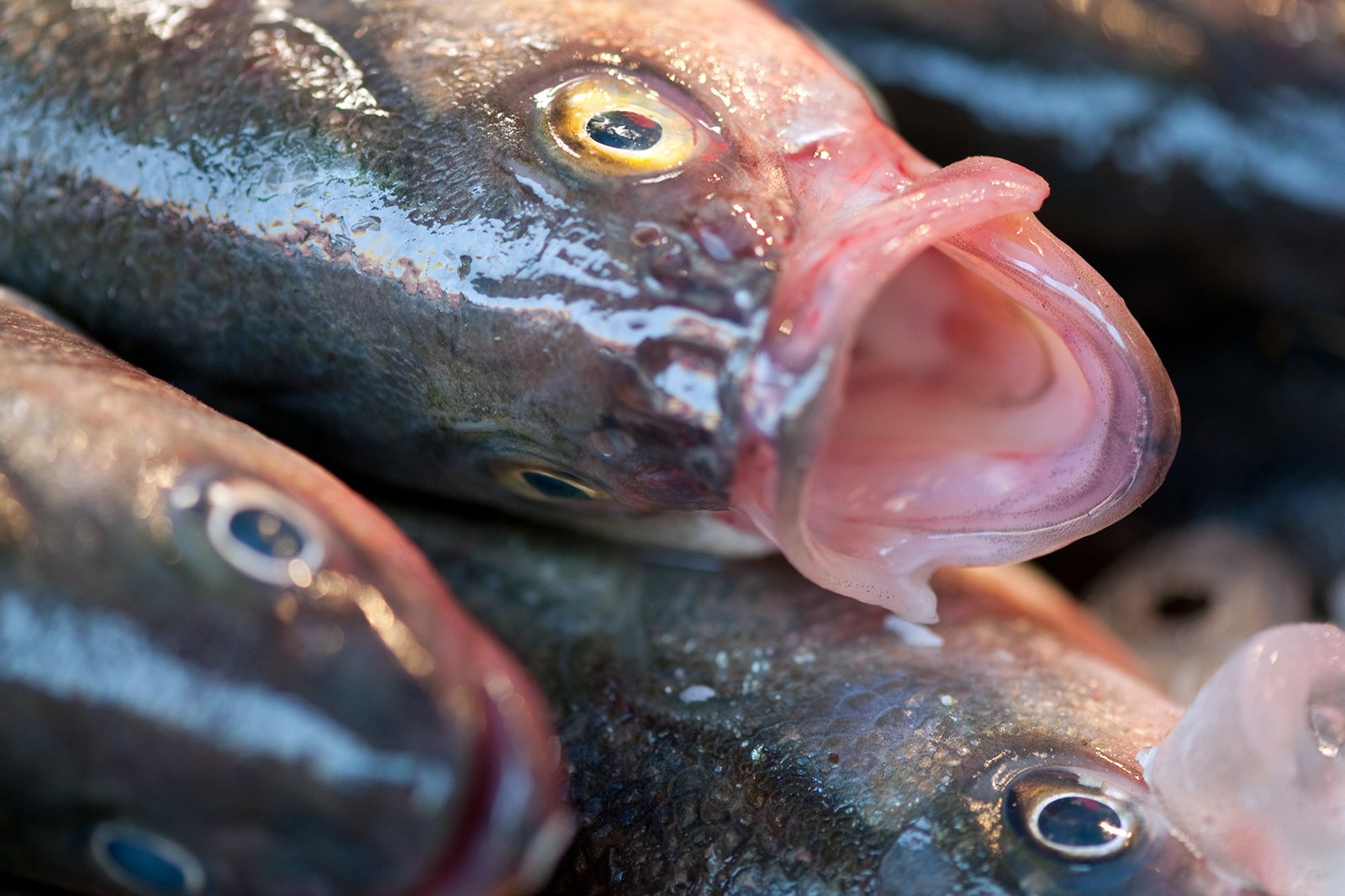 Singda Harbour Fish Market
Singda Harbour Fish Market is quite a long drive from central Kaohsiung, but is worth it if you want to get your hands on fresh seafood. Here you will get crabs, oysters, shrimp, octopus, eel, and all kinds of fish, plus seafood snacks at the food stalls. Look out for the local specialties, including mullet roe and dried flatfish. The market gets extremely crowded on the weekends.
Location: Dafa Road, Jiading District, Kaohsiung City, Taiwan 852
Open: Monday–Friday from 11am to 7pm, Saturday–Sunday from 10am to 8pm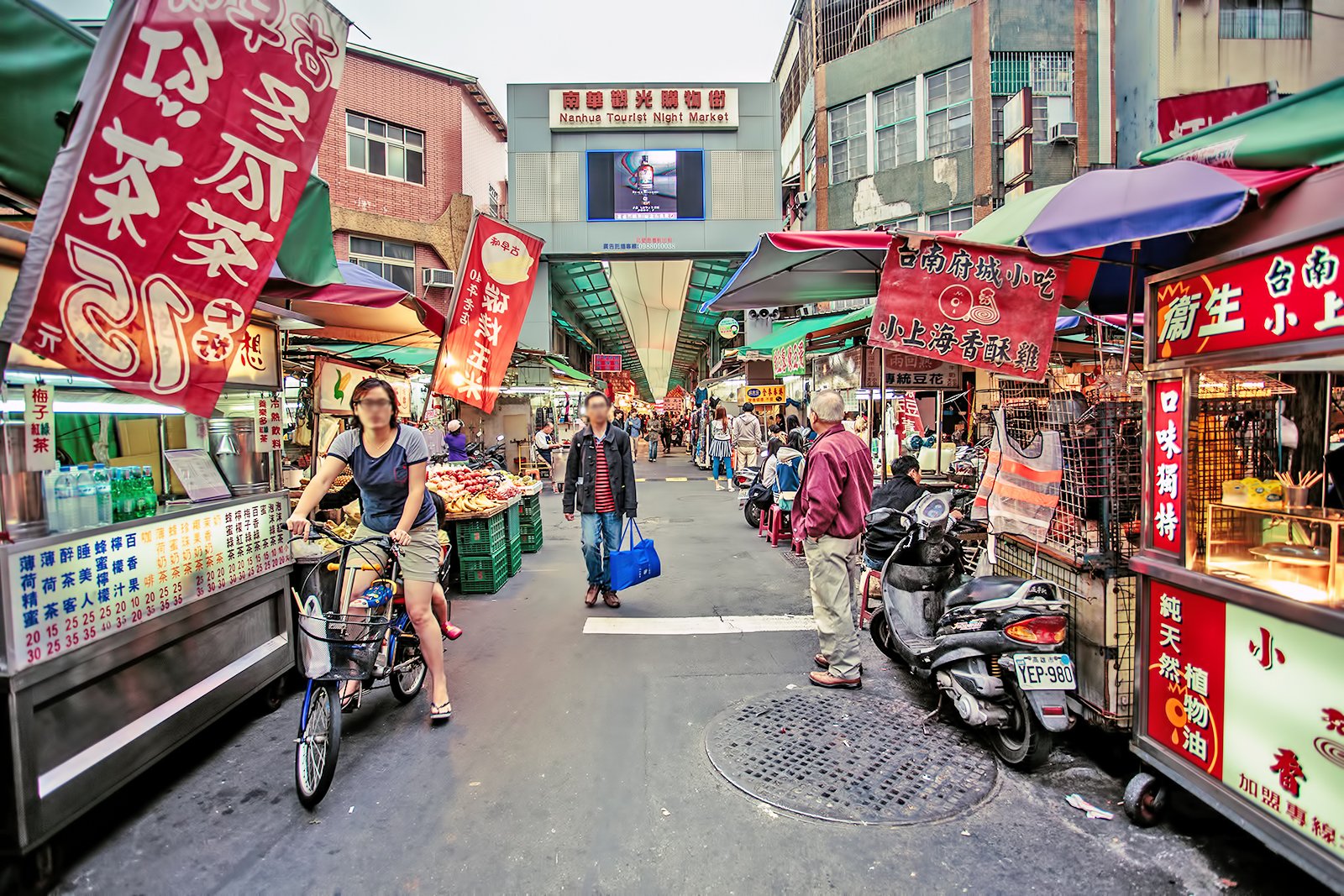 The Nanhua Night Market, located around Datong Road and Nanhua Road in the Xinxing District, is a shopping heaven for ladies. You'll find all kinds of shops for clothing and accessories here, all very well priced, and with the option to bargain for even lower prices. There are some choices for men and children, but the overwhelming majority of the stalls cater to women. There are also a few food stalls available.
Location: Nanhua Road, Xinxing District, Kaohsiung City, Taiwan 800
Families
Shoppers
Food
Nightlife
photo by 古 天熱 (CC BY-SA 2.0) modified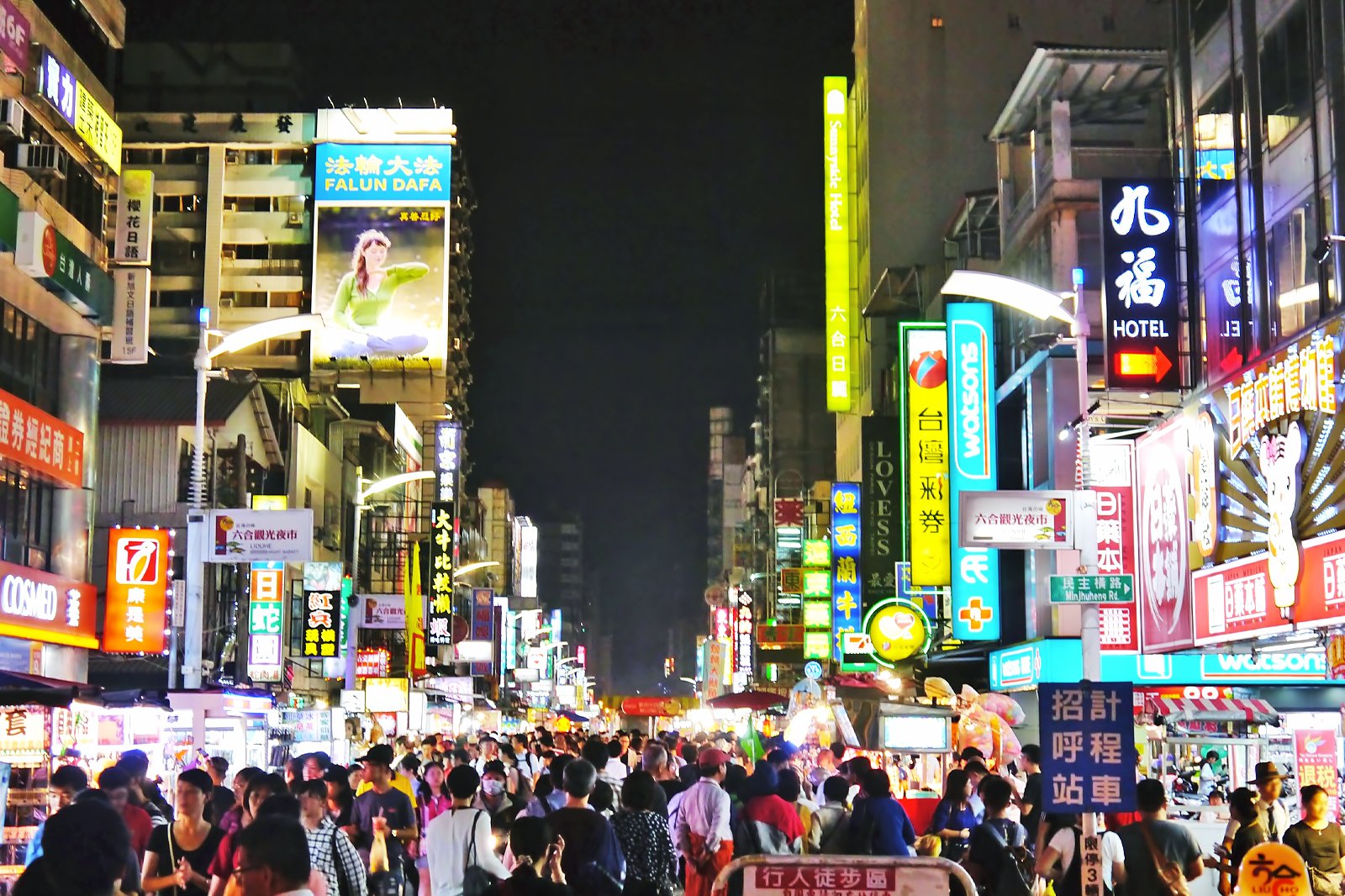 One of the most famous spots in Taiwan, the Liuhe Night Market offers an enthralling overall experience. It's most famous for its open-air eating joints and especially the seafood. Make sure you try the eel spaghetti.
Items for sale here include handicrafts, electronic gadgetry, knives and even monkeys! This is an unusual market in that you can barter item for item at some stalls. You can trade your used stuff for something you might actually need and use for a long time to come.
Location: Liuhe 2nd Road, Xinxing District, Kaohsiung City, Taiwan 800
Open: Daily from 6pm to late
Families
Shoppers
Food
Nightlife
photo by Zairon (CC BY-SA 4.0) modified