10 Best Things to Do in Costa del Sol
What is Costa del Sol Famous For?
It won't surprise too many people to hear that the Costa del Sol is famous for its beaches. The towns along Spain's 'Sunshine Coast' each have several beautiful stretches of sand, though that is often their only similarity. Each has a unique atmosphere and style. Marbella offers a luxury lifestyle, Benalmádena is known for its theme parks, Fuengirola is popular with families and Torremolinos is famously gay-friendly.
While the Costa del Sol is the destination of choice for many European sun seekers, it's not all beaches. The area's exotic history and beautiful scenery are yours to enjoy. Take a look through our suggestions and see what strikes a chord with you.
What are the best things to do in Costa del Sol?
1
Burriana Beach
Relax on one of Costa del Sol's best beaches
Couples
Families
Photo
Budget
Playa de Burriana is one of the more popular and better-known beaches along the Costa del Sol. The sand is beige in color, but soft, fine and swept by a gentle blue sea. There are plenty of sun loungers you can rent, as well as jet skis and sea kayaks if you want to explore the nearby bays. You'll find plenty of places to eat both on and behind the beach, as well as volleyball courts, showers and toilets. The only downside to this beach is that it's at the bottom of a hill, which is known as "Cardiac Hill" because it takes a lot of effort to get back up, especially in flip-flops. There are some car parking spaces by the beach, but taking a taxi is the best way to go.
Location: Calle Filipinas, Nerja, Spain
2
Play a round of golf at some of the best courses in Spain
Tee off at one of over 70 courses
The Costa del Sol is sometimes known as the Costa del Golf because there are more than 70 courses to play in the area. Marbella, in particular, has a great choice of golf courses within easy reach. The best boast courses big-name designers and beautiful locations, and have hosted several major tournaments. Finca Cortesín in Casares is routinely ranked among the very best in the whole of Spain, though that naturally means that the green fees will be quite high. Fortunately, with so much choice available, you can easily find a course to suit your budget and abilities.
3
Marbella Old Town
Shop, eat and party among the historical streets
Imagine narrow, winding streets lined with uneven, white-washed houses, each with a terracotta-tiled roof and wrought-iron-railed balcony covered in plants– that's Marbella Old Town. At the center of it all is the Plaza de los Naranjos (Orange Square), which is filled with the sweet aroma of orange blossom, as well as the oldest church in Marbella, the town hall and many colorful cafés and restaurants. You'll find a great selection of shops and bars around Old Town, making it a popular place to visit throughout the day and after dark.
4
Alcazaba of Malaga
Imagine living like a king in an ancient citadel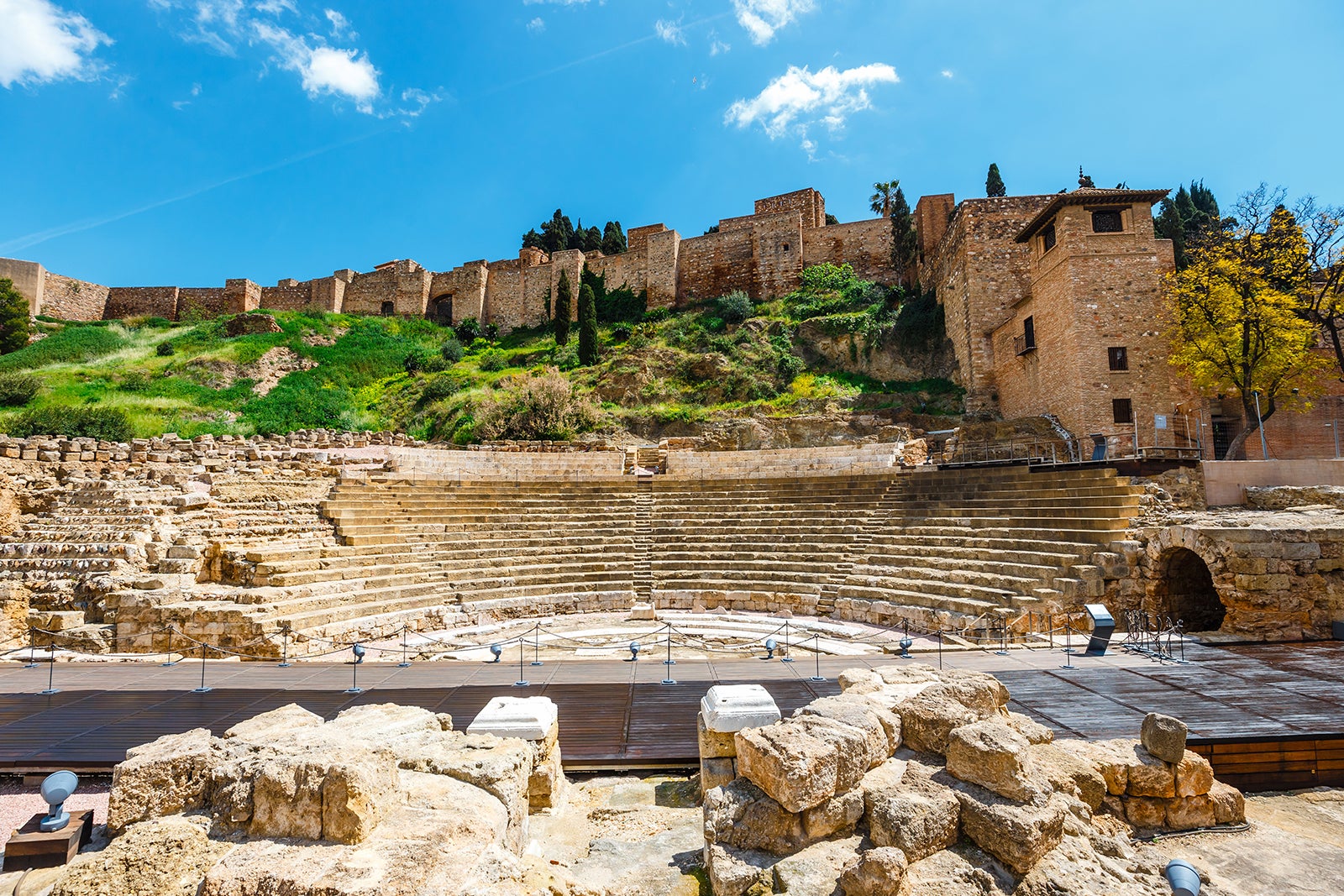 Couples
History
Photo
Budget
The Alcazaba is a fortress palace from the period of Moorish rule in Spain. It is a beautiful and very well-preserved example of the architecture of the time. Accompanied by an audio guide, walking among the lush greenery and fragrant trees of the gardens and patios or looking at the Islamic pottery in the cool rooms makes it easy to imagine a very comfortable life of luxury here. Below the palace, you'll find the ruins of a Roman amphitheater, while the hill above the Alcazaba is dominated by Gibralfaro Castle. There are many other historical buildings and museums nearby, too.
Location: Calle Alcazabilla, 2. 29012 Malaga, Spain
5
Bioparc Fuengirola
Visit realistic environments from around the world
Bioparc Fuengirola is one of the most ethical zoos in Costa del Sol, making the welfare of their animals a top priority. Each enclosure imitates a natural environment as closely as possible, with artificial waterfalls, river banks, rocks and even one of the biggest fake trees in the world. Bioparc takes its conservation work seriously, and is home to such endangered species as the Sumatran Tiger and the Malayan Gharial, a freshwater crocodile. With an on-site restaurant and many educational displays, it's a great place for families.
Location: Calle Camilo José Cela, 29640 Fuengirola, Spain
Open: Hours vary by season
Phone: +34 952 66 63 01
6
Caves of Nerja
Escape the summer heat in the amazing ancient caverns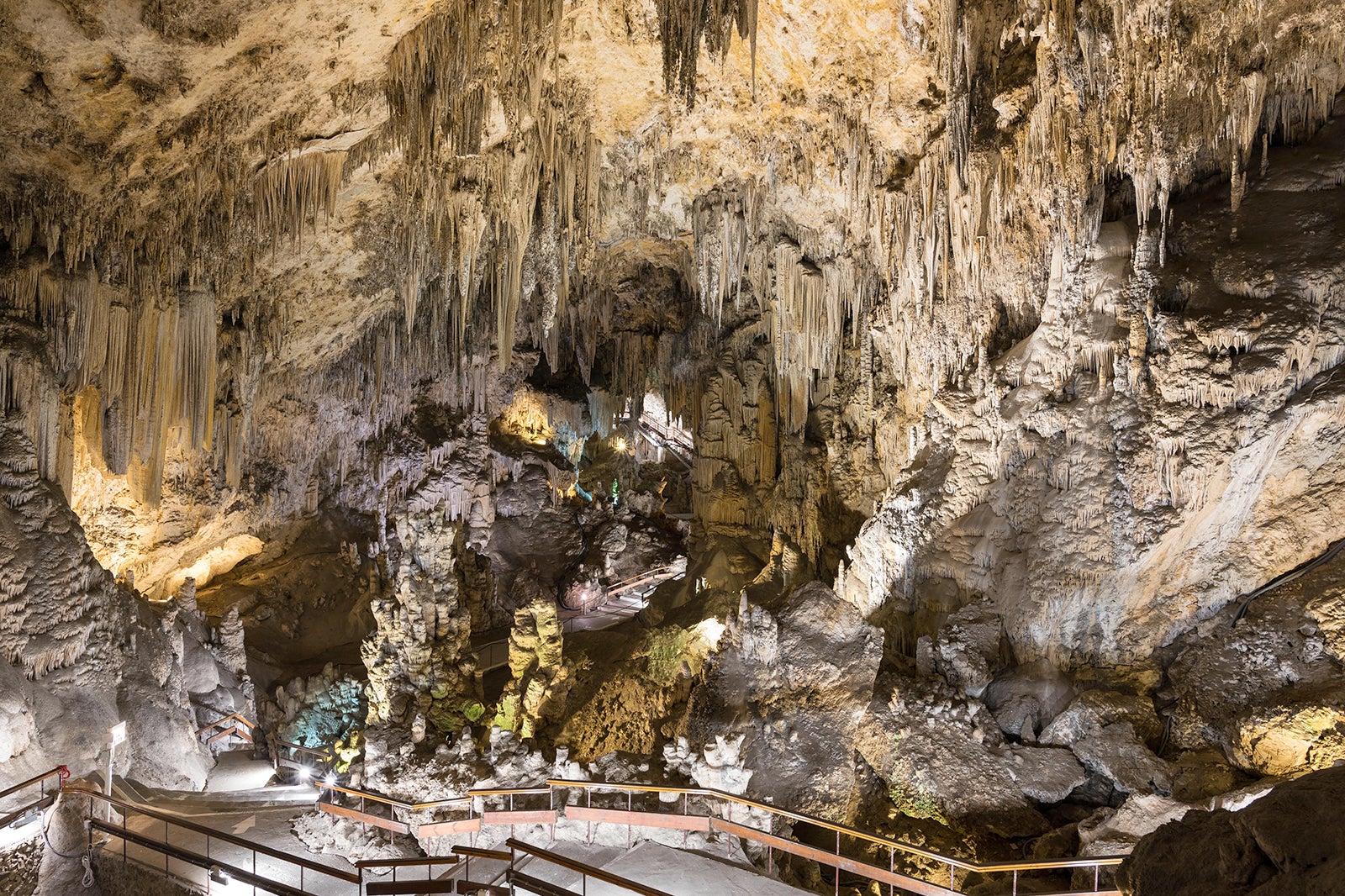 The Caves of Nerja is a complex of massive limestone caverns, filled with beautiful stalactites and stalagmites. The caves are very old, with cave paintings and even Bronze Age human remains discovered in them. It's easy to explore the complex thanks to the purpose-built walkways and experienced guides, though it's recommended to wear sturdy shoes as the walkways can be slippery when wet. If you're visiting during the summer months, look out for music festivals held inside the caves, using their unique acoustics to amplify classic opera, ballet and flamenco performances.
Open: Daily from 9 am to 3 pm
Phone: +34 952 52 95 20
photo by Mark Nakasone (CC BY 2.0) modified
7
Eat espetos on the beach
Dine on fresh skewered sardines
The most famous local dish in the Malaga province is espetos, which are simply sardines on wooden skewers, grilled over an open flame on or by the beach. Served with a squeeze of lemon and a glass of Ronda white wine, it's a great tasting and very healthy snack. The fish is served whole, which can be off-putting if you're not used to food with eyes. Just eat the meat off the bones in the middle, leaving the head and the tip of the tail.
8
Benalmádena Cable Car
Get a great view of the area from the Teleférico Benalmádena
The cable car up Monte Calamorro offers probably the best view across the Costa del Sol. The 15-minute journey in the glass-walled cars will take you up to 769 meters above sea level, from where you'll be able to see right across the Mediterranean Sea to the coast of Africa, on a clear day. There's nearly 3 km of walkways around the rugged summit, including one leading to the Valley of the Eagles for fun birds of prey shows at 1pm and 4pm every day, featuring eagles, falcons, vultures and owls.
Location: Near Tivoli World, 29630 Benalmádena, Spain
Open: Daily from 11 am to 6 pm
Phone: +34 951 56 03 24
9
Atarazanas Market
Buy budget local food in a beautiful covered market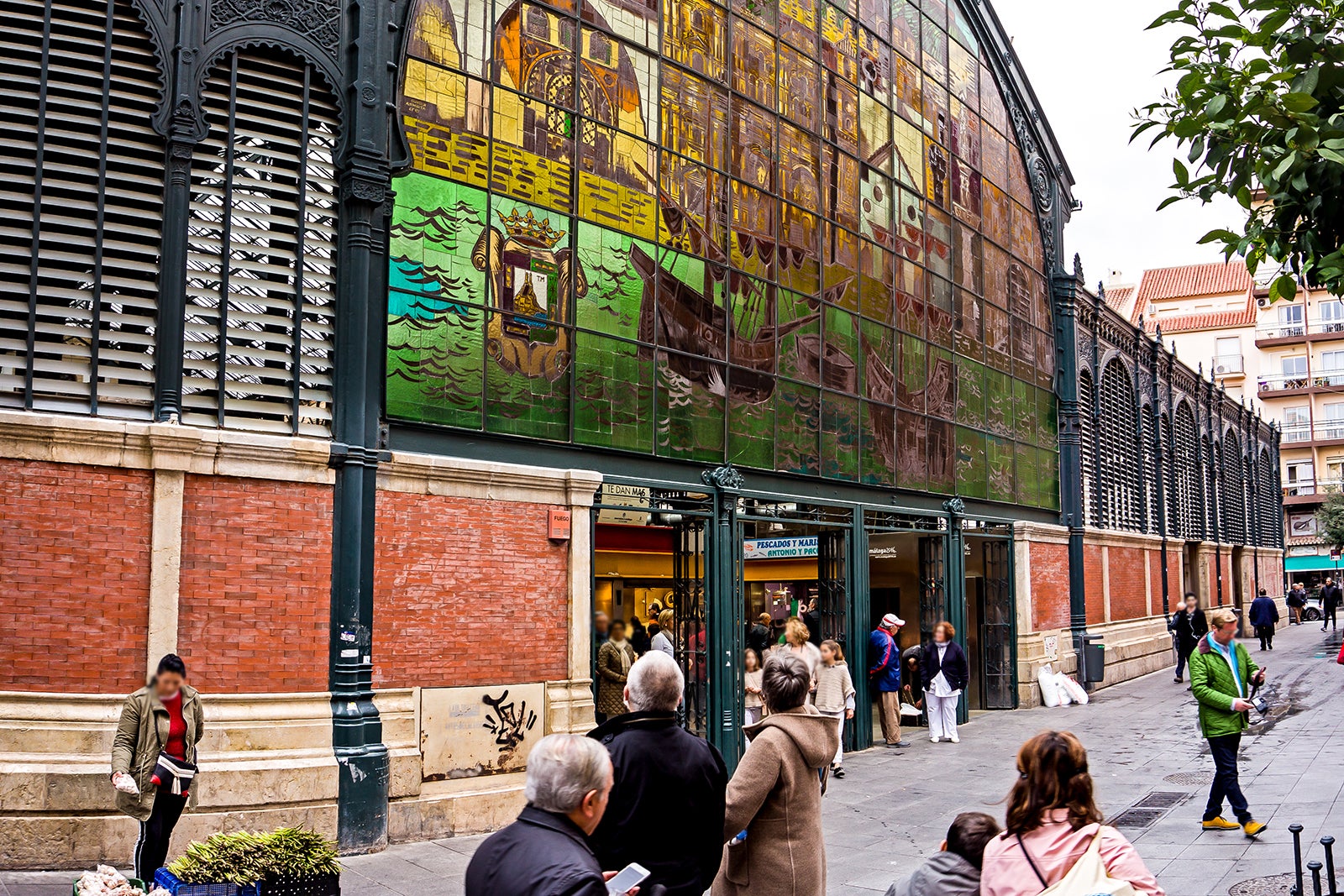 The Atarazanas Market is Malaga's lively central market, where locals come for their daily essentials. It is also an extremely popular place to visit while in the Costa del Sol, partially for the great bargains on local food and produce, but also for the striking building. The main entrance is from a Moorish shipyard which was originally on the site in the 14th century, and a colorful stained glass window shows a homage to this maritime history. Unsurprisingly, the seafood here is especially good.
Location: Calle Atarazanas, Malaga, Spain
Open: Monday – Saturday, from 8 am to 3 pm (closed on Sundays)
photo by Johannes Schwanbeck (CC BY-SA 2.0) modified
10
Dolphin and whale watching
Spot bottlenose dolphins and sperm whales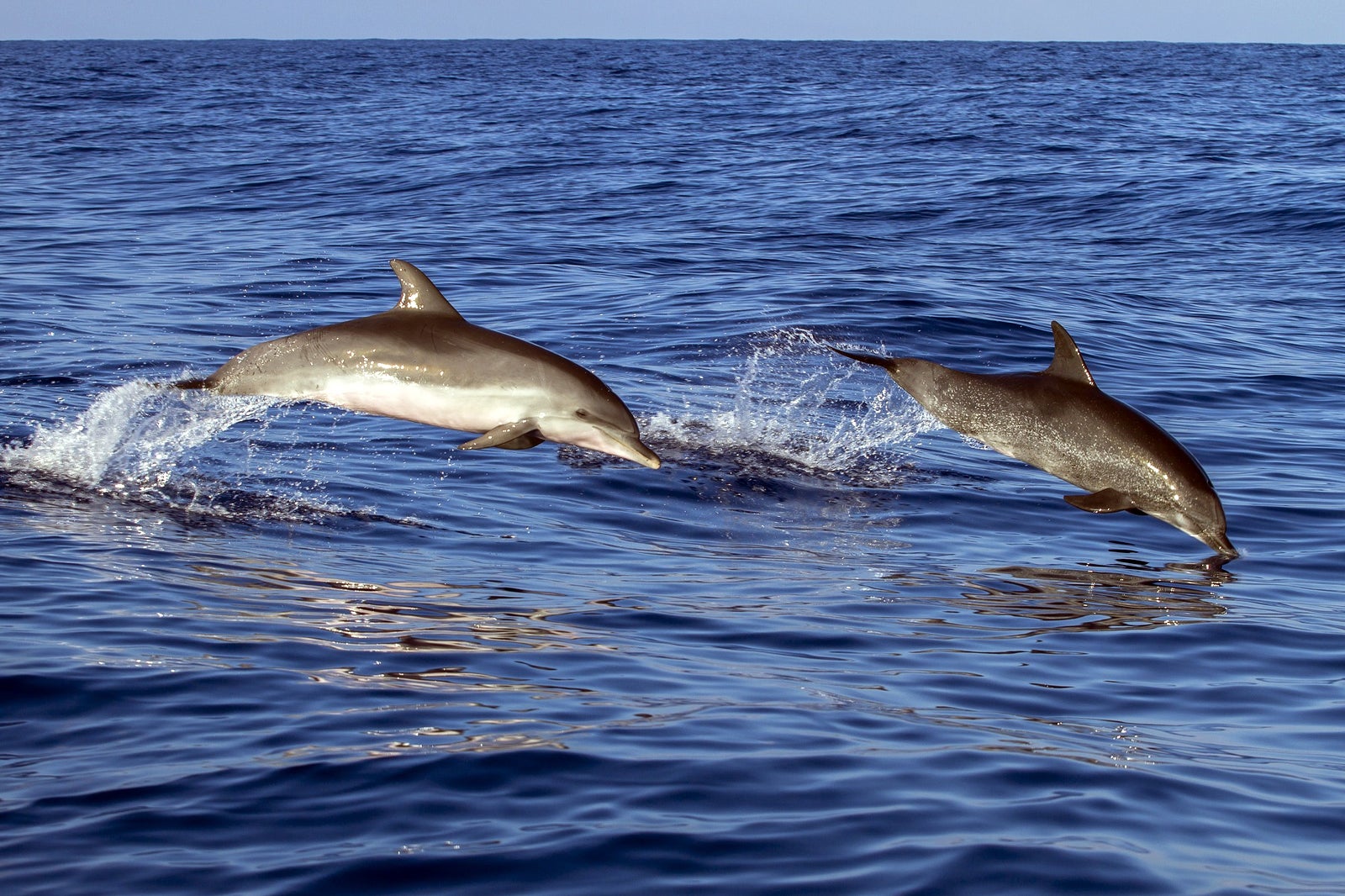 The Strait of Gibraltar is quite a busy migration route for big marine mammals, with several different species either constantly in the area or passing through every year. These include sperm whales, killer whales and bottlenose dolphins. While spotting these graceful creatures is never guaranteed, the odds are pretty good if you're sailing from Benalmádena, Fuengirola or Marbella. There are many companies offering these trips, some more ethical than others, so it's best to shop around.
Back to top