7 Best Beaches in Salou
Which Salou Beach is Right For You?
Salou is a massively popular resort thanks to its amusement parks, historic sites and buzzing nightlife, but the beaches are really what most travelers are here for. Salou's beaches are everything you could hope for in a Mediterranean vacation destination – palm trees, soft sand, sparkling blue sea, and stunning sunsets.
From family-friendly beaches to secluded coves, there are plenty of sandy spots to choose from, and we've compiled some of the best in this list. Whatever you're looking for on a beach, you'll find it somewhere in Salou. And if you can't choose, that's the perfect excuse to try them all.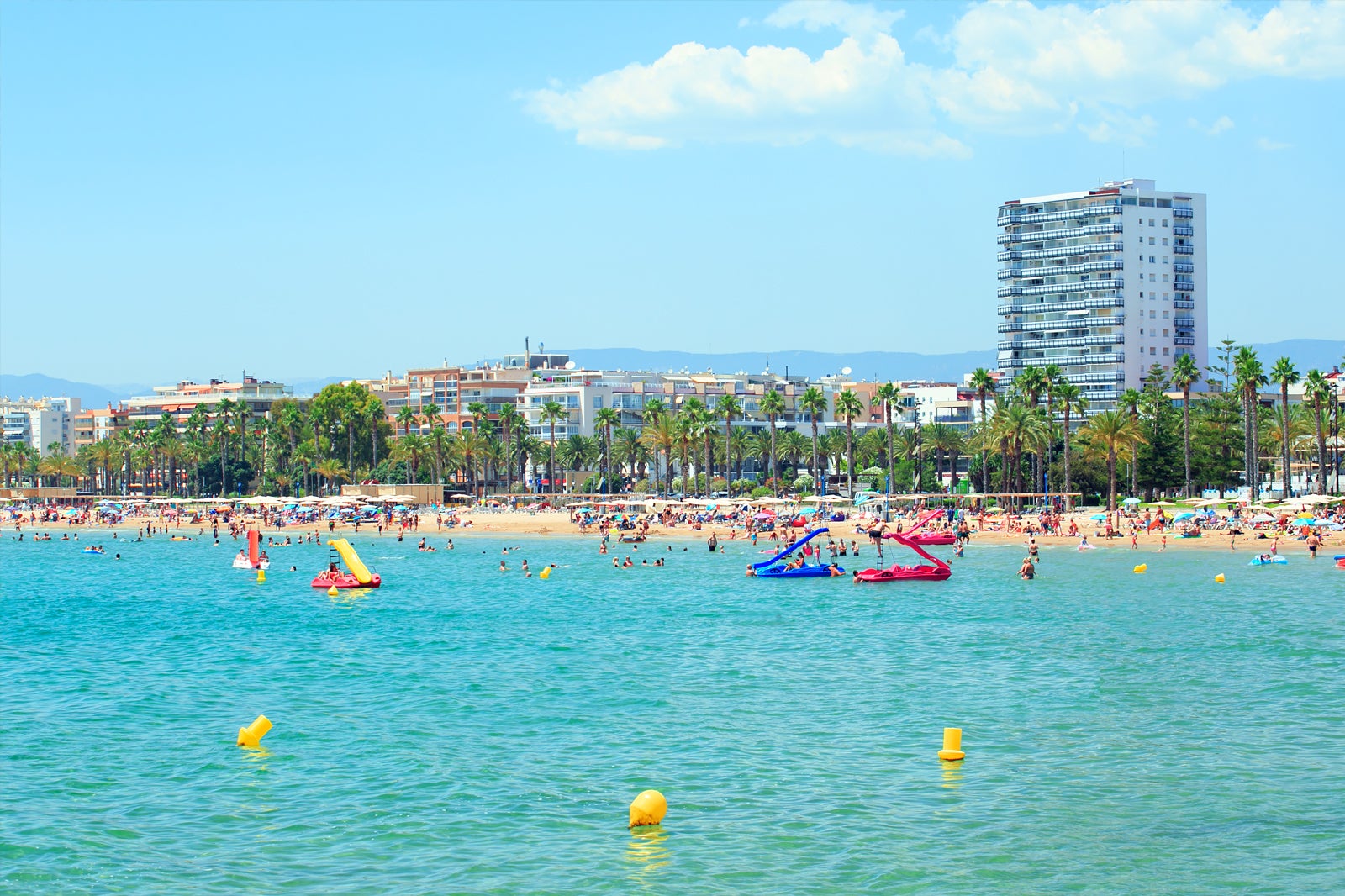 Llevant Beach
Go swimming in the Mediterranean
Llevant Beach spans around 1.17 km in length, making it one of the longest stretches of sand in Salou. Backed by the Jaume I Promenade, the water is shallow with small waves, making it excellent for young children. The beach also received a Blue Flag by the EU for its cleanliness.
The beach is fully equipped with toilets and showers, while umbrellas, sun loungers and hammocks are available for rent. The promenade is lined with shops, restaurants and bars, so there's no shortage of entertainment. There's also a playground and plenty of water sports like jet skis and kayaks. Llevant Beach usually gets crowded during the summer, so it's always best to get there early to claim your spot.
Location: Passeig de Jaume I, 43840 Salou, Spain
Families
Photo
Budget
Adventure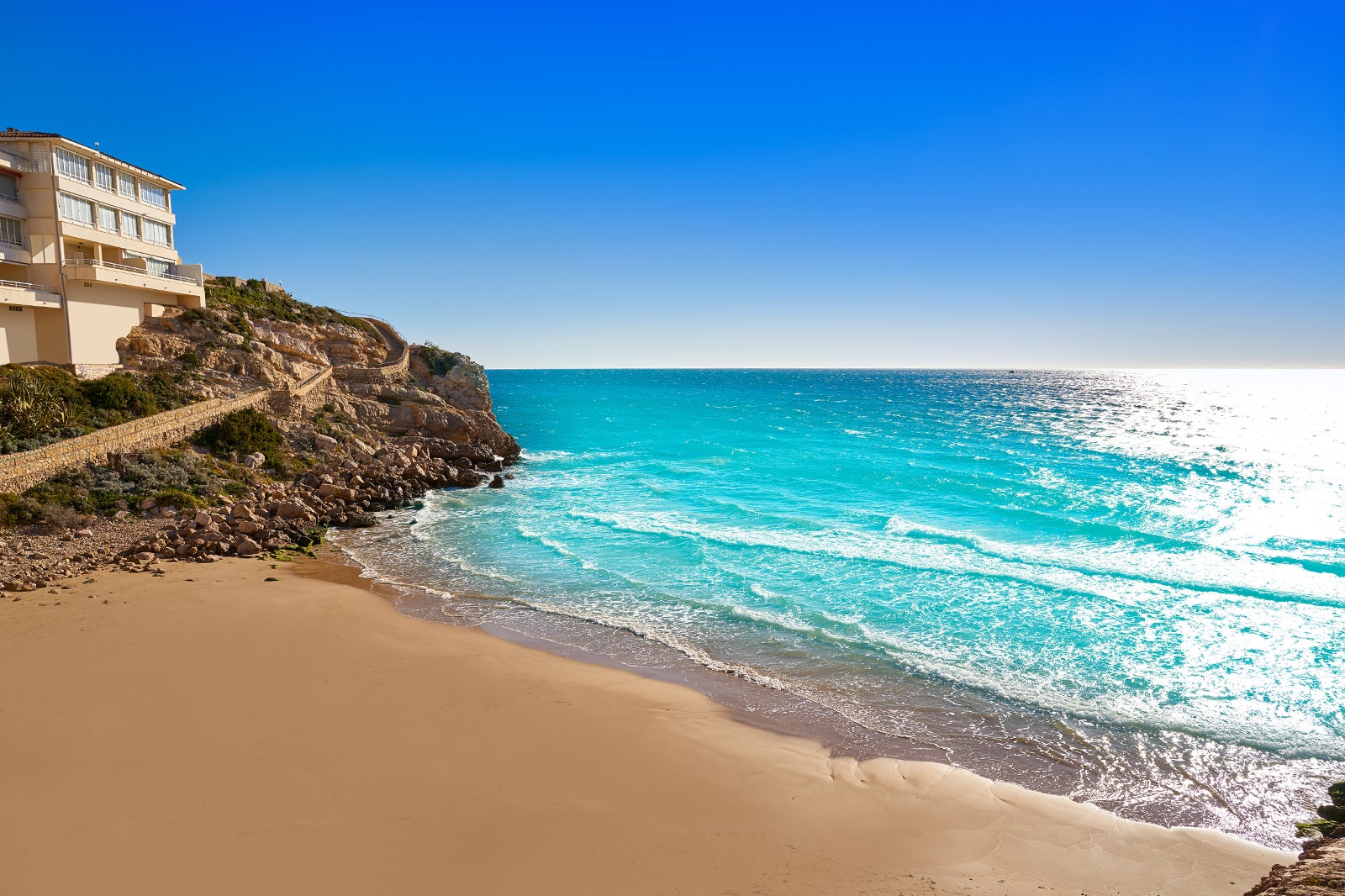 Llenguadets Beach
A place to get away from the crowds
If your idea of the perfect beach involves uninterrupted peace and tranquillity, head for Llenguadets Beach. This quiet cove lies within a 20-minute walk from central Salou. You can make your way there along a coastal path and down a short set of steps – your reward is soft, white sand and blue waters.
Llenguadets only has 1 beach bar and 1 hammock rental, but otherwise, it's quite bare and peaceful. Like the rest of the beaches in Salou, the water is shallow and easy to swim in. Stick around until evening to see why the beach is known for having the best sunset views in Salou.
Location: 43840 Salou, Tarragona, Spain
Families
Photo
Budget
Adventure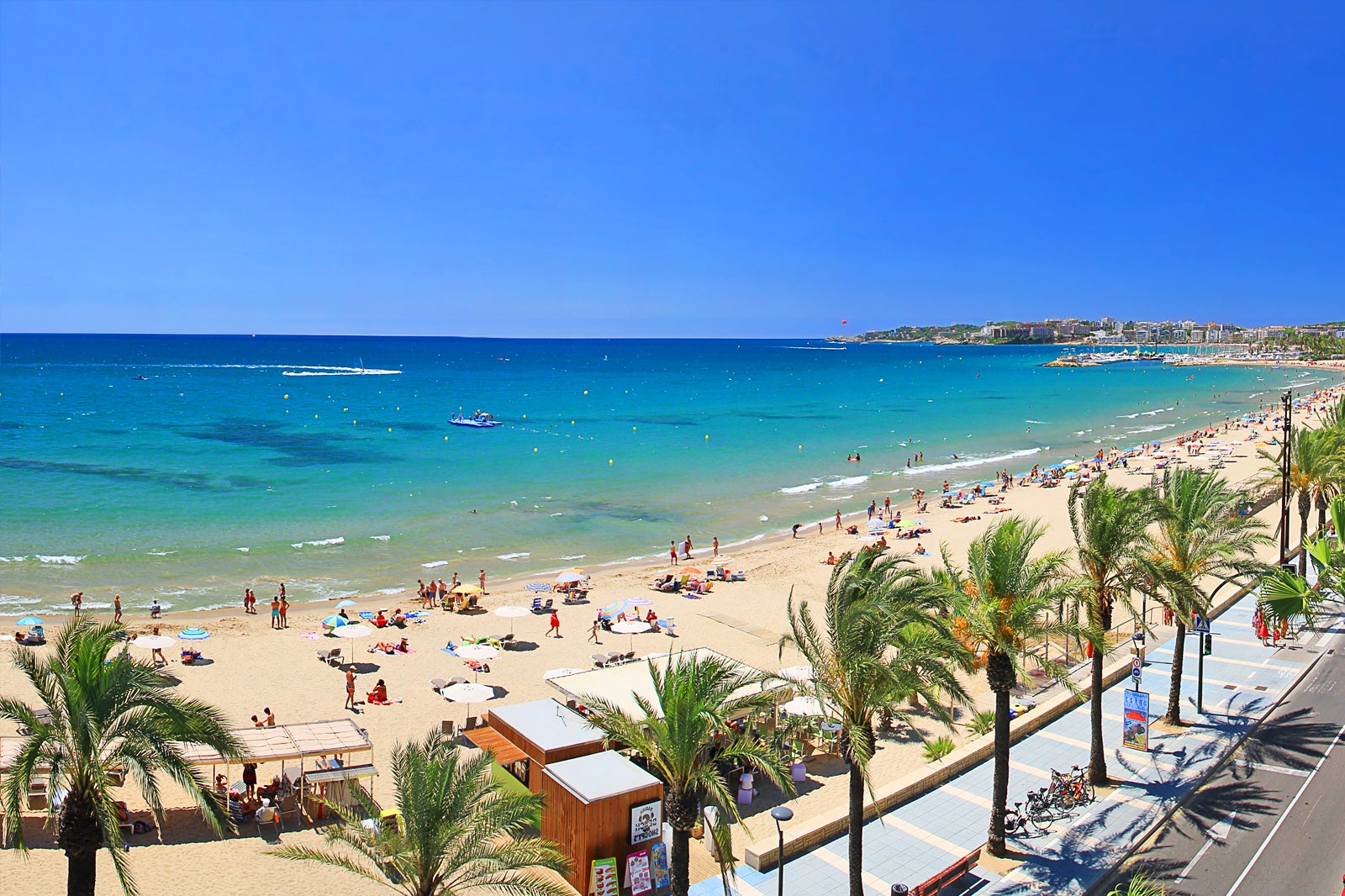 Ponent Beach
Family-friendly beach with tons of amenities
Stretching west from the center of Salou, Ponent is a favorite with families for its clear waters and the long sweep of soft golden sand. Swimming is safe even for young kids thanks to the beach's shallow waters and lifeguards on duty. There are children's play areas, showers, a beach bar, and rentable pedalos.
The promenade along Miramar Boulevard runs parallel to Ponent Beach. This is where you'll find cafes, restaurants, bars and shops selling everything you need, from ice cream to cocktails. The eastern end of the beach buzzes with life, but if you're looking for some peace, head toward the west end where it's more tranquil.
Location: Passeig de Miramar, 42, 43840 Salou, Tarragona, Spain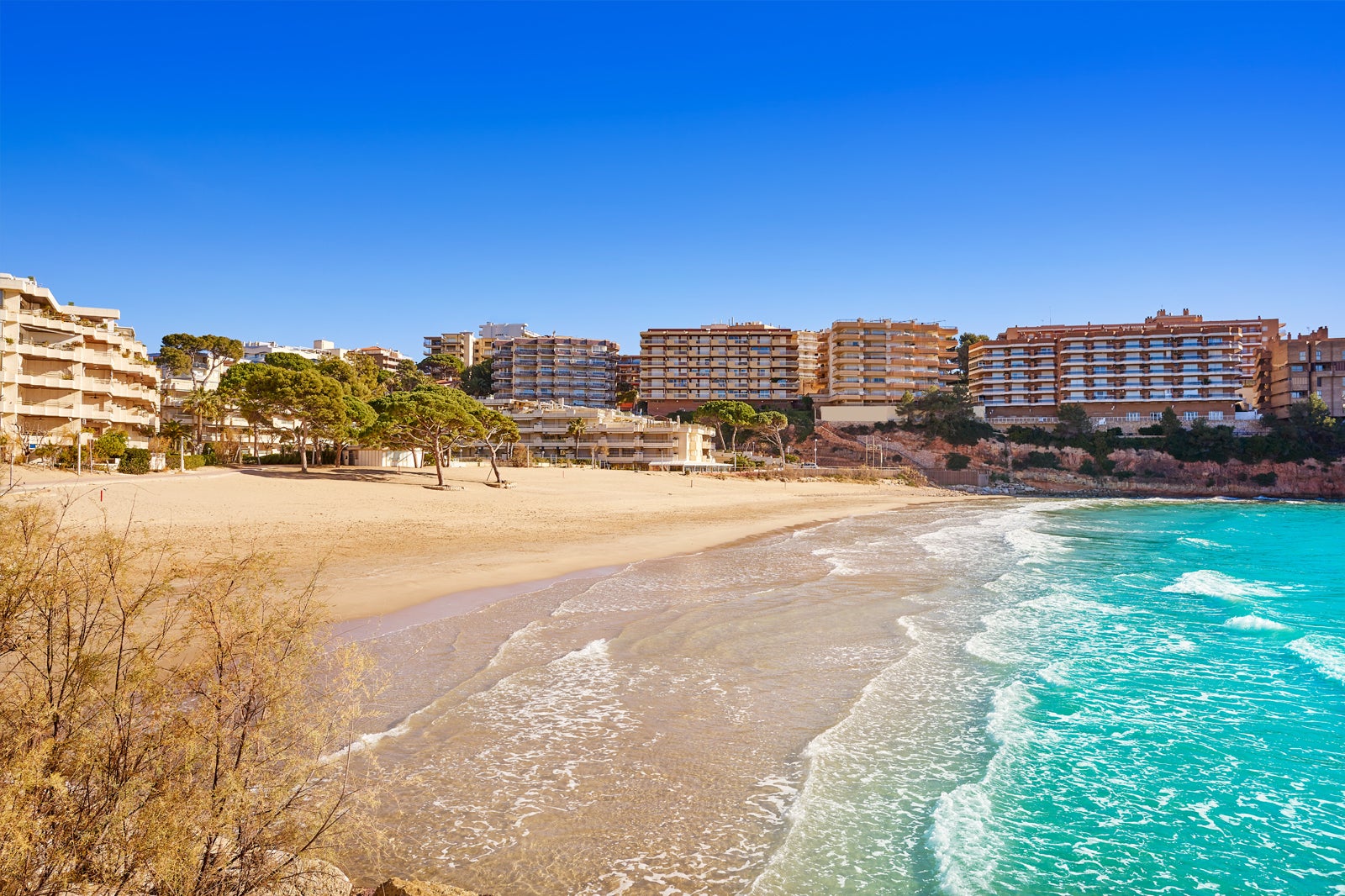 Capellans Beach
Drinks and dancing on the edge of the water
One of the smaller beaches in Salou, Capellans is surrounded by excellent bars and clubs, giving it a bit of a party beach vibe. Koko Beach Club is on the cliffs above – great cocktails and gorgeous views – or you can check out La Barcarola right on the edge of the sand. There are also several first-rate restaurants serving quality Spanish and international cuisine.
The area is surprisingly quieter than the center of Salou. During the day, the beach is a bit more peaceful, with families swimming in the gentle waves and jet skis and banana boats bouncing around on the water. The fine white sand makes for fantastic sandcastles – you can be assured everything is sparkling clean as the beach has been awarded the prized Blue Flag status.
Location: 43840 Salou, Tarragona, Spain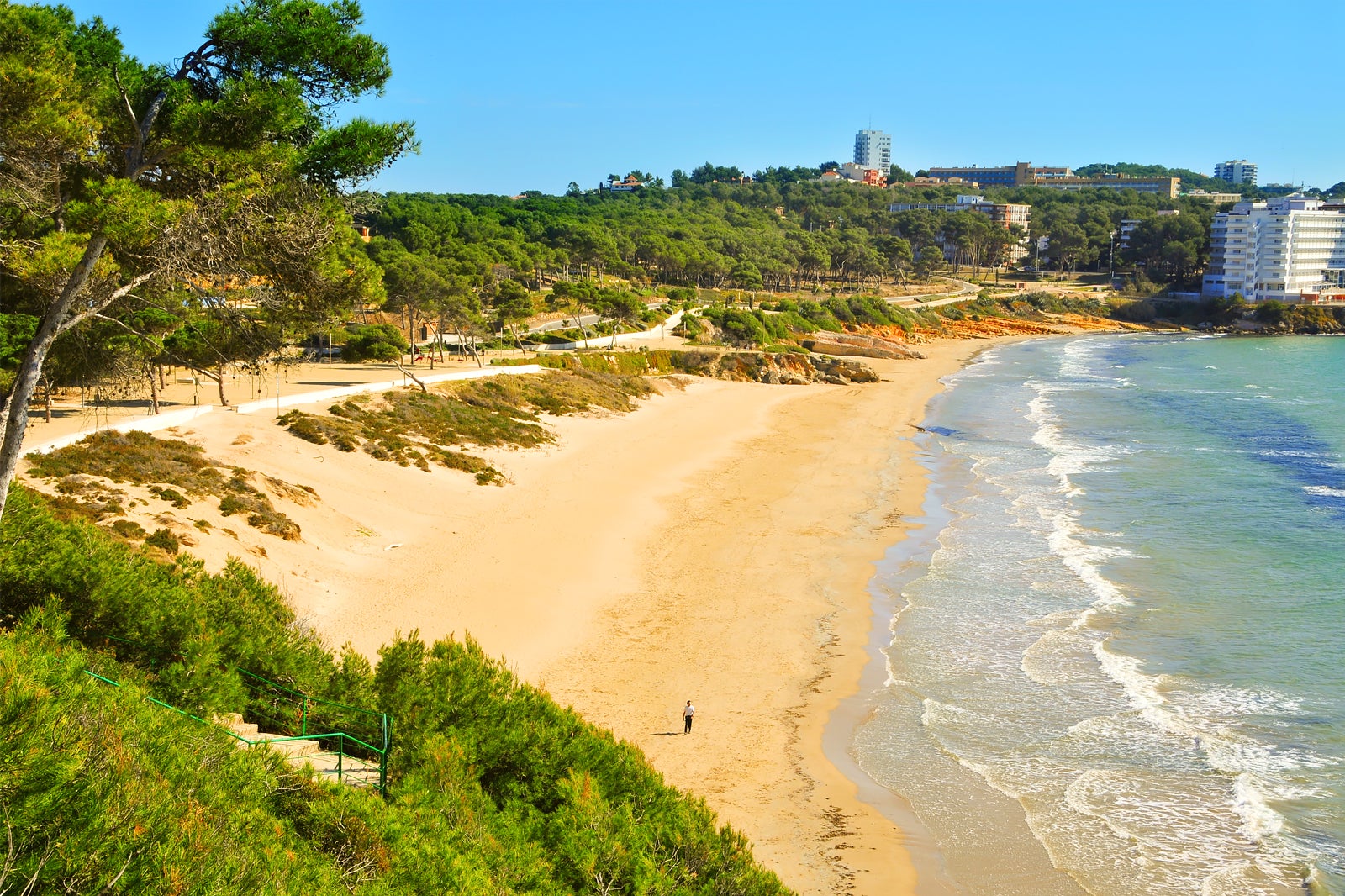 Llarga Beach
Sporty beach surrounded by shady pine trees
Llarga Beach is backed by a small forest of pine trees, giving it a secluded feel. Located within a 20-minute walk from the center of Salou, the 675-meter-long beach is made up of fine white sand and clear blue water.
This is Cape Salou's sportiest beach, with rollerblades available for rent, jet skis for the more adventurous, and pedalo rentals for a more sedate ride. After working an appetite on the water, you can grab a drink or snack from nearby snack stands and beachside bars.
Location: Platja Llarga, 43840 Tarragona, Spain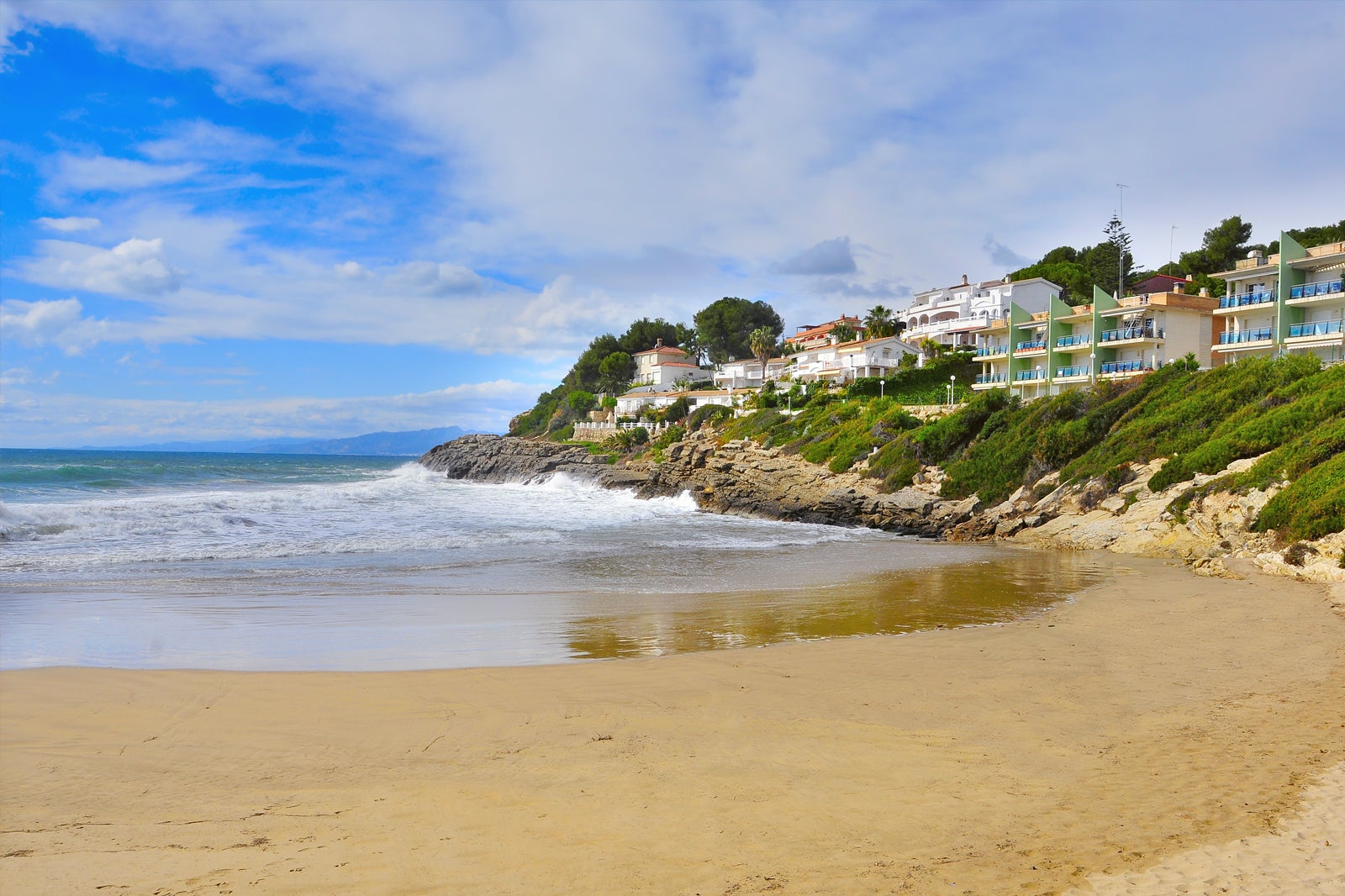 Crancs Cove
Laid-back beach a bit off the beaten track
Crancs is Spanish for crabs, but you won't find these clawed critters on Crancs Cove, just a broad stretch of sand and fine pebble. It's a great place to snorkel, with clear water, good visibility, and gently sloping sand. Or if you just feel like lazing around, rent a hammock or sunbed, settle down and enjoy the sunshine.
There is a shaded rest area with chairs at the top of the beach, where you can relax and take in breathtaking views of the Mediterranean. There is also a small playground, as well as a snack bar called Cala Bonita. Get to Cape Salou by bus or walking along the coastal path. You can find a small parking area around 150 meters from the beach.
Location: Carrer dels Pins del Cintet, 43840 Salou, Tarragona, Spain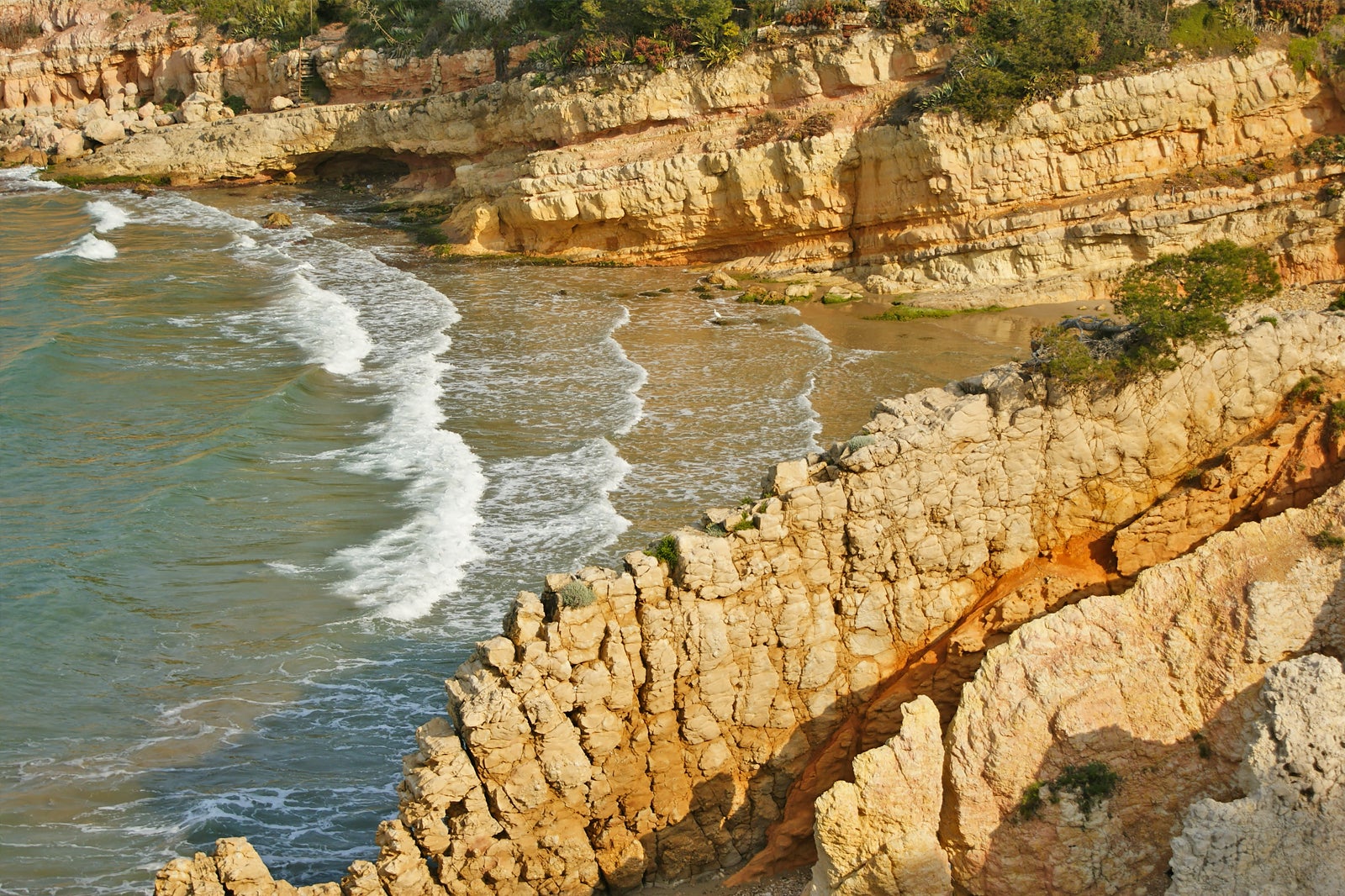 Penya Tallada Cove
Peaceful idyll with delightful scenery
A picturesque cove surrounded by dramatic cliffs and fragrant pine trees, Penya Tallada is popular with locals but relatively unknown among travelers. The beach is usually quiet, with fine golden sand and plenty of space for sunbathing. The calm waters are pleasant to swim in and there are some interesting geological formations out in the water.
Penya Tallada has no amenities, but the shops and restaurants of Cape Salou are only a 10-minute walk away. Take a bus from Salou and then climb down a series of steps to get to the beach or take the hour-long scenic walk along the coastal path.
photo by Ferran Llorens (CC BY-SA 2.0) modified